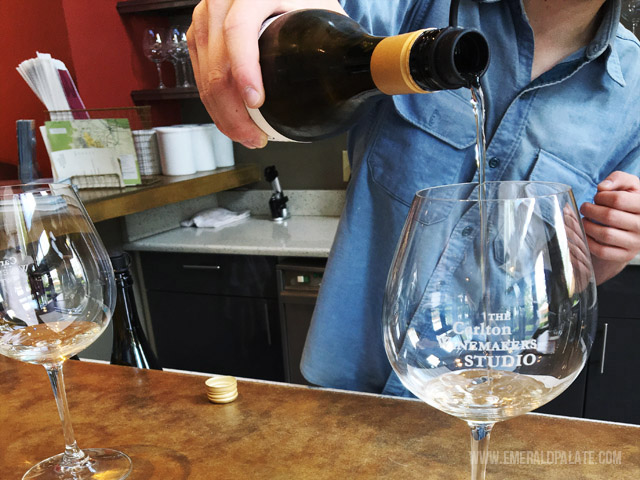 Every fall my family and I take a long weekend to explore some the best Pacific Northwest wineries. I'm bummed that this year we won't be able to go. But I guess I shouldn't complain, considering we're not going because I'll be galavanting around Italy and Stockholm instead. Whoops!
Luckily, my boyfriend and I were able to squeeze in an earlier wine trip. This time it was exploring the Willamette Valley wine country in Oregon. In just a 4 hour drive from Seattle, we were able to explore one of the best regions for pinots in the world. But the Willamette Valley is so much more than just the wine. That's why I'm outlining not only what to drink, but also what to eat and do between winery visits.
About Oregon's Willamette Valley Wine Country
The Willamette Valley is home to more than 700 vineyards and 500 wineries and is known for its pinor noir, according to its visitor's website (though, surprisingly, chardonnay is huge in the Willamette Valley too). It can be subdivided into six sub-appellations: Chehalem Mountains, Dundee Hills, Eola-Amity Hills, McMinnville, Ribbon Ridge and Yamhill-Carlton.
The first pinot was planted by David Lett of The Eyrie Vineyards in 1965 and it's become one of the United States biggest (and arguably best) wine regions. In true Pacific Northwest fashion, 52% of the vineyards use sustainable farming practices and place a huge focus on the soil, or "terroir" as you'll hear them say in the tasting rooms.
To give you a sense of space, here's a map of the Willamette Valley AVAs and where they are in relation to Oregon's other wine AVAs (courtesy of The Oregon Wine Press).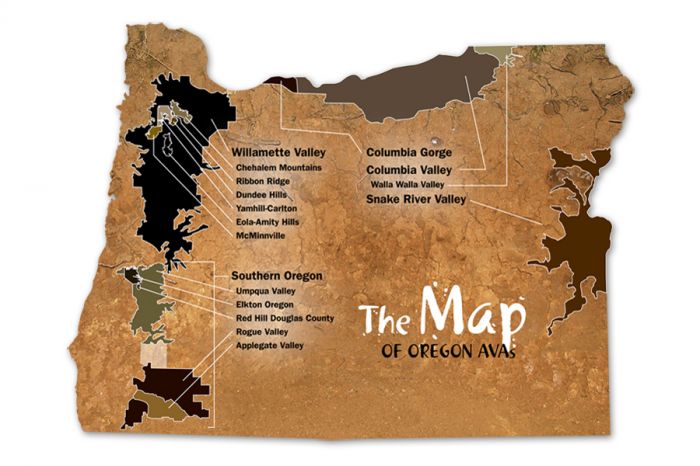 Where to Drink in Willamette Valley Wine County
There are a ton of wineries in the Willamette Valley. To get you started, here are four really awesome ones with different vibes that will give you a good sense of the region. But if you're looking to try even more, check out the Google Map at the end with my full list of places to try. The official Willamette Valley Wine Country website also has wine trails to help you focus on specific areas.
Carlton Winemakers Studio
Town: Carlton, OR | Hours: 11am – 5pm daily | Tasting fee: $15pp | Best for: A lot of great winemakers under one roof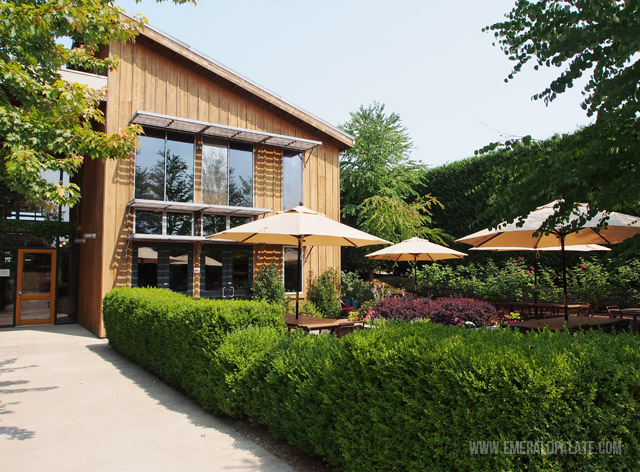 Carlton Winemakers Studio is like visiting 13 wineries in one. That's because it is one winemaking facility shared by multiple winemakers.
I met with the general manager, Anthony King, and he described it like an incubator for Oregon wines. It was started in 2002 by winemaker Eric Hamacher, his wife Luisa Ponzi (yes, of that Ponzi winery), and growers Ned and Kirsten Lumpkin. They realized up-and-coming Oregon winemakers needed a place to make wine without being shut out of the race before they even tried because they couldn't afford or sustain the facilities.
A lot of great wineries started in Carlton Winemakers Studio, such as Ayoub Wines and Utopia Vineyard. There's still some very prestigious winemakers working out of Carlton, too, such as Isabelle Meunier who started smaller Lavinea Winery but still makes wine for giants like Willamette Valley Vineyards and Megan Anne, which is owned by the Mark Ryan (which has a tasting room in Woodinville, WA).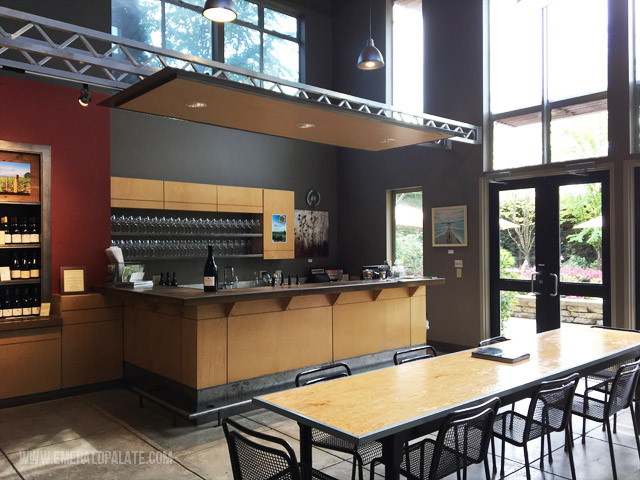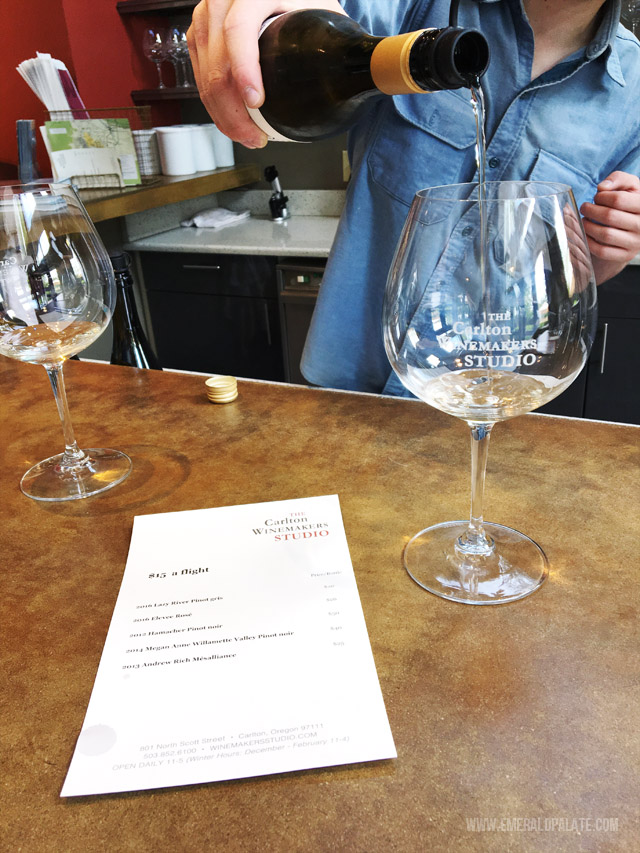 Anthony led us through the back of house and let us sample wines from some barrels. I thought I knew things about wine, but listening to a winemaker explain the wine you're trying isn't ready yet when you're thinking to yourself, "Damn, this is the best wine I've ever had,"…let's just say it's a humbling experience.
What to taste: You can't go wrong with any wines made by Isabelle Meunier. My favorite winery at the studio is Èlevée. If it's available, try the 2016 Three Martin's rose of pinor noir. It's slightly sweet to start, but has a full-bodied, dry finish.

Lemelson Vineyards
Town: Carlton, OR | Hours: 11am – 4pm daily | Tasting fee: $25pp (waived if you buy 2 bottles) | Best for: A larger organic winery experience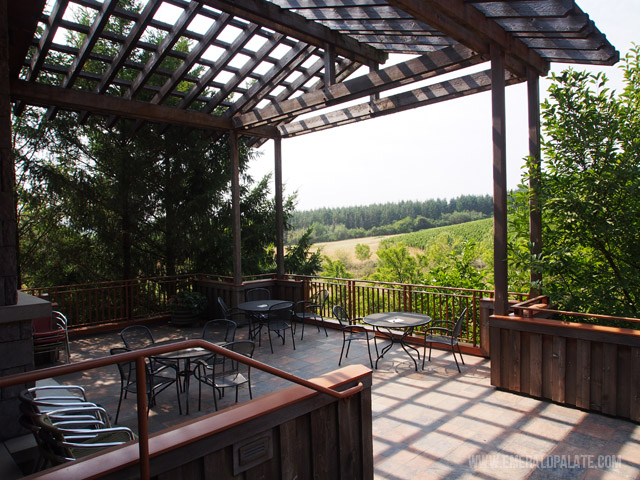 Lemelson Vineyards is the winery you want to visit if sustainable wines are important to you. It's a 100% estate grown, Oregon Tilth-certified winery. All of their wines are unfiltered and include handpicked grapes.
I was able to do barrel tasting with Lemelson's winemaker, too. Unlike Carlton's facilities that was more of a warehouse vibe, this one reminded me of a castle. Lemelson uses gravity to process it's wine, so you go farther and farther underground to see the facility in its entirety. It's quite a contrast the the ambiance of the grounds, which overlooks grapes and rolling hills!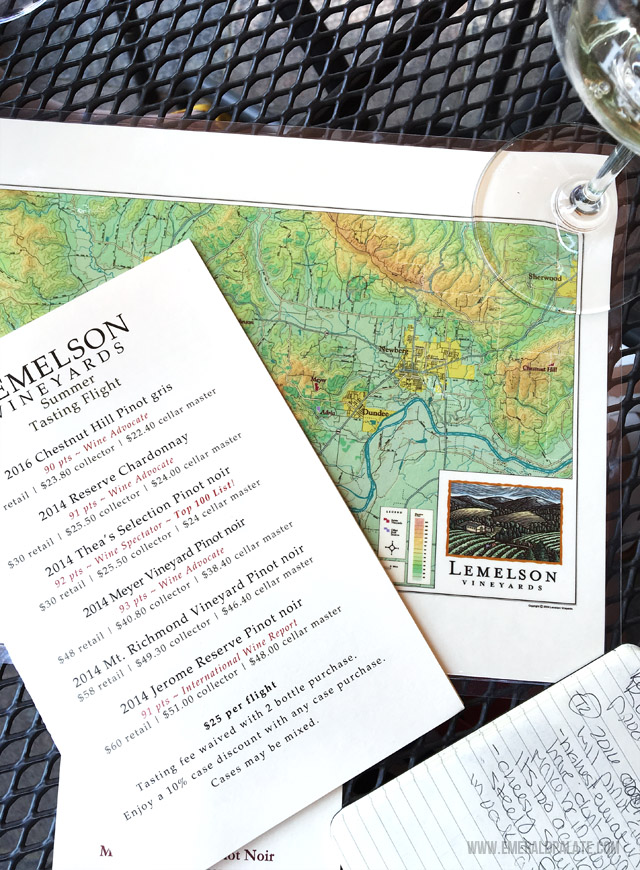 What to taste: I liked most of the wines at Lemelson I tried, but I especially liked it's 2014 Thea's selection pinot noir. It's their best-rated wine and is a blend of grapes from all seven of their vineyards. This allows them to be really consistent in the flavor profile each year because they can change the ratio of the grapes from the different vineyards as needed.

Belle Pente Vineyard & Winery
Town: Carlton, OR | Hours: Appointment only | Best for: An intimate tasting with the winemaker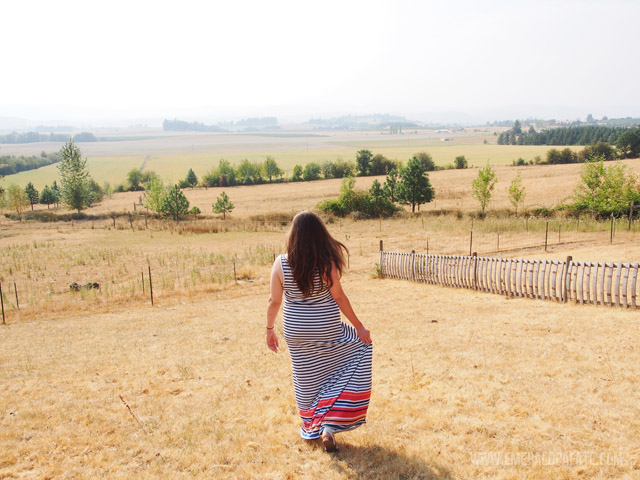 Belle Pente Vineyard & Winery is where you go to really connect with the wines and winemaker. It's owned by husband-and-wife, Brian and Jill O'Donnell, who grew up in New York state making wine out of their basement until it "got out of control," as Brian describes it.
All of their wines are estate grown and they focus on pinot gris, pinot noir, and chardonnay. While the tasting area isn't as grand as other wineries, it makes up for it with the scenic farmland views and beautiful Scottish highland cows on the premise.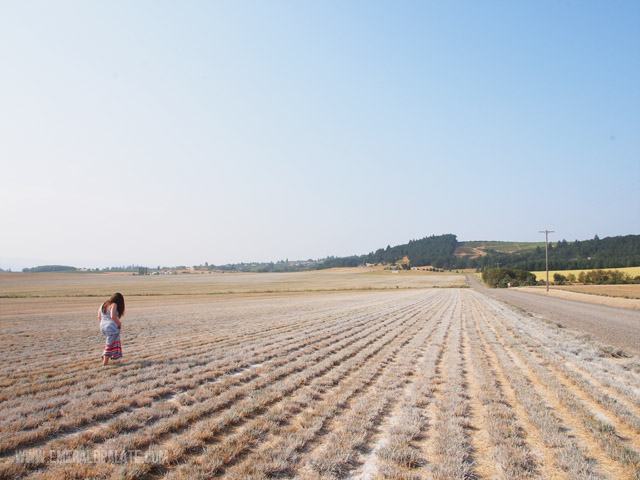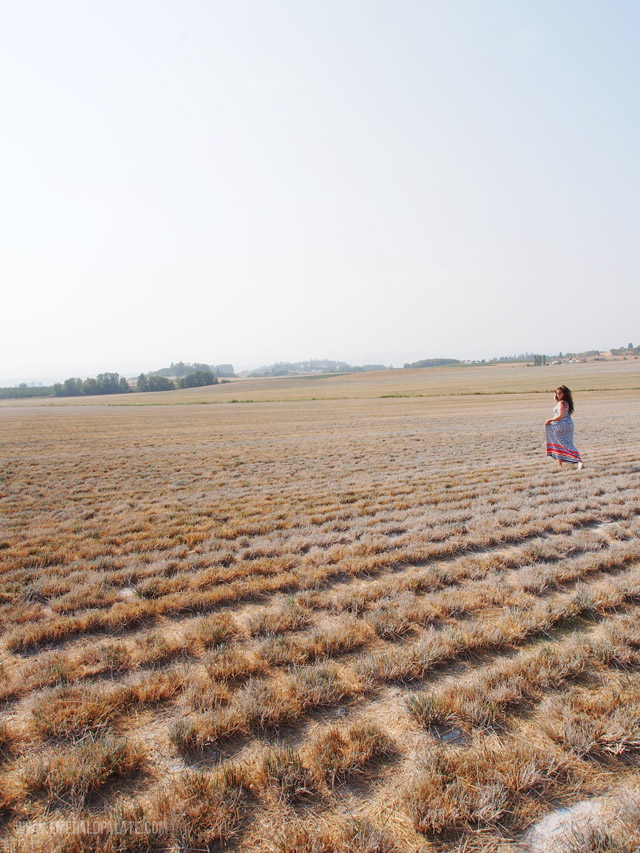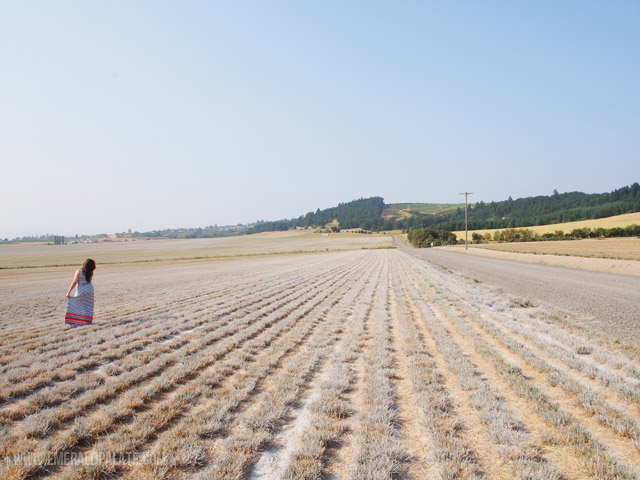 What to taste: If it's available, try the 2013 pinot gris. It smells like blue cheese but tastes thick and sweet (but not too sweet!). It changes flavors in your mouth over time, which is amazing for a wine variety that can often be more delicate!

Willamette Valley Vineyards
Town: Turner, OR | Hours: 11am – 6pm Sat – Wed, 11am – 8pm Thurs & Fri | Tasting fee: 15pp (waived if you buy 2 bottles) | Best for: Beautiful grounds from one of the Willamette Valley wine founders
Willamette Valley Vineyards is a behemoth of a winery compared to the others I recommended. In fact, you can purchase stock in the winery!
Jim Bernau founded the winery in 1983, before Willamette Valley was even a designated AVA. Being a first mover in Oregon has it's perks. Willamette Valley Vineyards was grandfathered in and able to keep its name, despite the AVA being named the same thing.
The estate is the largest one I visited. There are rows upon rows of grapes and golf cart attendants picking up people from the parking lot. The main tasting room is large and rowdy, with a piano in the corner and a deck overlooking the grounds. There's also suites that you can stay in if you want to make a winery your home base during your trip.
Unlike a lot of other wineries, Willamette Valley Vineyards serves food. I had an amazing burrata salad with pickled strawberries when I went, which tasted even better when paired with the gorgeous estate views!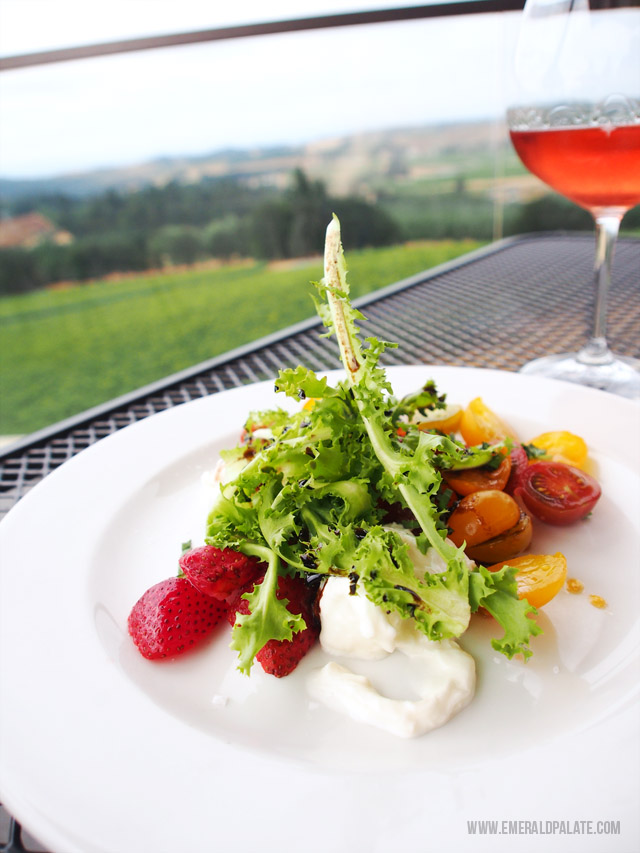 What to taste: The 2016 estate rose of pinor noir. It smells like peach and papaya, but has a dry, medium-bodied mouthfeel with notes of strawberry.

Where to Stay in Willamette Valley, Oregon
Willamette Valley wine country is quite large, so moving from place to place allows you to maximize the areas you visit. Here are three accommodations that I recently stayed at and absolutely loved. Again they are all a bit different depending on the type of accommodations you're looking for, so you're sure to find something that fits your style!

Red Hills Market Lofts
Town: Dundee, OR | Rate: ~$140 – $195/night | Vibe: Chic urban apartment living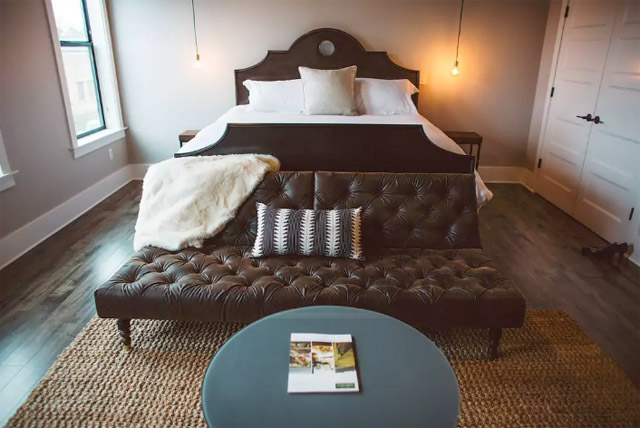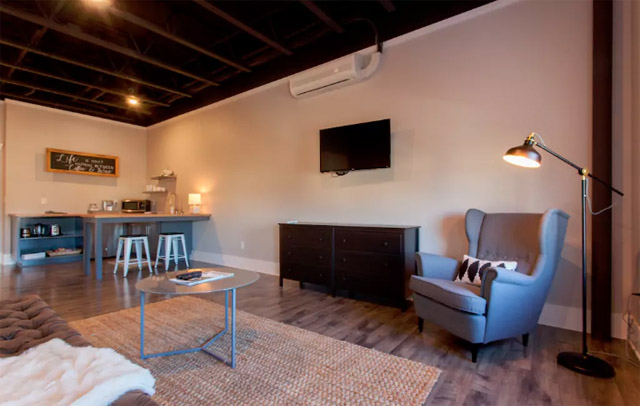 The Red Hills Market Lofts are a great option for exploring Dundee and the nearby wineries. It's right upstairs from the Red Hills Market cafe, bakery, and local goods shop (more on this later).
When we walked in, we were blown away at how posh, clean, and large it was. There's high ceilings, wood and brass accents, widows along the whole back wall, and the most gorgeous bathroom with a walk-in shower, white subway tile, and heated floors.
And the bed. The best was SO comfortable. I just sank into the pillows and watched TV in a coma when we arrived.
I absolutely loved staying here, especially because it had the market right downstairs for easy access to provisions. If you're traveling with 2-3 people, this is a great home base for your Oregon wine country trip!

The Vintages Trailer Resort
Town: Carlton, OR | Rates: $110+/night | Vibe: Glamping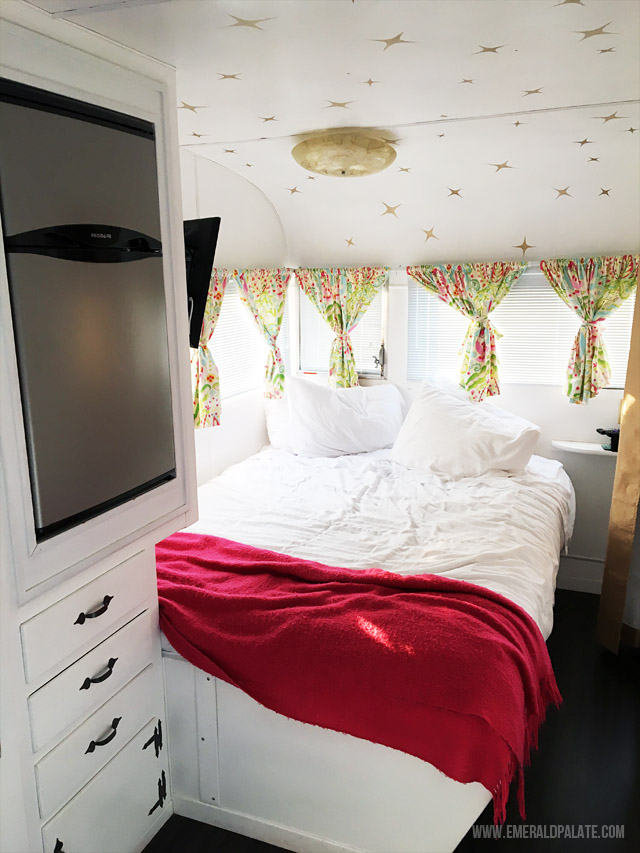 The Vintages is not like any other trailer park you've seen. Sure, one side of the grounds is for people to park their RV, but the other side has rows of vintage trailers dotting a tree-lit street. Each trailer looks different and comes with bikes, a grill, and outdoor seating.
And these aren't the run-down trailers of your nightmares. They've been restored and cleaned to include modern amenities, like air conditioning and incredibly comfy beds. Most have a toilet and shower in them, but I'd say you'll likely want to make use of the pool house restrooms as your second toilet for some privacy.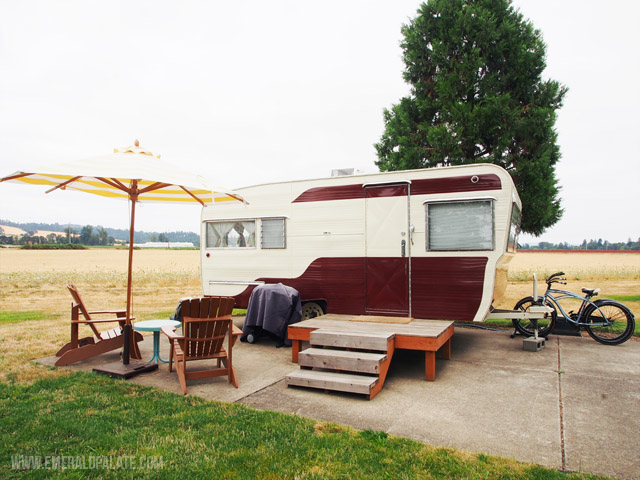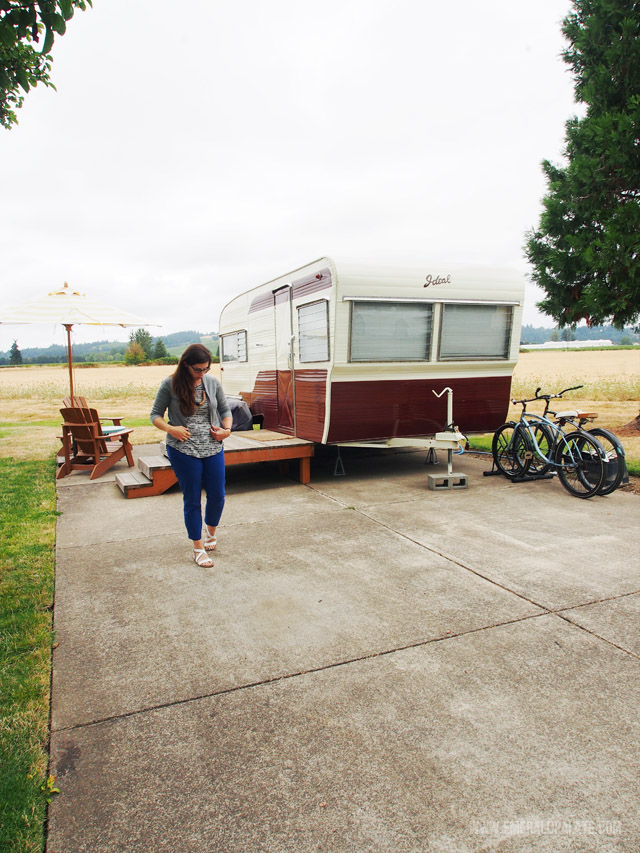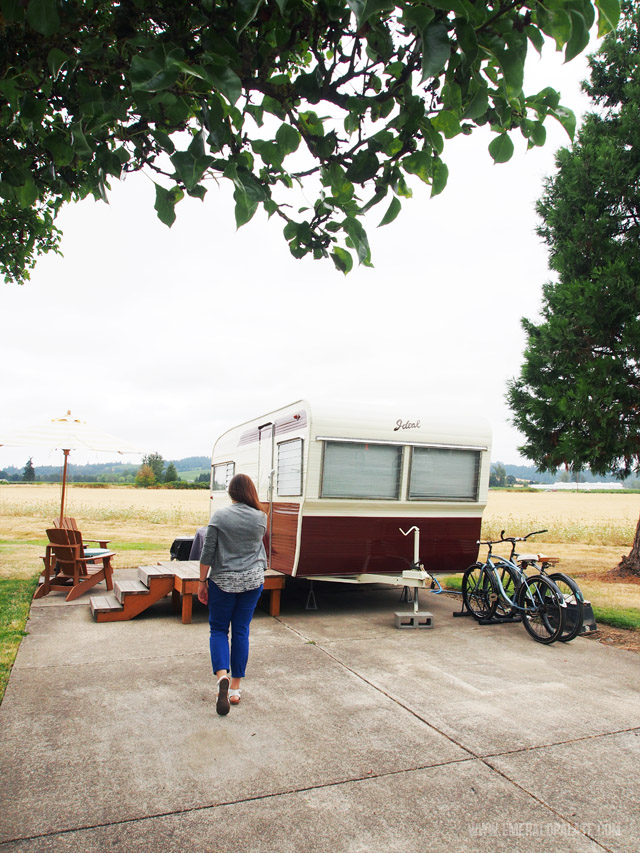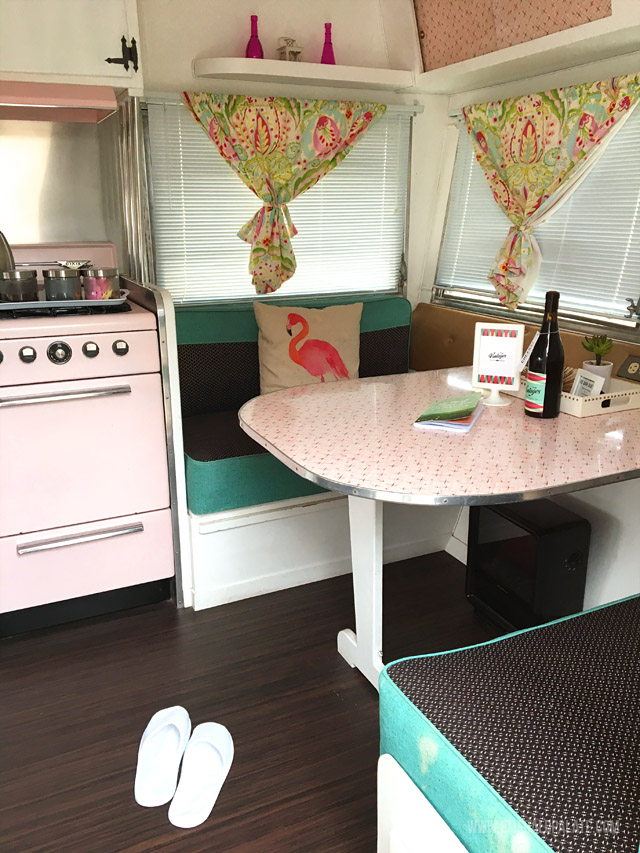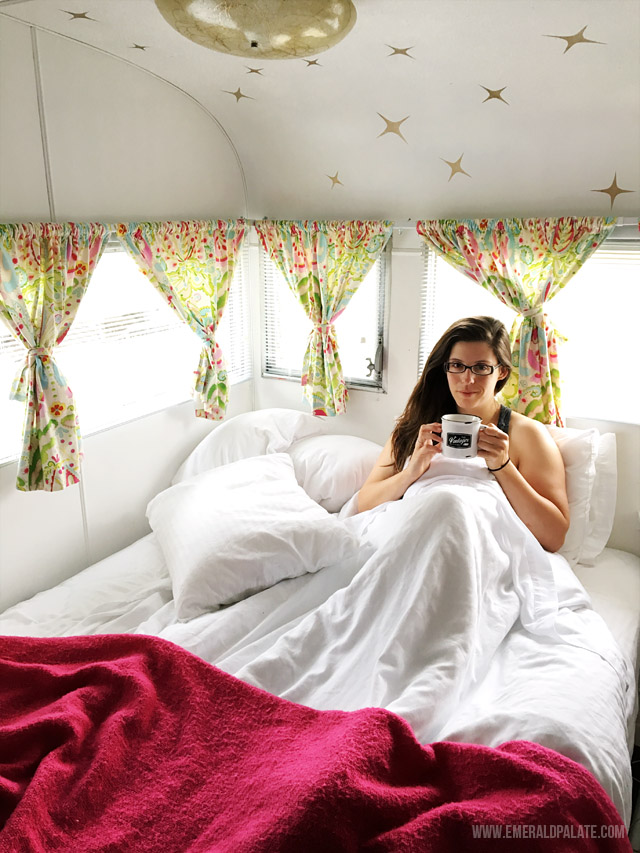 As someone who isn't much of a camper, I was nervous about what these would be like. But I can say they are as cute as a button and perfect for people looking to go glamping in Oregon!

The McClaine House
Town: Silverton, OR | Rates $195/night | Vibe: Historic bed and breakfast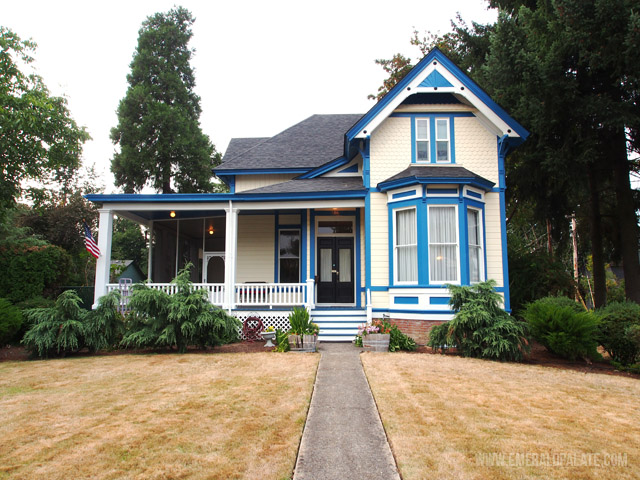 Ok. The McClaine House is the house of my dreams. It's a late 1800s Victorian home that has been restored by innkeeper, Karen. You walk into a foyer with a grand staircase and gorgeous wallpaper. To the right is a living room with the largest fireplace I've ever seen in a home and the most perfectly-curated vintage furniture.
Toward the back is the dining room where we had the most amazing breakfast. I'm talking homemade souffle, yogurt, and scones with bacon, fruit medley, and coffee. I had just said the night before I was going to eat a lighter breakfast because I was so full from all the eating, but I gobbled everything up before everyone else!
Karen is truly gifted in the kitchen and basically has my dream life. She has a garden where she grows the ingredients for her elaborate breakfasts and homemade take-home goodies like jam, which you can purchase as souvenirs.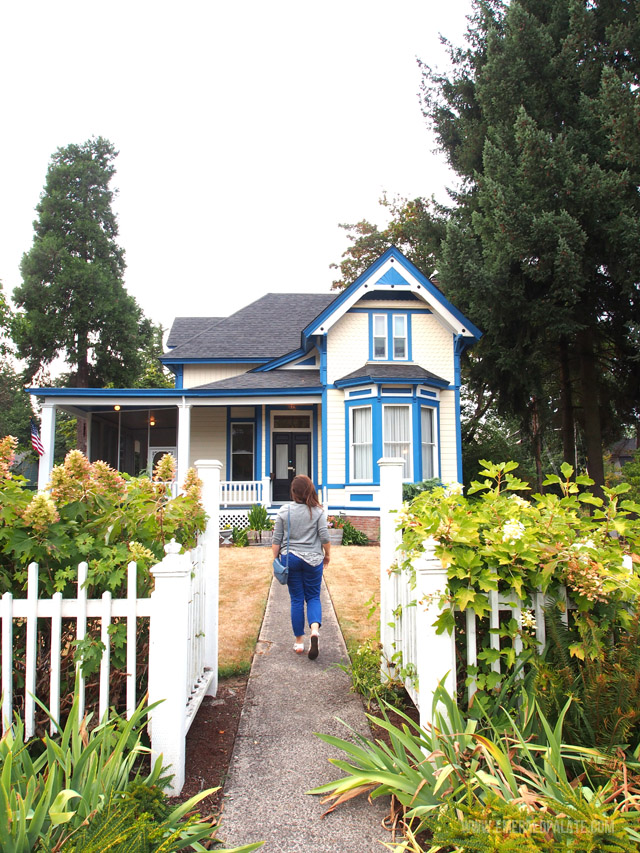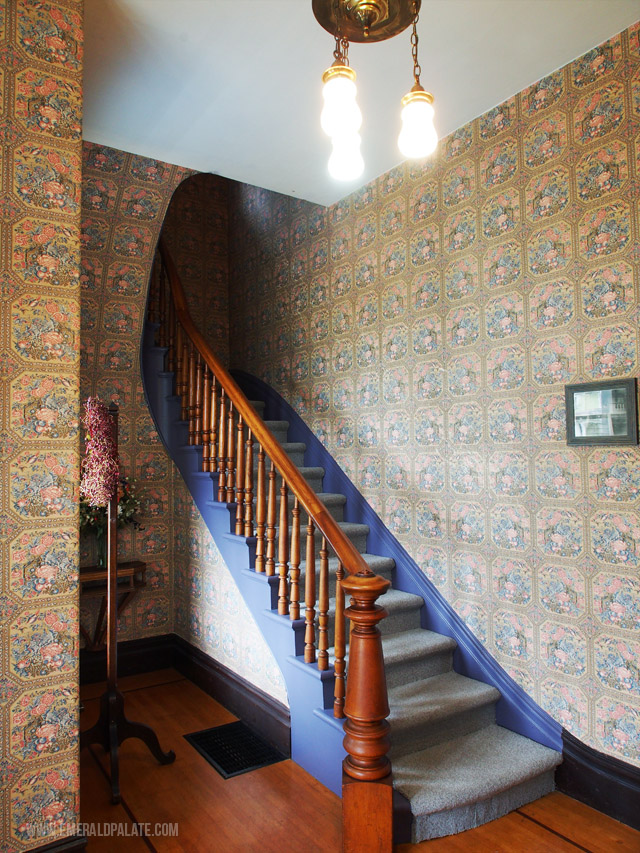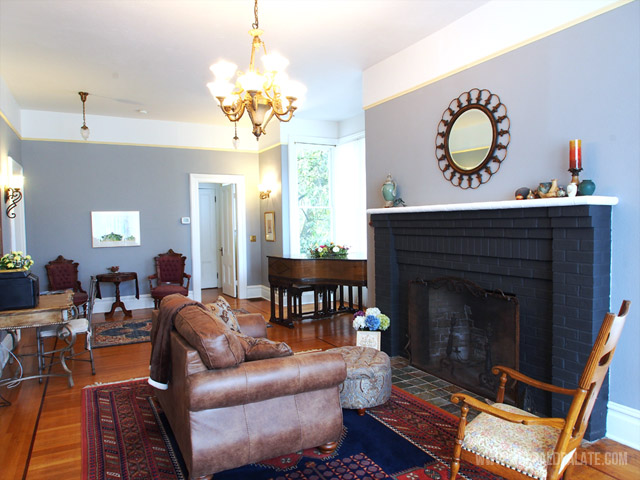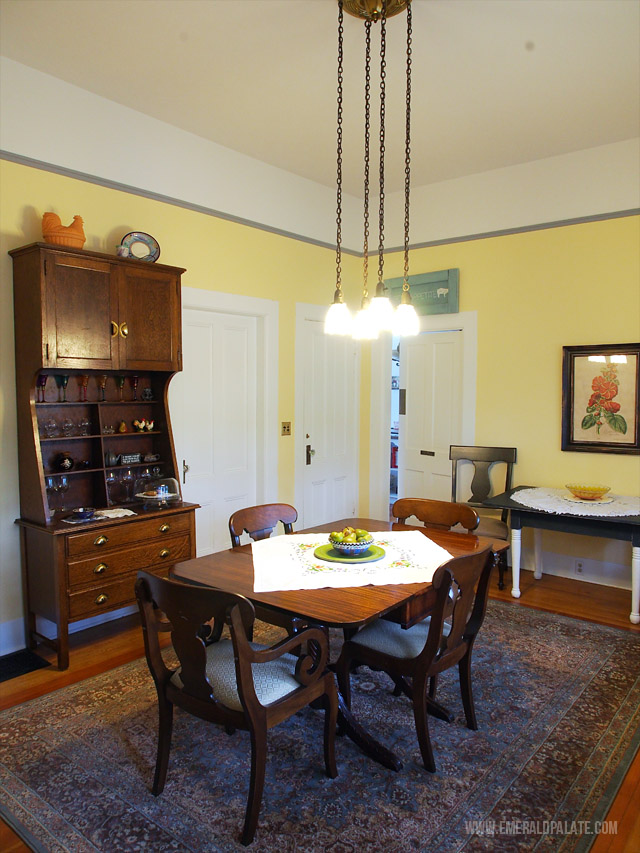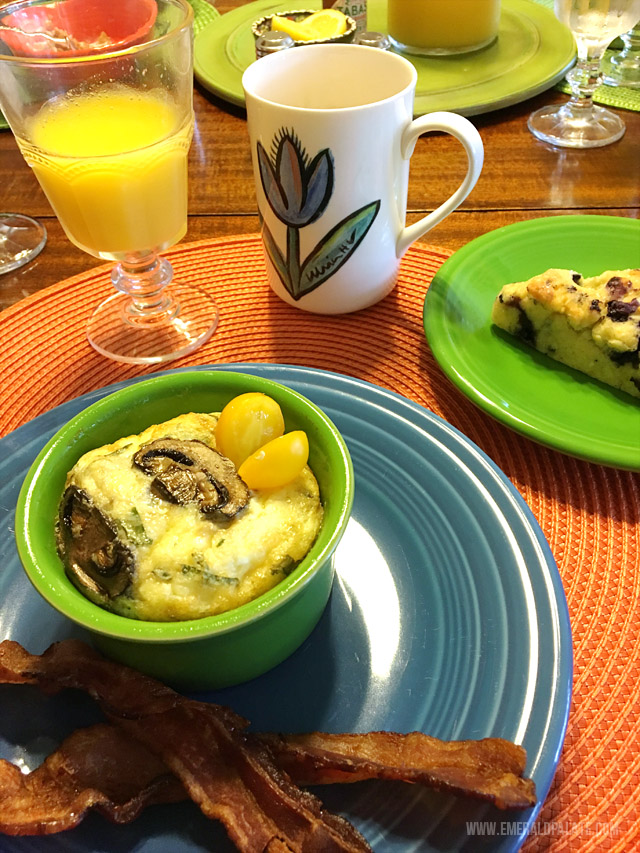 There are two en-suite guest rooms separated by a floor for a ton of privacy. We had the upstairs room, which actually was enough room for 3 people. There was cable, a fan, and robes for the utmost relaxation. We stayed at three very, very amazing hotels and accommodations, but this was my favorite because of the charm and hospitality Karen showed!

Where to Eat in Willamette Valley, Oregon
White Rabbit Bakery
Town: Aurora, OR | Hours: 8am – 4 pm daily (opens 6:30 am weekdays) | Vibe: Rustic bakery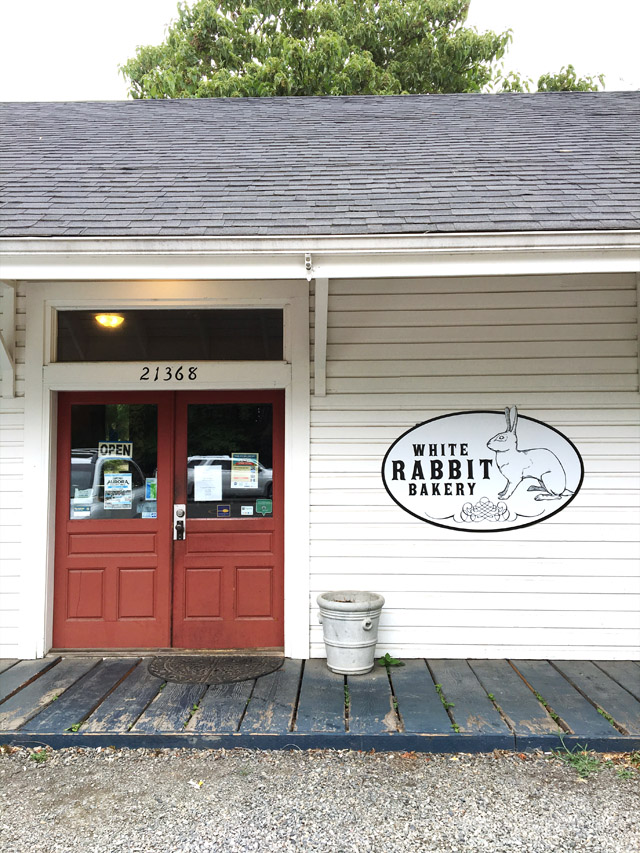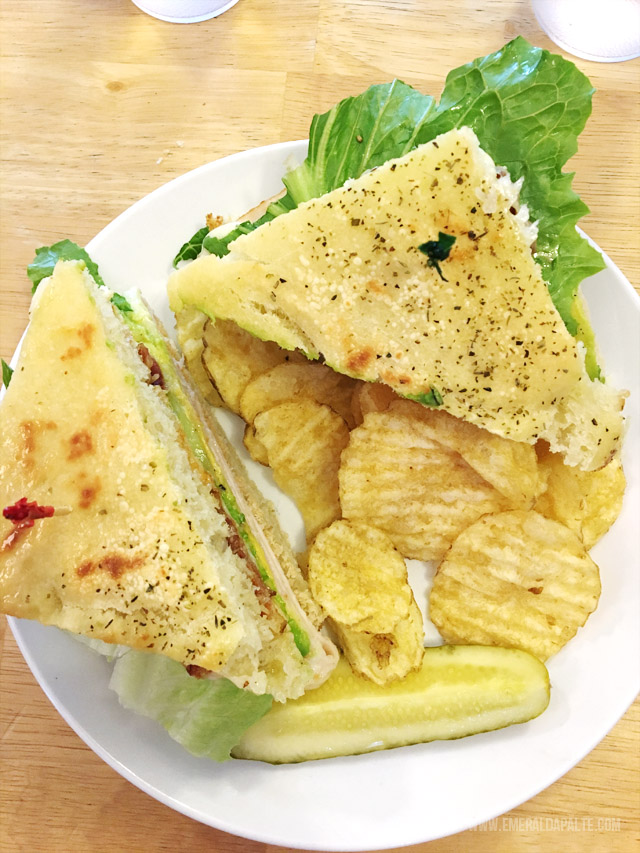 The White Rabbit Bakery is an unassuming building on the main road into downtown Aurora, Oregon. Inside it's rather sparse, with a few tables, vintage couch, and board games. But what it lacks in grandeur it makes up for in tastiness.
We ordered the turkey chipotle sandwich and were really impressed with how yummy such a humble sandwich with chips could taste. This is a great place to stop before heading into Aurora for a day of antique shopping.

Horse Radish Cafe
Town: Carlton, OR | Hours: 12pm – 3pm Mon – Thurs, 12pm – 10pm on Fri & Sat | Best for: Sandwiches & salads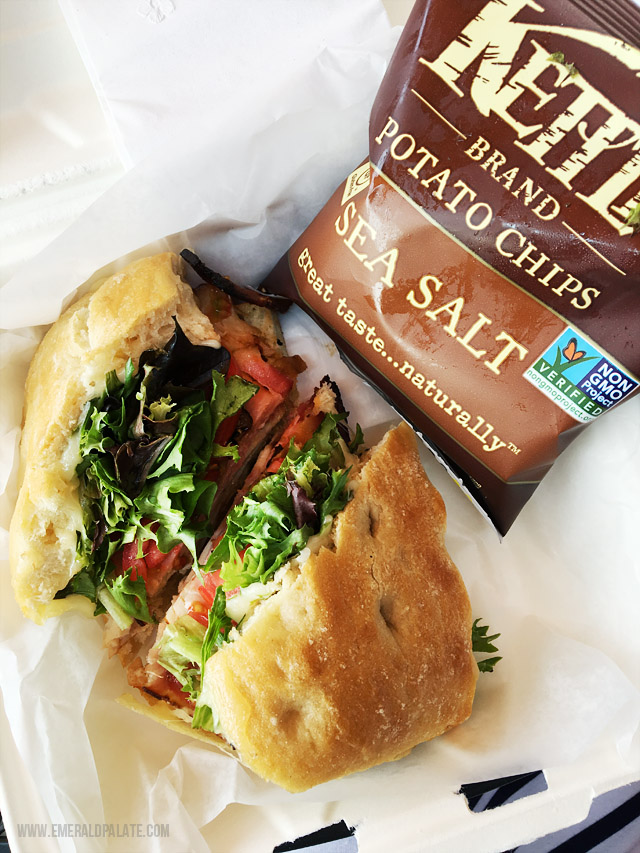 Be warned, a lot of wineries in the Willamette Valley don't serve food. But the good thing is that they allow guests to bring outside food. I highly recommend the Horse Radish Cafe as a place to stop before you begin your Oregon wine tasting adventure.
The Horse Radish Cafe has substantial sandwiches made with high quality ingredients. I was obsessed with the Carlton sandwich, which includes house-roasted turkey breast, peppered bacon, ham, horseradish honey mustard, swiss, lettuce and tomato.

The Silver Grille
Town: Silverton, OR | Hours: 5pm – 3pm | Best for: A fancier meal in a quaint Oregon town
The Silver Grille is right in the heart of Silverton, Oregon, a quaint town with restaurants, bars, a movie theater, and vintage shops. It sources ingredients from nearby farms and changes the menu frequently to reflect the seasons.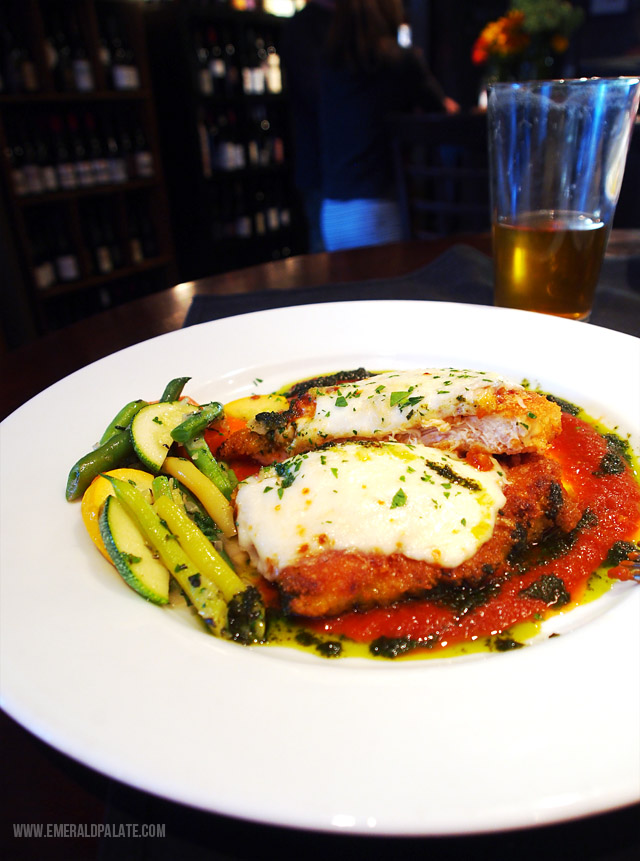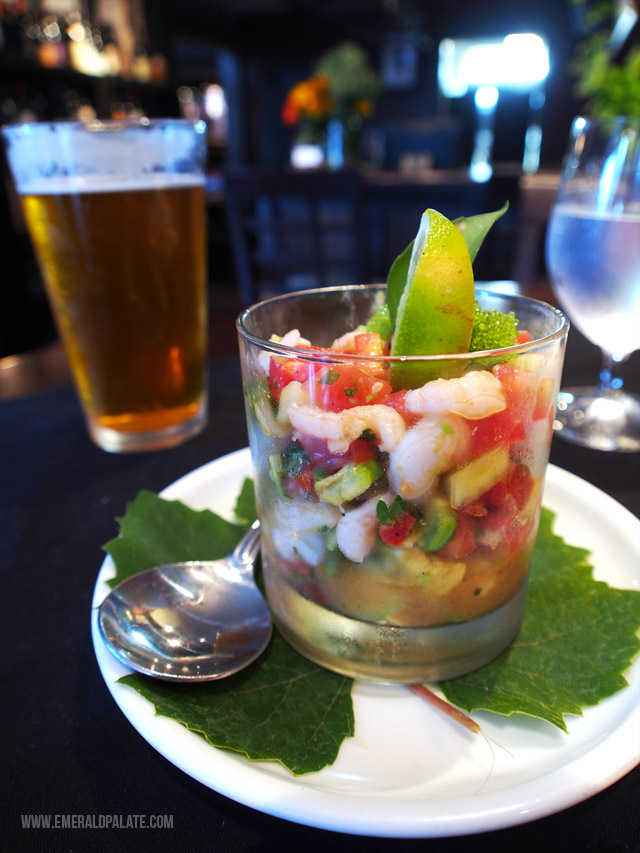 If it's available, definitely get the chicken parmigiana and shrimp ceviche. Both of these dishes were super flavorful and left us licking every last drop off the plate!

The Block House Cafe
Town: Dayton, OR | Hours: 7am – 3 pm Wed – Sun (open until 8pm on Fri) | Best for: Brunch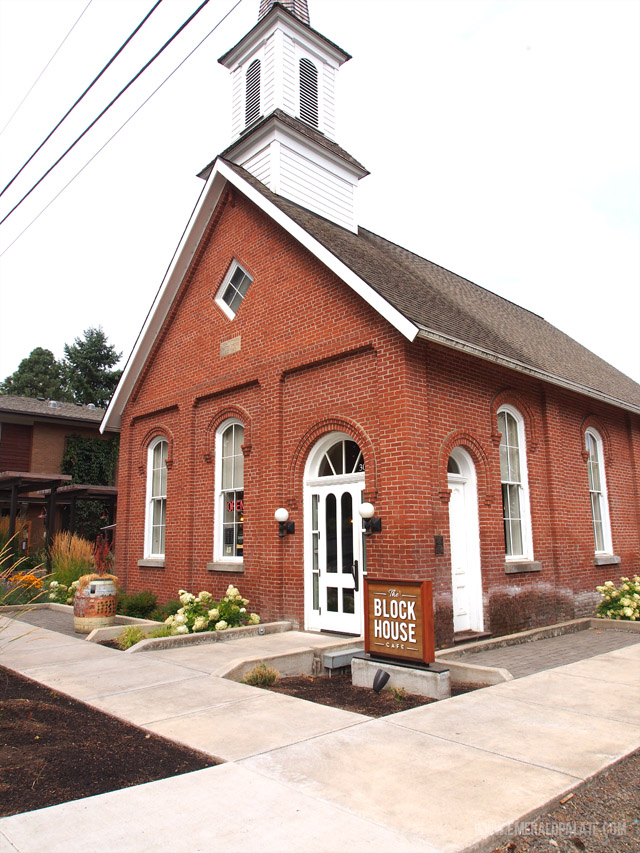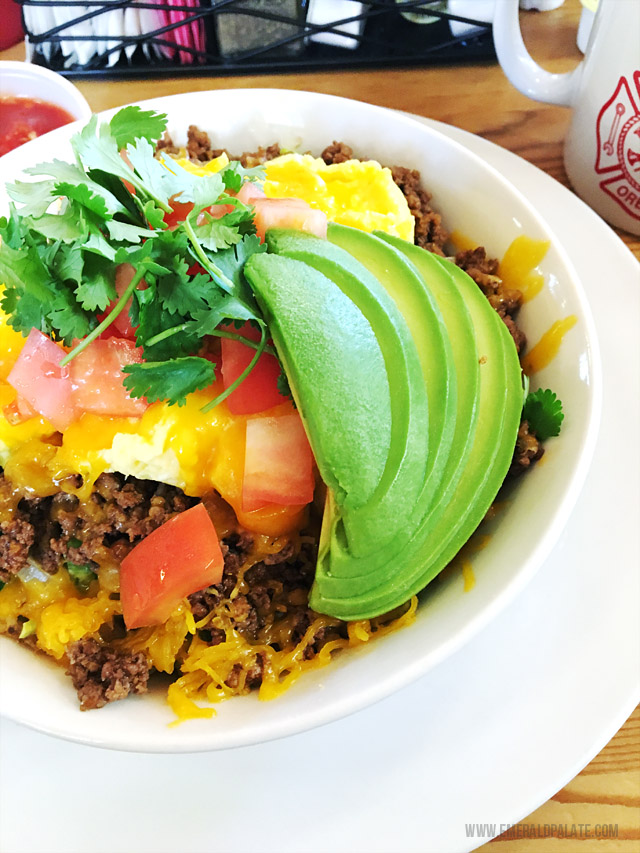 The Block House Cafe sits in a restored, 1886 church and serves up comfort food. We particularly loved the taco scramble, which had ground beef, taco spices, avocado, and other accouterments mixed in with scrambled eggs. It's a great way to start the day!

Red Hills Market
Town: Dundee, OR | Hours: 7am – 8pm daily | Best for: Picnic fare and foodie souvenirs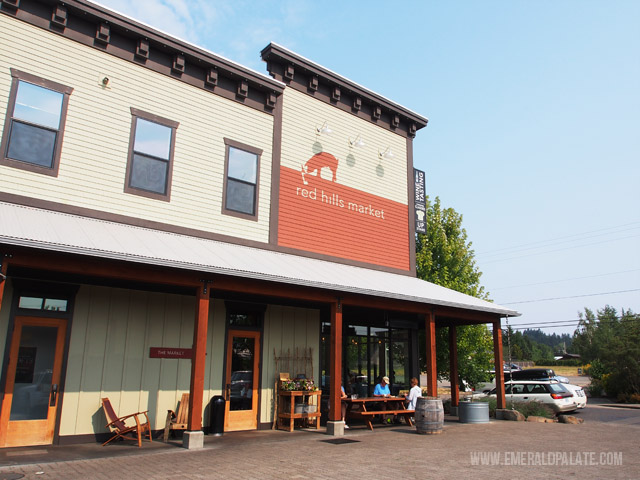 Red Hills Market is what would happen if a food hall and bakery had a baby. You can order pastries, breakfast, and coffee at the counter and dine in as if you were at a bakery. But you can also peruse food goods from Pacific Northwest makers and pick up wine or souvenirs.
We came here for breakfast and were obsessed with their coffee. It's breakfast sandwich was also a great way to start the day (we couldn't stop talking about the damn bread!). But what really makes this place shine is the ability to curate your own picnic to bring to any of the wineries. There's meats, cheeses, baked goods, packaged goods, spreads, nuts, and more which you can mix and match to your liking.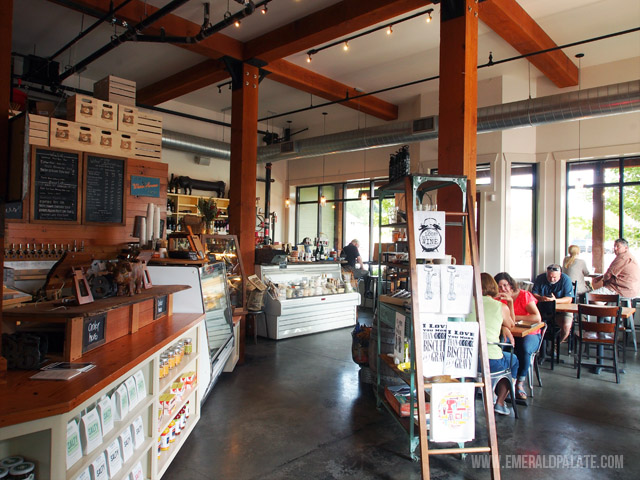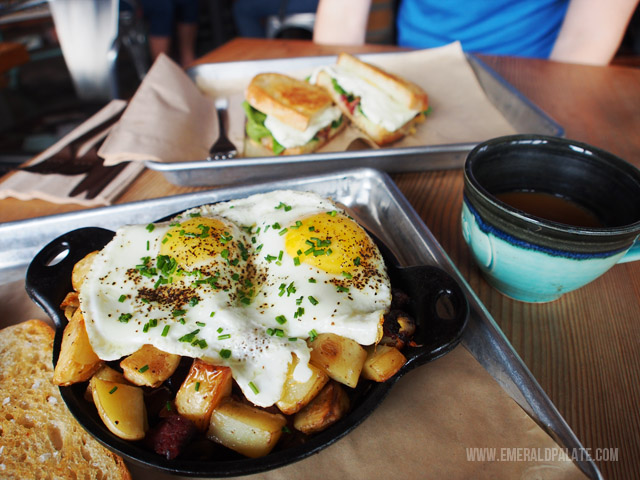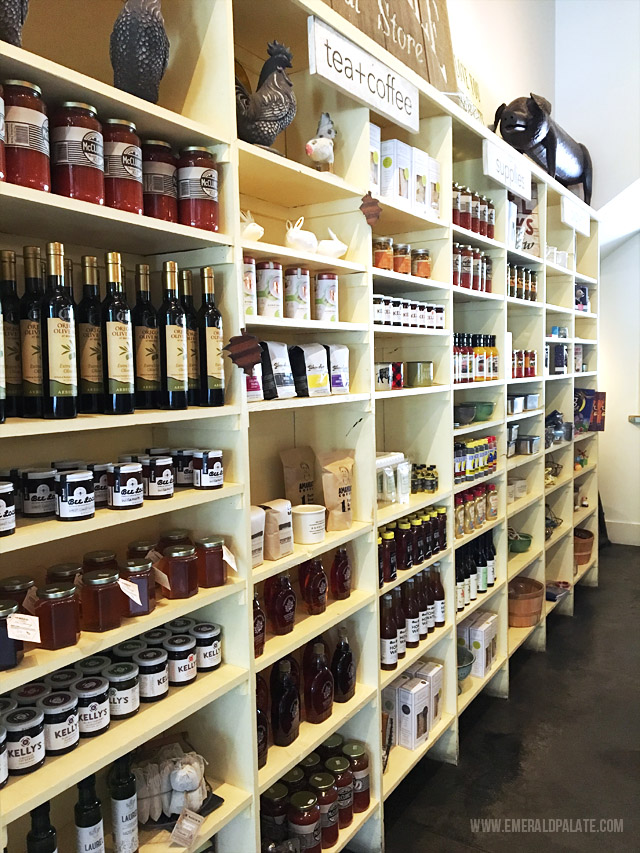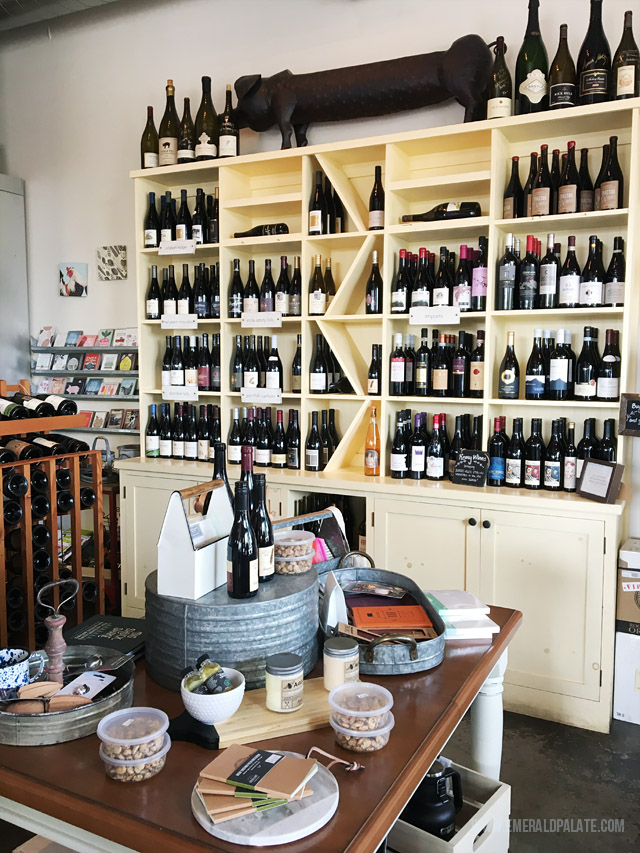 What to Do Between Wineries in Willamette Valley
Most people come to Willamette Valley wine country for the wineries, which I highly recommend should be a priority because…wine. But there's also a lot to do besides drinking, which is especially important if you have young ones in tow. Here are three ideas of what to do between winery visits in Willamette Valley, Oregon.

Century Farm Equestrian Center
Town: Scio, OR | Hours: By appointment or class schedule | Best for: Horse lovers of all ages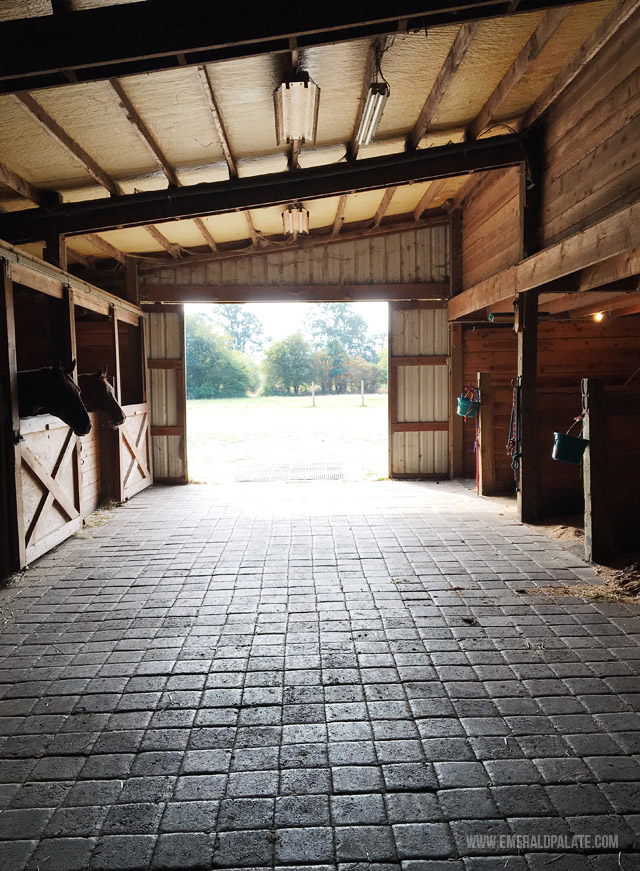 Century Farm Equestrian Center is a farm and trail oasis owned by five generations of the Peery family. After getting a quick lesson in proper riding techniques, you'll be taken along trails on the farm to their base camp where you'll find a teepee tent, tables, and a mini kitchen where bbqs and treats are known to be served.
In fact, Mrs. Peery handpicked blackberries and made a divine homemade pie for our trip! With ice cream! It was a welcome treat after the leisurely stroll through the forest as we learned about how Mr. Peery came to own the historic farmlands.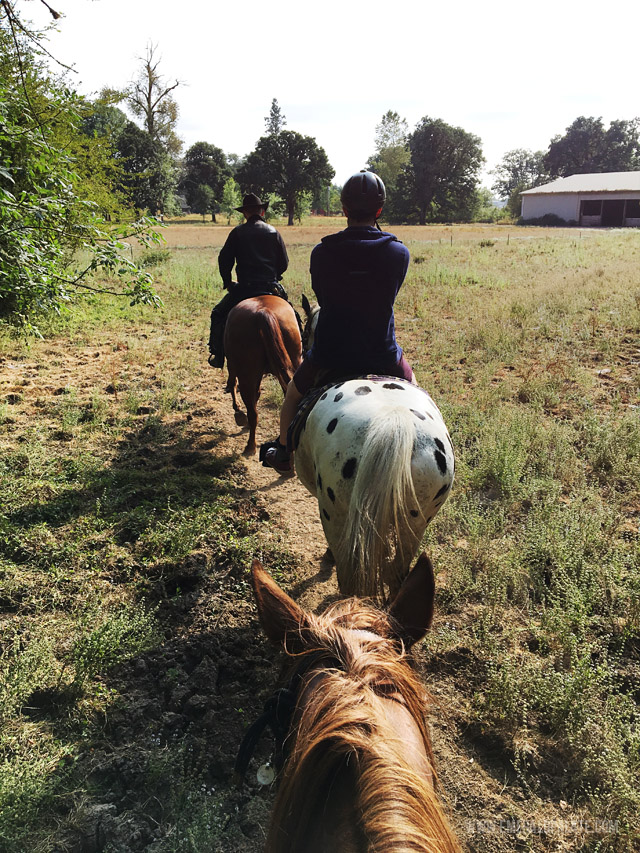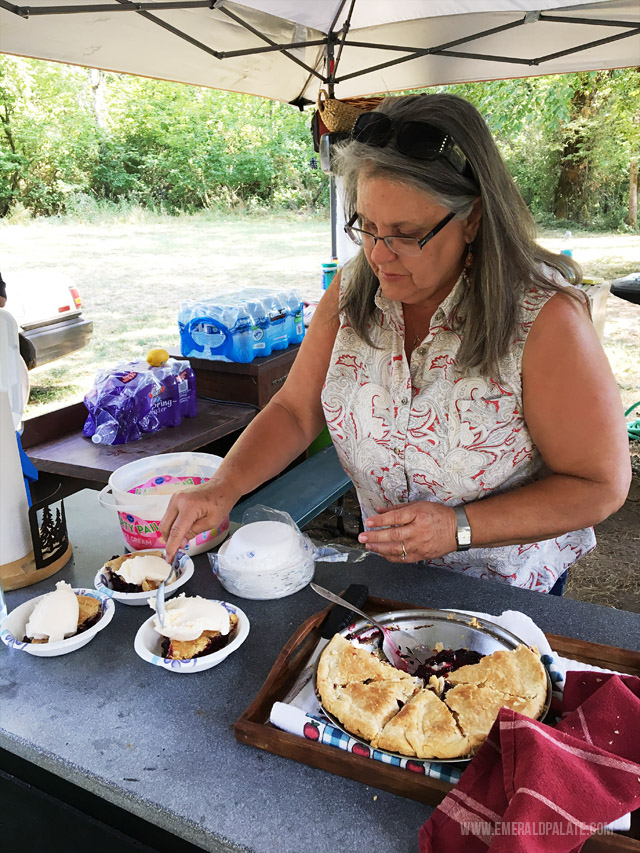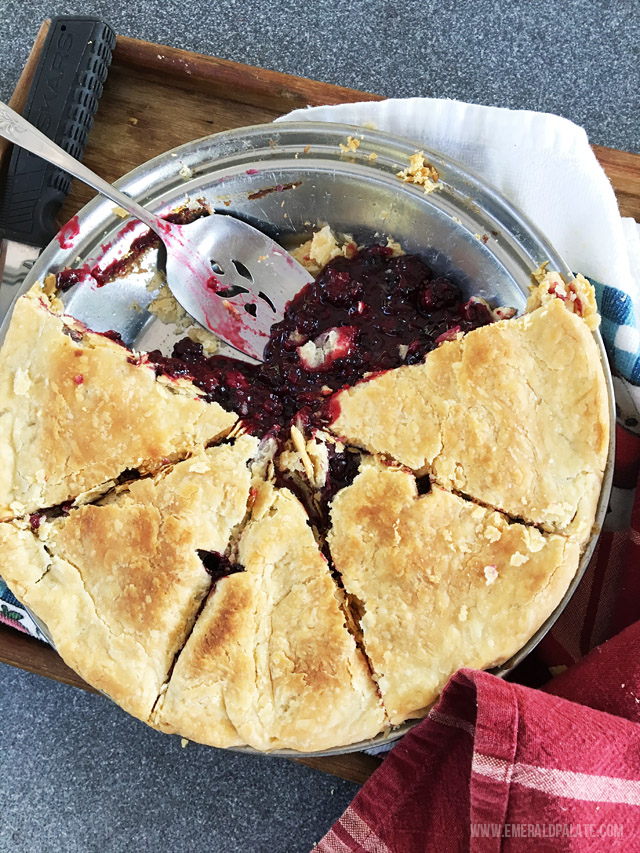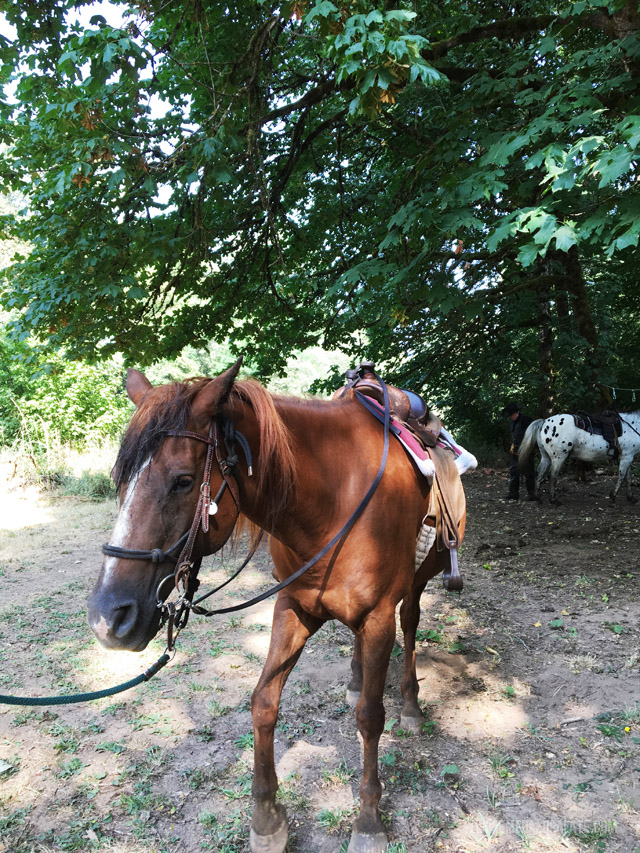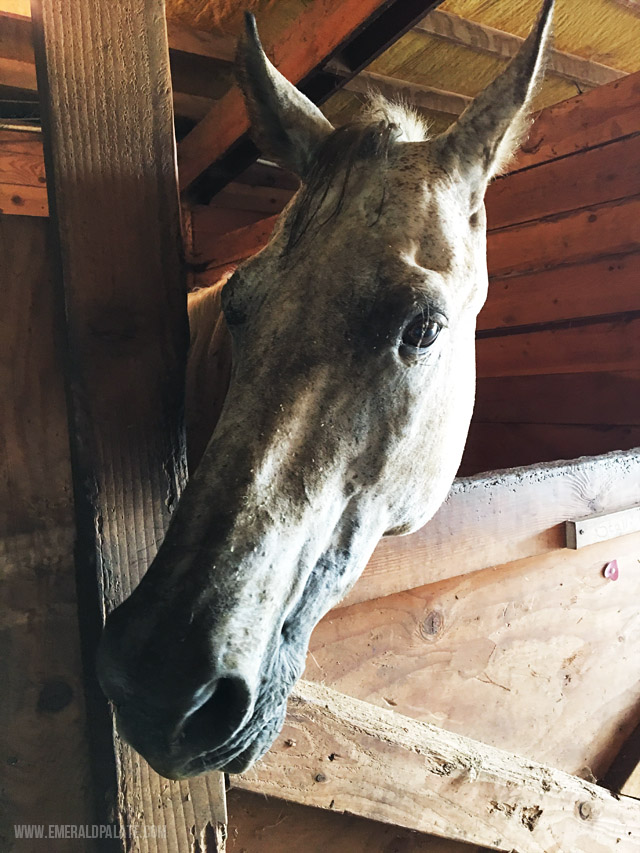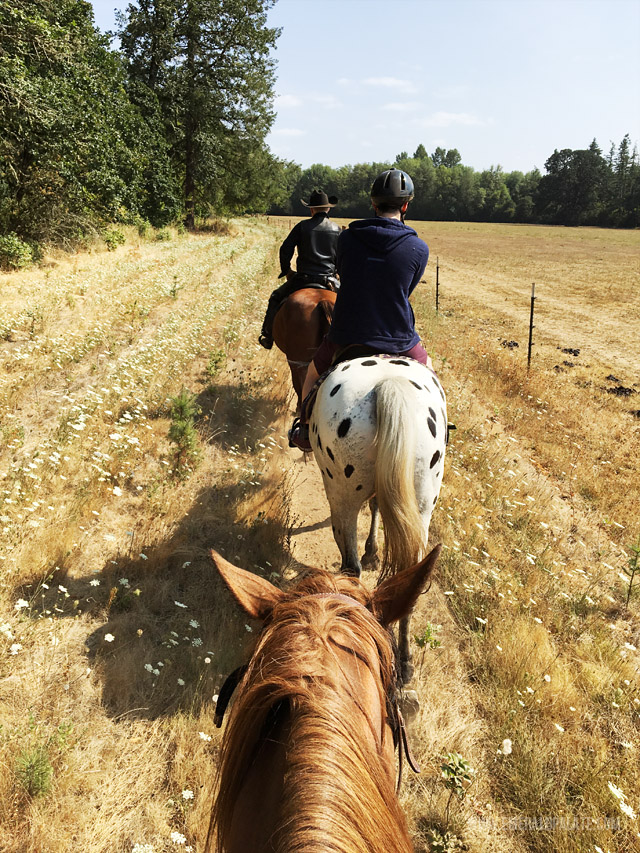 Swan Island Dahlia Farm
Town: Canby, OR | Hours: 9am – 4:30pm daily (by appointment only June & July) | Best for: Flower eye candy and gardening inspiration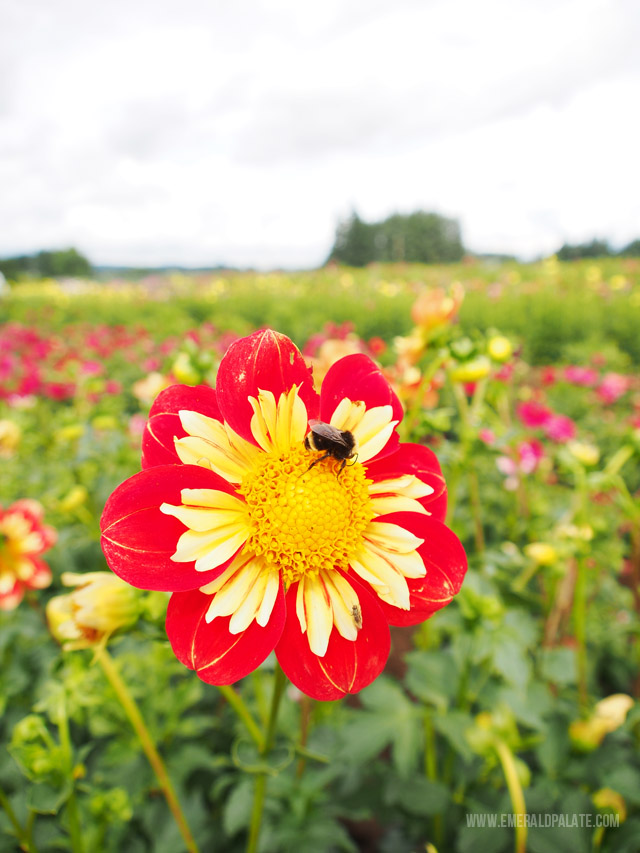 Swan Island Dahlia Farm is the largest supplier of dahlias in the US. And for good reason. One step on their farm and you'll see rows upon rows of different dahlia breeds. I didn't even know there were that many different types of dahlias! And Swan Island is forever increasing the number by playing around and creating new breeds that you can gawk at in their "test fields".
One of the interesting things about Swan Island is that you don't have to just take home cut dahlias that are likely to die within the week. Rather, you can take note of your favorite species while exploring the grounds and then have them ship them to your home for planting. I love how you can get a sense of what you're planting beforehand so you can make sure your home garden is filled with plants you love. Once we get settled into our new house, I'm definitely going to be exploring this option!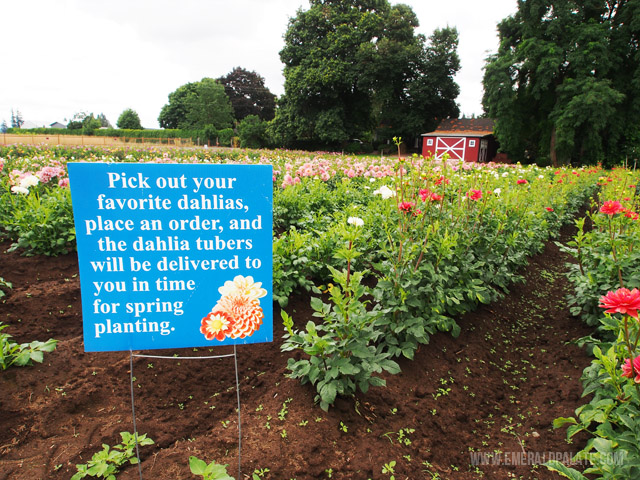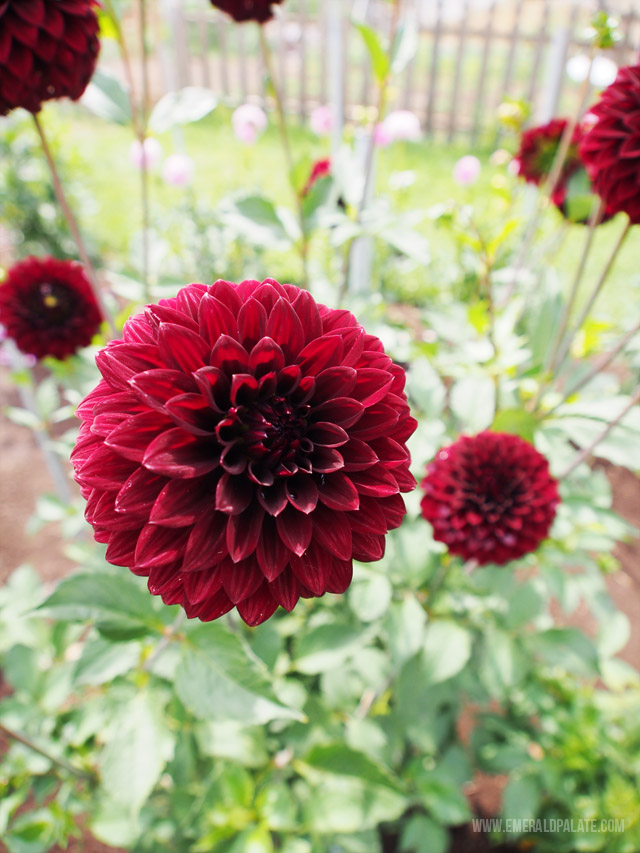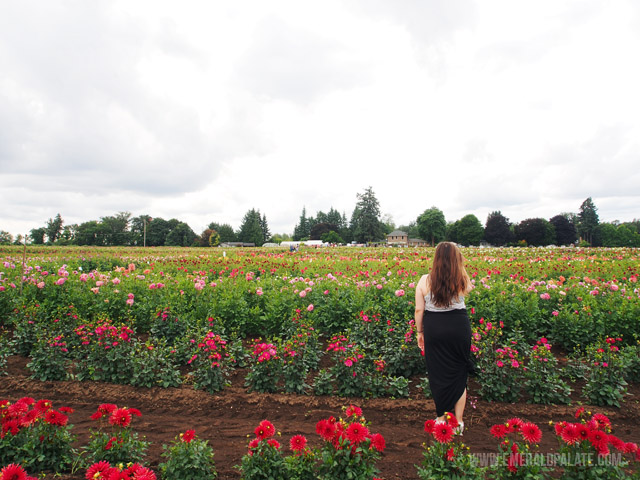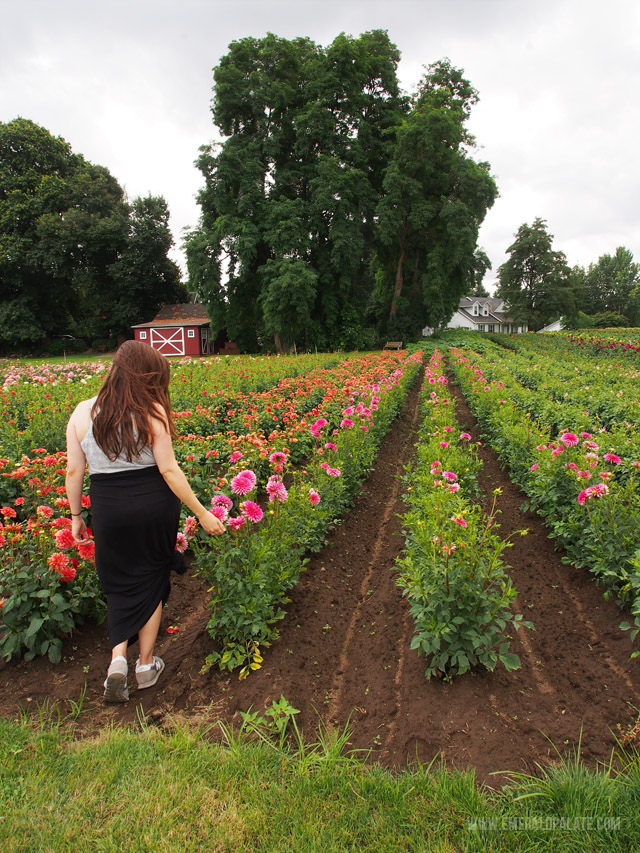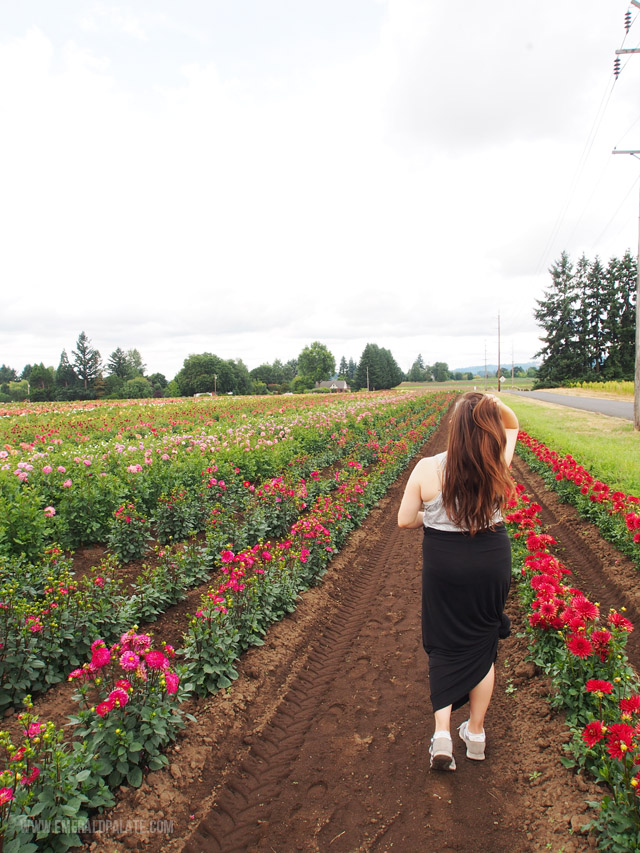 Shopping
The Willamette Valley is home to one of the best antique shopping districts according to the travel channel, Aurora, Oregon. As someone obsessed with antiquing and about to be in need of some furniture to fill a new house, obviously I was going here!
There are a lot of antique shops along Aurora's main drag, but my favorites were Aurora Mills Architectural Salvage and Blackbird Granary. Aurora Mills is a big, restored mill that has a ton of salvaged materials and antiques lining two floors. It leans toward the industrial, farmhouse aesthetic, and is a great place to pick up a lot of matching items like door pulls or keys.
Blackbird Granary is a restore grain house that's outside of Aurora in Mount Angel, Oregon. Karen of The McClaine House actually recommended we go here, and boy was I happy she did. It was 2 big rooms that had vintage finds from a few different vendors. We ended up buying a vintage lamp for $20, a steal considering they usually sell for close to $150-250 at most antique stores!

Map of Willamette Valley Wine Country
Those are my top recommendations for where to visit in Willamette Valley, Oregon. However if you're looking for more ideas, here's a map of additional places to try. Keep checking back for more, as I plan to update this Oregon travel guide and map regularly!
And if you have any recommendations, please pass them along!
Pin This Travel Guide For Later



Disclaimer: Willamette Valley Wine Country provided me with free wine tasting, accommodations, and meals in exchange for a review. I included the places that I would recommend if I found them on my own, plus a few additional ones I did find on my own. As always, all opinions are my own. Thank you for supporting the brands that help make The Emerald Palate possible!
Other Articles You Might Like