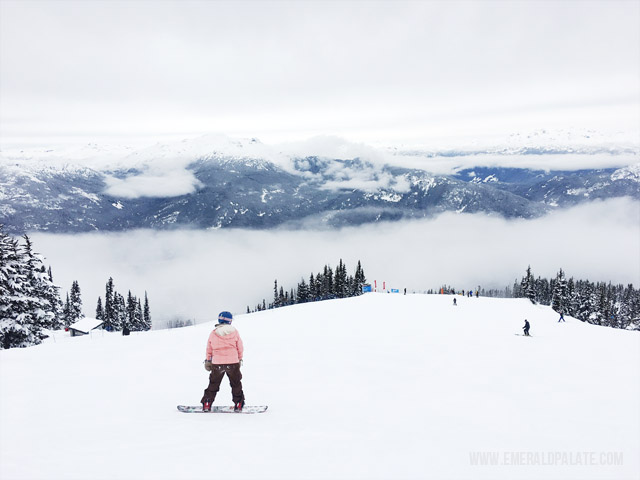 I've been going to Whistler Blackcomb Resort every year for almost a decade…which means I've been hunting for the best restaurants in Whistler, BC for a while now. Whistler Blackcomb is one of the best ski and snowboard destinations in the world (and the best in North America). It has unparalleled ski terrain and one of the bigger après ski options at the base of the mountain in Whistler Village.
Yet, the shopping, eating, and drinking options in Whistler Village are…let's just say diverse. You'll find a lot of touristy shops filled with tchotchkes you don't need or overpriced ski clothes. Tucked between those are dining gems like The Old Spaghetti Factory and Ruby Tuesday (cough sarcasm cough).
With all the high street options available, it can be difficult to find the restaurants and cafes worth eating at. And since the prices at this popular ski resort are inflated (mentally prepare for this!), you definitely want to make sure you don't have food regret.
Over the years I found the secret places to eat in Whistler Village. These are mostly off the beaten path and are loved by both locals and discerning tourists alike. Here's my carefully-curated, constantly updated list of the best restaurants in Whistler, BC. But shhh…don't spread the word too much or they might be impossible to get into before you know it.
First, General Whistler, BC Tips
Since I go to Whistler every year, I should probably start with some tips I've learned.
Try to avoid skiing on the weekend
I always plan a Wednesday – Saturday trip, where I hit the slopes Thursday and Friday. That's because Whistler has gotten super popular after the Olympics. If you're like me and hate crowds, do yourself a favor and try to plan a trip on a weekday.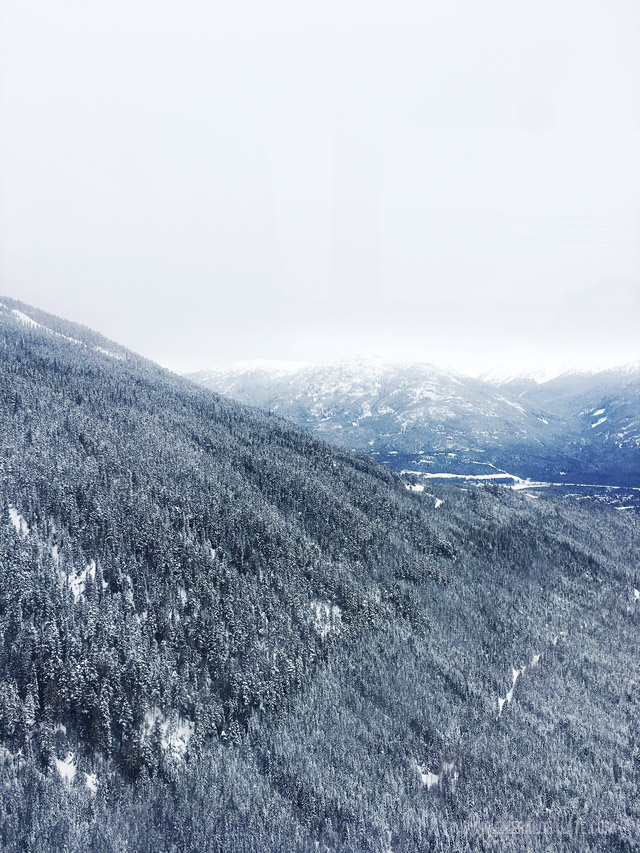 Late Feb/early March is best
Canada can get cold. I'll never forget the one time I was at Mount Tremblant in Quebec in January and it was -30F. I cried the whole way down I was so cold and scared of the ice. Whistler is bigger than Mount Tremblant, so do yourself a favor and plan to go when it's not in prime cold time. I like the first week of March because it's warmer at the base but still great conditions up in the clouds.

If you live in Washington, consider an Edge Card
Whistler has a deal for Washington residents where you can get discounted lift tickets if you ski 5 or more days. Buy an Edge Card online before you go and pick it up when you're there. And don't even try to cheat…they ask you for your driver's license when you get there.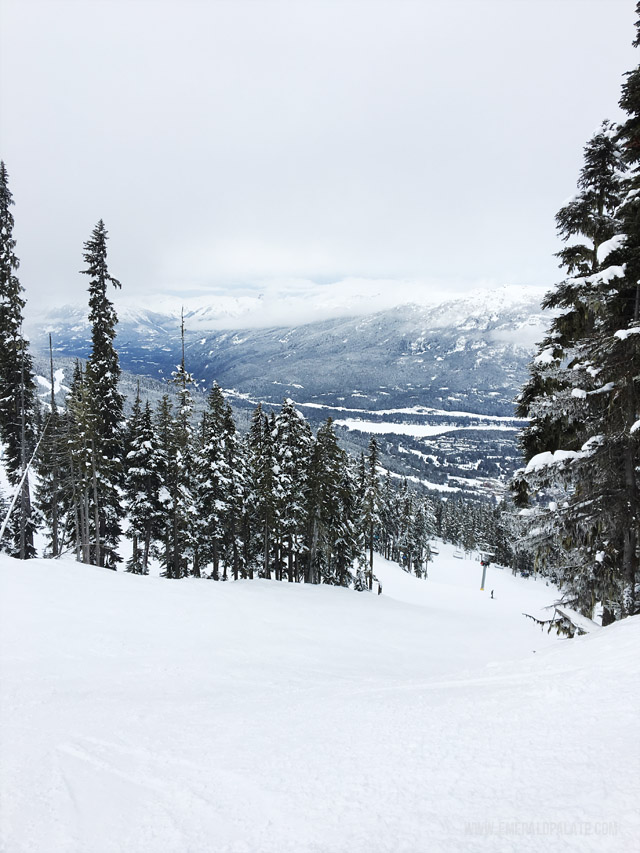 Look for a Groupon or Living Social deal
I often keep my eyes peeled for a stay and ski package. I found you can say a lot of money this way.

Stay in Whistler Village
Usually I'd say avoid the crowds, but you're in the middle of the mountains and there's nothing to do at night. So being able to take advantage without a car is a huge plus. I usually stay at the Cascade Lodge since it's right on the edge of the main Whistler Village area. This means it's slightly cheaper, but still walking distance to the slopes.
If you're wondering about Creekside, yes there's ski in and ski out. It has some restaurants a shops, but it pales in comparison. I highly recommend Whistler Village over this area.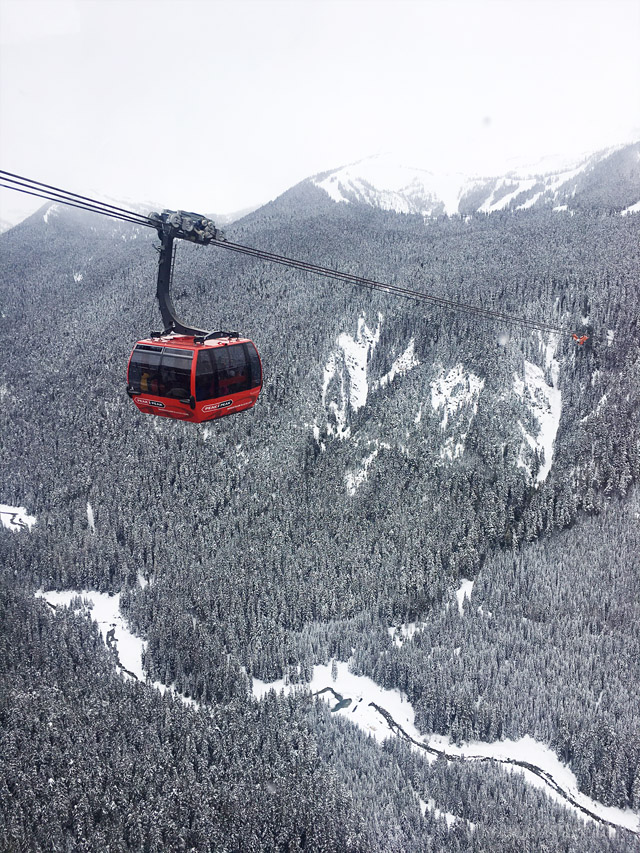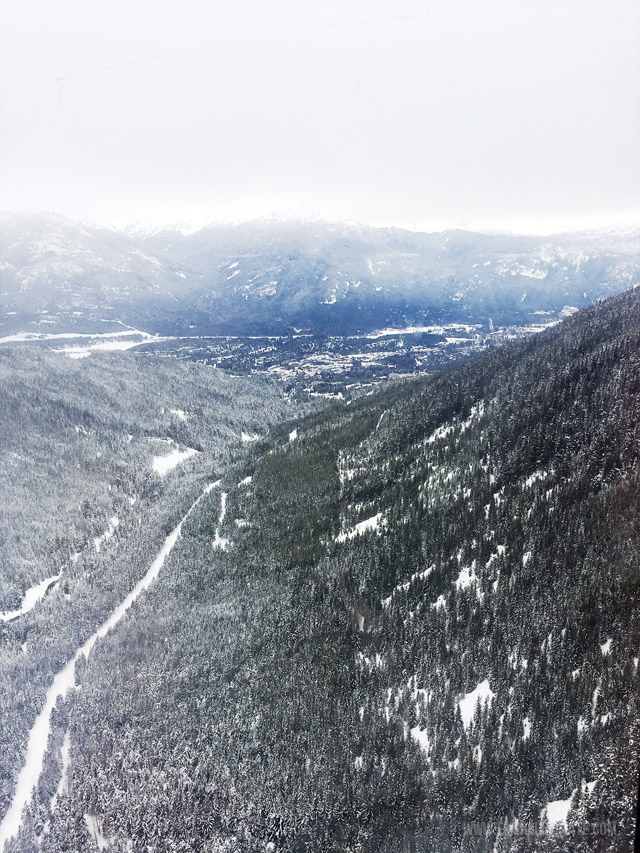 The Best Restaurants in Whistler, BC
Araxi Restaurant & Oyster Bar
website | fine dining | pricey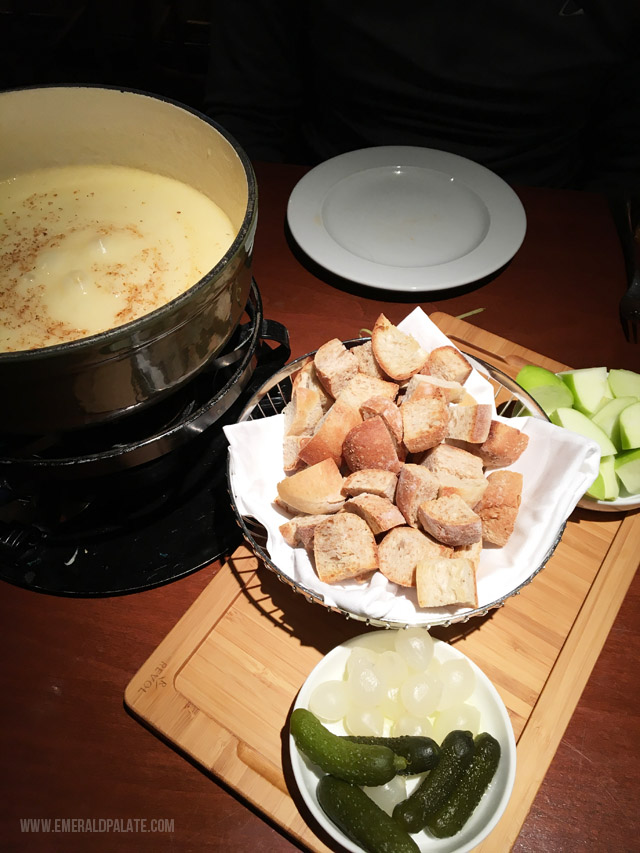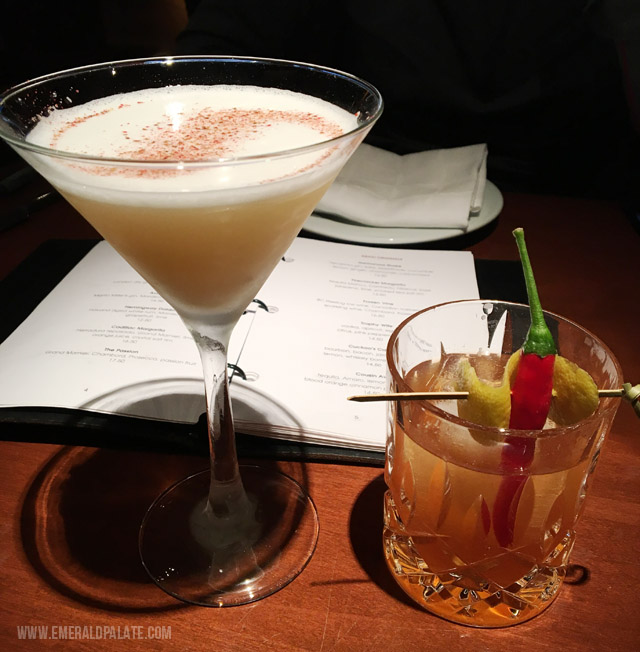 Araxi is probably the only expensive, fine dining restaurant worth the price in Whistler. It's part of a Vancouver-area restaurant group that owns Blue Water Cafe and a few other popular restaurants. It serves superb oysters and thoughtful farm-to-table creations, led by executive chef James Walt. He's nothing to sneeze at. He's the only James Beard-nominated chef in Whistler. He's helped get Araxi voted Whistler's best restaurant by Vancouver Magazine one of the top 100 best restaurants in all of Canada.
Despite how great the dinner food is at Araxi, I recommend going for après ski. I go every year after a day on the slopes — literally in my snowboard gear and all — for one reason: their cheese fondue. It's a classic with gruyere and white wine, but it's so flawlessly executed that you can't help but taste every nuance of ingredients Walt's team included. And they serve it with pickled baby onions and cornichons, which is a mind boggling combination. Gosh, I'm craving it just sitting here writing it.
Yes, you will pay ~22 CAD per person for this fondue. It's worth it. Especially with the extra apples to dip in. Oh, and you should definitely get The Trophy Wife cocktail, a blend of vodka, apricot, egg white, citrus, and pink peppercorn dust.

Bar Oso
website | wine bar-esque | medium priced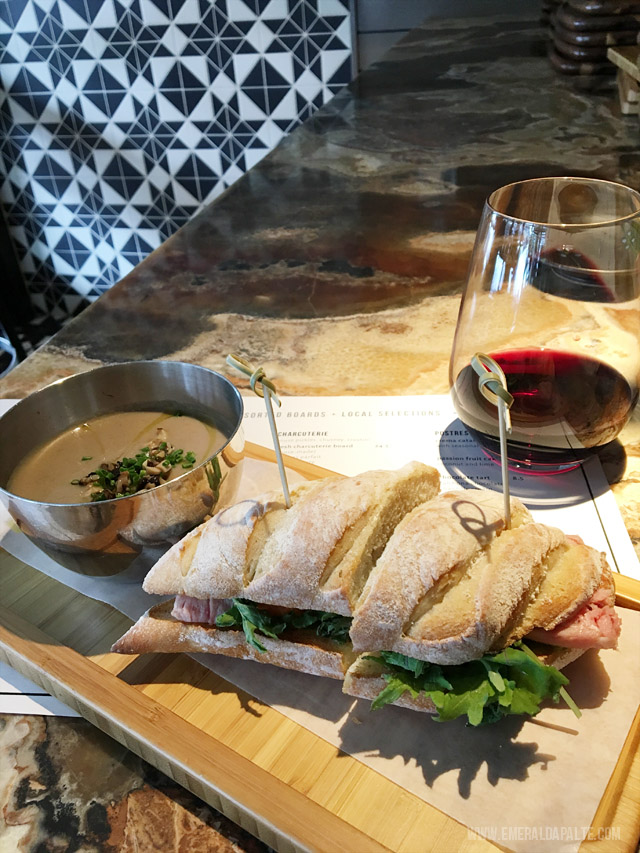 I discovered Bar Oso on my most recent trip to Whistler a few weeks ago and was sad I haven't been going every year. It's owned by the same restaurant group as Araxi, so you know it's quality is top notch.
Bar Oso ("bear" in Spanish) is a Spanish-style tapas place with excellent wine and thoughtful small plates that — having studied in Madrid — I can attest are very authentic. That makes sense, since it's led by madrileño, Jorge Muñoz Santos.
In true Spanish-style, it doesn't a pretty terrible job at selling itself on the menu. You know what I mean, just listing the bare minimum ingredients. But trust me, it's phenomenal. Particularly well executed are the bocadillos.

Alta Bistro
website | more casual version of fine dining | medium-higher priced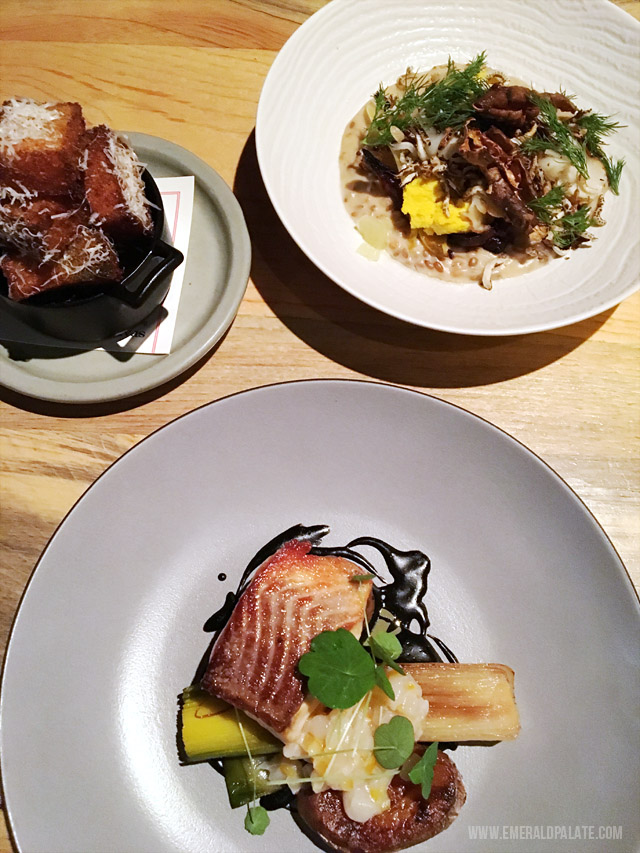 Alta Bistro was another more recent discovery. Which is funny because I've stayed across the street from it literally the past 4 years. It's a sustainable, farm-to-table restaurant like Araxi, but much more casual. It has playful, creative dishes like pumpkin soup with popcorn and elk tartare with a fois grais parfait (I. KNOW. RIGHT?! You know how I feel about steak tartare).

Crepe Montagne
website | casual French | medium priced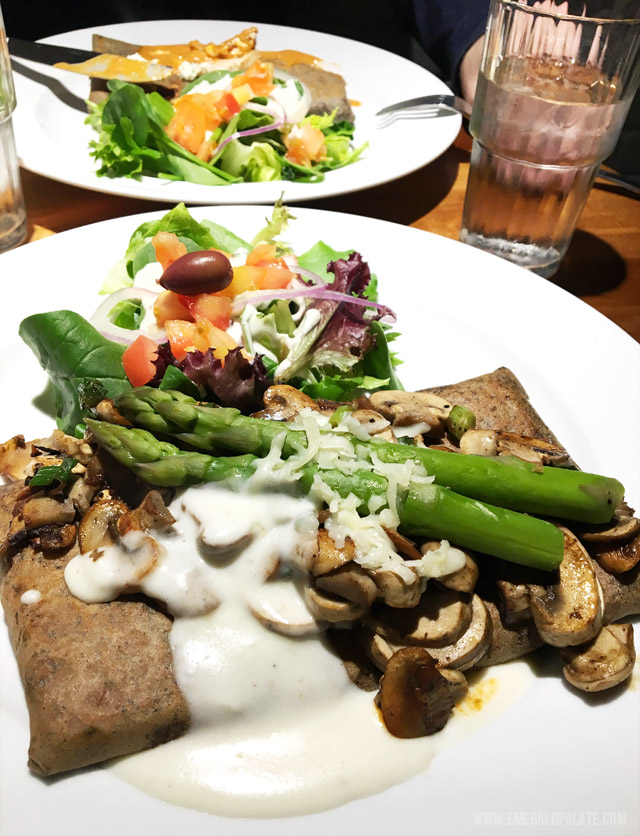 Crepe Montagne is the place I've been coming to every year since my first visit to Whistler. It was impossible to find before Google Maps became popular; hidden in an unassuming condo/strip mall off the main drag of Whistler Village.
Get ready. It's small so you will wait if you go during prime time (I recommend ~8:30 pm or after). And you will die a bit inside because you're paying around 25 CAD for a friggin' crepe. But relax…it's Whistler. And it's actually worth it.
Their crepes are both savory and sweet, made in classic French style. My favorite is getting ham, asparagus, mushroom, bechamel, and cheese. But really, anything you get will be good because their buckwheat crepes are super flavorful, a tad thick, and soft.

Peaked Pies
website | Australian pastries | cheap eats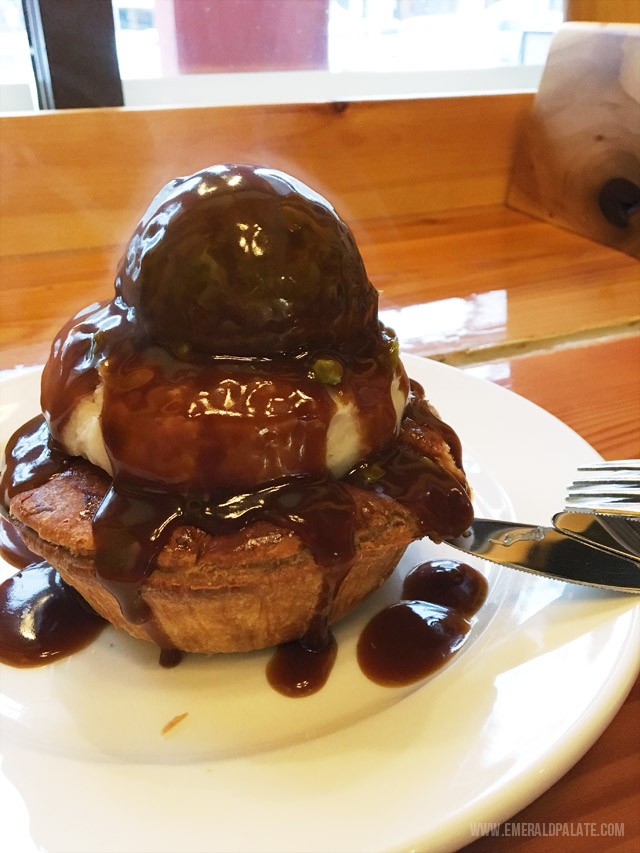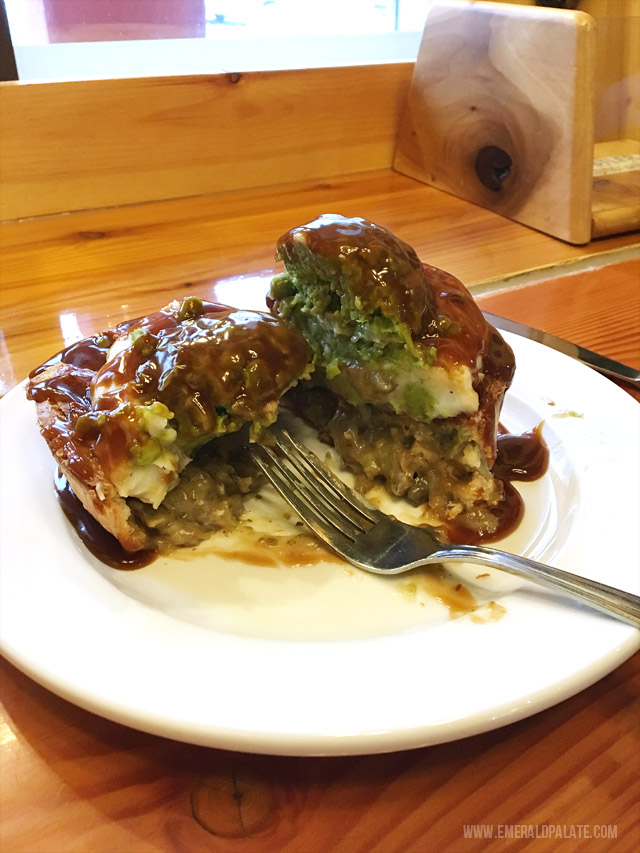 I can't believe I only discovered this place on my last visit. It has a ton of great reviews on Yelp and is near Crepe Montagne, so it's surprising I've missed it. I guess it makes sense, as the interiors are pretty unassuming. I'm sort of a hater when it comes to pre-made pastries, and you walk in and it's just a case of savory pies already made. There's only a few tables…it's basically a grab-and-go place.
But it's pies are super good. The crust is flakey, golden, and flavorful and it's moan-worthy when it gets soggy from the liquid at the bottom of the pie. You can get them "peaked", which means they add mashed potatoes, mushy peas, and gravy to it. While this is authentic to Australia, I actually recommend getting the pie by itself or with gravy. I thought the mashed potatoes tasted almost boxed and the mushy peas were take-or-leave. But even with these missteps, the pies were that good to recommend.

Stonesedge Kitchen
website | casual | medium priced
This is that hipster brunch place you'd expect to find in Seattle. I mean, they serve other meals, but brunch is all that really matters. Particularly because there aren't a lot of brunch places worth featuring in Whistler. I almost didn't feature this place because I'd give it a solid 4 out of 5 (where the others are higher), but if you're in need of breakfast in Whistler your pickings are slim!
PS – I saw they have a duck mac n' cheese on their menu. Whaaaaaaaat? You should get that if it's on the menu when you go and let me know how it is!

Fergie's
website | diner-esque | lower prices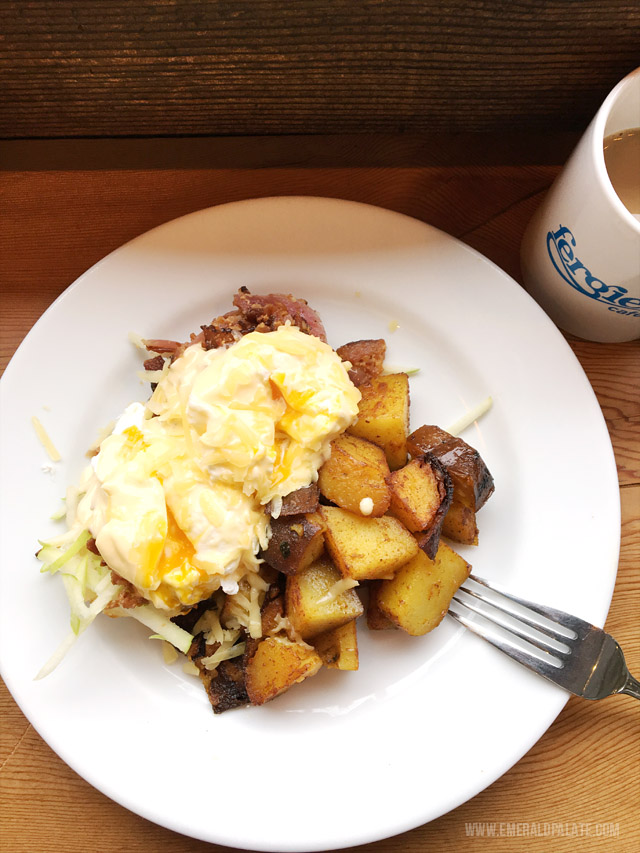 Surprise! This one isn't in Whistler, but wait…wait! It's on the way to Whistler from Vancouver and is a must stop on your way home. It's in Squamish and off the beaten path. This place was also recommended to me by that Etsy seller. He said he will make the 40-ish minute drive from Vancouver to go here for brunch. And he told me it's all because of one dish: the dubliner benny.
This egg's Benedict is so bomb. It has a green apple slaw, shredded cheddar cheese, bacon, and caramelized onions on a homemade biscuit. I find it so funny that every year my boyfriend and I do this dance, where he insists we need to get different dishes but then he ends up puppy dog eyein' my dubliner benny until I split it halfsies. He's lucky he's so endearing because it's that good that my first reaction is not much different than a lion eating his catch and confronts another lion who's been creepin'.

Other Whistler Restaurants On My List
I only go to Whistler for about 3-4 days each time, so there's only so many meals I can fit in! If you're curious about what's next on my list of places I've heard great things about but haven't had a chance to try yet, here you go!
Pure Bread
This one was recommended to me in a really random situation. I was trying to buy some art from Etsy for my boyfriend for our anniversary. Somehow I got to talking to the seller because I was customizing the art piece and it came out that I was going to Whistler and he's from Vancouver. He told me I had to go to Pure Bread.
I haven't listened to him yet, mostly because I keep forgetting the name of the place and it's definitely not in the obvious areas of Whistler Village. But I recently read a Saveur magazine article that said this place was a must, so I'm going to it next time. Stay tuned!

The Rimrock Cafe
Another one that I keep seeing all over "best restaurants in Whistler, BC" lists.

Basalt Wine Bar
I seen this one all the time, but I've always been hesitant to go because it's right on the main drag of Whistler Village. However, I love wine and think having more wine on my trip would only be a good idea. Plus, it has good reviews. Next time, my friend, next time.

Pizzeria Antico
I almost went here on my last trip to Whistler, but decided on Peaked Pies instead. I'll be honest, I'm dubious because I'm such a hater when it comes to pizza (New Jersey-native fo' life). But I need to try this place to decide for myself. You should too and let me know how it is. 🙂

Map of the Best Restaurants in Whistler, BC


I'll update this as I find new gems worthy of the list. What are some of your favorite places to eat in Whistler, BC? Let me know in the comments!


Pin This Travel Guide For Later

Other Articles You Might Like