New York City is one of the big fashion cities worldwide alongside Paris, Milan, and London. Yet, every time we go there we are disappointed with the fashion finds. No, let us correct – we are disappointed in the spread of affordable fashion options in the Big Apple.
NYC is an expensive city all around, but we wouldn't take "no" for an answer when it comes to affordable fashion that isn't out of one of the Big Box stores. Really the hunt is never ending, but over the years we realized there is generally one answer to this conundrum: Brooklyn.
Brooklyn is full of eclectic shops with non-imitable pieces. There is a culture among a good number of New Yorkers in Manhattan who consider Brooklyn to be "too far," and thus rarely venture out there. This could be one of the reasons that the cost of living is cheaper, but who knows – all we know is every time we go back home we make a point to explore more of Brooklyn to find those amazing affordable haunts.
While this list will constantly be updated with each and every trip, we've pinpointed some of our favorite shopping neighborhoods and shops. While there are many more stores sprinkled throughout the neighborhoods, we wanted to focus on the areas with clusters of shops, so that you can make sure your trip is spent wisely. So low and behold, below you'll find our insider's shopping guide to New York City – the Brooklyn edition.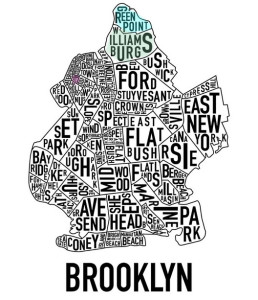 Neighborhood: Greenpoint
Greenpoint is a really quaint neighborhood in Brooklyn that has a main strip of shops on Franklin Street. You can hit all of these in one swoop, and while you're in the neighborhood don't forget to stop by Paulie Gee's for some amazing, amazing pizza. And while you wait, stop inside the gorgeous boutique a few stores down. We cannot remember the name of it for the life of us, but it has beautifully crafted men's and women's fashion.
Dalaga
150 Franklin Street
Dalaga is the most affordable boutique we've found so far that actually has amazing finds. Every piece is gorgeous and you take it off the rack expecting it to be expensive, but it's not. There are a few locations across the city, so if you can't make it to Greenpoint but will be in other areas, hunt this place out.
Old Hollywood
99 Franklin Street
We loved the vintage finds here, making it reminiscent of Urban Outfitters.
Pip-Squeak Chapeau
99 Franklin Street
This is one designer who makes the clothes right in the back of the shop. The pieces are pricey, but they are so beautiful. They have a wrinkly quality to them that makes them seem effortless, and all the pieces are made with a minimal selection of materials and colors that makes a very cohesive collection that is ethereal and architectural.
Alter
109 Franklin Street
There is a separate men's and women's shop across the street from each other. The finds are more on trend and modern than most of the others in the area, making it perfect for essentials.
Ana Cronos
135 Franklin Street
Expect to find feminine second hand pieces that have a romantic quality to them. While most of the pieces are over the top and colorful for our taste, we can appreciate the carefully curated pieces.
The Word Shop
126 Franklin Street
Okay, this isn't a clothing store, but we were so smitten with this independent book shop that we had to include it. They have interesting books and cool events, so make sure to check our the calendar to see if anything coincides with your trip dates.

Neighborhood: Williamsburg
Williamsburg has a reputation of being full of hipsters, but the young crowd offers an amazing array of shops and restaurants. Seriously, you could spend a week in Williamsburg alone and not even be close to unfolding all its mystery. While you are shopping, be prepared to eat, as there are so many amazing restaurants in the neighborhood. Some of our favorites include Diner and Momofuku Milk Bar. If you're looking for a main drag to pinpoint, walk north of Metropolitan Ave. on Bedford Ave.
Brooklyn Flea
176 Lafayette Avenue (during the summer)
The Brooklyn Flea is hands down our must-see every time we visit NYC. It has amazing vendors that sell wares you actually want – no sifting through junk required. Plus, there are scrumptious eats here, such as The Milk Truck (grilled cheese) and Porchetta (pork sandwiches).
Artists & Fleas
70 N 7th Street
We were devastated to find out that the Brooklyn Flea was rained out during our trip this time, but it helped us discover this equally as fantastic, albeit on a smaller scale, gem. Like the Brooklyn Flea, the Artists & Fleas vintage market has eclectic vendors selling primarily clothing and jewelery (more women's available than men's).
A&G Merch
111 N 6th Street
Another non-fashion treasure, but we seriously died in this store. It offers amazing home decor that is ACTUALLY AFFORDABLE. The aesthetic is very Brooklyn loft, but we were blown away by the quality and uniqueness. And best of all, they sell online!
Brookfarm General Store
75 S 6th Street
There are a few handbags and accessories, but this is another decor store that offers unique wares. The aesthetic is very clean and airy, think a minimal farmhouse vibe.
Antoinette
119 Grand Street
This boutique is on a sleepy street but offers carefully curated vintage pieces that tend to transcend time, making it easy to pick out pieces you want to take home.
Mast Brothers Chocolate + Antique Store
111 N 3rd Street
Okay, okay, it's chocolate. But we were lured in by the yummy cocoa smell and exquisite packaging (the graphic designers in us). Plus, we came across this while perusing an antique shop that is literally in a shed (the store is BEHIND the shed, making it inconspicuous). It's a bit dodgy and we can't remember the name, but it's got some really fun pieces.

Neighborhood: Cobble Hill
We rented an apartment right in Cobble Hill, but can you believe it, we didn't get to spend as much time here as we would have liked! There are two main streets to peruse, Smith Street and Court Street. There are countless restaurants, shops, and bars in the area that are well worth a gander.
Bird
220 Smith Street
Bird has many locations around Brooklyn, but we only explored this one. It offers a bit more pricey pieces, but there is a nautical meets Anthropologie feel to the pieces that is hard to resist.
Dear Fieldbinder
198 Smith Street
This is another more modern boutique that has amazing denim and basics, along with an 80s to 90s flare among the rest of its collection.

Photo Credit: Brooklyn Brewery