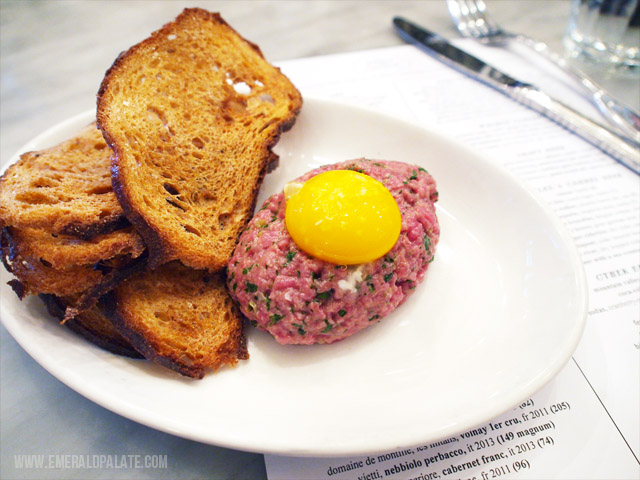 If there's one thing you should know about me, it's that I'm completely obsessed with steak tartare. I'm a complete savage when I go to restaurants. If they have this popular raw meat dish, I will be ordering it.
I started to realize that not all steak tartares are created equal. So I created a Trello board with a running list of all my favorites (I know, I'm a nerd). Rather than let that list go to waste, I thought I'd share with you where to find the best steak tartare in Seattle.
Last updated 2/20/2017. I'll update it regularly as I find more worthy of this list. Recommendations and suggestions for edits welcome (for example, when they're no longer available)!

Walrus & Carpenter
Neighborhood: Ballard | Cost: $16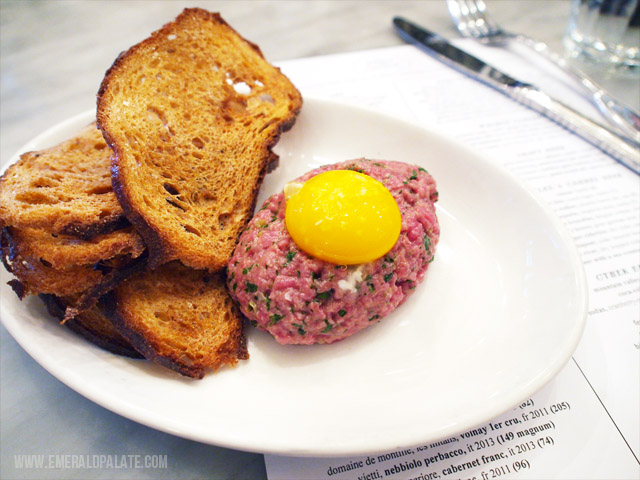 I've been known to describe the steak tartare at The Walrus & Carpenter as life changing. It's actually what spurred my love affair with steak tartare and started this journey. I just wanted to find a steak tartare that's better than Renee Erickson's. Unfortunately, I haven't. This is still my favorite steak tartare I've ever had.
Most steak tartares use chopped meat, which can make the texture feel firmer and sometimes reminiscent of the chopped meat you use to make hamburgers. The Walrus & Carpenter's is somehow creamier than its competitors. I think the meat is fantastic just by itself, but the accoutrements it's served with are classically French and delicious.
You have the raw egg that you're supposed to break and mix in (but I recommend trying the meat plain first!). Then there's the perfectly crisp and thin rye toasts. Oh, and the flakes of sea salt. Together, it's the perfect texture of crunchy, salty, and creamy. The Walrus & Carpenter is known for its oysters, and you should definitely get those. But it'd be a mistake not to get their steak tartare too.

Seven Beef
Neighborhood: Central District | Cost: $14
The steak tartare at Seven Beef is completely different from the one at The Walrus & Carpenter. Seven Beef doesn't serve their steak tartare the classic French way with egg and bread. Rather, they mix it up by serving it with a celery root salad to add that ubiquitous crunch. It's also different in that it's not super creamy. Rather, they highlight the beef and makes it feel super light with an intense acidic/pickle taste.

Brimmer & HeelTap
Neighborhood: Ballard | Cost: $15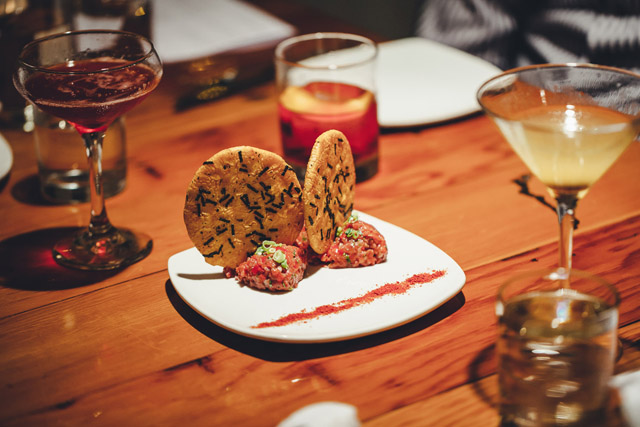 Brimmer & Heeltap also takes a lot of creative liberties with their steak tartare recipe, and trust me, it pays off. Their interpretation is more Asian, with daikon, sesame vinaigrette, and nori rice crackers. It's a bit spicy, but it's balanced out by the sweetness of pear and umami from the seaweed rice crackers.

Circadia
Neighborhood: Downtown | Cost: $17
Circadia is a fairly new restaurant downtown that surprised me with their excellent Wagyu beef tartare. It's also not served with an egg, but has some great zing thanks to horseradish. It also has that classic crunch, but rather than from bread they achieve this texture with puffed quinoa reminiscent of Rice Krispies.

Bramling Cross
Neighborhood: Ballard | Cost: $16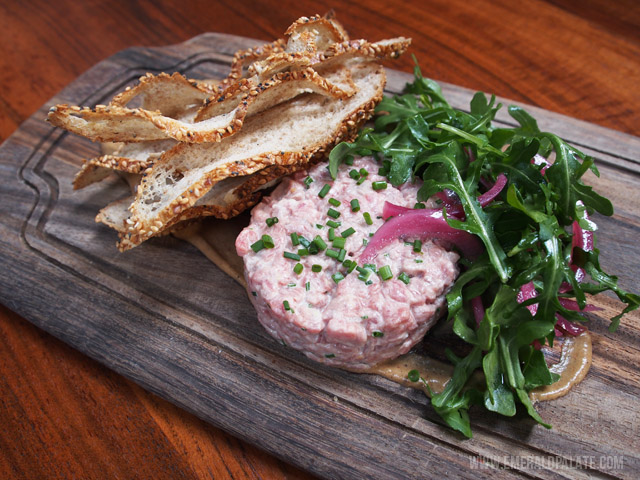 Ethan Stowell's Bramling Cross serves an excellent steak tartare that balances the classic French with the new. It's served with thinly sliced toast and is creamy like the French way. However, that's where Bramling Cross stars diverging from the classic.
Their steak tartare is creamy, but it comes from a bright, acidic vinaigrette rather than an egg. It's also different in that it's served with a smoked harissa eggplant puree and arugula, which introduces some bitter notes. And the red pickled onion on top gives it an addictive acidic hit that keeps you going back for more.

BONUS: The Best Steak Tartares in Other Cities
My love affair with steak tartare doesn't end in Seattle. I've also had some amazing ones in other U.S. cities. So if you find yourself heading out of town, make sure to stop at these restaurants to get your raw beef fix.
Rich Table in San Francisco
Rich Table takes a classic Caesar salad spin on their steak tartare.

Juniper & Ivy in San Diego
Richard Blaise's Juniper & Ivy might make a better steak tartare than The Walrus & Carpenter. However, it's hard for me to decide because it's just so different. It slants Asian and is constantly changing, but be ready for a super well balanced flavor bomb.

Vernick Food & Drink in Philadelphia
Vernick Food & Drink puts their steak tartare on bread in their unique take on the popular toast trend.


Before You Go, Why Not Pin This?

Disclaimer: These restaurants didn't ask to be included on this list. I just want everyone to know how awesome they are!
Other Articles You Might Like