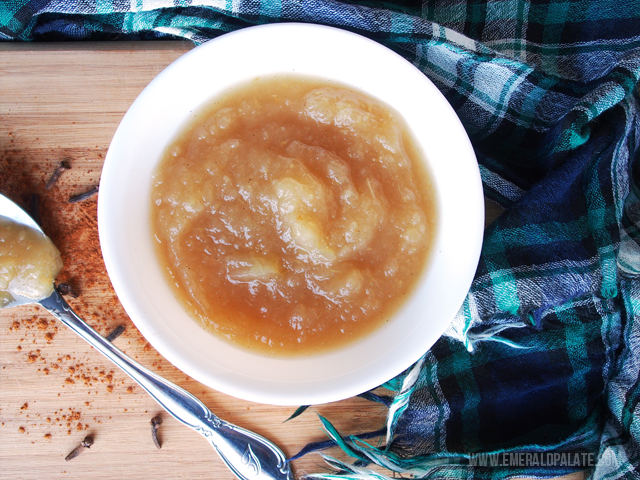 Homemade applesauce holds a special place in my heart because it reminds me of growing up. My mom would begin making applesauce as soon as the first leaf fell. Apple aromas would fill our house. Sometimes I'd help her peel the apples, other times I'd just enjoy the spoils. Her applesauce always came out perfect, and to this day I think it's one of the top three things she knows how to make.
She created a family cookbook last year for Christmas and I noticed she didn't include her homemade applesauce recipe. Rather, she put a vague description in the intro saying that she can't recreate it because it depends on the apples. I didn't like that answer.
Mom, I've tried making applesauce in a slow cooker and it's just not the same. I need your recipe."
After a lot of badgering, she finally explained what she meant by the differences in apples and outlined the ingredients she sometimes adds. Determined to recreate her recipe, I started playing around. And what happened? I learned exactly what she meant by her vague directions. It does depend on dem apples.
However, I also figured out how to recreate her applesauce and adjust the recipe depending on the apples and how someone may or may not prefer applesauce. I'm letting you in on the secret. Keep reading and get ready to learn the best, easiest homemade applesauce recipe ever.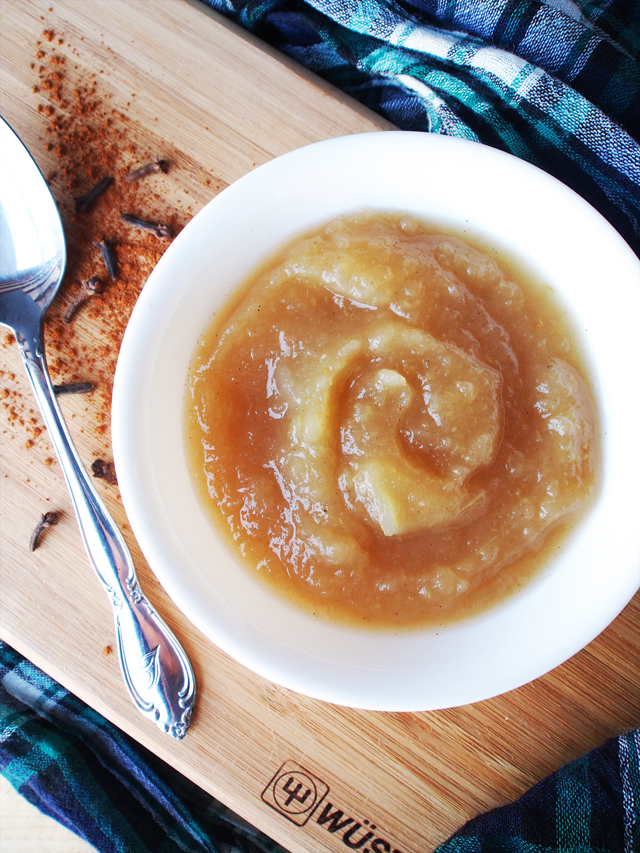 Step 1: Manage Your Expectations
Applesauce is super easy to make and is crazy delicious. But, it's also a tease.
You peel, core, and chop a ridiculous amount of apples and giggle as you fill the pot to the brim, salivating at the thought of eating that smooth, sweet treat. But then, when you're finished, you realize the applesauce didn't give you what you thought you'd be getting.
If you never made applesauce before, you need to get ready for this horrible truth: apples cook down into pretty much nothing, so you won't get a ton of applesauce.
Got it? Cool, now we can move on and talk about how you can make a batch that you won't gobble down in one or two sittings. Two words: apple picking.

Step 2: Choose the Right Apples
We went apple picking on the way back from our Walla Walla travels. In less than 20 minutes we picked 90 pounds of apples. NINETY. Travis and my sister took most of them, but I got one of the three boxes.
Minus a few apples for a carrot soup I made, all of these bad boys went to applesauce recipe testing. Because I can literally eat a quart of applesauce in one sitting, I made my recipes with large quantities of apples. If you follow suit, you're going to need a very large stockpot to cook the applesauce outlined below. I'm talking the ones that are over 12″ high.
The best type of apples for applesauce
This info did make it into my family cookbook. My mom recommends to always use a mix of different types of apples. While the world won't implode if you use only one type, this makes for a more complex applesauce. It also helps protect your batch if, say, one of your apples isn't as sweet and you don't want to add additional sugar. Well, the other variety could pick up the slack for the other to make a better applesauce.
My mom prefers Cortland, Rome, Braeburn, or McIntosh apples. Really any apple that breaks down when it cooks will do. I prefer honey crisp and pink lady apples, and so I used honey crisp and Jonagold apples for my recipe (the latter being another good one for sauces). PS – Gala apples work nicely, too!

Step 3: Put Away the Crock Pot
My recipe uses more apples than will fit in a slow cooker. But don't try to sneak around this by making less apples. Trust me, you don't want to cook your applesauce in a slow cooker.
Sure, it's nice to throw apples in the Crock Pot and come home to applesauce. But the slow cooker cooks the apples too long, resulting in an applesauce that is starchier and gummier than this recipe. Applesauce on the stove top can be left alone for the most part, so really all you need to do is be home. Don't give into the promises of convenience slow cookers try to lure you in with. Applesauce is best made in a pot on the stove!

Step 4: Mentally Prepare for Peeling
As I said, making applesauce is super easy. But the peeling part does take a bit of time, especially with how many apples you'll need to make a respectable batch. To get myself in the mood, I usually do the following:
Start an awesome playlist
Do the first step of the recipe: add 1 cup of water to a stock pot
Line paper towel on a cutting board
Peel 7 apples
When I hit 7, I begin coring and chopping

Pro tip: If you wear glasses like me, look away before you push the corer down on the apple to avoid getting annoying splashes of apple juice on your frames.

Add chopped apples directly to the pot
Repeat this process, peeling and chopping apples 7 at a time until done
I follow this process for a few reasons. First, doing one task at a time is more efficient than stopping what you're doing to pick up another tool and start another task. That's why I peel as many apples as I can lay on my cutting board without feeling crowded. Second, paper towels allow for easy cleanup: you can just fold it around the peels and throw it right into the compost.

Step 5: Decide What Type of Applesauce You Prefer
My sister prefers plain, chunky applesauce that is rather tart. I prefer smooth, cinnamon applesauce that's a touch sweeter. Applesauce is very personal, and thus your recipe will change to reflect your personal taste.
The recipe below is for a smooth, cinnamon applesauce variety. But I made another batch that was plain by just omitting the cinnamon and cardamom. You are free to play around with the add-ins and whether or not you blend the final product.

Step 6: Start Cooking, But Add Sugar Last!
Apple sweetness varies in two ways. First, it's different by type. A Gala apple is much sweeter than a Granny Smith, for example. But besides varietal, the same apple can vary in sweetness over time. That's because as apples ripen, they become sweeter.
To show you how it can vary, the cinnamon applesauce I made below was first made with fresh-picked apples only three days old. They weren't as sweet, so I added sugar to the recipe. However, when I made another batch about a week later, it didn't need any sugar because the same apples became sweeter. Since, as my mom would say, it really does depend on the apples, make sure you add the sugar last after tasting! No need adding extra calories if it's not needed!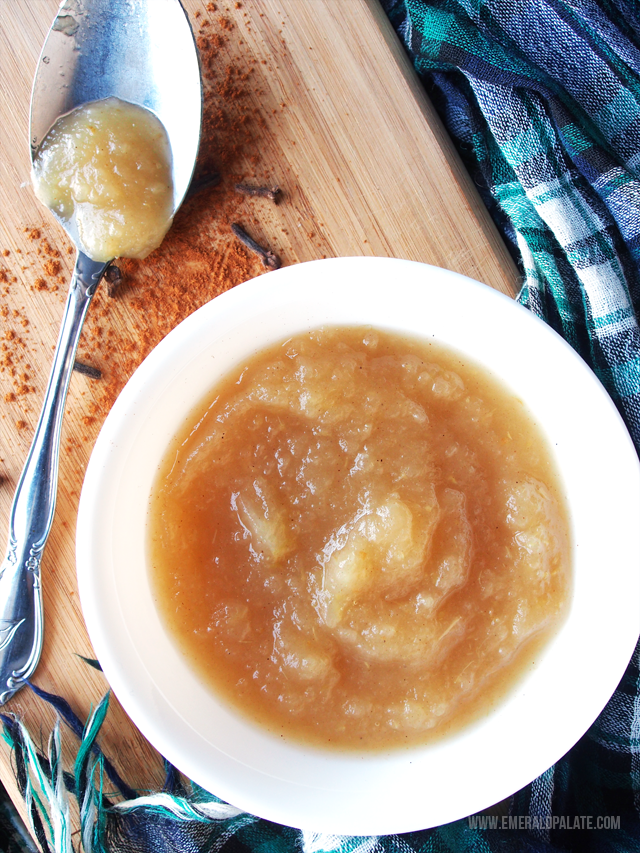 The Recipe:
Serves 10-12 | Active 1 hour (including peeling) | 2 hours total
Ingredients:
1 cup water
15 pounds apples (about 24 apples), peeled, cored, & cut into 1/2″ pieces
1 tsp. salt
2 Tbsp. cinnamon (optional)
1 tsp. ground cardamom (optional)
Juice of one small lemon
1/8 cup sugar (optional)
Directions:
Pour water into a large stock pot. Add all the chopped apples and salt on top. If using, add the cinnamon and cardamom, stir, and cook on medium-low heat, covered for 45-60 minutes. Stir occasionally.
When the apples are reduced by half and super soft/broken down, remove from heat. Add lemon juice, stir, and let cool.
When applesauce is no longer boiling, puree the applesauce with an immersion blender if you prefer a smoother final product.


Pro tip: Don't over blend or else you run the risk of a starchy, applesauce.

This is where your personal preference comes in: taste the applesauce to determine if it's the desired sweetness level. If not, add the sugar and stir to combine. Put back on medium-low heat and continue cooking until begins to bubble so sugar has a chance to dissolve.
Remove from heat and let cool before serving.
Storing Applesauce
Applesauce can last sealed in the fridge for about 7-10 days. You can also store it in the freezer for a few months. Just make sure to leave some room between the lid and applesauce so it has room to expand when frozen.


Before you go, why not pin this recipe?

Other Articles You Might Like