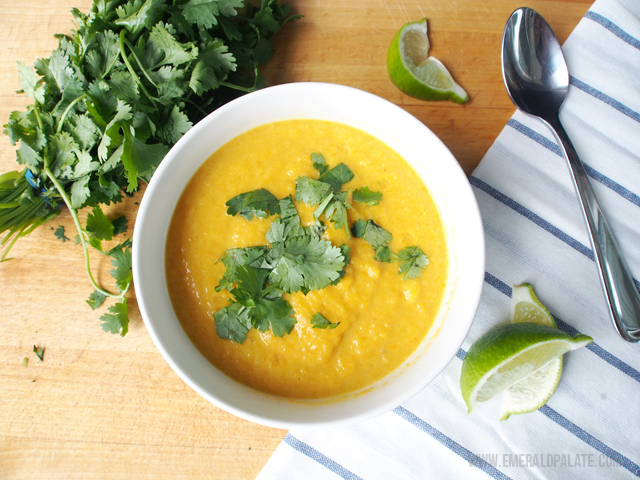 I'm reflecting that I just posted two soup recipes in a row. I can't help it. I. love. soup. Plus, I realized after 2 months of consistent travel that I've been eating like crap. So the new year is the perfect time to get myself back on track, start detoxing, and make my annual goal list.
I developed this carrot parsnip soup recipe a few months ago and its since become a go-to weeknight meal. It's super easy and has only a few ingredients, but don't let its simplicity fool you. The combination of coconut milk, curry, and dukkah make it complex enough to be interesting, and yet familiar enough so that even the pickiest of eaters will love this soup.
What is dukkah?
Dukkah (pronounced doo-ka) is an Egyptian spice made up of nuts, seeds, and dried herbs. The recipe varies a bit, but it generally consists of nuts (peanuts, hazelnuts, or almonds being the most common), coriander, cumin, sesame seeds, and spices (think dried thyme or oregano).
I hadn't heard of this spice before last year. My sister bought me a spice pack from The Kitchen Imp, a local Washington maker that I featured in my holiday gift guide a few weeks ago. I remember smelling all the spices and loving the nutty aromas of the dukkah. I don't know what got me to mix it with carrots and curry powder one day, but the combination is absolutely heavenly.
I'll be honest, dukkah isn't the easiest to find in food stores. I highly recommend buying from The Kitchen Imp because it's super flavorful and you'd be supporting local. But if you can't find it, you can also make it yourself.

What does this soup taste like?
It's no surprise that this soup is very carrot forward, given it's the biggest part of the ingredient list. However, there's a lot of other flavors at play that balance together and make you say, "Hmm, what is that?". There's parsnips to add a hint of sweetness. The curry and dukkah add a slightly nutty depth of flavor. Coconut milk gives it creaminess and (healthy!) fats, while the lime and cilantro give it a fresh kick.
I just love how this carrot parsnip soup recipes uses minimal ingredients from different areas of the world to make one well-balanced dish. You got the dukkah from Egypt, the curry from India, and the coconut milk from Thailand all playing together nicely in one bowl of comfort and joy (obviously I still got Christmas on my mind if I'm using phrases from carols in my posts, whoops).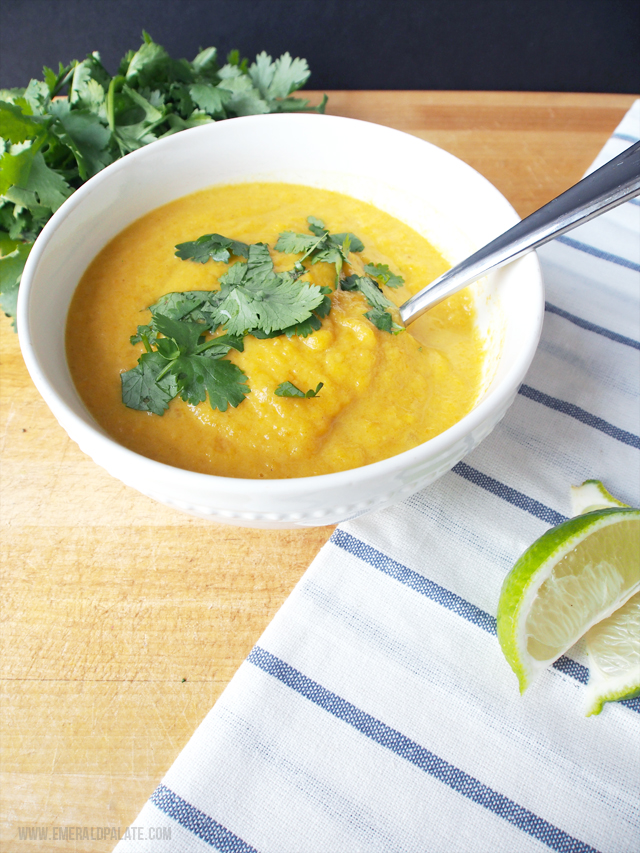 Wait, didn't you say something about a goal list?
Busted. Yes, I made a goal list. I like thinking of resolutions in terms of goals, since "resolutions" seems like an invitation to pick yourself apart. These are my goals for 2017:
Double the size of my emergency fund. If you remember in this post, I talk about my woes of being unemployed. That shit sucked and I had an emergency fund. That experience made me realize that fund needed to be bigger.
Pay of my school loans. I was lucky in that I had under $30,000 in student loans. But it's depressing as hell when you realize almost 10 years later and you still have more than half to go. My goal is to pay them off this year so I stop accruing basically the same amount I originally owed in interest.
Drink more water. I have a mini Hydro Flask that I said I'd fill 6-7 times a day last year. I didn't achieve that, so this year I'm scoping it down to 5 a day in hopes I achieve it.
Launch that big project I wrote about a few months ago. I suck and didn't launch the thing I wanted to launch in October. I made a lot of headway on it, but there's still a long way to go. It's going to be big and open up a lot of things for this blog, so I'm hoping to launch it in the next two months. Stay tuned!
Exercise at least 3 times a week. I sorta made this goal last year, but not consistently because I did so much traveling. I need to get back into it because things that never used to are a jigglin'.
My goal list seems pretty attainable this year, so hopefully I achieve everything! What's on your goal or resolution list for 2017? If it's healthy eating, this carrot parsnip soup recipe is a good place to start!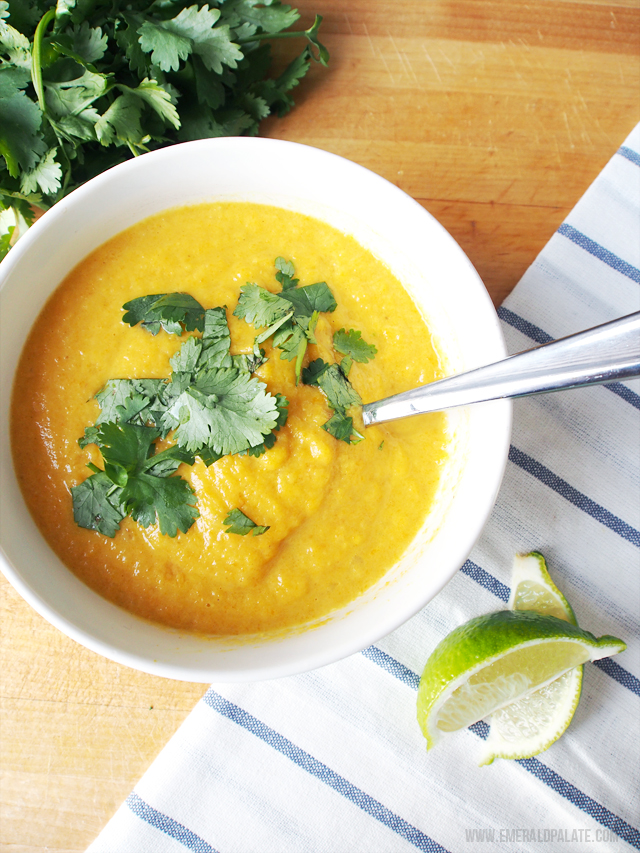 The Recipe
Serves 4 | Active 15 minutes | 45 minutes total
Ingredients:
2 lb. carrots, peeled & chopped into 1″ pieces
1 lb. parsnips, peeled & chopped into 1″ pieces
3 Tbsp. EVOO
1 tsp. dukkah spice
2 tsp. curry powder
~1.5 tsp. salt
1 onion, chopped
4 cloves garlic, minced
2 cups chicken stock (preferably low sodium)
1, 14.5 oz. can light coconut milk, shaken
lime wedges for garnish
cilantro for garnish
Directions:
Preheat the oven to 400°F. Add the carrots and parsnips to separate baking sheets. Sprinkle evenly with ~1/2 tsp. of the salt, the dukkah, and curry powder. Drizzle the 2 Tbsp. of the EVOO evenly among the veggies and toss with your hands. Spread into an even layer and bake for 20 minutes.
Meanwhile, heat the remaining 1 Tbsp. of EVOO over medium heat in a dutch oven or deep pot. Add the onions, ~1/2 tsp. salt, and some pepper to taste. Saute until translucent, 5-7 minutes.
Add the garlic and cook until fragrant, ~1 minute.
Add the carrots, parsnips, chicken stock, and 1 cup water to the pot. Bring to a boil, then reduce heat and simmer for 15 minutes so flavors can settle. Taste and add the rest of the salt.
Remove from the heat and let cool slightly. Add the coconut milk and puree with an immersion blender until smooth. Season more if needed.
Serve with lime wedges and cilantro. Enjoy!

Nutritional Information Per Serving:
Calories: 460 | Calories from fat: 222 | Fat: 25g | Saturated fat: 12g | Cholesterol: 0mg | Sodium: 1,140mg | Carbs: 55g | Fiber: 13g | Sugars: 17.6g | Protein: 1.3g


Before you go, why not pin this recipe?



Nutritional Facts Disclaimer: I am not a registered nutritionist and therefore these numbers are approximate. I researched the serving sizes and facts for each ingredient in this recipe (mostly using the manufacturer labels and this site), but slight variations in things like seasoning, garnishes, and substitutions can change the nutritional information. Use this information only as a general indication of your nutritional intake.

Other Articles You Might Like