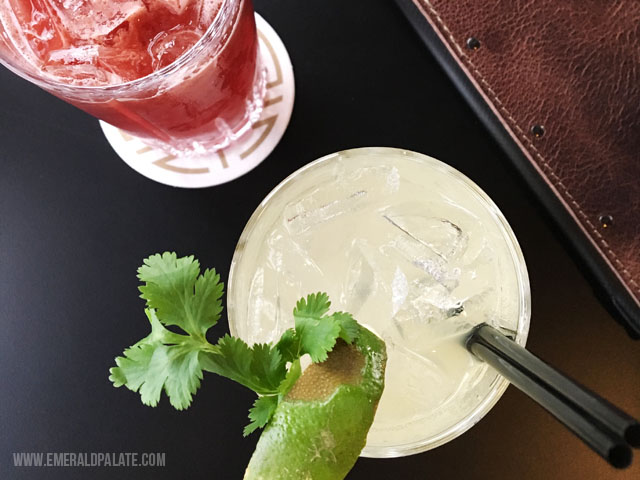 If you've read any of my recent travel guides, you know I love wine. But I also love me a good cocktail. There are a ton of craft cocktail places in Seattle with really excellent bar programs. I've been to enough that I've started to identify the best places to go and, most importantly, the best drinks to order.
I'm always sharing with my friends what drinks to seek out, but it's time I share it with everyone else. Here is the list of some of my favorite bars and the best cocktails in Seattle you must try.
Everyone has their preferences when it comes to cocktails, so I thought I'd share mine to give you an idea of what types of drinks you can find on this list.
In general, I gravitate toward the following base spirits: gin, bourbon, vodka, mezcal, and tequila. I'll try others if the accoutrements look yummy, but I find these to be the most palatable. Other base spirits tend to have a strong burning sensation, which I try to avoid at all costs.
My favorite discovery on this spirit list is bourbon. I always thought I hated whiskies, but bourbons tend to be smooth and less of that harsh, grassy burn like straight whiskey. If you're not familiar with it, I highly recommend giving it a try!
Other characteristics I tend to favor in my cocktails are more savory add-ins. I don't mind a bit of sweetness — especially if it mellows that burn — but I don't like cloyingly sweet drinks. My favorites drinks tend to include herbs and jalapeños.
If you winced at the though of spicy drinks, know that I'm the same way! I can only handle a bit of heat and like to pay attention to which chiles are in my drink. Ghost chiles? I'm going to run. Milder chiles like jalapeños or serranos? We'll get along just fine.
Another thing I find myself gravitating toward is egg whites. I like the heft this gives cocktails and I find it also helps mellow out stronger spirits. Plus, protein, amiright?
You'll see a lot of these building blocks reflected in the drinks listed below. A few things to note: First, some of these items might rotate off the menu. If you don't see them, ask if they can still make it! I've included the ingredients so you can tell the bartend.
Second, I plan to update this as I discover more cocktails. So keep checking back!

The Cilantro Gimlet at Percy's & Co
Neighborhood: Ballard | website | Base spirit: gin | Cost: ~$11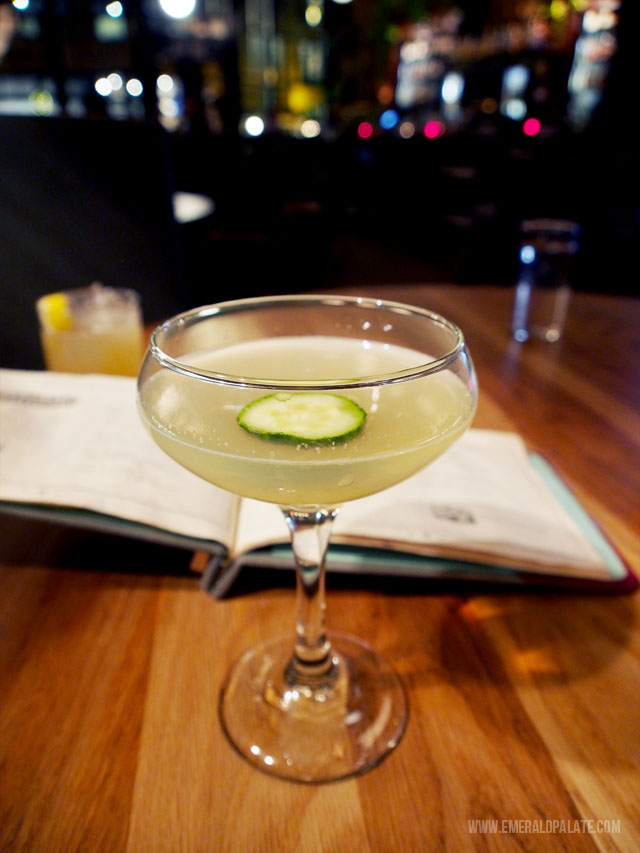 Percy's & Co. is one of my local watering holes. I've brought my girlfriends, boyfriend, coworkers, and even my whole birthday party here and everyone loves it. They have herb-forward, Prohibition-style cocktails that are actually affordable (rare in Seattle). There are a ton of cocktails on their menu that I love, but the cilantro gimlet is my favorite.
Ingredients:
cilantro-infused gin, lillet blanc, lime juice, cucumber
There's so much to like about the cilantro gimlet. It's smooth, citrusy, and bright. You can really taste the cucumber and there's enough cilantro to make you go, "Hmm, this tastes a bit herbaceous," but it's not overpowering. If you go to Percy's (which you should), make sure this is one of the cocktails you add to your evening rotation.

The Campfire in Georgia at Canon
Neighborhood: Capitol Hill | website | Base spirit: mezcal | Cost: ~$20
Canon has been on multiple "best bars in America" lists, particularly for their whiskey selection. And it has the wait to prove it. Don't try to walk in here, especially on the weekend. Make a reservation and plan to get the campfire in Georgia cocktail. Sure, it's not a whiskey drink but it deserves your tastebuds.
Ingredients:
mezcal, peach-habañero shrub,fresh orange juice, cinnamon french oak, bitters
You might be thinking, "WTF, $20 for a cocktail." Let me explain. First, it's Canon. All of it will be expensive. Second, this one is a showstopper and worth every penny.
The menu description doesn't really prepare you for how this cocktail is served. The bartender or server brings you this drink covered in a large vessel, kind of like a cake storage container. You can barely see the cocktail inside because it's filled with smoke. Yes, smoke.
When they open it, the smoke billows out. Paired with the mezcal, it gives this drink an incredibly smokey flavor. But it's well balanced with the peach and orange juice. And just when your tastebuds thought they couldn't handle it, there's a kick from the habañero chile. I've never thought this drink was too spicy, but ask your server to be safe just in case the bartender has been tweaking the recipe.

Can't Stand the Rain at Herb & Bitter
Neighborhood: Capitol Hill | website | Base spirit: mezcal | Cost: ~$11
Herb & Bitter Public House has one of the best outdoor urban patios. Their cocktail menu is super strong, filled with interesting flavor combinations. On one of my more recent trips, though, they blew me away with their cocktail, Outside In the Rain.
Ingredients:
Del Maguey Vida mezcal, Tapatio Tequila blanco, Roots' Mastiha, St George's pear brandy, Giffard's Menthe Pastille, lime
This drink comes in a large tumbler with ice and a straw. I wasn't expecting this, and was a bit disappointed thinking it'd be watered down. I was pleasantly surprised to find it had a strong jalapeños flavor and enough alcoholic heft to make you feel like you were getting your money's worth.
To give you an idea of how flavorful this cocktail is, one of my coworkers who I rarely talk to got the same drink and randomly locked eyes with me across the table, lifted his drink, and mouthed, "This is so, fucking good."

The Great Seattle Fire at Smith Tower
Neighborhood: Pioneer Square | website | Base spirit: tequila | Cost: ~$13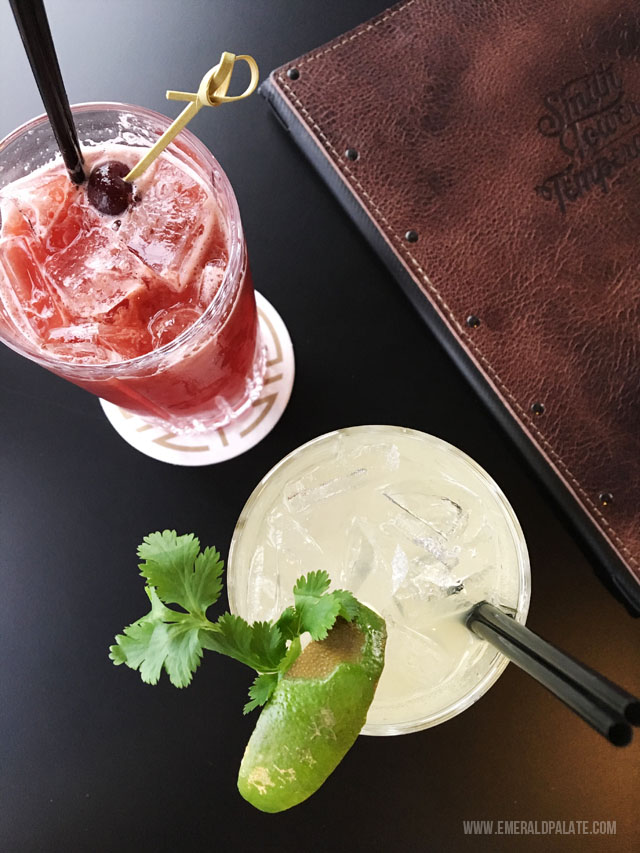 I was invited to check out Smith Tower a few months ago. It has a gorgeous, carefully-curated store at the base selling mostly local PNW goodies. You walk through a small museum talking about the history of the tower and Pioneer Square on your way up to the observation deck.
The one downside is you need to pay the fee to go through the museum and get to the deck, which is $19 per adult. However, if you like it and plan to visit at least 3-4 times a year, they have a rum runner loyalty card for $59 which gets you unlimited access to the observation deck and bar, 2 complimentary guest tickets per year, 10% off on all gifts, food, and non-alcoholic beverages, and a free cocktail during your birthday month.
Whether or not you plan to go once or regularly, once there you're greeted with an Asian-inspired, speakeasy-style bar and a 360 degree deck overlooking Seattle. It was crazy windy when I went, but the views were breathtaking. But not as breathtaking as the views paired with this drink.
Ingredients:
house spicy pepper and lime-infused tequila, triple sec, lime juice, agave nectar,
cilantro
This is another one of those chile-forward, slightly spicy drinks. I'd say this is on the spicier side, but not so much that I couldn't handle it. To give you an idea of my tolerance, I can handle a 2 in Thai food star ratings on a good day (but I usually get a zero or one, ha!).
Disclaimer: Smith Tower provided complimentary entry, food, and drinks a few months back. However, it was my idea to include them in this article because I really liked their cocktails.

The Gunpowder Punch at Rob Roy
Neighborhood: Belltown | website | Base spirit: rum | Cost: ~$12
Rob Roy has also been on a bunch of "best bars in America" lists. It's got a dark, posh lounge-y vibe with subtle tiki elements. I'll be honest, I've been here a few times and the bartenders were a bit too pretentious for my taste. But I suppose with drinks this good, sometimes it's okay to be a bit proud about it. Especially when you create a drink with gunpowder in it.
Ingredients:
house rum blend, gin, citrus, demerara, old world spices, gunpowder
You read that right, gunpowder. There's actual gunpowder in this drink, which admittedly gives this a bit of a dark gray, dirty dish soap coloring. However, it is so tasty. It's both spicy (not hot spicy) and citrus-y at once. And don't worry, it's safe to drink gunpowder in small quantities.

---
Other Bars with Great Cocktail Programs
Above are the drinks I tend to seek out, but there are some other cocktail bars on my list that I always recommend. They have solid bar programs and I usually like every cocktail I've had. It's just that more research is needed to determine if I'd add any of their cocktails to my "best of" list above. 🙂 Happy drinking!

Liberty Bar
Neighborhood: Capitol Hill | website
This place will always hold a special place in my heart. First, because its where my boyfriend and I had our first date. We actually have a map with the coordinates of Liberty Bar on it as a momento remembering how we met.
The second reason I love this place though is that the bartenders are super talented. The cocktail menu is quite big and the bartenders will even make up creations. One time I asked them to make me an homage to the campfire in Georgia from Canon and they friggin' did it. Talk about high class talent and customer service!

Suite 410
Neighborhood: Downtown | website
This used to be one of my regular happy hour places when I worked downtown. It's a super small, nondescript place between 4th and 5th Ave on Stewart. It's small, but the bartenders are extremely talented. And if they have the croquettes on the menu, you must get them.

The Back Bar at Bastille
Neighborhood: Ballard | website
This is one of my other go-to places in Ballard. Besides really solid drinks, I just love the vibes. It's behind Bastille and you access it from the side alley. It has the most epic chandelier and gorgeous dark woodwork. And if you're hungry, they have an epic lamb burger.

And that's a wrap! While there are a ton of other cocktail bars that I've been to and know come highly acclaimed, these are the ones that I've been to regularly enough to recommend as a place you can always find some swoon-worthy libations.
What ones have I missed? Which are your favorites? I'll add them to my list of places to try, and if they pass my (ok, high) standards I'll add them to this list, too. 😉


Pin This For Later
Other Articles You Might Like