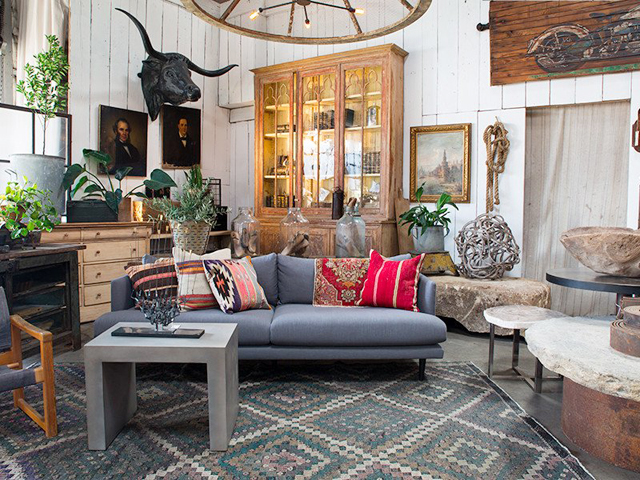 I'm sort of obsessed with old things, particularly of the home variety. You should see me when I travel. It doesn't really matter that it's completely impractical to go to flea markets or antique malls thousands of miles away from Seattle. I still always make time for perusing antique vintage shops in the area.
I just love everything about them. The array of items. The more affordable prices, yet high quality craftsmanship. The glimpse back in history. The opportunity to breathe new life into something and save it from the landfill. The smell. Ok…maybe the smell isn't the best. But it's something that I've come to associate with a lot of happy shopping memories.
Being obsessed with antiques, vintage, and second-hand items also means I've ended up in pretty subpar junker scenarios. There's nothing I like more than the hunt, but sometimes I have to be in the mood to go through 1,000 items I would never want before I find that gem.
This inevitability has helped me develop a keen eye for great antique vintage shops. Ones that have great prices, are organized, and have carefully-curated items just waiting for a new home. I want to share my favorite antique vintage shops in Seattle so you, too, can enjoy the thrill of thrifting without the exhausting exposure to junk you have no intention of breathing new life into.
The Best Antique Vintage Shops in Seattle
These antique shops are all over Seattle, but you'll notice that there are some neighborhood clusters. If you're looking to find one area to explore, I recommend heading to SODO, Georgetown, or Ballard. These neighborhoods have a good amount of antique vintage shops you can walk between. Use the ones listed below as your starting point and walk up and down the street to find others.
Last updated 02/11/2018. Check back often for new antique vintage shops I find!

Pacific Galleries
Neighborhood: SODO | website | Best for: A large array of goods all in one place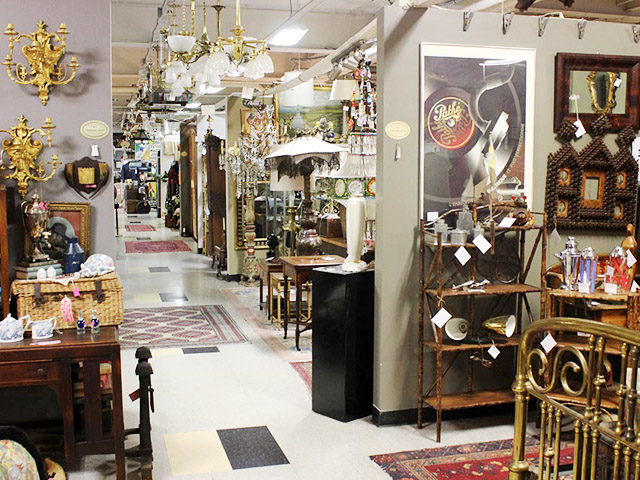 This 42,000 square foot antique mall has aisles and aisles of home antiques sold by different vendors. This means there's no room for negotiating, since the vendor isn't onsite. But you can still find affordable items.
They key is finding the vendors with reasonable price tags, so I recommend scouring the aisles before committing to a piece because you'll probably find something similar from another seller.
Also, reserve a couple hours for this spot if you're a serious antiquer because it's quite large. You'll probably end up looking at most vendor spaces because Pacific Galleries does a great job at finding sellers with awesome taste. Plus it's pretty organized, so you don't end up avoiding stalls because it's a mess.
Bonus, Pacific Galleries is near wineries so you can turn it into the ultimate day of sipping and shopping!

Seattle Furniture
Neighborhood: Fremont | website | Best for: Mid-century
Seattle Furniture is one of my new favorites. It's smaller than some of the others, but they are impeccable curators of mostly mid-century furniture. Everything is reasonably priced and their owners are also reasonable about negotiating.
It's in a small, unmarked building that's easy to miss so look for the yellow sign on the curb pointing at their storefront.

Fremont Vintage Mall
Neighborhood: Fremont | website | Best for: Mid-century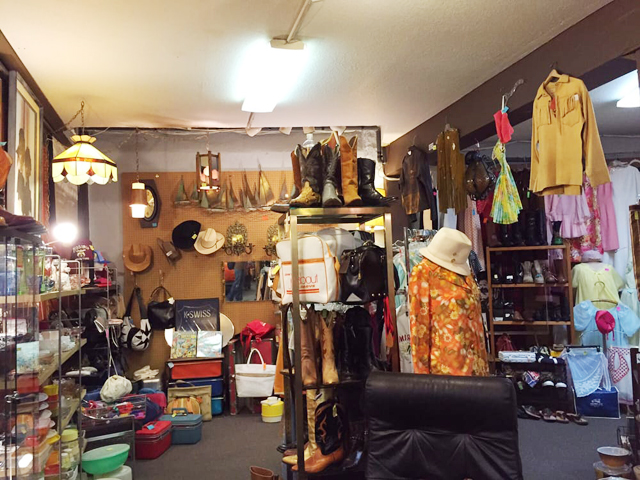 I stumbled upon the Fremont Vintage Mall by accident once. It's a bit hidden. One entrance is in front of the PCC parking garage entrance in the Fremont neighborhood of Seattle, which is down an unassuming alley. This is the one I entered for the first time, but there's also one off the main street running through Fremont. You might miss it, since it's just a door that leads down a lot of stairs.
Like Pacific Galleries, this also has a bunch of different seller stalls (which means no negotiating again). My favorite part of this is the decor sections, but you can also find some good vintage clothes here.
If you hit this place up on Sundays, you'll also be able to go into the parking garage at the Fremont Sunday Market that has more vendors selling antiques. Here you'll be able to negotiate.

Ballard Consignment
Neighborhood: Ballard | website | Best for: Affordable vintage furniture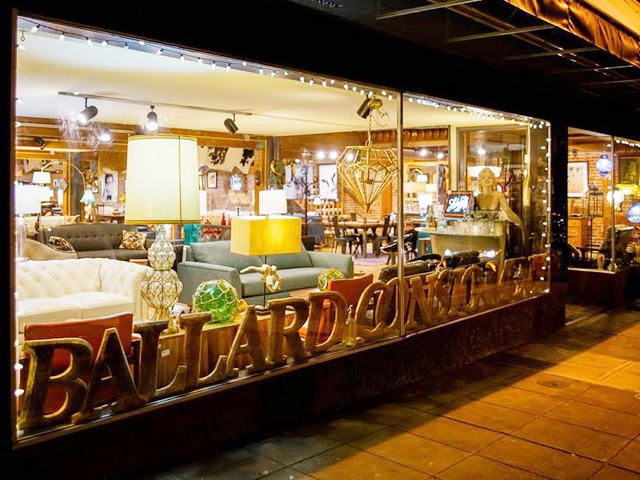 Ballard Consignment sells both new and used items in a large building right on the main strip in Ballard. Because it's consignment, you'll find a mix of true antiques and more current, second-hand items. And since this is consignment, the prices are often quite affordable. Which is good, because again this is multiple sellers and makes it unlikely you'll be able to negotiate.
A bonus of visiting this antique shop is that it's in my favorite Seattle neighborhood. You can visit this place as part of the self-guided Seattle food tour I put together for the ultimate day exploring the area.

Classic Consignment
Neighborhood: Ballard | website | Best for: use furniture in really good condition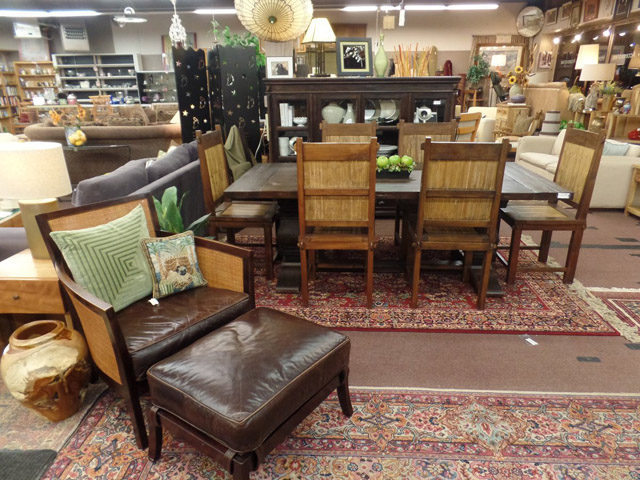 Classic Consignment is a newer addition to this list. They're near Ballard Consignment and has a huge clothing collection. However, there is a whole L-shaped area dedicated to furniture. Everything is in really great shape and there's a nice balance of mid century and 1800-1900-style pieces.
While their furniture collection isn't the biggest, their owner is ruthless in curating. We've had her turn down things to sell because they showed some signs of wear. So you can be sure everything in there is going to last.

District
Neighborhood: Georgetown | website | Best for: Rustic and industrial finds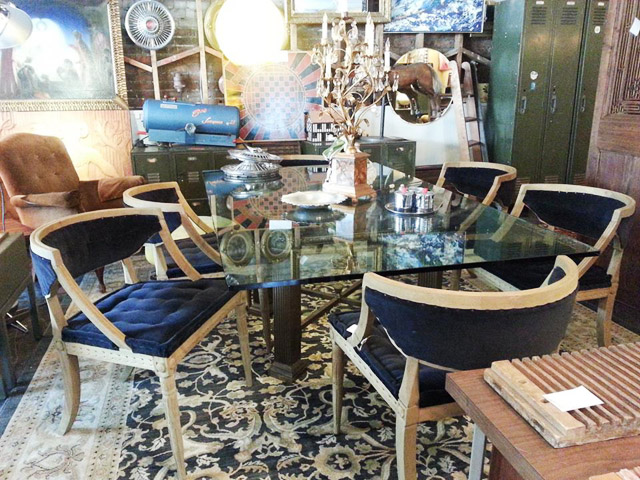 Georgetown has a lot of great vintage shops and a vintage trailer park mall on Saturdays, so it's worth a visit. One of my favorites is District, which houses antique goods sold by different sellers (you can see this is a theme in Seatttle!). Whenever I'm shopping in Georgetown I make sure not to miss this spot.

Space Oddity
Neighborhood: Ballard | website | Best for: Industrial & medical equipment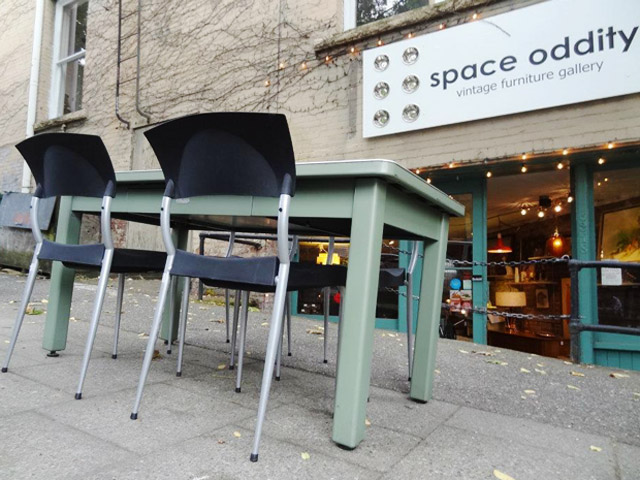 Space Oddity is a tiny little vintage antique shop on a side street in downtown Ballard. It has awesome medical, industrial, and mid-century furniture in great shape. I always like to hop in here and marvel at how far the medical field has come. Let's just be thankful we don't find ourselves in a doctor's office using any of those chairs or tools anymore!

Second Use
Neighborhood: SODO | website | Best for: Reclaimed construction and salvage material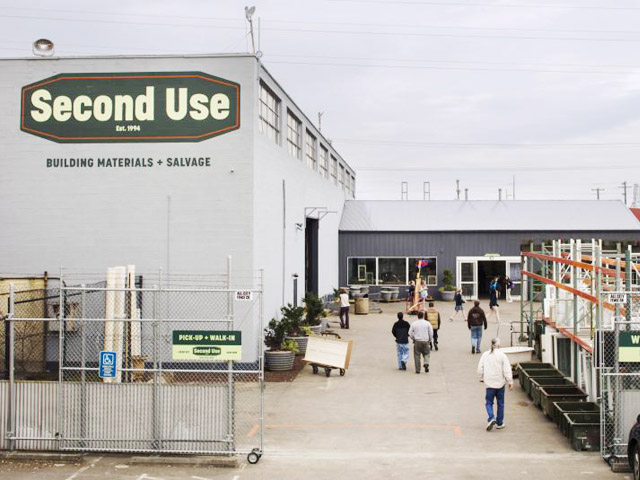 I first went to Second Use to see David Bromstad of HGTV's Color Splash (RIP) speak. But I didn't go inside until I went to their annual holiday market in Seattle. This place is a rather large warehouse that is part vintage treasure hunt, part reclaimed materials for your home improvement projects.
If SODO is too far and you're looking for another reclaimed material place in Seattle, try Ballard Reuse. We haven't been there since we didn't own a home until recently, but we'll likely be a regular here in the next few months!

Big Daddy's Antiques
Neighborhood: SODO | website | Best for: Eye candy. This place is kind of pricey.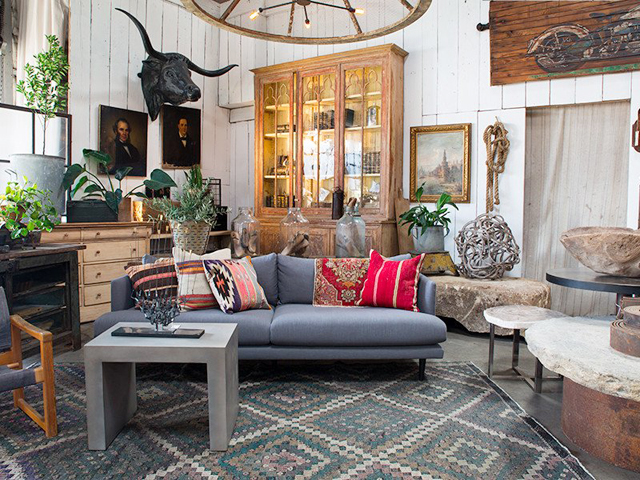 Big Daddy's Antiques originated in San Francisco, but it opened it's sister shop in Seattle's SODO neighborhood around 2016. This place is pricey, but it's so beautiful I can't help but stop in whenever I'm nearby to drool and get inspired.

Gracious Home Seattle
Neighborhood: U-District | website | Best for: Feminine home decor that's beautifully styled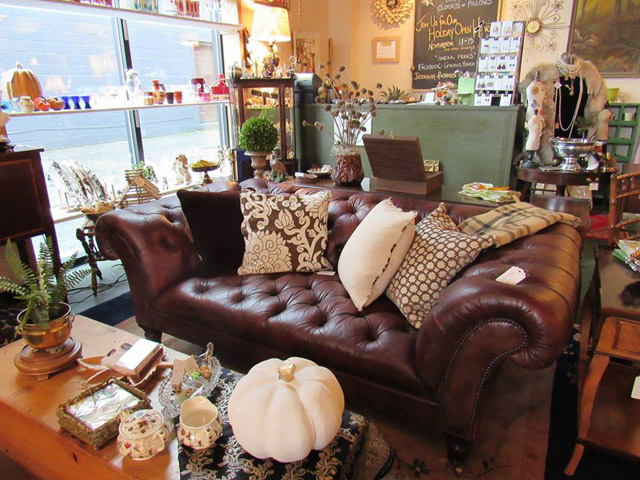 I remember checking out Gracious Home Seattle when they first opened a few years ago. It's owner goes on vintage hunting trips all over the world and comes back with beautiful pieces. But what I love best is the thrill she gets out of styling them. Her store is absolutely beautiful, particularly the tablescapes.

And that's a wrap, my favorite antique shops in Seattle! What did I miss? Where are your favorites?
Looking for more ways to find antique vintage shops in Seattle or the wider Pacific Northwest? Check out my Seattle events calendar, which includes a lot of antique fairs. You can also check out my Willamette Valley, Oregon travel guide or my how to road trip to Idaho from Seattle guide for other awesome antique vintage shops I discovered in the Pacific Northwest.


Pin This For Later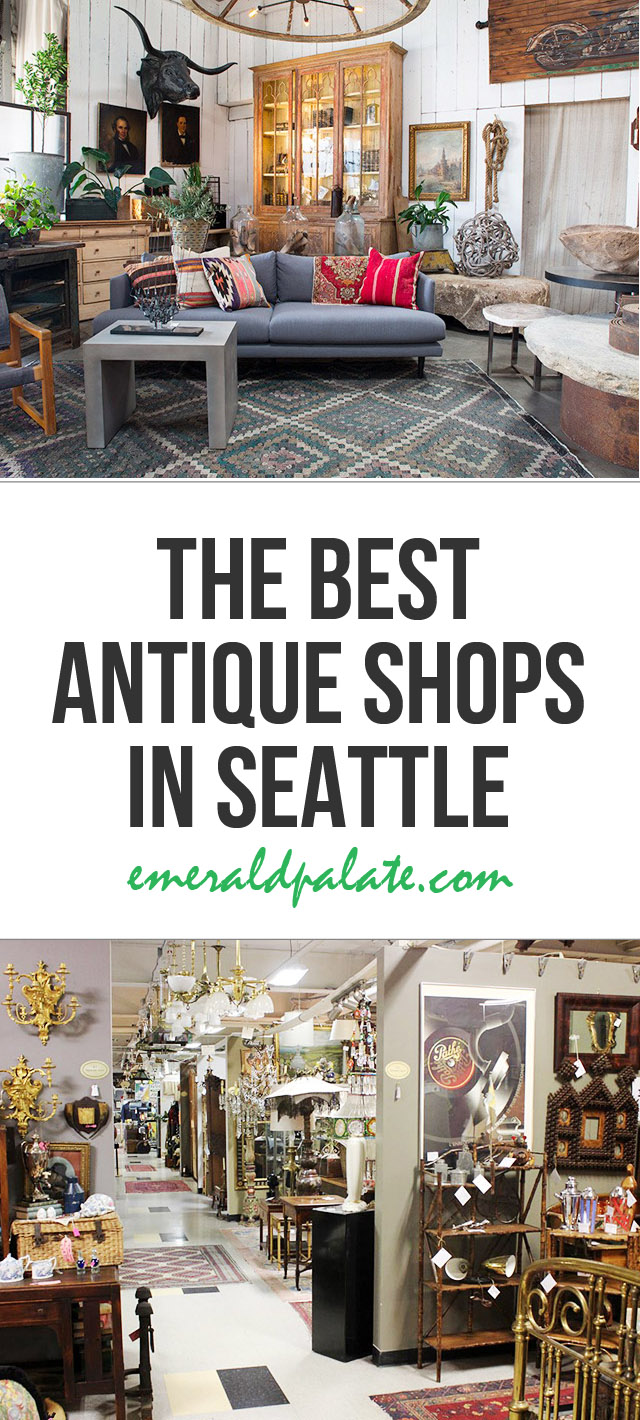 Image Credits: Pacific Galleries, Ballard Consignment, Fremont Vintage Mall, District, Space Oddity, Second Use, Big Daddy Antiques, Gracious Home Seattle
Other Articles You Might Like