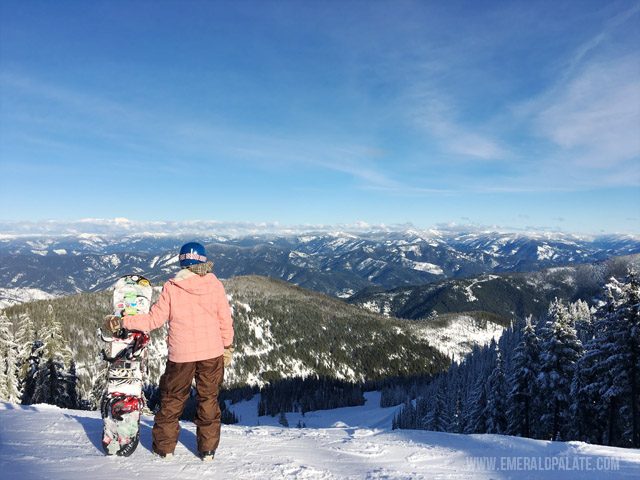 A few weeks ago, my boyfriend and I took a road trip from Seattle to Idaho in order to check out the skiing at Schweitzer Mountain and Silver Mountain. Neither of us had driven across Washington state or gone to these resorts, so we were excited to spend a long weekend exploring a new area of the Pacific Northwest.
Here are pictures from our trip and my recommendations for the top things to eat, drink, and do while at Silver Mountain and Schweitzer Mountain Resorts.
What to Expect Driving from Seattle to Idaho
We chose to start the first leg of our ski trip driving from Seattle to Silver Mountain Resort because it's closer than Schweitzer Mountain. The drive from Seattle to Silver Mountain Resort is technically about 6 hours (as compared to ~8 hours to Schweitzer). However, if you're going during the winter months like us you'll be delayed by snowy conditions. Plus, when you factor in stops, it's more like 8 hours. We took our time and ended up spending about 9 hours getting to Silver Mountain.
The first factor that made the trip longer than usual was that the Pass was closed. This is how locals refer to the area of Interstate 90 East that goes through The Peak at Snoqualmie. Every once in a while the roads are closed because of severe snow and ice, so we had to take a more far-flung route through Steven's Pass along route 2. I was fine with this because 1) safety and 2) I knew we'd be passing through Leavenworth and some other areas that would make good pit stops.
The thing I found most astonishing was the waves of weather we experienced during the drive. It went from foggy and rainy to snowy to sunny all within just a few hours. Here are the visuals we experienced during the drive, in order of appearance.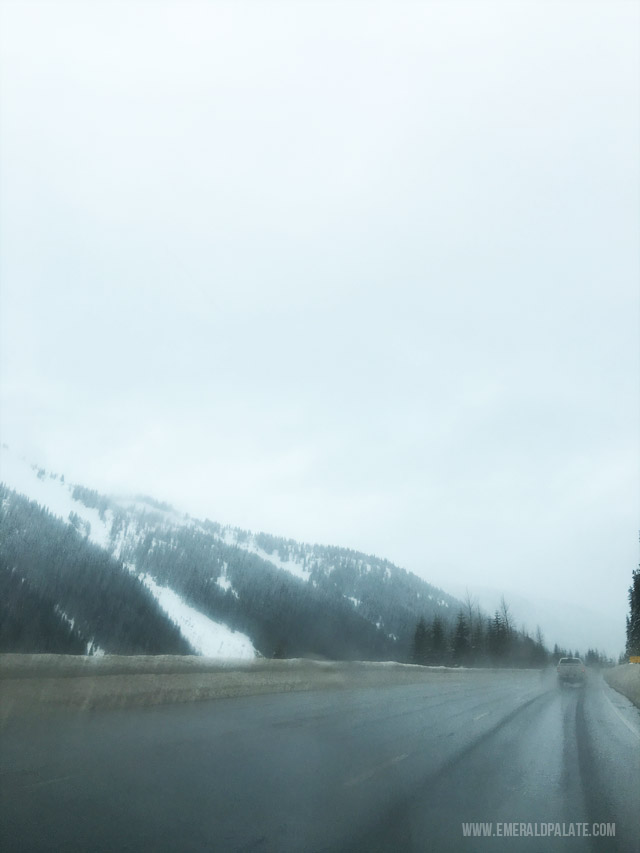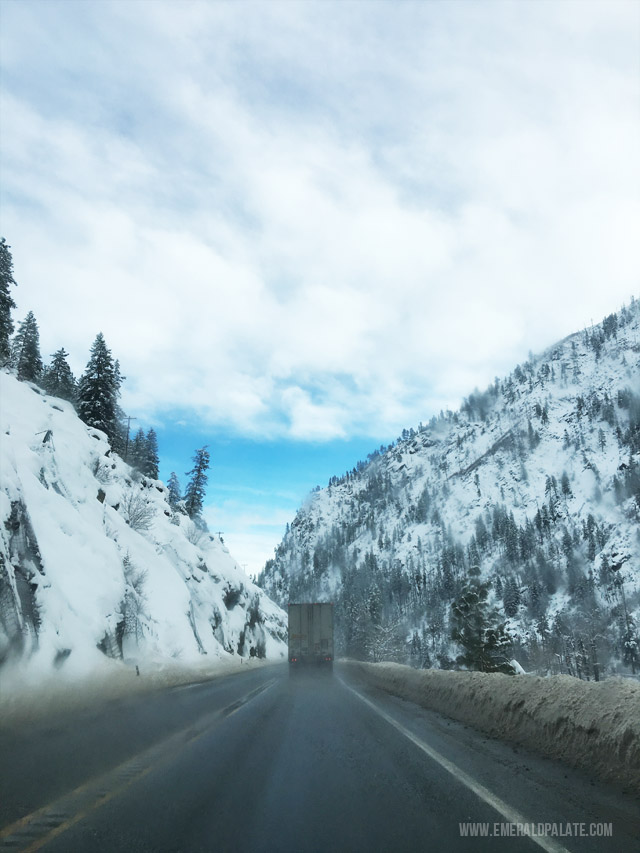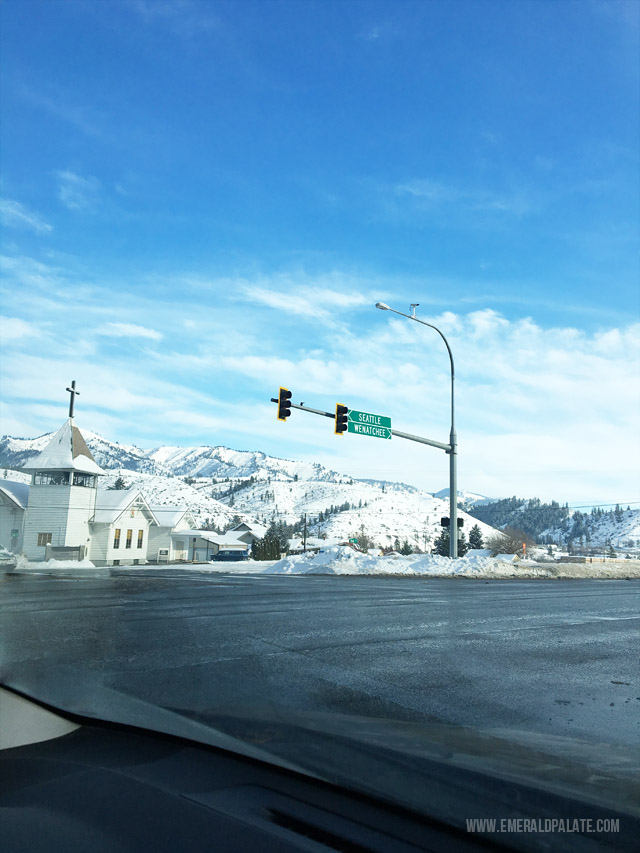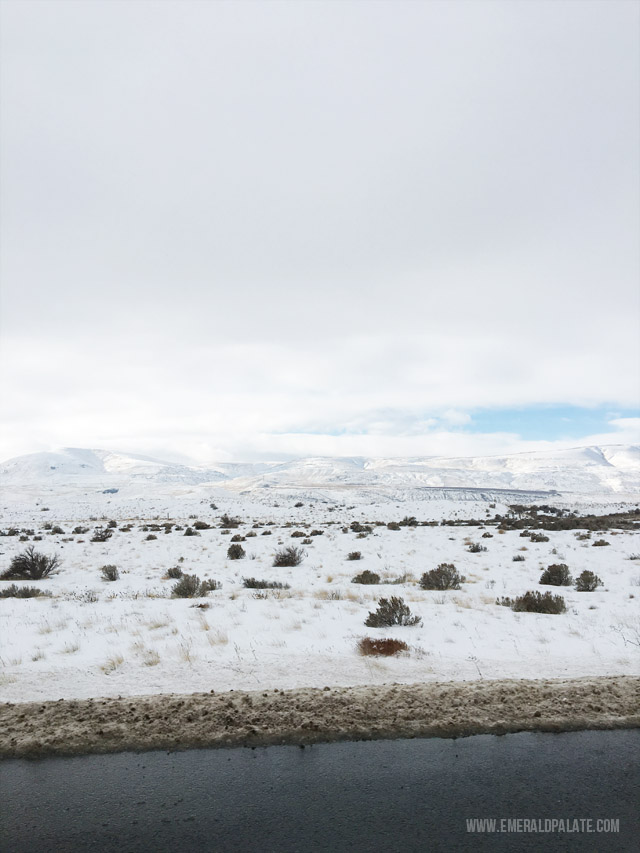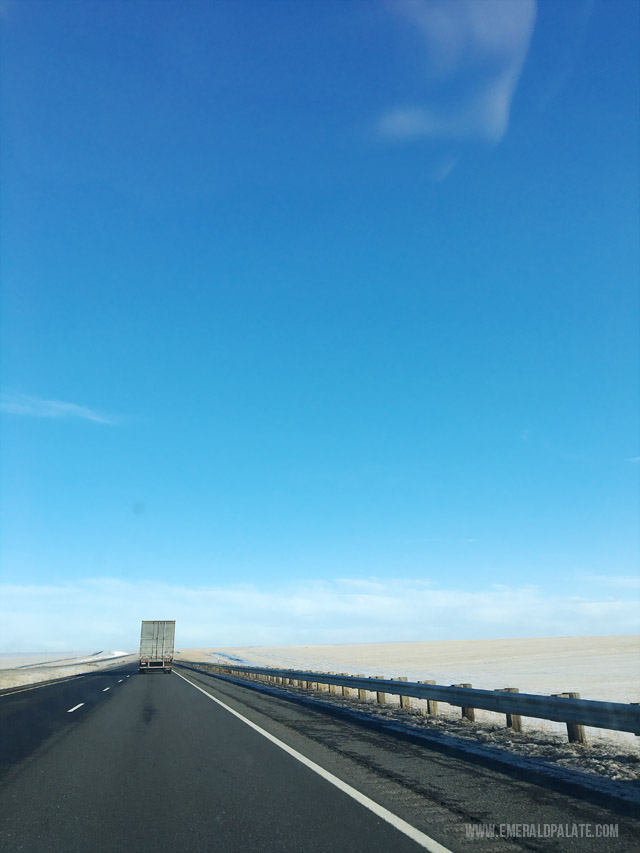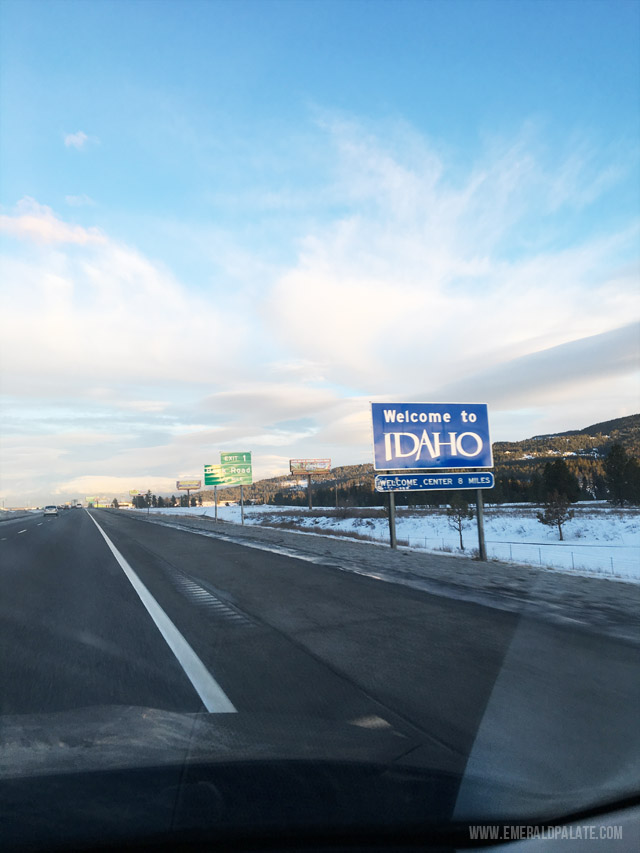 Recommended Stops on the Way to Idaho
Munchen Haus in Leavenworth for brats. As soon as I knew we'd be passing Leavenworth, I suggested we stop by the outdoor brat and sausage grill we love there. Munchen Haus is right in the main downtown area of Leavenworth, which you drive through on the way to Idaho.
Muchen Haus is an outdoor beer garden with toasty fire pits and a bunch of different sausage and bratwurst options. I decided to get the cheddar and jalapeno sausage this time, but really you can't go wrong. That's because you're in full control of the fixings. They have a bar where you can choose from about 15 different mustards and top on as much apple cider braised saurkraut, pickles, relish, and onions as you want.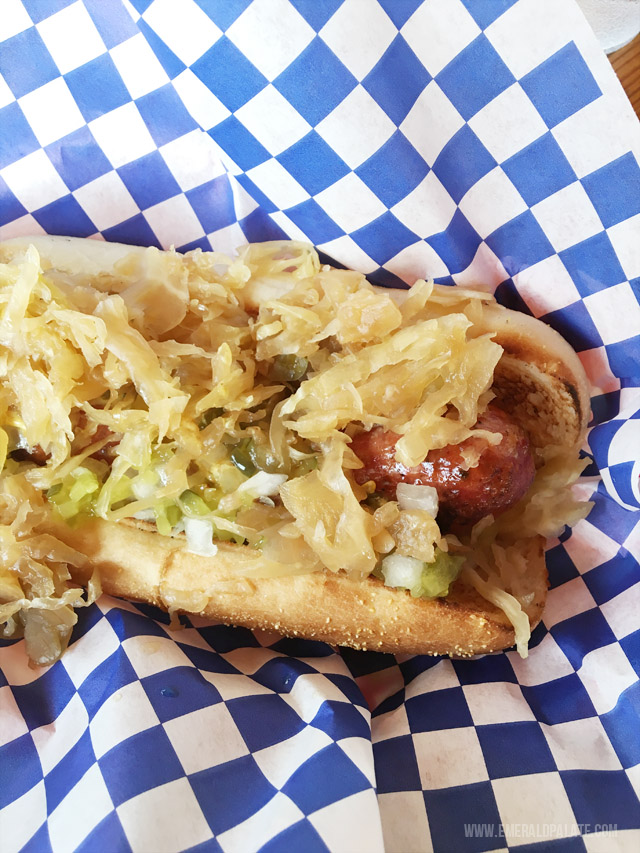 Make an antiquing pit stop in Cashmere. While unfortunately we didn't do this on our trip, every time I go near Leavenworth I try to get my people to go antiquing at a few malls you'll pass while on route 2. The Antique Mall at Cashmere and Apple Annie Antique Gallery are right across the street from each other. You'll find a combined 85,000 square feet of antiques to browse through. Since I'm a sucker for all things old, I highly recommend budgeting some time to find some treasures you can take home.
Visit breweries on the NW Ale Trail. Dan and I love local beer so we planned to stop at Selkirk Abbey on our way, a Belgian-style brewery that we read about. Imagine our delight when we got there and noticed there is a whole damn beer trail to explore!
We picked up the Inland NW Ale Trail map and saw that there were more than 40 breweries between Spokane, WA and Coeur D'Alene, ID, all within driving distance of each other. If you get stamps from 12 participating breweries, you'll get a free growler. We collected two stamps, one from Selkirk Abbey and the other from Trickster's Brewing in Coeur D'Alene. We'll definitely be hitting up more the next time we're in the area.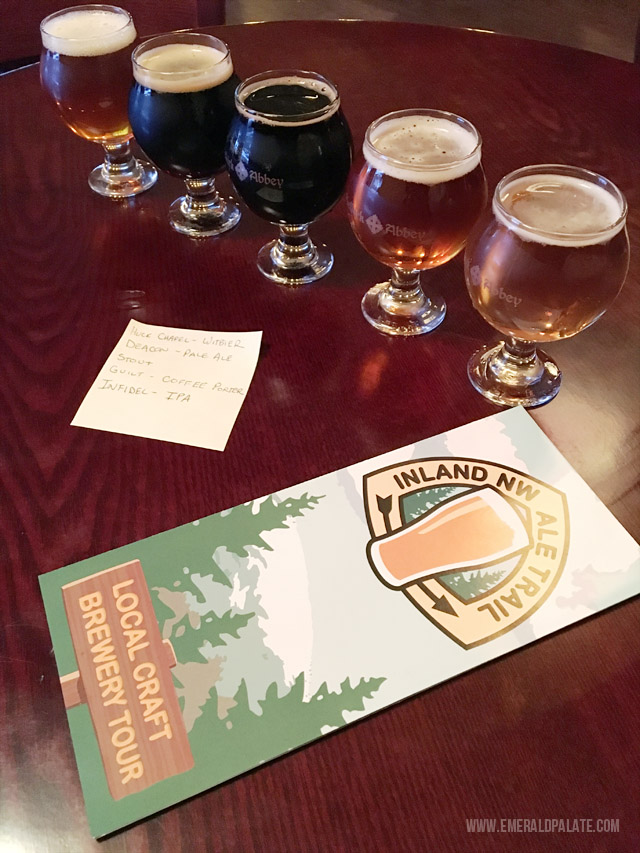 Stop at Jimmy's Down the Street in Couer D'Alene for brunch.
We made a list of a ton of restaurants to try in Couer D'Alene, but unfortunately we didn't make it to most of them. However, on the way back home to Seattle we stopped at Jimmy's Down the Street, a greasy-spoon diner that was featured on Food Network's Diners, Drive-Ins, and Dives for their gigantic cinnamon roll. And let me tell you, that cinnamon roll was gigantic. It was the size of my head! Really, all the portions were large, like the Irish eggs Benedict we ordered. But, oh, both were so worth the calories. This is a must try!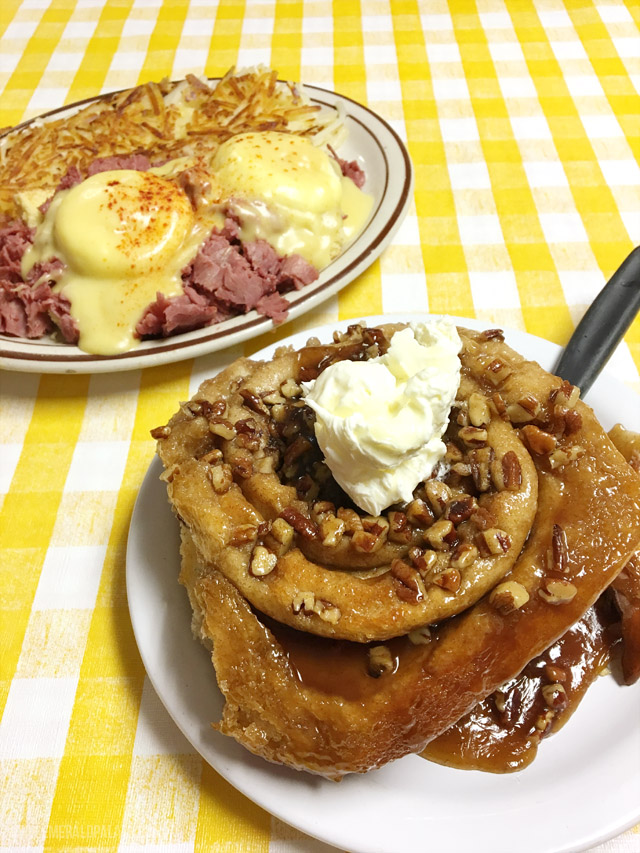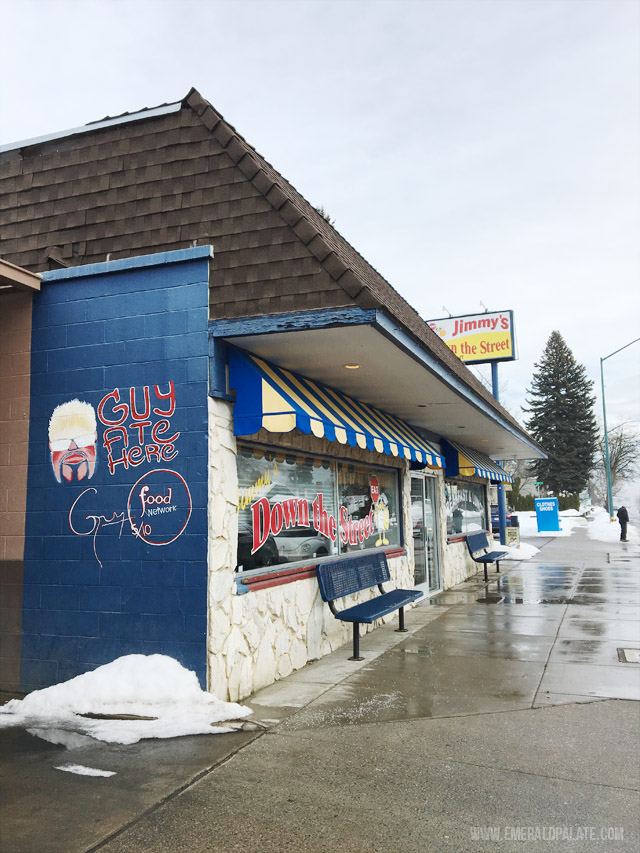 If you're curious of the other restaurants we picked out but didn't try, here you go: Fire Artisan Pizza, The Garnet Cafe, and Cafe Carambola (this has 5 stars out of more than 150 reviews on Yelp!).

What to Expect at Silver Mountain Resort
We arrived at Silver Mountain Resort at about 6:30 pm. Silver Mountain is a ski resort in northern Idaho that has 73 trails covering 1,600 acres of skiable terrain. If you're familiar with Seattle-area ski resorts, it's bigger than Snoqualmie Resort but smaller than Steven's Pass Resort.
The resort is small, with only about 12 restaurants and shops. But it provides as much entertainment options as possible. For example, you'll find DVDs to rent. You can purchase s'more packets and make them over the bonfire in the middle of the resort. Or you can relax in the indoor water park, which includes a lazy river, wave rider, tons of pools and hot tubs, and a large slide. We didn't get a chance to go to the water park, but we kept commenting on how much my nieces would absolutely love it.
When you're ready to go skiing, prepare for the 20-30 minute gondola ride up to the mountain. The gondola takes you up and down a few peaks and valleys to the area where you can ski. Unfortunately the gondolas were pretty vandalized by punks who liked to etch all over the windows (grrr, how rude!), so I wasn't able to get many good shots on the way up.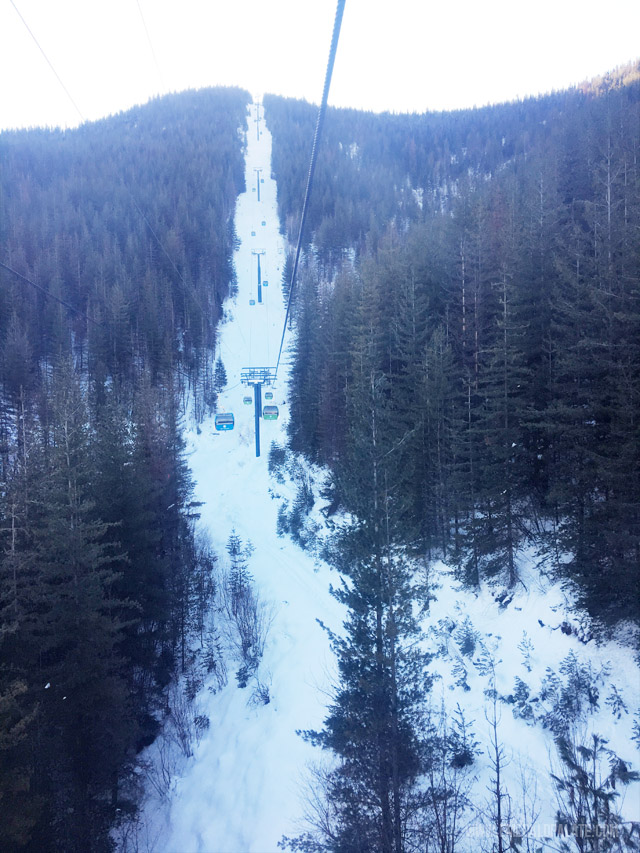 However, once we got to the top we were blown away. We thought it was going to be foggy since the skies were gray during the gondola ride up. But once we got over the smaller peaks, we realized that it was quite sunny at top that day. We spent the day in lovely snow conditions stopping probably too much to take in the views. There were snowy peaks as far as your eye could see, dotted with blankets of evergreen trees.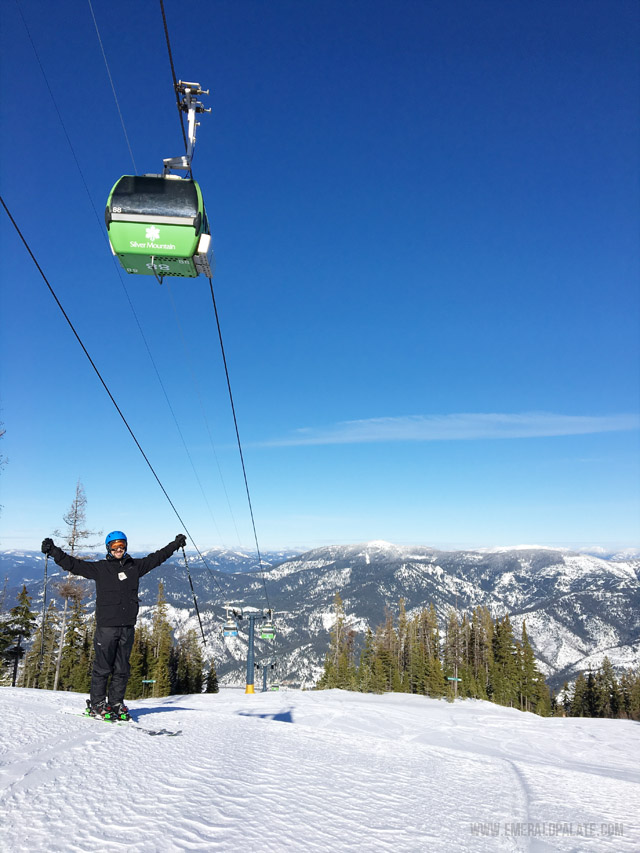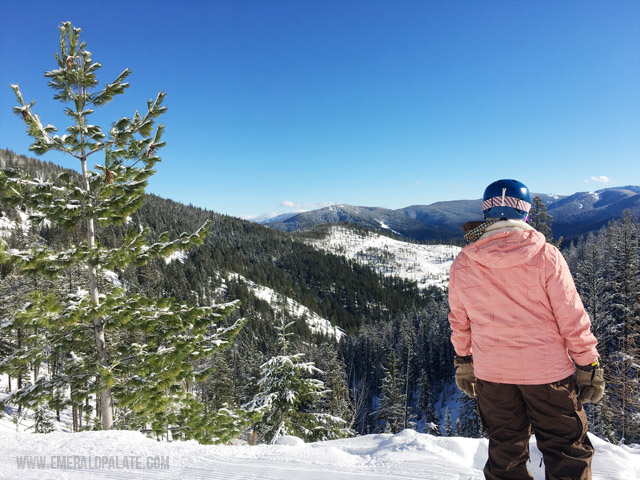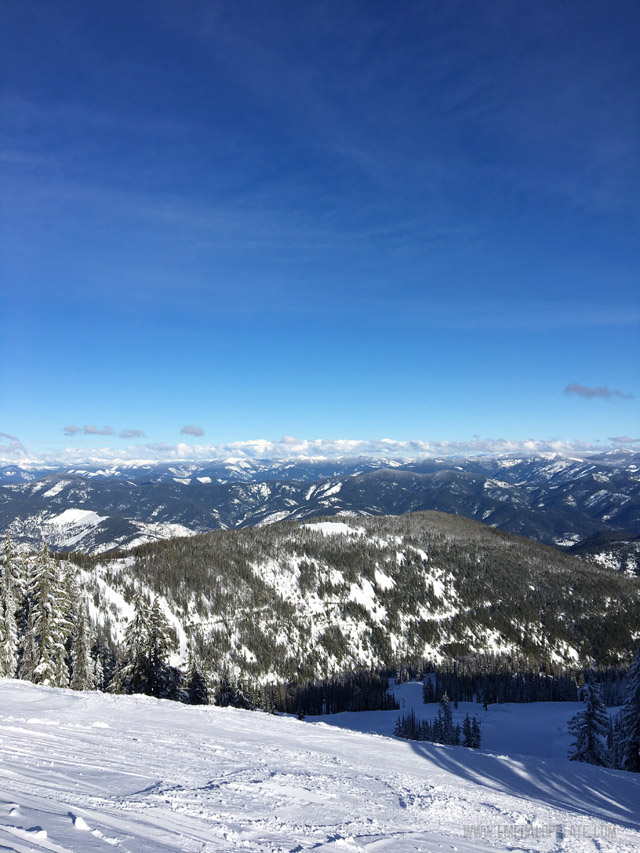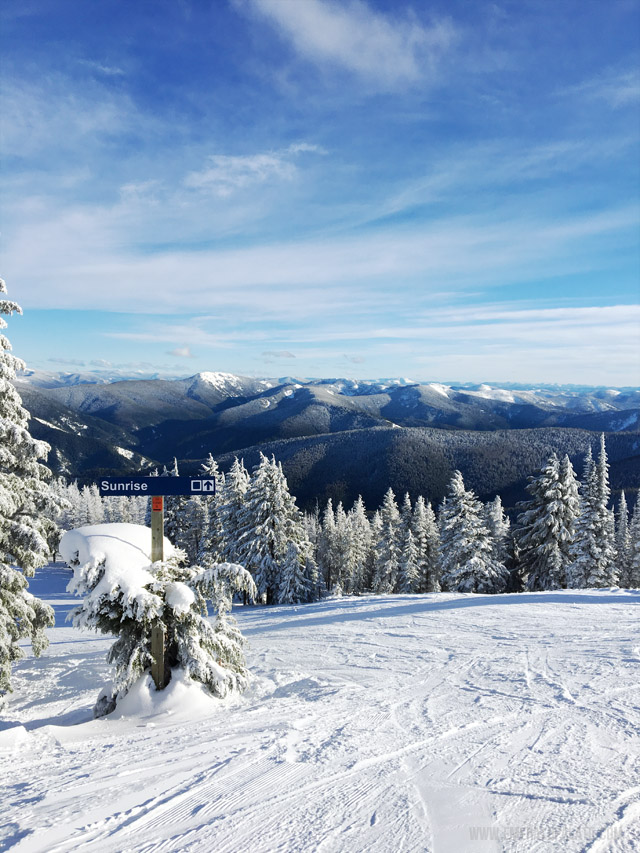 Silver Mountain Recommendations
Get the Blue Chips at Noah's Canteen. We were invited to dine at Noah's Canteen in the resort. To be honest, we were a bit dubious of how good this would be. But we were blown away by the Blue Chips appetizer. We thought it was going to be something like potato skins, but we were surprised to see it's the largest order of Idaho-style nachos we'd ever seen. It's lattice-cut potato chips smothered with a blue cheese-Parmesan sauce, bacon bits, chunks of blue cheese, and chives. Honestly, we felt like the fattest fucks eating this. But we couldn't stop moaning and saying how good it was between lamentations of needing to work out more and eat better.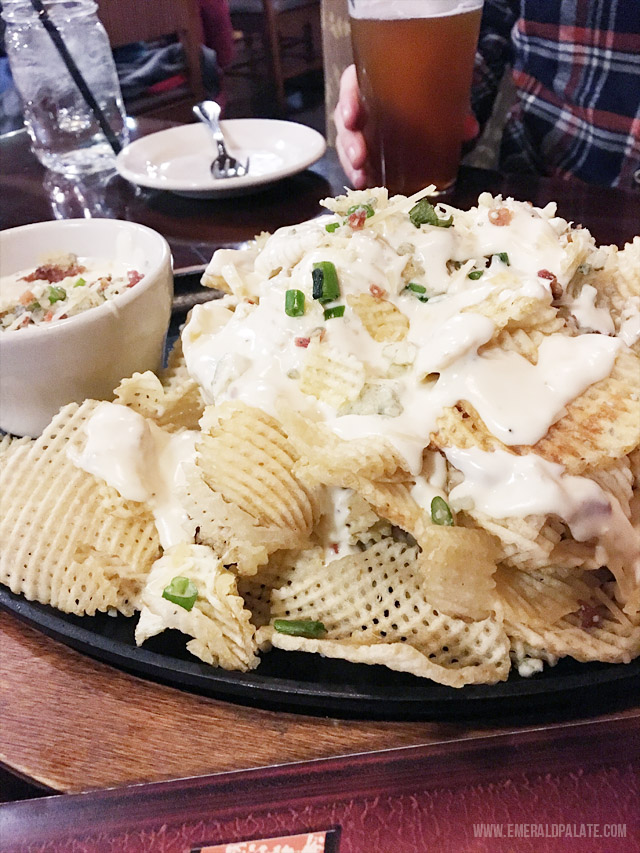 If you're curious, we also enjoyed most of the other things we ordered at Noah's. We got this potato, cheddar, jalapeno soup that was super yummy. We also got a steak and salmon main dish. The proteins on these dishes were pretty mediocre, but the sides were friggin' awesome. We both got these cheesy-mashed potatoes with the skin on and garlic string beans. I couldn't stop eating the mashed potatoes!
Pack your own lunch to eat while skiing. There aren't many lodge options on the mountain to stop for lunch while you're skiing. We went to the Mountain House Grill between runs and were disappointed that it was mediocre ballpark-like food. I ended up getting over-fried chicken strips and (pretty good) fries. He got a burrito that was overpowered by bland iceberg lettuce. There were mostly only heavy options, so we ended up paying more than we wanted to eat food that made us feel bloated the rest of the day. I'd say plan to pack peanut butter and jelly sandwiches to take with you on the mountain. This also means you'll have more time to ski!

My Overall Impression of Silver Mountain
PROS:
It doesn't get too crowded, particularly on weekdays.
Lift tickets were almost unheard-of affordable, at $55 per adult and $40 for kids.
The views from the slopes were absolutely beautiful.
The snow conditions were awesome when we went.
There's a water park for soaking sore muscles and entertaining little ones.
CONS:
The mountain and resort are pretty small.
The food available on the slopes isn't great.
Silver Mountain is a great place to visit as a pit stop to Schweitzer Mountain or if you find yourself near Coeur D'Alene, Idaho. It has great options for kids and its location makes it ideal for exploring nearby towns and restaurants.
However, I'm not sure I'd make a trip from Seattle solely to go to this resort again. It didn't offer more than closer resorts like Steven's Pass, so it's a far trek for a similar experience. However if you live closer to Idaho than Seattle, you should definitely make this a regular ski destination! I was blown away by the views, ski conditions, and affordable lift tickets!

What to Expect at Schweitzer Mountain Resort
Schweitzer Mountain Resort is a ski resort in northern Idaho that's about a 2.5 hour drive from Silver Mountain, 2 hour drive from Couer D'Alene, and about 8 hour drive from Seattle. The ride up to the resort is uphill and windy, so we were thankful it wasn't too snowy or icy since we arrived when it was dark. You can see by this photo though that the drive during the day is absolutely beautiful.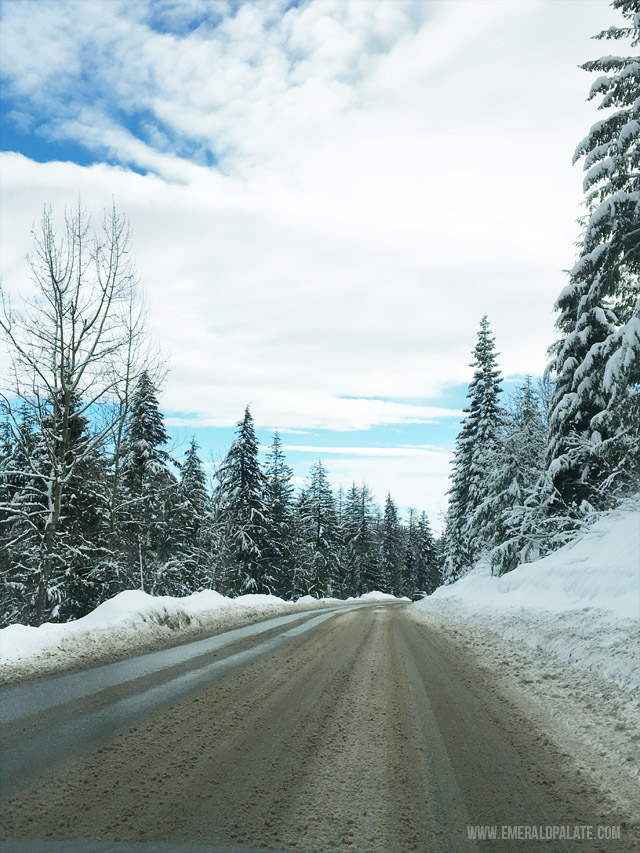 Schweitzer Mountain claims to be the largest ski resort in Idaho and Washington. It has 92 trails and an open bowl on 2,900 skiable acres. It also provides tubing, cross country trails, and a terrain park. Lift tickets will set you back $77 for adults and $55 for kids. But there's a $25 beginner ticket option.
It's mostly an intermediate and advanced ski resort, with only about 10% trails suitable for beginners. However I'm a self-admitted, solid mediocre snowboarder. For reference, I usually stick with blues and the occasional mellow black. I thought the blues at Schweitzer were pretty easy. So if you're a "beginner" that rides between a green and blue trail, I think you'd do well at Schweitzer!
Schweitzer gets about 300 inches of snow a year and we could tell when we were there. While it was foggy and snowy when we skied, the conditions were absolutely perfect. It wasn't so foggy that you couldn't see your hand in front of your face (I'm looking at you, Whistler) and it wasn't freezing despite the snow. While I wished it would have been sunny for pictures sake, Dan and I both kept gushing at how good the skiing was. We also got to ski with Schweitzer Mountain's marketing manager, Dig Chrismer. She gave us a personal tour of all her favorite runs and was patient while waiting for mostly me to catch up (she was so fast!).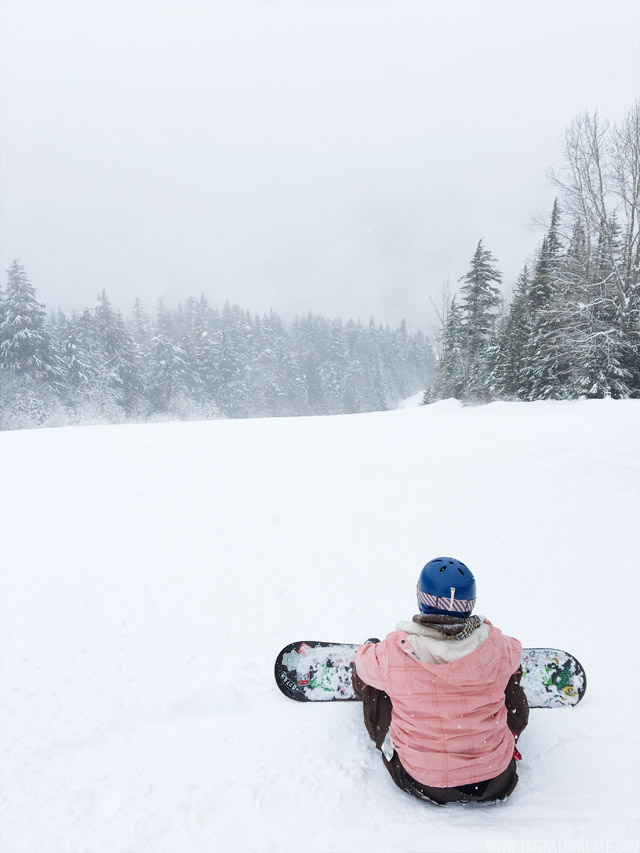 Luckily it was sunny the next day when we woke up. While we didn't go skiing, at least I can show you what the resort looks like with blue skies! These are all from the view from our room. Not bad huh?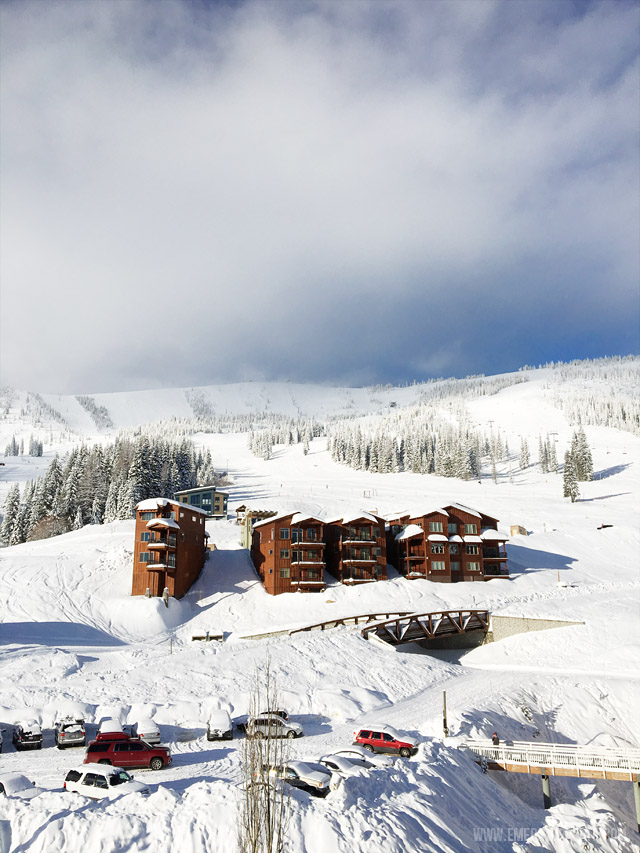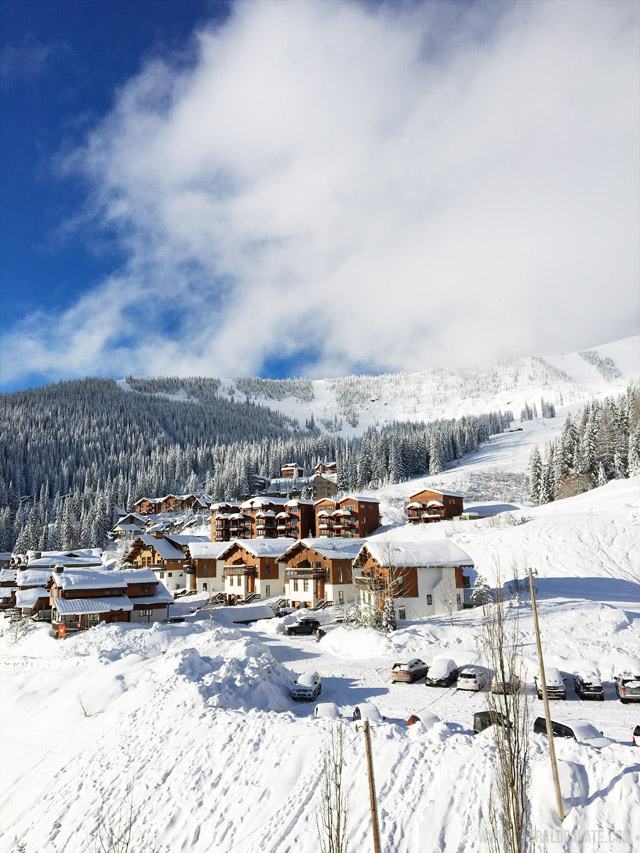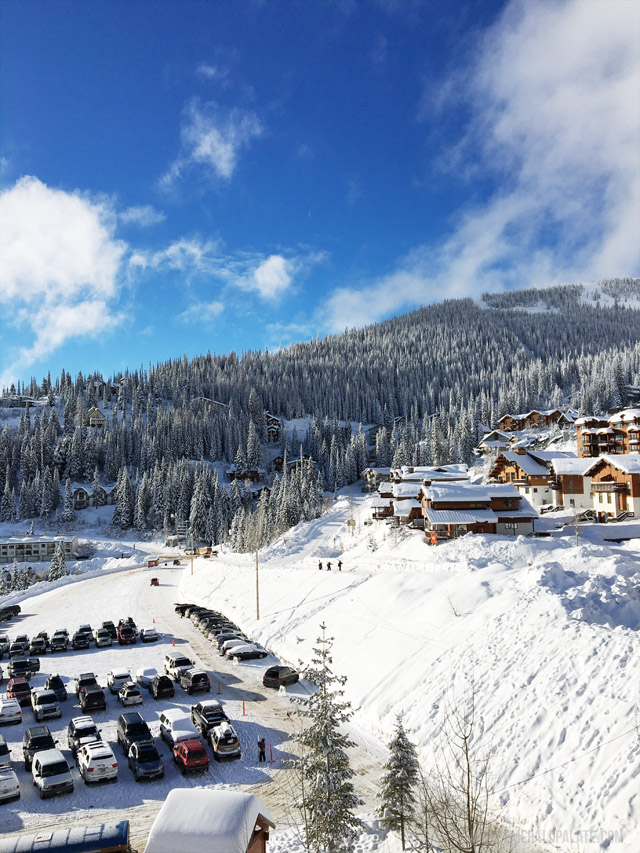 Schweitzer Mountain Recommendations
Eat at The Nest when you break for lunch on the slopes. We were invited to eat at Schweitzer Mountain's new lodge at the top of the mountain. The Nest features a cafeteria-style section and a sit-down area that serves small plates. We ate in the sit-down area and had the opportunity to meet the chef, who is a Culinary Institute of America graduate. He was immensely interesting, talking about how his staff makes everything from scratch and how he wanted to develop a lunch spot that wasn't serving typical mountain fare. He also talked about the challenges of having a restaurant at the top of a mountain, where staff need to take lifts up to work and take trash down.
We ordered the New England clam chowder, raclette cheese served with potatoes, bacon, dill, and cornichons, curried cauliflower, and prime rib sliders. All of the food was good, but our top recommendation was the New England clam chowder. We could have eaten this for days!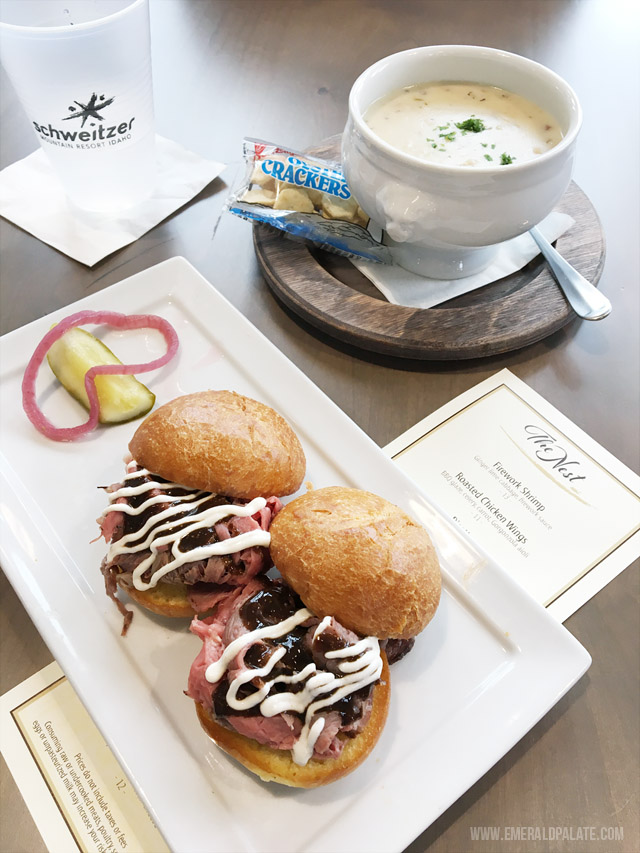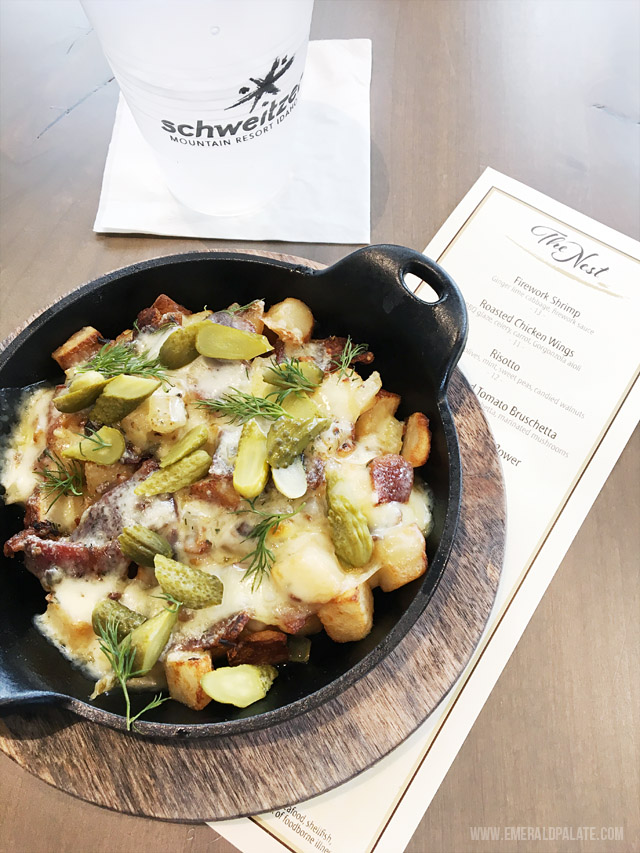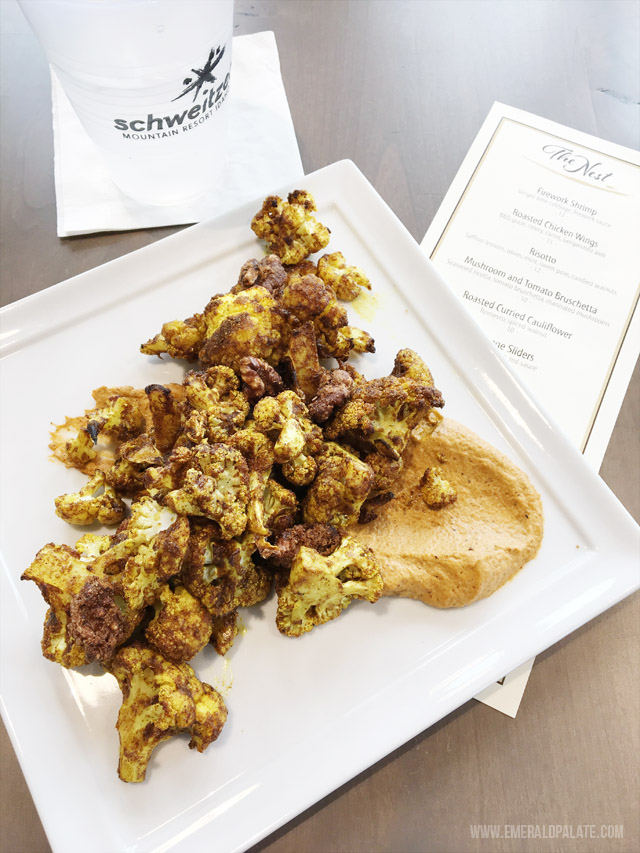 We didn't order anything from the cafeteria-style section of The Nest, but we saw people who did. Let me tell you, we wish we ordered from there too. There was this huge, handmade burger that we kept gawking at. Too bad we were too full from our other dishes to try it. But if you get a chance to go here, get it and let me know how it is!
When off the slopes, eat at Powder Hound Pizza or cook in your room. I'll be honest, I'm a huge pizza snob. So I'm not going to lie to you and tell you Powder Hound Pizza is the best pizza I've ever had. But I will tell you it has some interesting topping combinations and is super addictive. I thought the crust was pretty mediocre and kind of reminiscent of Ellio's frozen pizza, but I couldn't stop eating it. We got the Garbage Can pizza, which had tomato sauce, mozzarella, pepperoni, mushroom, bacon, black olive, green pepper, and onion. It was this overloaded, addictive combination that I'd highly recommend ordering!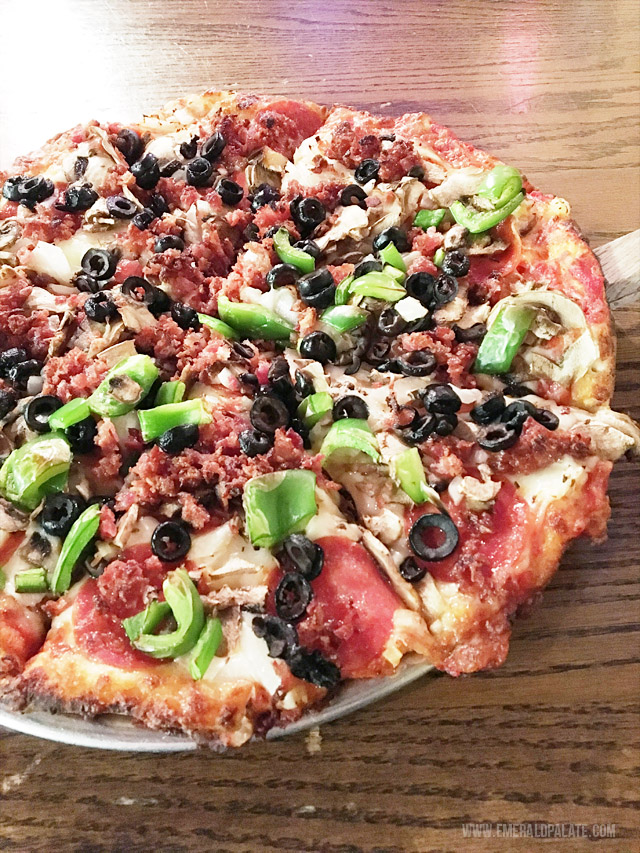 Overall, the restaurant pickings at Schweitzer Mountain are slim and it's about a 30-minute drive down a windy road to get to the nearest town with more restaurants (Sandpoint). So I recommend planning to cook your own meals in your hotel kitchen if you're staying multiple days.
After skiing, go to Gourmandie Cafe for wine tastings. After skiing we were invited to a wine tasting at Gourmandie Cafe, which was attached to our hotel in the resort. It's a small place that sells bottles of wine, artisan snacks, and some light homemade food. They also host wine tastings daily from 4-6 pm.
While we were there, they were hosting a wine tasting with Clearwater Canyon Cellars, a small 3,000 case/year winery located in the Lewis & Clark AVA region of Idaho and rated Idaho's 2015 Winery of the Year by Wine Press NW.
The husband and wife wine makers, Karl and Coco, were there too. We had the opportunity to sit down and chat with them about their wines. They talked about how they grow their own grapes and are the heads of the Lewis & Clark Wine Alliance. They talked about the challenges of organic wine making and how they choose their barrels for aging. We can honestly say we learned more about wine making talking to them for a few hours than we had in our years of (excessive) wine drinking. They were so knowledgeable!
Plus, their wines were absolutely awesome. We wanted to buy every bottle and are highly considering signing up for their wine club, which has free shipping and no sign up fee. So not only was the wine tasting a fun experience, we ended up discovering a new local winery to love.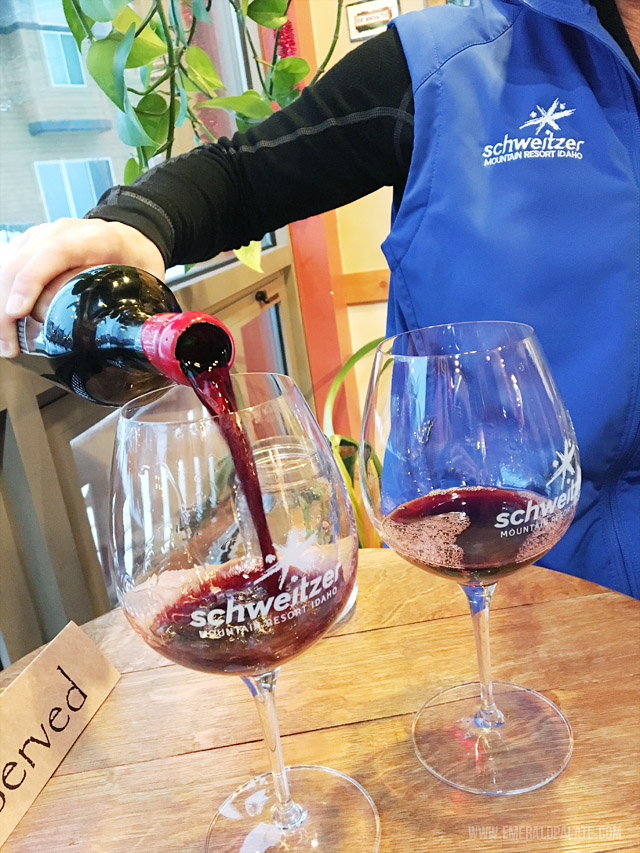 My Overall Impression of Schweitzer Mountain
PROS:
There's a lot of snow and trails!
They have newer facilities with amazing eating options when you're skiing on the mountain.
THE BED. Seriously, the memory foam mattress in our room was amazing, but so was the overall lodge-like atmosphere with its fire place and thoughtful details (like a fan!).
You're right on the mountain and can ski in and ski out.
It doesn't get too crowded, even on the weekend.
CONS:
Food options at the base are limited and it's not convenient to leave the resort at night.
Depending on your room location it can be noisy. We were above the pub and had trouble sleeping because of loud conversations below our window (which we had to keep open because our room was so hot).
Overall, we loved Schweitzer Mountain. This is definitely a resort we'd drive back to from Seattle. We've actually already talked about coming next year with my sister, brother-in-law, and nieces. The accommodations are cozy and they took care to include a lot of thoughtful details, like DVDs, board games, a fan, cooking equipment, robes, and more. This makes it perfect for a low-key ski trip that's great for couples and families. Plus, the conditions and size of resort are worth the trek!

I hope you find this breakdown of what it was like road tripping from Seattle to Idaho useful. We also hope it gives you an idea of what to expect when visiting some of the most popular ski resorts in Idaho. Have you been to Idaho? We'd love to hear about it and get your recommendations in the comments!

Before you go, why not pin this Idaho travel guide?



Disclaimer: Dan and I were provided free accommodations, lift tickets, and some meals at Silver Mountain and Schweitzer in exchange for this review. All opinions are my own and I'd never work with a brand that isn't one I'd try on my own! Thank you for supporting the businesses that support me and make this blog possible!

Other Articles You Might Like