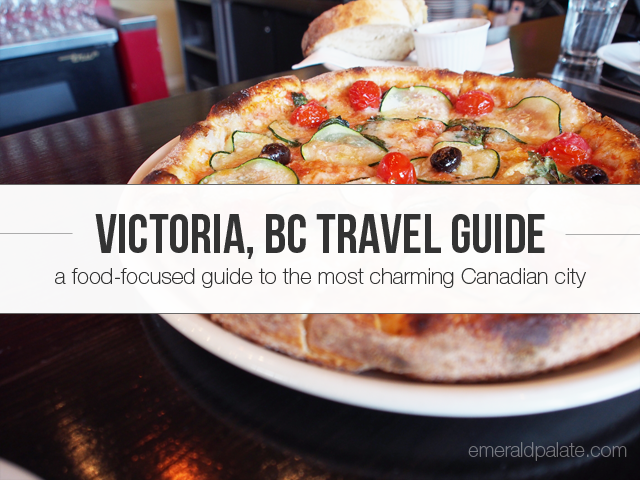 When I travel, it's all about the eats. I rarely care about the tourist spots or local attractions. Rather, I make obsessive Google Maps of where I'm going to eat and the nearby local shops I can peruse between meals.
If you're like me and base all your travel plans around your gut, then you're going to appreciate this foodie travel guide to Victoria, BC. You'll find a list of what to eat and things worth seeing (or drinking) between meals.

---
Want More Travel Guides?
We've got big plans to share more travel guides focused on food, shopping, and off-the-tourist-path excursions. To be the first to know about these, sign up for our newsletter.
---
Getting to Victoria, BC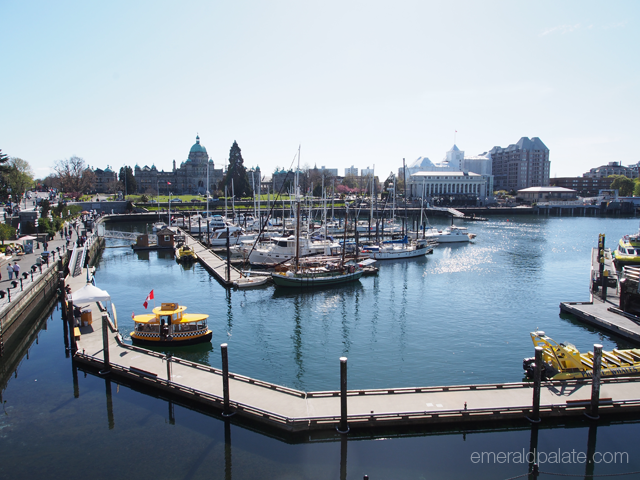 First, logistics. You'll want at least 36 hours in Victoria. It's close to Seattle, but not close enough for a day trip. You can fly into Victoria, but if you're from Seattle or visiting The Emerald City, consider taking the Victoria Clipper boat from Seattle to Victoria.
The Victoria Clipper comped us round trip tickets for two, so we went this route. I was surprised by a few things:
How small the boat was.
How fast the approximately 3-hour trip felt.
How clean the bathrooms were.
All-in-all the trip was an easy, pleasant experience for me. However my boyfriend, who gets motion sickness, might tell you differently. The water was pretty choppy on the way to Victoria. While I have a stomach of steel, there were a lot of people getting sick. This is definitely something Victoria Clipper can't control and I was grateful for how quick they cleaned up any messes. But if you're someone who gets seasick, know there is a chance of rough waters. So pack that Dramamine!
Another pro tip would be to choose your on-board meal wisely if you choose to eat on the boat. I giggled with glee when I saw they had an Ellenos yogurt parfait. I would argue Ellenos is the best Greek yogurt ever made, so obviously I chose this option. I highly recommend you also make this choice.

Top Picks for What to Eat and Do In Victoria, BC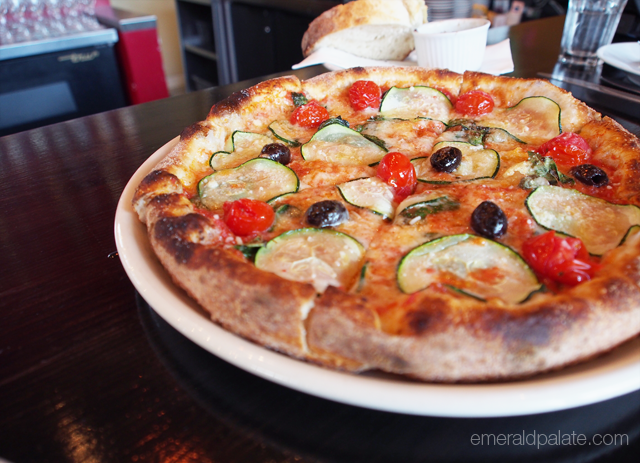 Take a Biking Food Tour
Before you start noshing, you have to set yourself up for eating success. You'll be able to eat more if you think about getting between places faster.
Victoria is an extremely bike-friendly city. And I don't just mean it has bike lanes. It has a really welcoming vibe to bikers of all skill levels.
I'm not a huge biker and often feel intimidated by the spandex-wearing bikers in Seattle. Yet I felt immediately welcome in Victoria because it's much more accommodating to the "I-just-want-to-be-on-a-cruiser-wearing-normal-clothes" crowd. So whether you are a die-hard biker or just want to explore the city in a new way, my number one recommendation is that you rent a bike while you're in Victoria. While Victoria is overall a walkable city, you'll be able to cover way more ground and make the best use of your time if you're exploring on two wheels.
You can go two routes with bike rentals. You can rent bikes by the hour or day and explore the city on your own. Or you can take a bike tour of the city. Whichever option you choose, you must include stops to delicious eateries along the way. I'll get to where to eat in a minute.
We went with option number 2 and booked the Eat. Drink. Pedal. tour with The Pedaler, Victoria by Bike company. This 4-hour tour promised 10 tastes and the opportunity to cover more ground than you otherwise would on foot. Since we only had 36 hours, we decided to take this tour and scheduled it for immediately after we arrived in Victoria.
The awesome thing is that The Pedaler is right across the street from where the Clipper drops you off, so it wasn't a problem that we arrived at 10:49 am and our tour began at 11 am. If you want this convenience but don't want to take a tour, The Pedaler also rents bikes, so you can pick one up right when you arrive in Victoria.
After a quick orientation we began the bike tour. What I loved is that there's a tour leader in the front and back of the group looking out for cars. Since I'm a nervous biker, I loved this extra precaution.
The first thing I noticed: this bike tour isn't for those new to exercise. The first 30 minutes of the tour was strenuous. We were going up hills and traveling a lot of distance right off the bat. Luckily, my boyfriend and I are pretty active so it wasn't a huge deal. But I distinctly remember thinking, "Oh god, imagine if I brought my parents on this?" So this is something to keep in mind on this and any bike tour (note: I believe they have trailer bikes for kids so I wouldn't be discouraged from bringing along little ones who wouldn't otherwise be able to keep up).
As promised, we meandered through Victoria and got 10 tastes at various restaurants around the city. I absolutely loved how the bike allowed us to experience great places all over, rather than limiting us to just the best of one area. Out of respect of the tour I'm not going to list all the places that we stopped, but I will tell you that it included awesome pizza with toppings I wouldn't have otherwise ever put on a pie, vegan ice cream sandwiches that blew my mind with how creamy it was despite there being no dairy, savory macarons that were much more creamy than traditional macarons, and peanut butter cups from a Fair Trade chocolatier that had real peanut butter inside (why this is a feat is mind blowing, but that's a discussion for another time).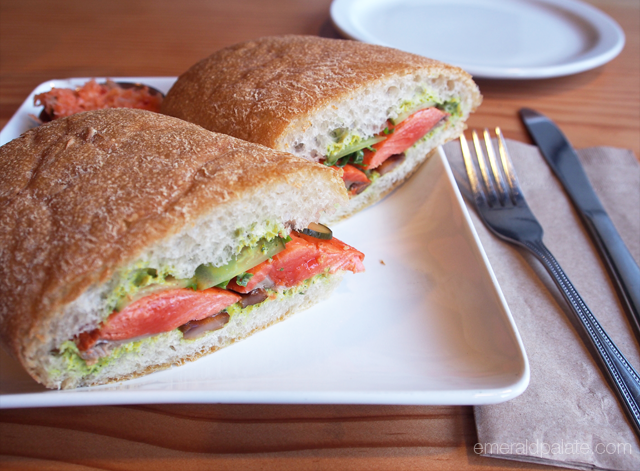 Overall this bike tour was our favorite part of our trip to Victoria. We both would give it a 4 out of 5 stars. We took away one star because we realized later we loved this tour more because of the biking and tour guides versus the food. While all the food we had was good, we were surprised it only had two stops with more substantial dishes. The rest were small tastes like the above-mentioned chocolates and macarons. While it was great not to be gut-bustingly full after the tour, we ended up going back to one of the tour stops to get some more eats.
So this is something to keep in mind if you're trying to decide whether to go with a tour or not. At the end of the day you should ask yourself how much money you want to spend and what's more important: a tour of a new city by a local with the anecdotes you can only get with a guide or a guaranteed stop at all of the best places with food that will power you through 4 or more hours of exertion?
If the first is more important, then definitely take this tour. But if you want to bike at your own pace and eat the amount of food you're looking for, then consider going at it solo.

Eat at These Foodie-Approved Victoria Restaurants
If you decided to take your own bike tour or if you just want to know where you should eat while in Victoria, pay especially close attention to this section. These were our favorite places out of the 31 things we ate in 36 hours (gluttony much?).
Mo:Le
Mo:Le is an amazing place for brunch. We tried to go to Jam Cafe, another brunch place we read about everywhere, but the line was insane. I do a lot of brunching and I've never seen a line like this on a Sunday morning. If you're from Seattle, it was akin to a Paseo or Salumi's line. It was like a two hour wait!
Since we wanted to fit in other things, I asked the owner of a shop nearby where she recommended going for brunch. She recommend Mo:Le, which I remembered reading about. We decided to check it out and were happy that it was only a mild 40-minute wait.
I had a smoked albacore tuna eggs Benedict with onions, peppers, a homemade buttermilk biscuit, and a side of pesto potato hash browns.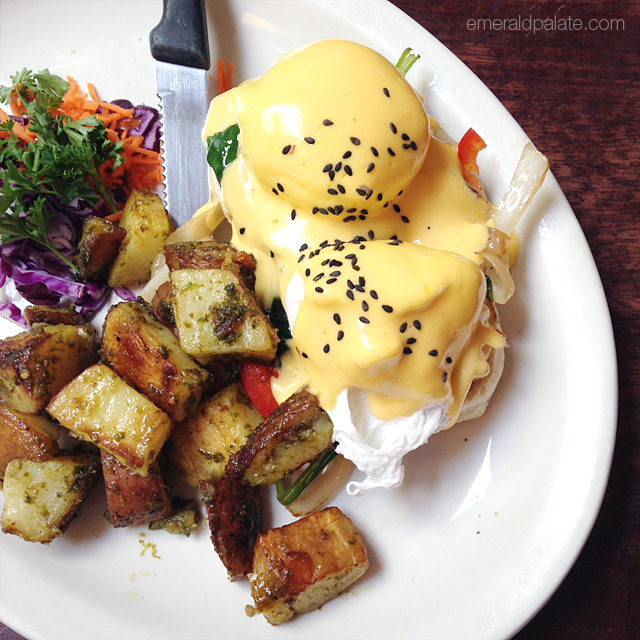 This was the 3rd best thing I ate in Victoria. By now, I had already eaten smoked albacore while in Victoria. This must be a common treatment of albacore in the area. I love how it's more subtle than the smoked salmon us Washingtonians love.
The pesto hash browns were a revelation. You're probably saying, "Come on, how can adding some pesto to potatoes a revelation?" I thought the same thing. But then when I reflected on all the brunch places I've been (and it's a lot, since I go to brunch in Seattle every Saturday), I realized I never had pesto hash browns. It adds a whole new flavor dimension to this oftentimes bland side. My boyfriend liked it so much he order an extra side of them!

Olo
I read good things about Olo, so we decided to go here for dinner when our tour guide corroborated that this was a good choice. While my boyfriend and I love tasting menus, we decided to make our own because too many things on the menu looked yummy and we couldn't stand the thought of not getting one of them.
Olo produced the best thing I ate while in Victoria: a mind-blowing beet salad with shiso, sorrel, house-made cheese, and pressure-cooked sunflower seeds.
Why was this mind blowing? Because the sunflower seeds took on the consistency of al dente orzo! I'd never had pressure cooked sunflower seeds. I was expecting it to be like a nut garnish, so you could imagine my surprise when the salad took on more of a pasta salad vibe. It had so much flavor and texture: the cumin-like taste of the shiso, the lemon-y zing from the sorrel, the satisfyingly-gumminess of the sunflower seeds, the creaminess and salt form the cheese. While I'm sure the Olo menu changes frequently, if you eat here and this is on the menu you. must. get. this. dish.

Fishhook
Our food tour guide revealed that locals know to come to Fishhook instead of its popular sister restaurant, Red Fish, Blue Fish to avoid the latter's super long lines. It's a place that specializes in French tartine sandwiches with a subtle Indian twist.
We ordered a few things off the menu: an open-face smoked albacore tuna melt, chili shrimp toast, a salmon belly sandwich, and clam chowder. Two of the four dishes were mediocre. The salmon belly sandwich was pretty good, but the fish-to-bread ratio was way off (too much bread). However, the tuna melt was incredible.
This was the second instance of having smoked albacore while in Victoria. The tuna wasn't the flaked stuff you typically get on tuna melts. It was the consistency of sashimi and it had a sweet smoky flavor that matched heavenly with the roasted broccoli puree and creamy, melted cheese. If you decide to go here, you must get this dish.

Bon Macaron Patisserie
I kind of hate macarons. So you could imagine my disappointment when we pulled up to Bon Macaron Patisserie on our biking food tour. It had rows and rows of bright-colored macarons lined up in a case. I was feeling pretty negative about the whole experience until the owner pointed out that they had some savory macarons. We were able to choose two savory to try, so we went with a goat cheese and fig and a blue cheese and pear.
I can now say that savory macarons are also a revelation. I'm not a fan of traditional macarons because of the meringue. I think it makes it unnecessarily chewy and oftentimes too sweet. But when you fill a macaron with a less-structure cheese and throw in non-sweet flavors, your traditional macaron is turned on its head.
These macarons were incredible creamy. It was like biting into a cream puff. And in terms of flavor you could really taste the cheese. My favorite of the two was the goat cheese and fig because you could taste both the fig and cheese independently. The blue cheese and pear was also very good, but it mostly tasted like blue cheese. If you are in the area, I highly recommend taking a box of the savory macarons to-go so you can nibble on them at stops along your bike tour.

Be Love
Our food tour guide recommended going to Be Love instead of Rebar, the latter of which is a vegetarian restaurant I read about that had rave reviews. He insisted Rebar wasn't as good as it used to be because it was under new ownership.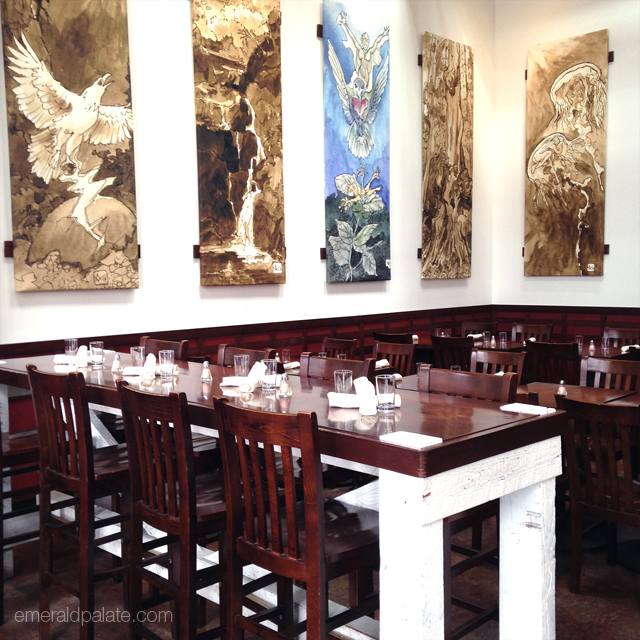 We decided to check this place out and were so happy that we did. It is also a vegetarian restaurant with yummy rice bowls and vegan desserts. My boyfriend got an excellent chickpea shawarma with grilled yams and sweet potato naan bread. It had this incredible crunch from the toasty naan bread and creaminess from the yams. I was surprised at how much flavor an otherwise unassuming dish could pack. This ended up being the second best dish I ate while in Victoria.
We also had a vegan cacao mousse with cashews and lavender. My overall thoughts were that the lavender was too pronounced, the cacao too bitter, and the mousse (though creamier than expected) had too much grit. I also thought it needed the sweetness and creaminess of a homemade whipped cream to balance it out.
Yet, I couldn't stop eating it. I think the interesting flavor combos and the savory quality kept it interesting. If you go here and it's on the menu, I encourage you to try it for yourself and tell me what you think. I guarantee it's unlike other desserts you've had!

Explore Local Craft Breweries & Wineries
Victoria is known for having a ton of craft breweries all within walking distance from each other. So if you or one of your travel buddies enjoy beer, I recommend making this part of your itinerary.
Some of the breweries that I read about and that were recommended to us by our tour guide include Canoe Brewpub, Phillips Brewing, and Spinnakers. BC Beer Guide has a list of more breweries in Victoria. And if you're traveling in March, check to see if there are any Victoria Beer Week events going on while you're there.
We only got to hit up one brewery called Swans. Unfortunately, we weren't a big fan of the beers and we didn't have time to hit up anymore. So we resolved to try and make it to some wineries the next day.
Since we were going to be in the area, we mapped out the following wineries within a short driving distance of each other: de Vine Vineyards, Symphony Vineyards, and Church & State Wines. However, we only ended up going to de Vine because Symphony was closed and we ran out of time before we got to Church & State.
de Vine was excellent. It's an organic winery and distillery. They have a 5-wine tasting flight for $15 and they give you a free spirit tasting at the end. I chose a Spanish-style white, pinot rose, zinfandel, syrah/viognier blend, and cabernet sauvignon. All of the reds were insanely fabulous and I ended up purchasing the zinfandel (wooo to being able to bring back a bottle through customs!).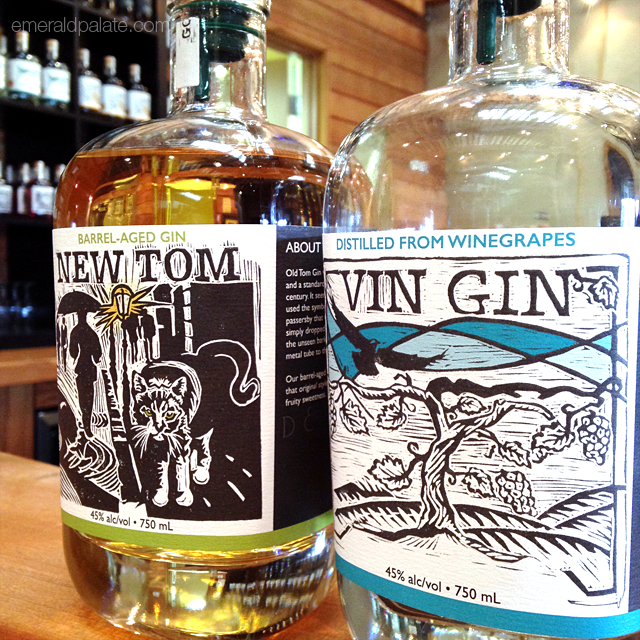 de Vine also had really interesting spirits. They have a line of grape-based gins that don't use any grain during the distillation process. I tried the Vin Gin base spirit and could tell that it had a more grape, almost floral flavor to it. We wanted to try all of the spirits but since we were driving, we thought it best not to!

Explore Beacon Hill Park
You're going to need to occupy yourself between meals. This was the first stop we made on our bike tour. You should definitely check out Beacon Hill Park. It has such a wonderful vibe: there are locals everywhere enjoying the weather when it's warm. There's also a paved path that weaves along gorgeous views of the Straight of Juan de Fuca.
It's a bit out of the way from the main drag in Victoria, so a bike would help you get there faster. If you have the time and space left in your stomach, I recommend picking up some noms from local shops and setting up for a picnic somewhere along the waterfront path. Also, make time for the park's petting zoo if you're traveling with kids.

Explore Local Shops on LoJo
"LoJo" is local slang for the area on Johnson Street between Wharf Street and Douglas Street. It's where you'll find a lot of the restaurants I mentioned and local boutiques perfect for shopping. This is what I recommend:
Walk north on Douglas Street and make a left on Johnson Street.
Go in and out of stores along Johnson that interest you.
Make a right on Wharf Street. This turns into Store Street. Go into Chintz & Co. if you want to see some seriously-glamorous home decor.
Make a right onto Herald Street and check out stores that interest you, such as the vintage decor shop I loved, The Fabulous Find, or the vintage decor shop to the right of Jam Cafe (the name alludes me!).
Make a right back onto Douglas Street and check out the vendors in the Victoria Public Market.
Depending on how fast you are while shopping, I'd reserve about 2 hours for exploring this area. It's next to Jam Cafe and Mo:Le, so it's a great place to check out after brunch. If you do decide to do it in the afternoon, know that most of the stores start closing around 5 pm.
If you want to explore even more local shops, check out this guide to Victoria shopping from We Are Local Victoria. You'll get an idea of a few places to stop while you're exploring LoJo.

Other Things to Do in Victoria, BC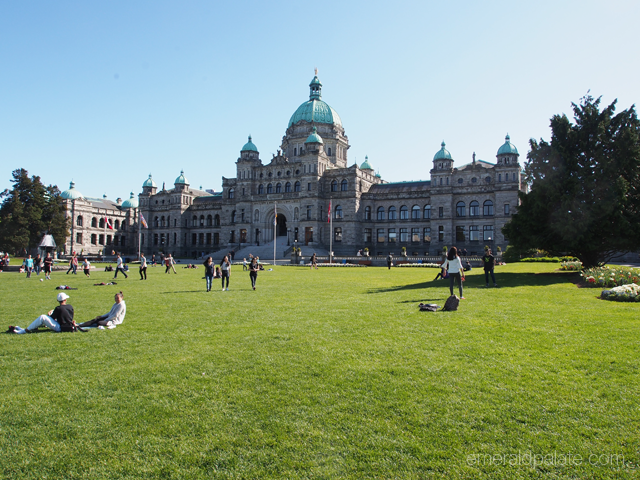 There were a few other things we found to do in Victoria that we ran out of time for. However, we'll definitely be exploring these the next time we're in town.
There's a ton of wineries in the Victoria area worth trying. For example, farther outside of the city is the Cowichan Valley, the second largest wine-producing region in British Colombia.
If you rented a car, consider checking out the Juan de Fuca Provincial Park. It is a great place to go hiking and take in some beautiful views of BC.
Another option for foodies is to take a spring foraging tour or fall mushroom hunt with Castro Boateng catering. Guests will be led through local areas of Victoria to pick their own ingredients. Then they'll return to the kitchens to make a meal out of what they collected.

What about the Butchart Gardens?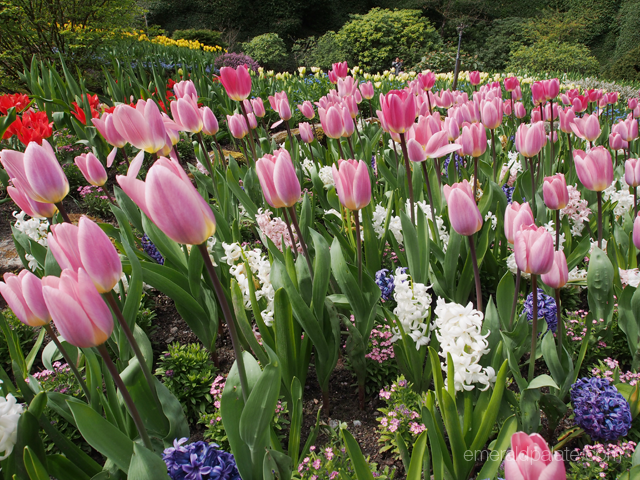 I spent a lot of time trying to decide whether or not to check out the Butchart Gardens. I was super disappointed when I discovered that there was a $30 per person entry fee and that it was a 30-minute drive outside of Victoria. I thought the gardens were more like a public park in the city!
Because it was going to be more expensive than I originally thought, I went on this research bender to try and figure out if it was worth it. It was highly rated on review sites, but some people said it wasn't worth it. And since I'm personally not a big fan of botanical gardens in general, I was feeling extra suspicious.
In the end, we decided to go. We figured we should try it once and see if it was worth the hype. My overall impressions were as follows:
It's big, but not as big as I thought it would be.
It smelled crazy good upon entering.
It was super crowded (we went on a Sunday) and, as a result, was less "magical".
There were definitely pretty flower arrangements.
But not as many as I thought (things weren't in full bloom when we went and I had a vision that it would be more like the Tulip Festival in Washington with rows upon rows of breathtaking colors).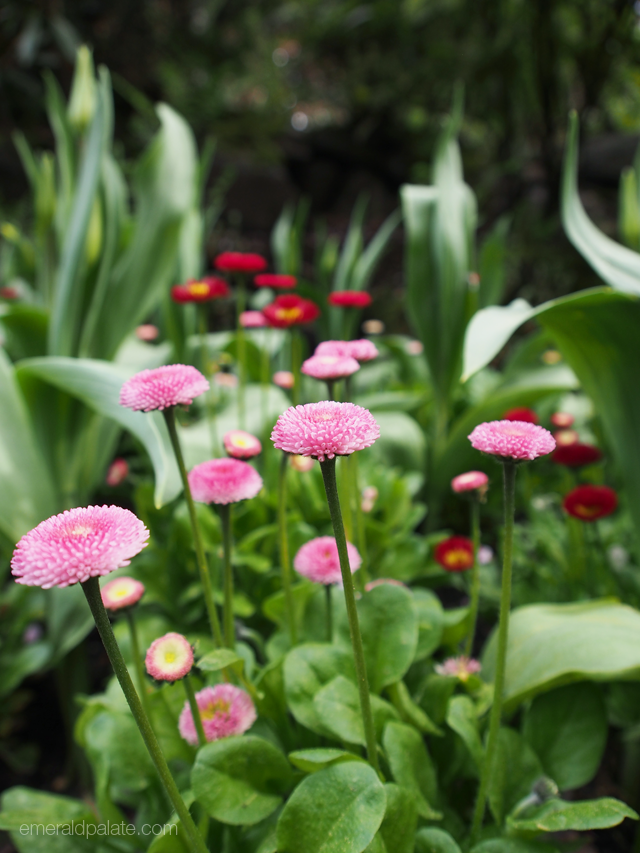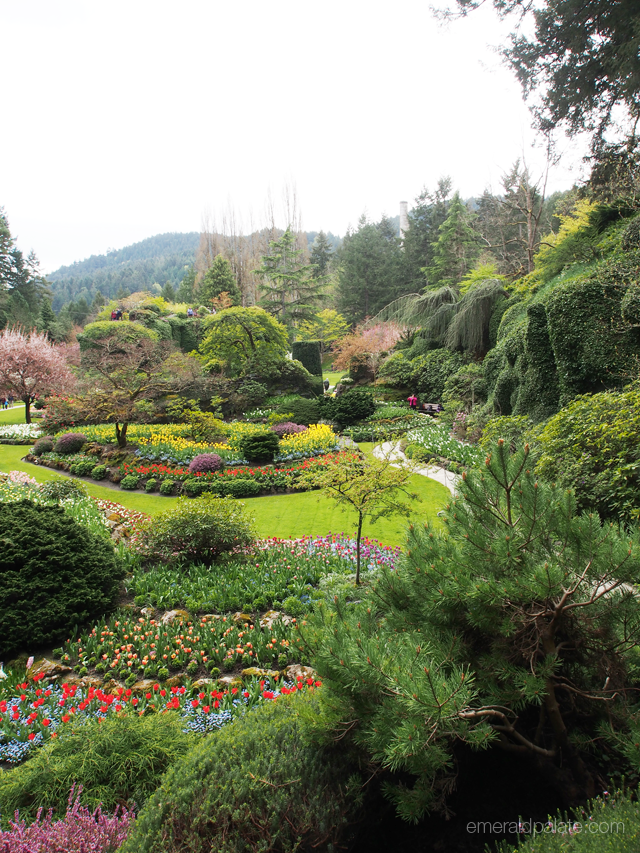 Overall? I don't think the Butchart Gardens are worth it. If the price of admission was more like $12 per person and we went on a quiet weekday, I might be singing a different tune. But overall I thought it was pretty underwhelming. I thought we'd want to spend hours there soaking in the beauty, but it was more grass and walkways than anything else. We were in and out in a little over an hour.
If you've never been and, like me, are subject to severe FOMO (fear of missing out), then maybe go. But just prepare for crowds if you go on a weekend and have a plan to make use of the area in other ways so you don't feel like you made the trip for nothing. For us, that was exploring the area's wineries.

My Overall Impression of Victoria, BC
Victoria was a way bigger and hipper city than I thought. I imagined a quiet little waterfront with Parliament and not much else. But I was surprised to find newer architecture and cute storefronts everywhere we turned.
The city has a very healthy vibe. They're really into organic and local eats, so vegans and health nuts can keep to their diets while traveling. Plus, the city is very clean and people are biking all over the place.
In terms of safety, there was never a time we didn't feel safe. There are quite a bit of homeless people, but they weren't overly assertive. They mostly kept to themselves.
Some other quirks we noticed were a lot of convertibles and seriously-talented street performers. All-in-all, we liked Victoria way more than we thought we would. It's the perfect destination for a quick 36-hour weekend trip whether you're visiting or living in Seattle. We're already talking about when we'll be back and planning around how we'll get into Jam Cafe.

---
Want More Travel Guides Like This?
We've got big plans to share more travel guides focused on food, shopping, and off-the-tourist-path excursions. To be the first to know about these, sign up for our newsletter.
---
Map of All the Places In This Victoria Travel Guide


Disclaimer: The Victoria Clipper provided us free transportation to Victoria, BC. They also provided a free tour of our choosing (we chose the biking food tour). However, all opinions and research to create this itinerary are my own.
Other Articles You Might Like