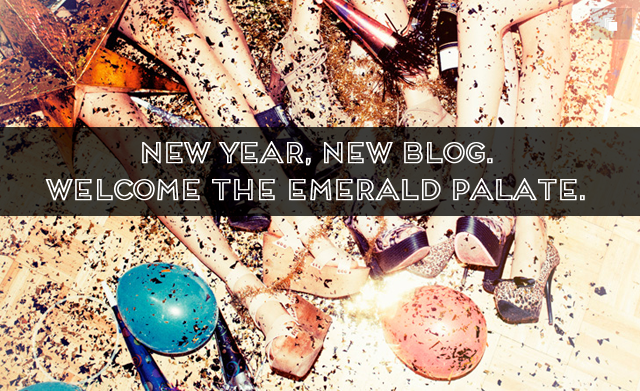 New Year, New Blog:
I am honored to have grown The Emerald Closet into one of Seattle's premiere fashion blogs from 2010-2012. I ran it with my brother-in-law Travis, where we covered street style, created style guides, and offered personal shopping services.
However, some things changed. First, Travis had two daughters and his time to dedicate to blogging diminished. Secondly, and most importantly, I realized my original blogging strategy wasn't sustainable with my new full-time job at a creative ad agency.
I originally wanted us to build The Emerald Closet, then launch a series of sister blogs starting with food and then moving to travel and marketing. However, I moved into a new apartment and needed to outfit a sparse pad. My interest (and cash flow) for fashion decreased in favor for home decor. Pair this lack of time and inspiration for fashion, and you can see why Travis and I didn't update the blog since last February.
Why The Emerald Palate?
We're not one for giving up on initiatives, and so we decided to re-brand the blog to The Emerald Palate and combine all our loves into one. Why "The Emerald Palate" you may ask? Well, to be honest, we've been sitting on this domain name for 2 years — it was supposed to be the name of our food blog. However, we've always loved the sound of the name and think you can have a good palate for more things than just food. Our friends and family have always told us we have good taste, and so we wanted to think of a name and a blog that would allow us to share and curate everything and anything we find tasteful — food, interior design, travel, fitness, fashion, and more.
This transition will allow us to find inspiration from various sources, and hopefully alleviate the stress (and also resentment) of not being able to concentrate on just fashion. Less stress = more blog updates, yay! It also allows readers to see all sides of us, which we think allows for a more authentic blog experience.
Some Administrative Stuff:
We will be eventually redirecting The Emerald Closet blog to the new "Closet" category of The Emerald Palate, which will house all fashion-related content. It will take some time to figure out how to not lose all the articles we created for The EC, so we wanted to give everyone plenty of notice while we sort out that headache.
Also, we've updated all The Emerald Closet's social profiles and names to The Emerald Palate…except Facebook. Facebook is utterly annoying and is likely not going to allow us to change the name of The Emerald Closet page. They have a very shady process, that includes "documentation" of a legal business name change and also a disclaimer that it is unlikely to consider page renames unless it's spelling errors. Thanks for that. UPDATE: Yay, Facebook changed our blog page name. No notice, but we'll take it!
We thank all of our readers for their patience and support during this process. We hope you find The Emerald Palate to be everything you liked about The Emerald Closet and more.
Here is to a New Year and a new endeavor exploring all things tasteful in Seattle and beyond — cheers!
Image credit: Nicole L. Hill
Other Articles You Might Like