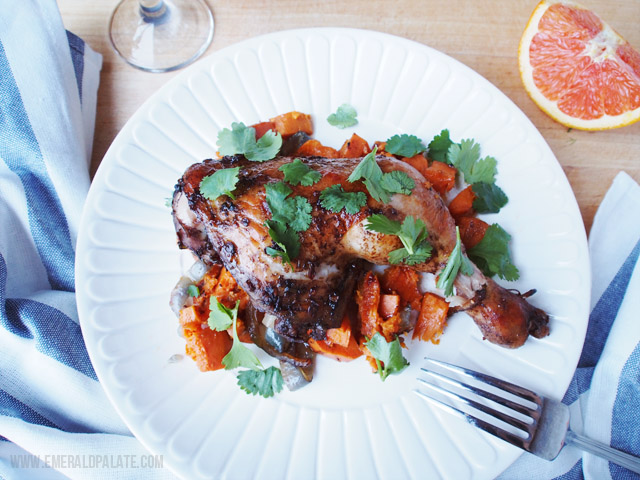 I've been craving one pan meals recently. Between travel, fun foodie events, and trying to fit in some exercise, I'm completely exhausted at the end of the day and want something easy for dinner.
While I was recipe testing for Valentine's Day, I ended up playing around with chocolate and chiles. This easy one pan chicken spawned from that. It features all good-for-you goodies like orange, sweet potato, cilantro, and of course, chocolate.
If you remember from the interview with Farm Shed Wines I did a few weeks ago, we'll be partnering with them to create recipes to pair with local PNW wines. This recipe was developed as part of that exploration, and boy did I hit a home run with it.

What does this one pan meal taste like?
I'm absolutely obsessed with the smokey, sweet flavor of this one pan chicken recipe. The chipotles give it a hint of that just-off-the-grill flavor and a subtle burn from the heat. But it's quickly balanced out by the sweetness from the chocolate. Plus, the sweet potatoes provide the starch required to tone down any lingering spiciness.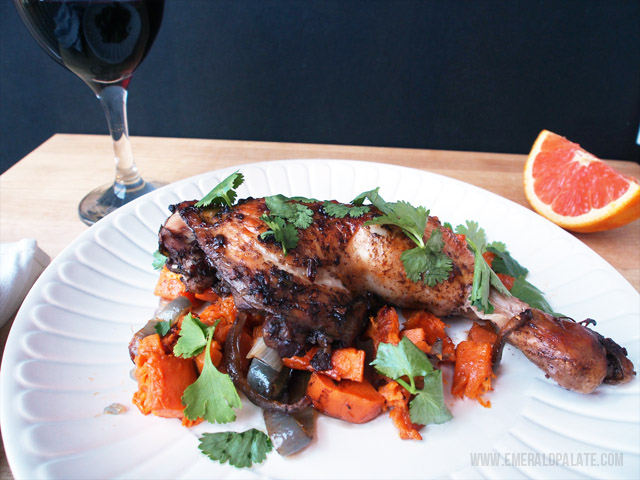 What type of wine does this pair best with?
This smoky and sweet chicken dish is screaming for a red wine. I decided to pair it with the 2014 malbec from Wind Rose Cellars ($24.99). It's medium bodied and tastes slightly oaky, with jam lingering on your palate. It accentuates the sweet potato and chocolate, but is weighty enough on its own to not get overwhelmed by the chipotle.

About Wind Rose Cellars
Wind Rose Cellars is located in Sequim, Washington and is owned by winemaker David Volmut and Jennifer States. David began making wine in 2009. He focuses on Italian varietal wines, despite Washington not being known for Italian grapes. He works with Dolcetto, a varietal that has under 10 acres of vines planted here in the Columbia and Yakima Valley here in Washington.
"Occasionally David blends his wine and I think he has developed an excellent knowledge of how to do this to a wine's advantage," says Madeline, owner of Farm Shed Wines. "His blends consistently express a single varietal but take that varietal to a new level that they would not have achieved without his assistance. He truly knows his craft and works towards improving it."

The Recipe
Serves 4 | Active 20 minutes | 4 hours total (more if marinade longer)
Ingredients:
2 chipotle chiles in adobo sauce, minced
2 Tbsp. honey
1.5 tsp. dark dutch cocoa powder
1/4 tsp. cumin
2 cloves garlic, minced
2 Tbsp. cilantro stems, minced
1 tsp. orange zest
1/4 C orange juice (~1/2 large orange. Reserve the squeezed rinds and slice.)
2.5 tsp. salt
1/4 C extra virgin olive oil
~2 lbs. whole chicken legs, inc. bone & skin
2 lbs. sweet potatoes, peeled and cut into 1″ pieces
1 small red onion, sliced
pepper
cilantro leaves
Directions:
Make the marinade: Place the chipotle chiles, honey, cocoa powder, cumin, garlic, cilantro stems, orange zest, orange juice, and 1/2 tsp. salt in a bowl. Whisk to combine. Then, while whisking, drizzle in extra virgin olive oil until well combined.
Season the chicken generously with ~2 tsp. salt. Place pieces into a large gallon-size plastic bag. Carefully pour marinade into the bag with chicken and seal. If desired, place the sealed bag into another gallon-size plastic bag (just to be safe!). Squeeze marinade all over chicken until covered. Marinade for at least 60 minutes in the fridge, but preferably between 4-24 hours. Take the chicken out of the fridge 30 minutes before you plan to start cooking it so it comes up to room temperature.
Make the chicken: Preheat the oven to 450°F. While it's heating up, remove the chicken from the marinade and place it onto a large cookie sheet with a lip (I like covering with foil or parchment paper for easier clean up).
Toss the sweet potatoes and onions with extra virgin olive oil, salt, and pepper. Arrange the veggies evenly around the chicken, making sure to not overcrowd the chicken. Nestle the sliced orange rinds around the chicken and veggie mixture. Put the tray into the oven and roast for 30 minutes, until the chicken registers 165°F with a meat thermometer.
When the chicken is done, remove it from the oven, sprinkle with reserved cilantro leaves, and enjoy!

Nutritional Information Per Serving:
Calories: 595 | Calories from fat: 235 | Fat: 26.5g | Saturated fat: 5.2g | Cholesterol: 85mg | Sodium: 1875mg | Carbs: 60g | Fiber: 9g | Sugars: 24.5g | Protein: 28.3g


Before you go, why not pin this recipe?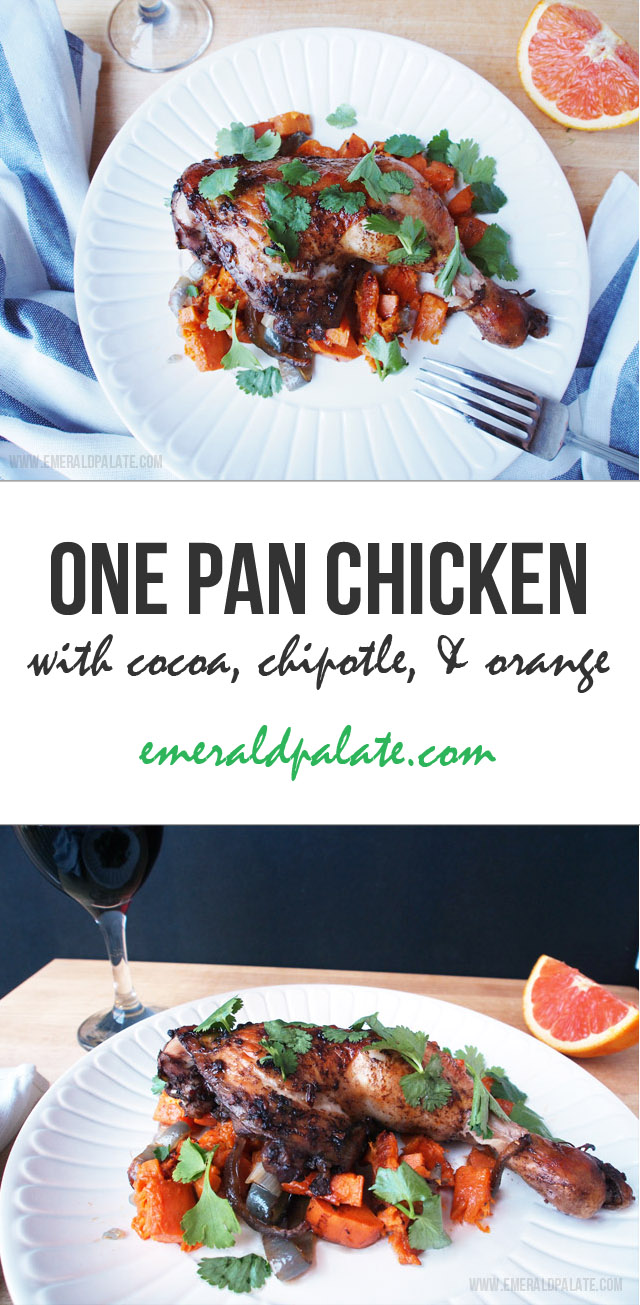 Nutritional Facts Disclaimer: I am not a registered nutritionist and therefore these numbers are approximate. I researched the serving sizes and facts for each ingredient in this recipe (mostly using the manufacturer labels and this site), but slight variations in things like seasoning, garnishes, and substitutions can change the nutritional information. Use this information only as a general indication of your nutritional intake.

Other Articles You Might Like