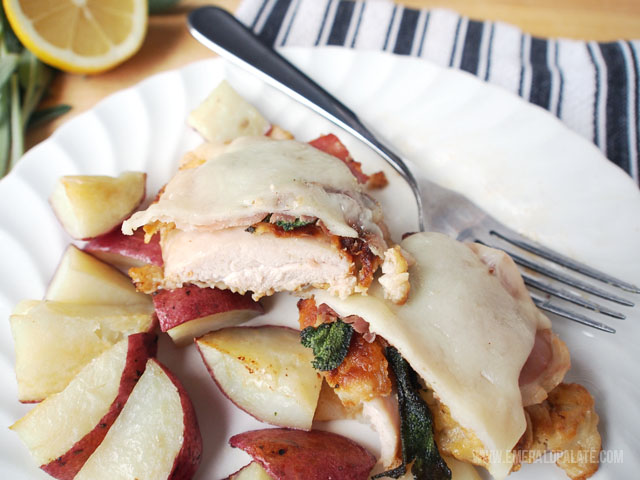 How can a dish that photographs so terribly taste so good? It's life questions like these that I ask myself when I think about this Italian chicken recipe I made. Seriously…this is one of those dishes that, when I ate it, I said, "Hot damn, this might be one of the best dishes I've ever made."
Yet…it looks so…plain. But trust me, this Italian chicken recipe is anything but plain. It's lemony, herbaceous, and super easy to make. So if you care more about food that tastes good than looks pretty, this recipe is for you.
(And whatever, I decided this is more "rustic" than plain. 🙂 )
What does this Italian chicken recipe taste like?
It tastes like my childhood. It's the type of food my dad used to make when I was growing up. It's lemony, but also salty and fatty from the chicken, cheese, and proscuitto. And the sage gives it this earthy herbaceousness that makes this Italian chicken recipe truly addictive.
To put it into perspective, I just asked my boyfriend about this dish and he was like, "Wait, that awesome chicken recipe you made? Can we make it again? You know…for recipe testing."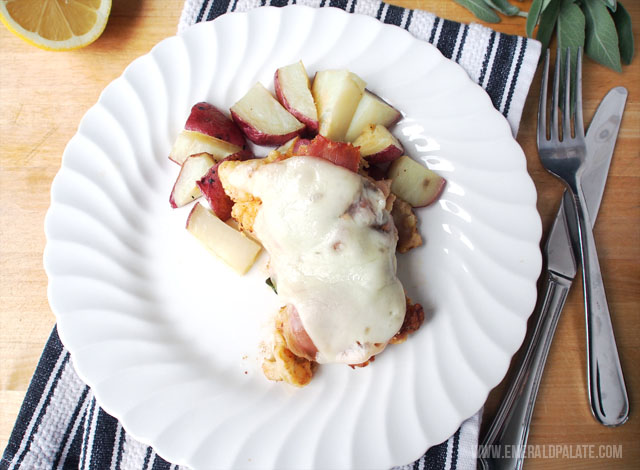 The Recipe
Serves 4 | Active 25 minutes | 40 minutes total
Ingredients:
1 egg
3 Tbsp. lemon juice
1/2 C flour
1.5 lbs. boneless, skinless chicken thighs
1 tsp. salt
black pepper to taste
1 Tbsp. extra virgin olive oil
1 Tbsp. butter
10 sage leaves, chopped
4 prosciutto slices
4 thinly sliced provolone cheese
Directions:
Preheat the oven to 375°F. Whisk egg, lemon juice, 1/4 tsp. salt, and two grinds of black pepper together in a bowl. Season chicken with 3/4 tsp. salt and a few grinds of black pepper.
Separate flour evenly into 2 separate plates. Dredge each piece of chicken in one of the flour plates, followed by the egg mixture, followed by the flour in the other bowl. Repeat until all chicken has been dredged. Set aside.
Heat the olive oil over medium-high heat in a large cast iron skillet. When the oil starts to shimmer, add the butter and let it melt completed. Add the chicken pieces into the skillet and brown each side for about 4-5 minutes each. Remove from the heat and place onto a cookie sheet.
Using the hot skillet you just cooked the chicken in, add the sage leaves and cook until they start becoming crisp. Remove from heat and set aside.
Place a piece of the sage, a slice of prosciutto (ripped to fit, if needed), and a slice of provolone cheese (also ripped to fit, if needed) on each piece of chicken. Bake for about 15 minutes, until the cheese is melted and the chicken is cooked to about 165°F.
Remove from oven and serve with roasted potatoes, if desired. Enjoy!

Nutritional Information Per Serving:
Calories: 355 | Calories from fat: 200 | Fat: 20g | Saturated fat: 7g | Cholesterol: 125mg | Sodium: 1,126mg | Carbs: 13.5g | Fiber: 0.5g | Sugars: .25g | Protein: 14.6g


Pin This Recipe for Later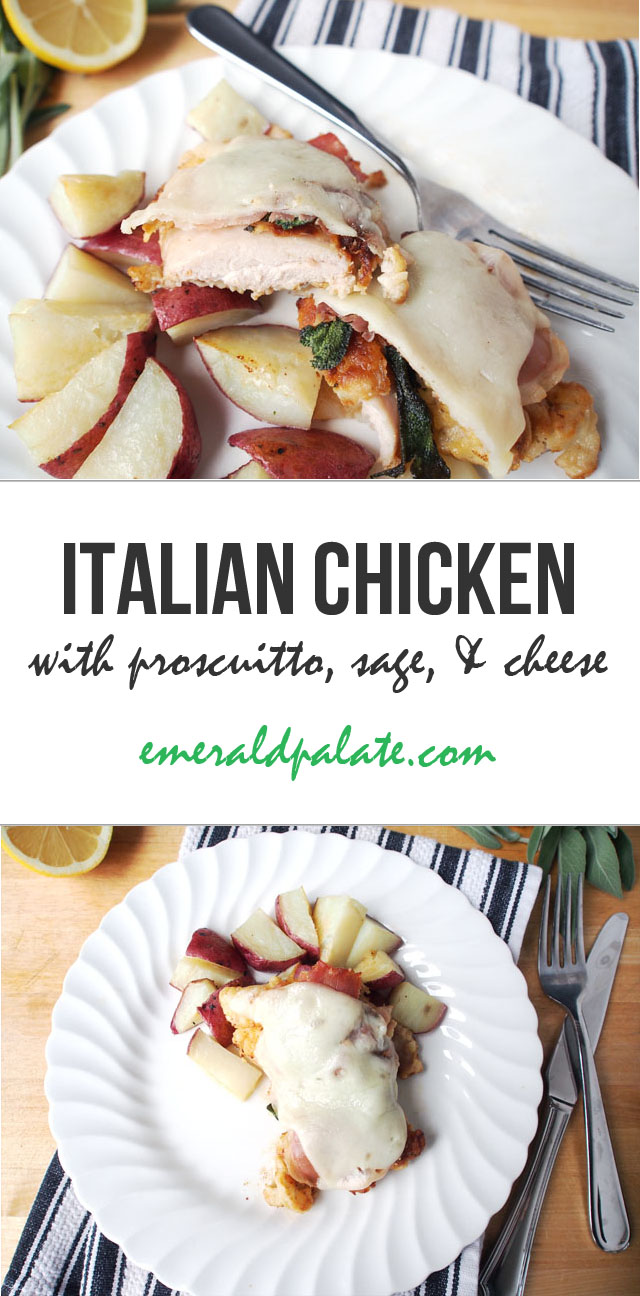 Nutritional Facts Disclaimer: I am not a registered nutritionist and therefore these numbers are approximate. I researched the serving sizes and facts for each ingredient in this recipe (mostly using the manufacturer labels and this site), but slight variations in things like seasoning, garnishes, and substitutions can change the nutritional information. Use this information only as a general indication of your nutritional intake.

Other Articles You Might Like