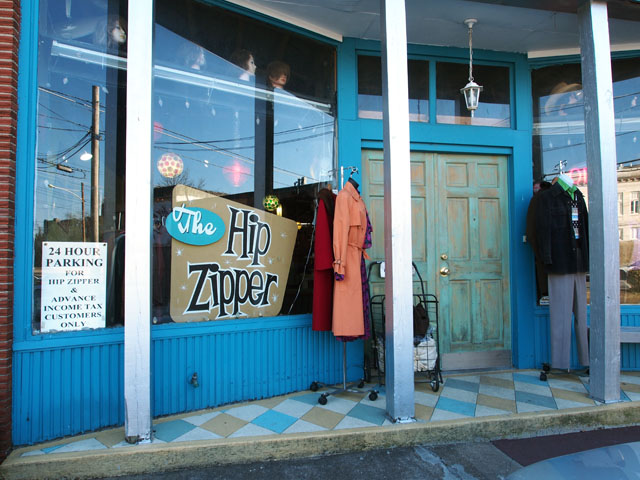 I traveled to Nashville last week and was excited for the opportunity to explore the local scene for good shopping and eats. However, since my trip ended up being a foodie's disappointment, I'll focus mostly on shopping in Nashville vs. eating out. Luckily, this guide will be continually updated as I visit this client again in the future — so stay tuned!
Read on for my guide to shopping in Nashville that includes bad ass vintage shops, a Google Map, and one awesome hipster coffee shop.


I had about six weeks before my trip to Nashville for planning, so I spent some time on Google and perusing some articles I'd saved from Food & Wine and Lucky magazine. During my search I came across this article on the best hipster neighborhoods in Nashville, which made me laugh…so of course I used it to narrow down which neighborhoods I would explore during this first trip.
Since I only had 2 days I decided to explore East Nashville and Hillsboro Village. I've organized my recommendations below by first shopping or eating, and then by neighborhood. While I didn't include this below, I also made my way to Broadway one evening, which is a lively strip in downtown Nashville that has bars & restaurants. We went to Robert's for some great live music, which I highly recommend. While this strip is a bit touristy, it's a good destination for checking out a local honky tonk and supporting local musicians. There's also some less touristy music halls a few blocks off the strip, such as The Listening Room. Whichever vibe you choose, make sure you see live music while you're there!
Shopping in Nashville
East Nashville

East Nashville used to be a dangerous area, but the past few years have brought a resurgence of businesses and new residents. There is a huge "support local" initiative going on in this neighborhood, with boutiques and shops opening up in older homes.

I found this neighborhood to feel rather residential. There isn't really a large main drag of shops, but rather stores randomly hidden in homes that have been converted to businesses. While you'll need to do a bit of walking between shops, the ones highlight below are well worth the trek.

The Hip Zipper
I read about The Hip Zipper in that "hipster neighborhood" article above and am really happy I checked it out because I ended up purchasing an amazing 70s wrap dress (stay tuned for photos in an upcoming post!).

This store has a lot of really good merchandise for both men and women, particularly winter coats. It also has a really friendly staff that tends to bring you similar items while you're in the dressing room. They also gave me recommendations for other shops to check out from a list they keep behind the counter. While I didn't get to make it to all of them, I added them all to the Google Map below.

Fanny's House of Music
Fanny's was one of the shops on the list the staff at The Hip Zipper gave me. I would have missed it completely because its mostly a music store, but it has a room full of vintage goods for men and women. While small, the racks are stuffed to the brim and worth a look.

Hello Boys
Hello Boys is a men's store located in The Idea Hatchery, a "small business incubator project" that has a few different shops bunched together in these modern ship-container-like buildings.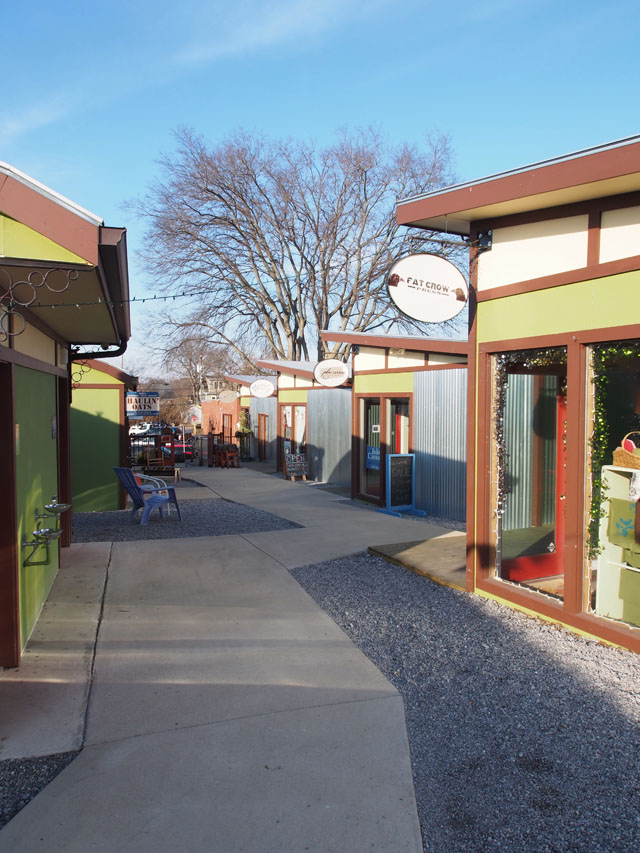 The items here were awesome and varied in price range. There were shirts, leather bags, ties, jackets, and an assortment of cowboy boots (of course). If Travis were with me, he would have loved this shop.
Goodbuy Girls
Goodbuy Girls is in the same complex as Hello Boys and, as you guessed it, for the ladies. It has a strong western vibe, with cutoff t-shirts and cowboy boots galore. They also had an interesting marketing ploy going on, where if you Instagram from the store you get a discount. Love when offline comes online!
Shoppes on Fatherland
The shoppes are another incubator-style complex of shops. Unfortunately most of the stores were closed on Tuesdays, but it housed The Trunk, which is a roving women's fashion truck that I read about and wanted to try.
Hillsboro Village
The Shops on 21 Ave. S
If you walk along 21st Ave. S between Blakemore Ave. and Acklen Ave. you'll see a small strip of boutiques and restaurants. I'd originally went to check out this shop, Pangaea, that I read about, but unfortunately I thought it was full of tchotchke.
However, I was happy to find myself here because there was a cute vibe and some women's shops worth exploring. In general, this section caters to the college crowd. I found the majority of the clothing stores borderline inappropriate for someone in her late twenties. In addition, I thought the prices were kind of high for rather low quality goods. Yet, if you do some digging you can find some really unique gems, particularly if you're looking for affordable statement necklaces.
I unfortunately only remember the name of the one store I went into: Posh. This store was one of the only shops to have men's clothing too. It had a very "clubby" aesthetic, so I had to do some digging to find this perforated top and black statement necklace: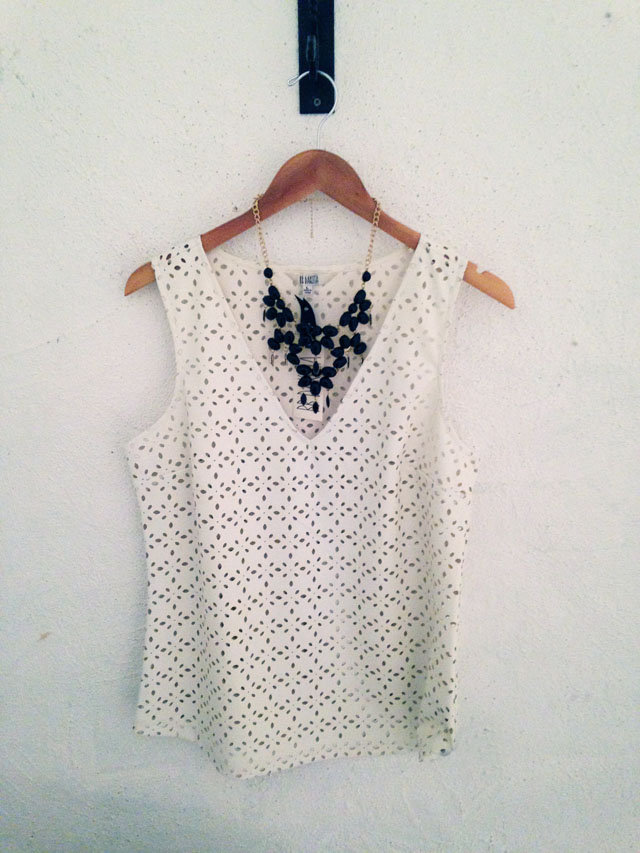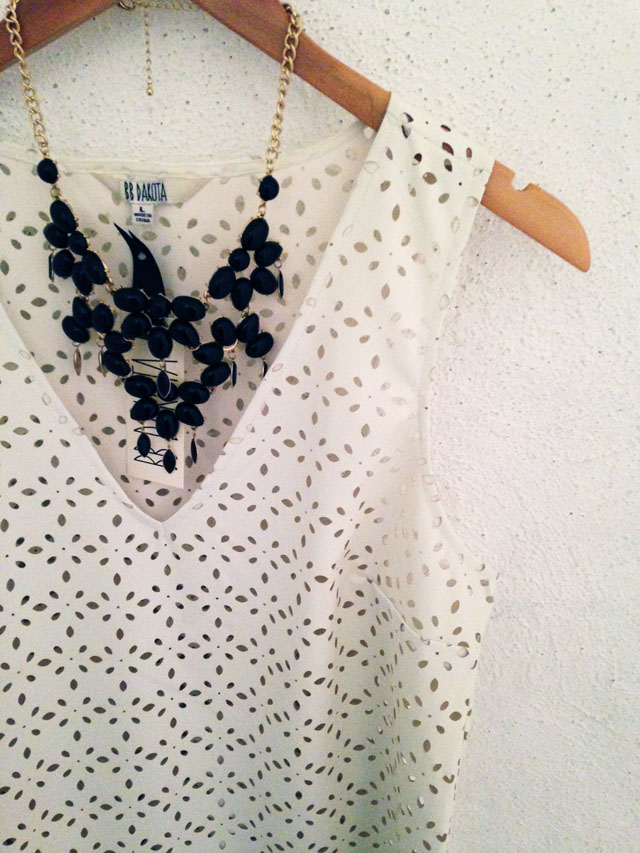 The tank is from BB Dakota. I couldn't get myself to buy it for $69 since it was an inexpensive polyurethane material, but now that I see it's $80 online I'm shooting myself in the foot!
The other store I went into was on the opposite side of the street from Pangaea but for the life of me I cannot remember the name (I even tried to do Google street view!). However, if you face away from Pangaea, go across the street, and take a left, it's a women's boutique a few stores up. It had great statement necklaces and tops that could be dressed up or down: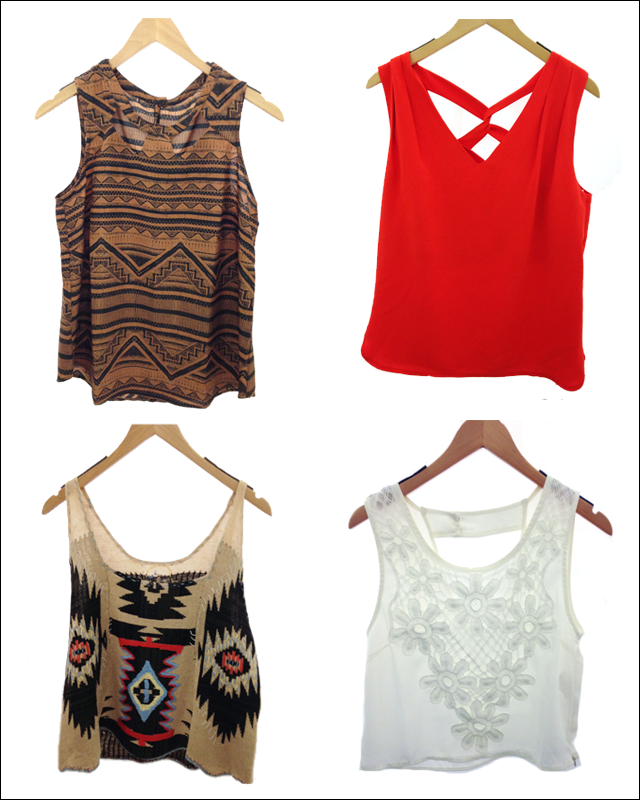 I really wanted to buy all of these tops, but unfortunately I was a bit too busty for the store (remember, college crowd). Oh well, next time!
Local Honey
Local Honey was hands down my favorite store in Nashville. It's off the main drag of stores on 21 Ave. S, but it's a short walk and well worth it. It's a vintage shop for both men and women that is impeccably curated. I often need to be "in the mood" for vintage shopping, as you have to do a lot of digging to find pieces that aren't too gaudy. However, this second-hand shop seems to only carry on-trend pieces from the 80s onward.
I ended up buying two jackets and an awesome Henley, but there were so many goodies: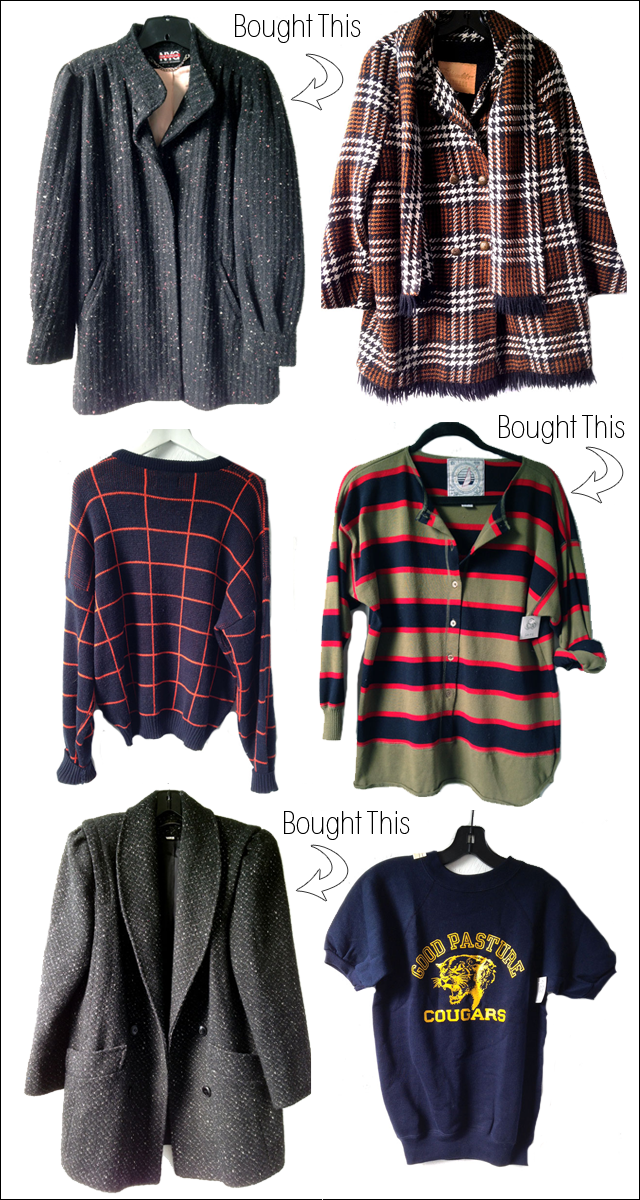 I tried really hard to make my way down to Imogene + Willie after Local Honey, but unfortunately I ran out of time and almost missed my plane. However, if you have time I highly recommend starting at Hillsboro Village on 21st Ave., walking to Local Honey, and then making your way down to Imogene + Willie's for a great day of shopping!

Eating in Nashville
As I mentioned, I didn't really experience that great of eats during my first trip to Nashville. However, I'm convinced it was just bad luck and choices vs. Nashville not being a foodie city. Thus, I will keep hunting on future trips and update this section.
East Nashville
Barista Parlor
This was the first place I went to on my trip and it made my whole trip. If I had only visit one place in Nashville and this was it, it would have been worth it. The Barista Parlor is an industrial garage turned slow coffee bar. The interior was so cool and it sold whole coffee beans and chocolates from Nashville and beyond (including Stumptown, our hometown favorite). I absolutely loved the vibe in here — it's like all the really fashionable people of Nashville congregated in this one spot.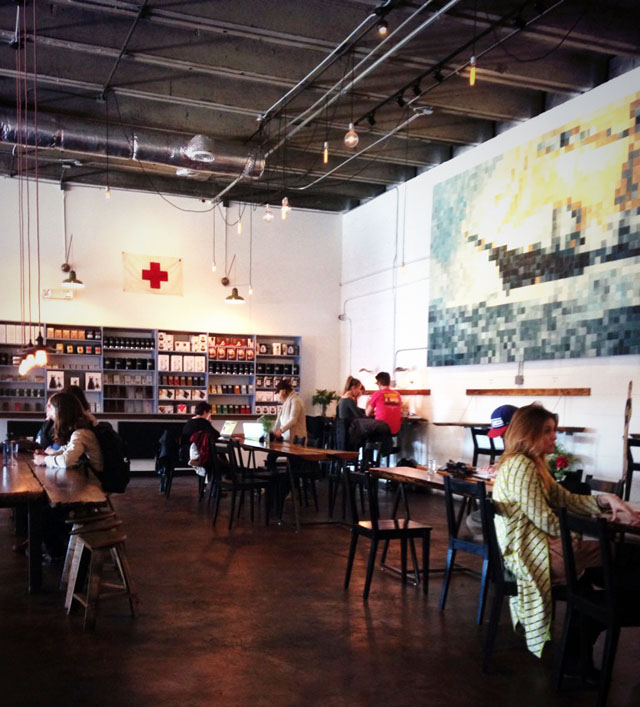 But the Barista Parlor is more than just a great place for people watching. It is the home of…wait for it…The Frenchman. This sandwich blew my fucking mind. Seriously, mind blowing. Take your typical breakfast sandwich — eggs, bacon, & cheese — and forget everything you know. This sandwich had the best, crumbly biscuits I've ever had in my life in place of the English muffin. Then it had not only egg, bacon, & cheese, but also onions and JAM on the inside. Top that with powdered sugar and you basically have a friggin' jelly doughnut turned into a breakfast sandwich OMG. I think it's likely the best thing I ever ate and I'm not exaggerating. Figures this was the one place that showed portion control in the south — I could have eaten five and still not be fulfilled!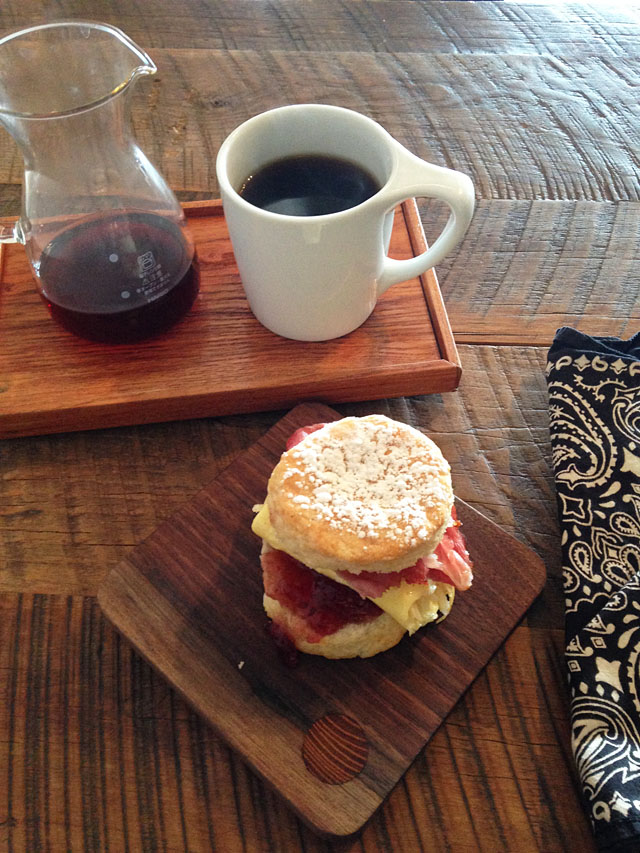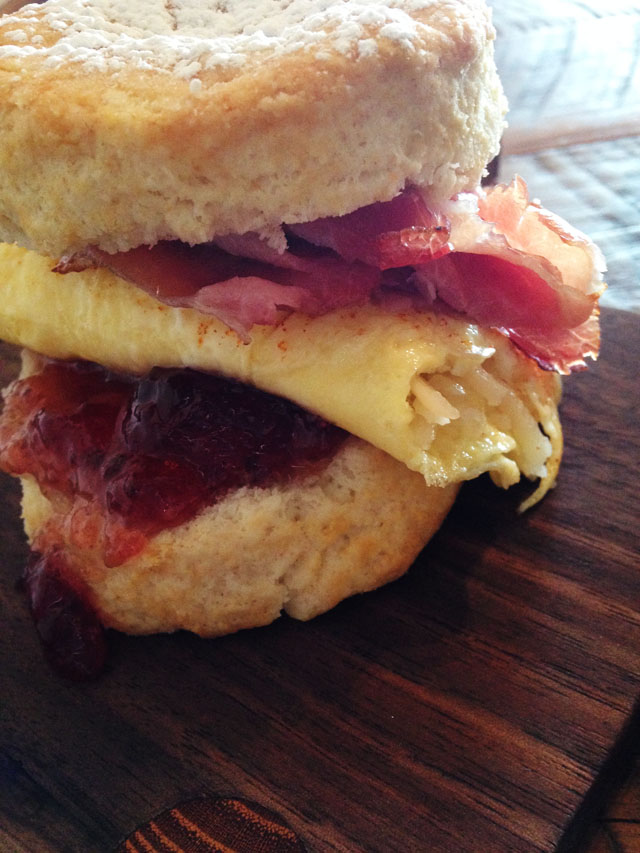 And lastly, as promised, here is a public Google Map of Nashville that has these stores + more that I didn't get a chance to check out. This should give you a good sense of Nashville's layout! Pro tip: Nashville is not a great city for walking or public transportation. I highly recommend renting a car or planning to use Lyft during your trip.

View Guide to Nashville in a larger map
Have you been to Nashville? If so, what did I miss (especially to eat!)?
Other Articles You Might Like