We decided to change up our Web Wednesdays series this week and highlight a new local Seattle boutique worth knowing about – Sell your Sole Consignment.
Last weekend we stopped in to Sell Your Sole Consignment, a new consignment boutique on 1st Ave. downtown. We didn't know what to expect, but we absolutely love second hand so thought it was worth checking out. Well, we were very impressed with everything: the decor was gorgeous and the items carefully selected. There was even a rack of vintage pieces, ranging from a Versace jacket to a YSL dress.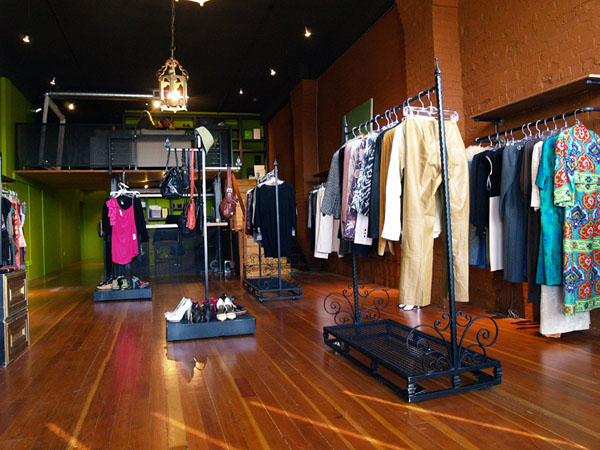 To give you a glimpse behind the curtain, we interviewed owner Natalia Biner to find out what this new consignment shop is all about. We got the inside scoop on her past and what the advantages are of selling your items through her boutique. Be sure to check out the grand opening on May 3rd and expect big things from this up-and-coming Seattle fashion destination.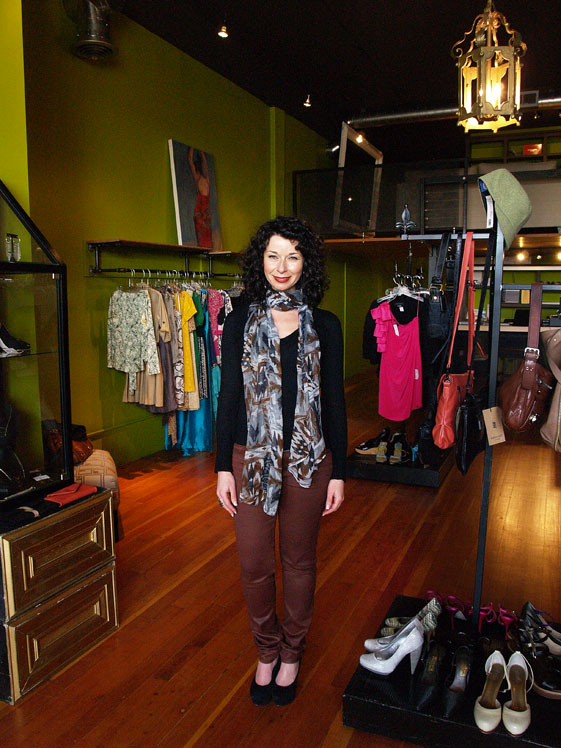 1. You said you come from a business development background, can you tell us some more about how you got to opening Sell Your Sole Consignment?
My mom and dad are successful entrepreneurs and my role models. They came to America with me in 1979, from the Former Soviet Union, not speaking any English, having no money, and to make things more challenging, my dad could no longer practice dentistry because his degree was not recognized here in the US.
Despite all of these challenges, they got the American dream. Through hard work and perseverance, they bought, developed and sold five successful businesses, and are now running a $3 MILLION company that they started in their garage. I worked for their company for 10 years, developing the clientele, and creating the business's brand. I always knew I wanted to follow in my parent's footsteps and own my own business, so 6 months ago I did just that. I left my amazing job, my family, the city I grew up in (Phoenix, AZ) and moved to Seattle to start fresh and create Sell Your Sole.
2. What are some of your favorite brands and designers? Do you have any style icons?
That's a great question! I love Alice + Olivia, Elizabeth and James, Current Elliott, Mother, Milly for everyday. I appreciate Tom Ford, Stella McCartney, Marc Jacobs, Gucci, Burberry Prorsum, Alexander McQueen, Rag & Bone, Rick Owens and Roberto Cavalli. Style icon…very tough, but I love Michelle William's and Angelina Jolie's style.
3. How would you describe your style? Would you say it is reflected through your store's items?
Yes, my store is somewhat reflective of things I can appreciate, but since I just opened a week ago and depend on consigners for my inventory, I can say that there are many other aspects of my style that my store doesn't have yet. My style is fairly eclectic. I love everything from Current Elliot leather leggings, to Anthropologie's gorgeous and unique dresses. I also love All Saints and Nordstom's Savvy and Via C. dept. when I want to treat myself and pay retail prices, that is.
4. What type of designers do you accept for Sell Your Consignment?
I strive to curate unique and coveted pieces for my store. I look for designers that one can find at Nordstrom & Barney's, specialty stores like Anthropologie , Madewell & All Saints, and things that come from stylish boutiques around town, like Les Amis, Burnt Sugar, and Baby & Co.
To be specific, I get very excited when I see things by Chanel, Jimmy Choo, Marc Jacobs, Alexander Wang, Phillip Lim, etc. come in. However, I am currently looking to build up my jeans, purses and shoe inventory. Jeans, from designers like J Brand, MOTHER, Seven FOR ALL MANKIND, AG, Citizens of Humanity, and purses from Marc Jacobs, Chanel, House of Harlow, etc. Also, I look for items that are in excellent condition, so my clients feel like they are getting something they can wear with pride and that looks almost new.
5. If someone wants to sell her items through your store, what should she keep in mind and what are the advantages?
She should keep in mind that by consigning with Sell Your Sole, she is consigning her items in the most unique consignment boutique in town. That her items will be beautifully displayed and enthusiastically presented to potential buyers – not only when they visit the store, but also through private shopping parties and special events. She should know that she has a real partner in Sell Your Sole when it comes to moving her merchandise and making her money!
She should also keep in mind that items that are submitted for consignment must be in the best possible condition. So clothing must be dry cleaned, on hangers and free from any visible flaws. The consigner will enjoy a generous 50/50 split of the final selling price and checks are cut every month for items sold the previous month. Finally, if the consigner wold like to reclaim any unsold items, they are given the chance to do so after their consignment period is over. There are many other stores in town that do not allow this, but we feel that it is very important to respect the consignors wishes in this regard.
6. Where would you like to see your store this time next year? In 5 years?
By this time next year, I would like to have cultivated a collection of 1500 beautiful, unique and diverse items in the store. I would like to see a community of close friends and clients sprout around my boutique, and I would love to contribute to the community in some way. In 5 years? I would like to open a men's consignment store that is fashion-forward and affordable.
7. What is the best style advice you've ever received?
Trust Yourself. Also, I love this quote…
"Fashion is the pursuit of perfection, and style is the acceptance of one's flaws." – Francesco Clemente
8. If you weren't owning your own consignment boutique, what would you be doing now?
Building on my photography career in Maui and spending time with my family – Brent my loving fiance and Moe, my white lab.
Other Articles You Might Like