We're so excited to announce that we will be hosting at Fall Style Social with The Gap at Northgate Mall on Thurs. October 27th from 7:00 pm to 8:30 pm!
There will be door prizes, swag bags, food, beverages, music, and a style presentation. Prizes include AmEx gift cards, an exclusive Gap discount, restaurant gift certificates, and a grand prize of a $100 gift card to the Northgate Mall and a one-on-one personal styling session with The Emerald Closet!
We will be highlighting our favorite fall pieces at The Gap, styling them on models for the event. We'll give a presentation about the looks we create, going over which pieces look best on which body type. We will also style mannequins, showing how to wear our favorite pieces for different ocassions. And don't fret men: Travis will be styling a mannequin especially for you!
Food and beverages will be provided by Sushi Maru. There will also be swag bags for guests who RSVP. Swag bags will include samples, coupons, and gifts from other Northgate Mall stores.
To RSVP, reply to the official Facebook event page. Those who RSVP will receive an exclusive swag bag!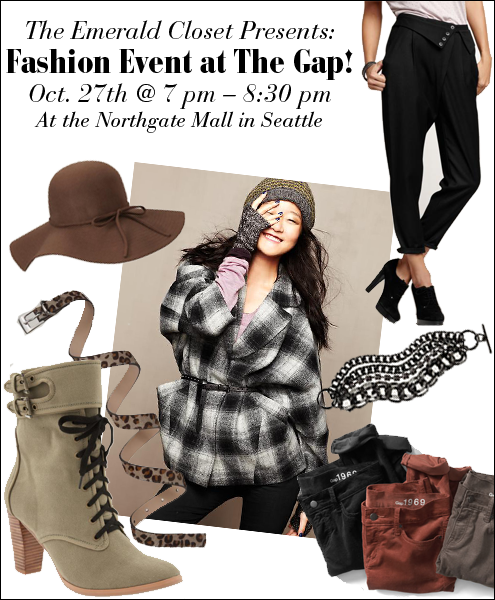 We really appreciate your support and hope to see you all at the event! Leave comments if you're excited!
Other Articles You Might Like