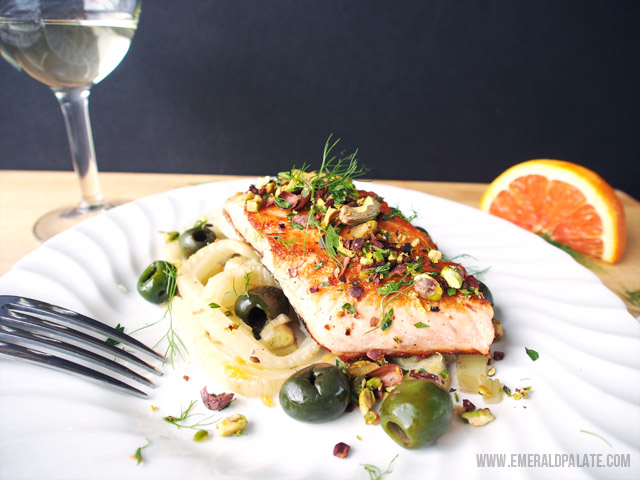 There's nothing I like more than an easy salmon recipe. Oh wait…there is. An easy salmon recipe paired with WINE.
If you remember from the interview with Farm Shed Wines I posted last week, I'll be partnering with them to develop a few recipes that pair well with local Pacific Northwest wines.
This is the first recipe in our collaboration, perfect for Valentine's Day (or any day really). I created a pan-seared salmon served with roasted orange, fennel, olives, and a pistachio-cacao nib gremolata. I also made recommendations of the type of wine that would go well with it. So if you're ready to impress your hubby with a relatively healthy, light, flavorful, and easy salmon recipe, you've come to the right place!
When I was thinking about a Valentine's Day recipe, I wanted something that evoked a few things. First, I wanted it to be relatively simple. Ain't no one got time for slaving in the kitchen when you're supposed to be connecting with a loved one.
Second, I wanted it to be relatively healthy and light. Nothing is a mood killer like bloat.
Third, I wanted something that subtly said "Valentine's Day", but that would also fit seamlessly into any weeknight meal. This last point inspired "chocolate" as an ingredient, but a more sophisticated version with cacao nibs. I also remembered I had cacao nibs I picked up from Dandelion Chocolates in San Francisco last year (a nod to wanting the meal to be simple).
Once I sorted out how a dish could be appropriate for Valentine's Day, I started thinking about wine pairings. Madeline from Farm Shed Wines gave me 5 wines to try: a Sauvignon blanc, Riesling-semillon blend, malbec, merlot, and Cabernet Sauvignon. I started thinking about what flavors I knew went well with these varietals and started doing some research to understand ingredients that would shine with these wines.
From there, I started narrowing it down based on a few factors. I know a lot of people think meats and reds for a romantic meal, which I knew I didn't want to do (remember: keep it light!). I also know that salmon is a pretty versatile fish that can go well with both whites and lighter reds like Pinot noir. Done, I'd make salmon.
Then, when I started tasting the wines, reading the tasting notes from the winemaker, and digging into ingredients that pair well with the wines, the dish started to come together. For example, I read Sauvignon blancs tend to go well with herbs and greens and semillons tend to go well with salmon and fennel. Just reading about herbs, fennel, salmon, acid…things just started to click and a dish was born.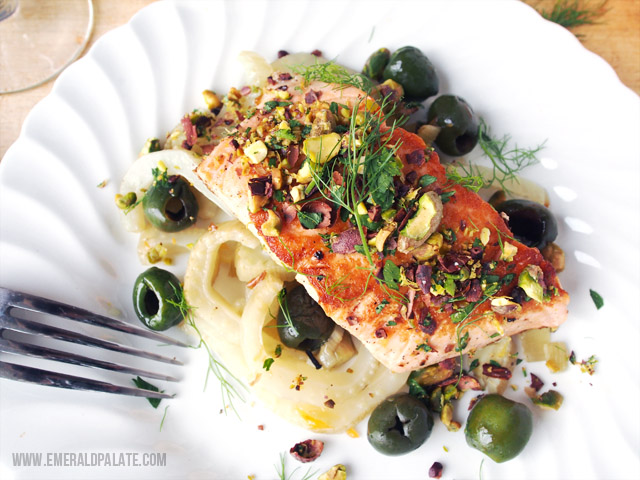 What does this easy salmon recipe taste like?
All I can say is textures. You've got the melt-in-your mouth consistency of the salmon, the springiness in your mouth from the olives, and the crunch from the pistachio-cacao nib gremolata. And the flavors perfectly blend the fats from the fish, acid from the orange, bitterness from the cacao nib, and sweetness from the fennel. Oh, and the briny hit from these mild olives really sets this dish apart! I made this alongside a few other recipes during a recipe development day and my boyfriend could not stop eating this one.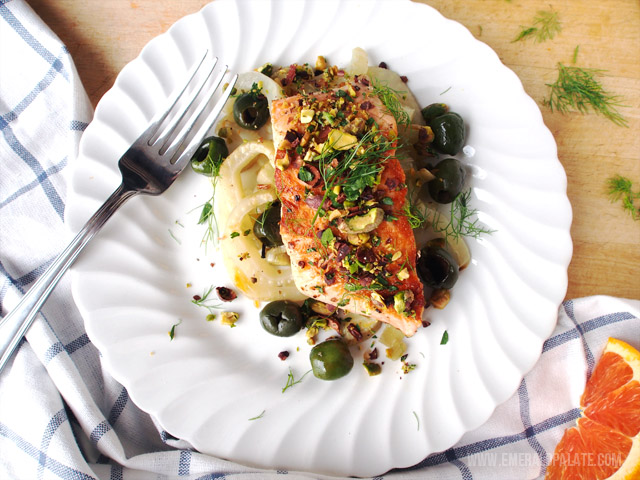 What type of wine does it pair best with?
I narrowed down this dish to the two whites Farm Shed Wines provided me: the 2015 Sauvignon blanc from Springhouse Cellar ($24) and the Reisling-semillon 2013 B-blend from Paradisos del Sol ($15).
While I think either white work, when it came down to it the winner was the Sauvignon blanc from Springhouse Cellar. By itself it has a grassy scent with a touch of apple. I found it smoother than the Paradisos del Sol, with a slight floral taste at the back of the palate. And what was best was the fact that it was complex and more full bodied. I find whites can be too light, almost like I'm drinking water. But this white was interesting enough to make me come back again and again.
Once you taste some fish, the nuances just keep revealing themselves. I found the Sauvignon blanc to tone down the brininess of the fish and olives while highlighting the chocolate notes from the cacao nibs. And just like the wine enhances the flavors of the dish, the fish transforms the wine into a tarter and more acidic version of itself.

About Springhouse Cellar
Springhouse Cellar is located in Hood River, Oregon within the Columbia Gorge AVA (American Viticultural Area). It's led by winemaker Peter Cushman, a third-generation wine maker who practices natural wine making techniques he picked up while working in New Zealand. He sources all his fruit from within a few miles of the winery and produces small batches of wine using predominantly Italian varietals of grapes.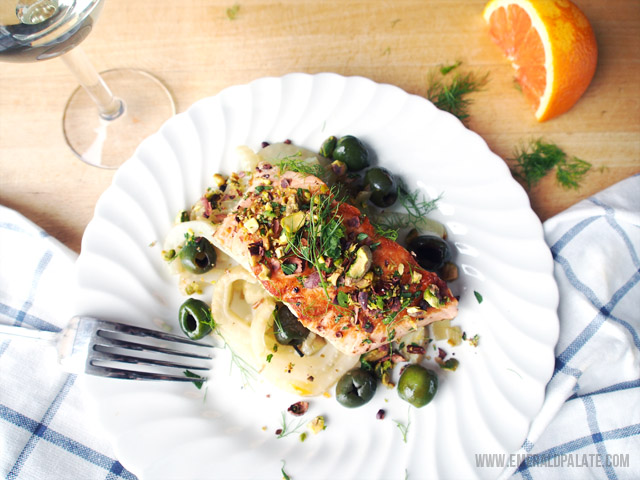 I hope you enjoy this dish as much as I did. And if you make it for Valentine's Day, I hope it impresses your loved one!

The Recipe
Serves 4 | Active 15 minutes | 30 minutes total
Ingredients:
1 large orange, cut in half
1 large fennel, sliced in 1/4″ pieces (reserve the fronds)
2 Tbsp. extra virgin olive oil
1 and 1/4 tsp. salt
1 C pitted green Castelvetrano olives
1/2 C roasted & shelled pistachio, chopped
1/8 C roasted cocoa beans, chopped (or ~4 tsp. cacao nibs if can't find whole beans)
1 small garlic clove, minced
1 tsp. lemon zest
2 Tbsp. parsley, diced
2 lb. salmon with skin on, cut into ~6 fillets
1 Tbsp. butter
Directions:
Preheat over to 400°F. Place orange halves cut side down on a roasting pan. Toss fennel with 1 Tbsp. extra virgin olive oil. Season with 1/4 tsp. of salt and some grinds of fresh pepper. Spread onto roasting pan evenly around the orange halves. Sprinkle olives all over and roast for 25 minutes, or when fennel starts to brown and olives darken and shrivel a bit.
Meanwhile, mix chopped pistachios, chopped cacao beans (or nibs), garlic, lemon zest, parsley, and 1/4 tsp. salt together until combined. Set aside.
Pat salmon dry and season with 3/4 tsp. salt and some grinds of fresh pepper. Heat 1 Tbsp. extra virgin olive oil in large stainless steel skillet. Add butter and when melted, add the salmon skin side down (be sure not to crowd the pieces). Don't move the salmon for about 4 minutes. You'll know it's time when the fish starts looking cooked about half way up its sides and a fish spatula slides easily underneath. Flip and brown on the other side for about 2 minutes. Remove from pan and set aside.
Take one of the roasted orange halves and squeeze it over the fish. Then squeeze the rest over the fennel and olives. Mix and then divide the fennel and olives among four plates. Add salmon pieces on top and then sprinkle pistachio-cacao nib gremolata generously over it. Garnish with fennel fronds, serve, and enjoy!

Nutritional Information Per Serving:
Calories: 660 | Calories from fat: 315 | Fat: 35g | Saturated fat: 3.7g | Cholesterol: 168mg | Sodium: 1059mg | Carbs: 456g | Fiber: 6.5g | Sugars: 5.5g | Protein: 41g


Before you go, why not pin this recipe?



Disclaimer: This recipe was developed in partnership with Farm Shed Wines. I developed the recipe on my own, but was provided wines to sample and pair at my discretion. Thank you for supporting the brands that support The Emerald Palate!

A note on wine pairings: I am not a sommelier or wine expert. I just love wine and have picked up on themes and pairings through years of trial and error. These pairings are my own opinion (corroborated by my family who got to help me taste test). I encourage you to enjoy this wine on its own if the pairing isn't to your liking.

A note on nutritional facts: I am not a registered nutritionist and therefore these numbers are approximate. I researched the serving sizes and facts for each ingredient in this recipe (mostly using the manufacturer labels and this site), but slight variations in things like seasoning, garnishes, and substitutions can change the nutritional information. Use this information only as a general indication of your nutritional intake.

Other Articles You Might Like