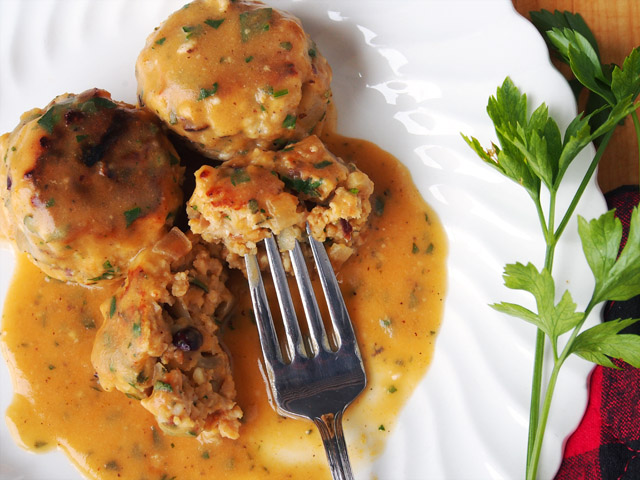 Every time Thanksgiving comes around I find myself thinking the same thing: "Why on earth do we only have this meal once a year?!" I'd much prefer if we ate that addictive turkey and sides combo multiple times throughout the year.
Since it's going to take me some more time to win that battle, the next best thing is coming up with a recipe that can recreate the flavors of Thanksgiving well beyond the big day. This recipe has everything I love rolled up into one meatball. The turkey. The sweetness you get from root vegetables like sweet potatoes. The tartness from cranberries. The savoriness from sage.
And the best part? You don't have to wait 4+ hours for this pumpkin meatball recipe to be done.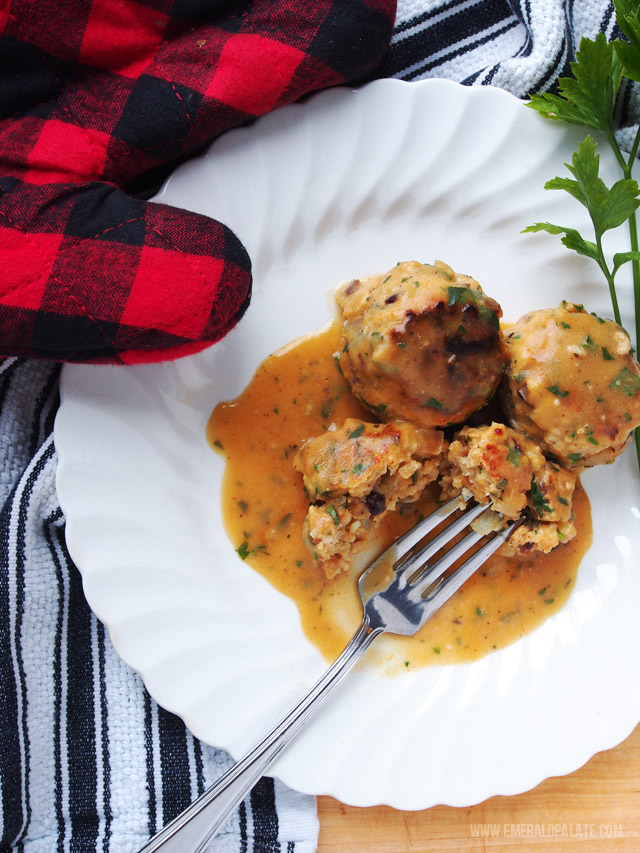 What does this pumpkin meatball recipe taste like?
Basically these pumpkin meatballs taste like Thanksgiving. The sage is pronounced but not overwhelming, and the bits of cranberries add a kick of sweetness the counterbalances the savoriness of the sage wonderfully.
The gravy is where the pumpkin is most pronounced. Besides making it a beautiful orange color, it adds a bit of sweetness to the traditional-style gravy…you know, the kind usually served with the bird on Thanksgiving. I was also inspired by Swedish meatballs, so the sour cream in the gravy adds a touch of that familiar Swedish meatball taste.
One thing I didn't get to but thought would be amazing in this recipe is making homemade breadcrumbs. And not just any homemade breadcrumbs, but breadcrumbs from rosemary bread.
But alas, not everyone has time to make their own breadcrumbs so I used panko. But if you're feeling ambitious or are trying to get rid of that leftover loaf, consider substituting and letting me know how it is!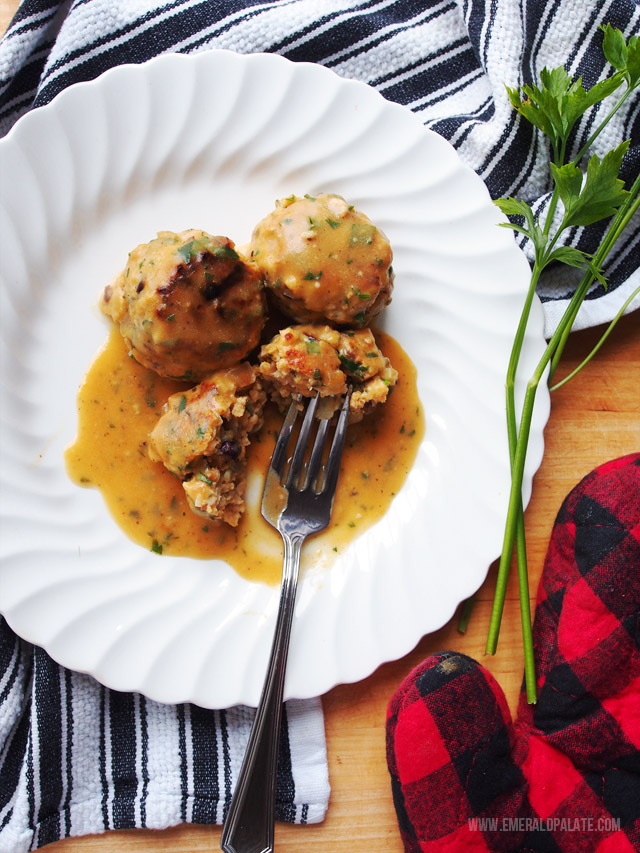 The Recipe
Serves 4 | Active 60 minutes | 90 minutes total (including prep)
Ingredients:
For the meatballs:
1 Tbsp. extra virigin olive oil
1 C finely chopped onion
1 and 3/4 tsp. salt
Fresh ground pepper to taste
2 large cloves of garlic, minced
1/2 C pumpkin puree (I roasted and pureed a real pumpkin)
4 Tbsp. grated Pecorino Romano cheese
1/4 tsp. ground nutmeg
1/3 C parsley, minced
1/3 C sage, minced
1/3 C dried cranberries, chopped
1 egg, lightly beaten
1/2 C panko breadcrumbs
2 lbs. ground dark-meat turkey
For the gravy:
1/4 C unsalted butter
1/3 C plus 1 Tbsp. all-purpose flour
4 C turkey broth
1/2 C pumpkin puree
1/3 C sour cream
1.5 tsp. kosher salt
Freshly ground black pepper, to taste
Fresh nutmeg to taste
2 Tbsp. chopped fresh parsley leaves
1 Tbsp. chopped sage
Directions:
Heat 1 Tbsp. of extra virgin olive oil over medium heat in a deep skillet. Add onion, 1/4 tsp salt, and 3-4 grinds of pepper from your mill. Cook until deeply golden and charred in a few places, 7 minutes. Add 1 of the minced garlic cloves and cook for 1 minute until fragrant. Remove from heat and add to a large mixing bowl.
In the same large mixing bowl add the rest of the minced garlic, 1/2 C pumpkin puree, grated cheese, 1/4 tsp. salt, pepper to taste, 1/4 tsp. nutmeg, 1/3 C parsley (minced), 1/3 C sage (minced), cranberries, and egg. Mix well to combine.
Season the ground turkey with 1 and 1/4 tsp. of salt and a few grinds of fresh pepper. Add the ground turkey and breadcrumbs to the mixing bowl and gently, with your hands, mix all the ingredients together until just combined. Try not to over mix to avoid tough meatballs.
Roll meat into balls about 1.5 – 2″ thick in diameter. Set aside.
Heat the deep skillet you used for the onions over medium-high heat (you shouldn't need to grease again). Add the meatballs and brown on each side, about 2-3 minutes per side (I just do the largest surface area, not all 4 sides). Make sure not to overcrowd the skillet (you might need to do it in multiple batches). You may need to add a bit more extra virgin olive oil between batches, depending on how much fat your meatballs leached out.
Meanwhile make the gravy. In the same skillet that you cooked the meatballs, turn the heat down to medium. Add the butter until melted and slightly foamy. Then add 1/3 C flour and whisk until slightly browned, about 1 minute.
Gently whisk in the turkey broth and stir constantly until it gets slightly thickened, 7 minutes.
Mix 1 Tbsp. of flour into the sour cream and add it to the skillet along with 1/2 C pumpkin puree. Stir until incorporated. Add to the gravy 1.5 tsp salt, some grinds of pepper, and some fresh ground nutmeg to taste and stir to incorporate.
Stir in the sage and parsley. Then add the meatballs back to the skillet. Roll in the gravy and let simmer until cooked through (160°F) and the flavors meld together, 2-5 minutes.
Serve either alone or with egg noodles and enjoy!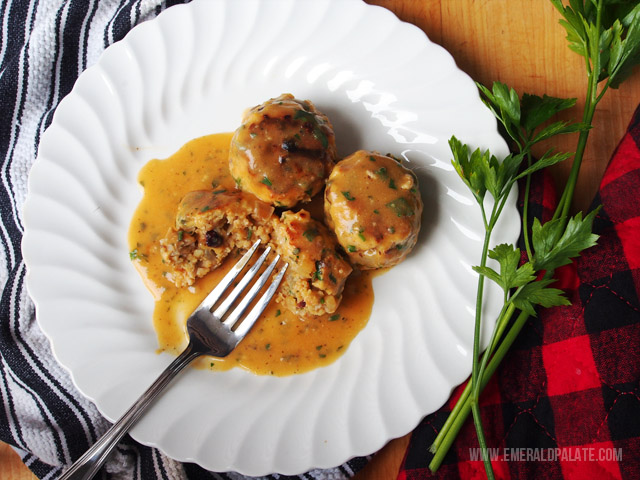 Nutritional Information Per Serving:
Calories: 280 | Calories from fat: 43 | Fat: 14g | Saturated fat: 3.8g | Cholesterol: 47.5mg | Sodium: 1,180.5mg | Carbs: 26g | Fiber: 4.2g | Sugars: 8.7g | Protein: 9.4g


Pin This Pumpkin Recipe for Later

Nutritional Facts Disclaimer: I am not a registered nutritionist and therefore these numbers are approximate. I researched the serving sizes and facts for each ingredient in this recipe (mostly using the manufacturer labels and this site), but slight variations in things like seasoning, garnishes, and substitutions can change the nutritional information. Use this information only as a general indication of your nutritional intake.
Other Articles You Might Like