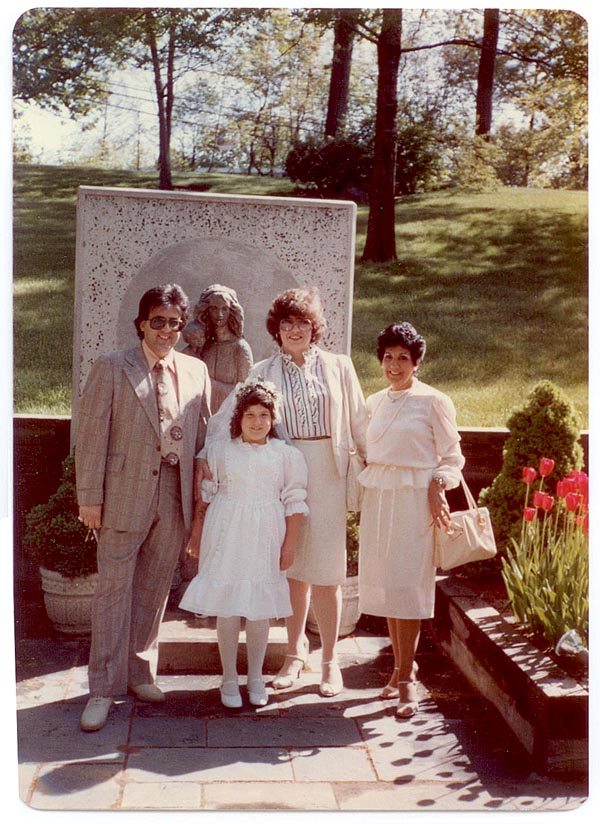 When our family visited a few weeks ago, they brought along some old photos for us to keep safe. When we were perusing through them, reminiscing of years past, we came across this photo of Adria's sister/Travis' wife's communion in the early 80s.
We were always told our grandmother (on the right) was stylish, but it wasn't until we saw this picture of her that we understood. She just has such an elegance to her. We loved her monochromatic look, a color palette you'd see a women in her 20s wearing now. Her outfit is very age appropriate, but has a youthfulness to it with the bow belt and flirty ruffle on the hem of the shirt.
What was even more shocking was that our mother didn't look half bad! Adria owns a striped dress shirt with a ruffle down the front now. She also loves pencil skirts. Our mother has a look à la Ghostbusters, and we're not hating it! Even our father has some swagger with his suit; always one to love bold patterns.
Do any of you look have fashion memories of your parents or relatives? Do you look up to any of their styles? We'd love to hear about it because we truly believe fashion is a reinterpretation of styles past, so we love to hear about other people's memories.