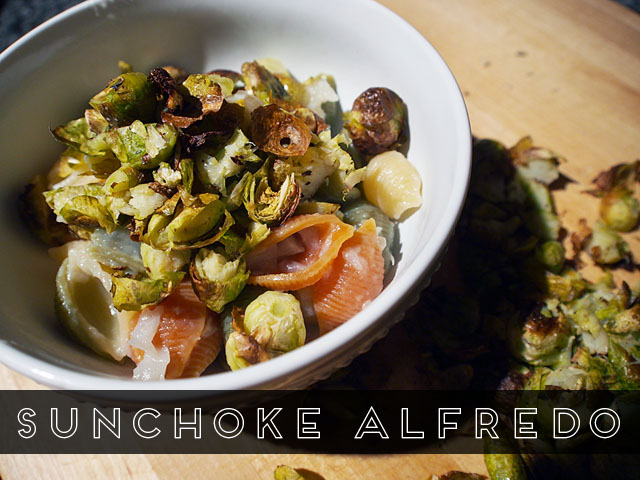 Sunchokes are one of my favorite vegetables. If I see them on a menu at a restaurant, I'm like, "SOLD!"
I was at the Ballard Farmer's Market last Sunday and saw a ton of sunchokes. I'd bought some with the intention of making some sort of puree underneath grilled meat, but mid-week I was inspired to pair it with pasta and see if I could make an Alfredo sauce with it.
If there's one thing you should know about me, I. love. pasta. I grew up thinking Alfredo sauce was "healthy" (hey it's milk right? Oh the woes of growing up in an Italian American family!), and it wasn't until college that I had the painful realization how bad Alfredo sauce was for your health.
I regularly look for healthy alternatives to Alfredo sauce, relying on milk, cream cheese, and bechamel to recreate this creamy favorite. I also regularly see varieties with cauliflower in it, so I thought, hell, why not sunchokes.
Below are my interpretations of a healthy alternative to Alfredo sauce. I've provided three different versions, starting at the healthier and ending with a more indulgent variety. Choose your adventure and tell me in the comments what you think!