THIS CONTEST IS CLOSED. Sign up for our newsletter at the right to be the first to hear about future contests!
ATTENTION: WE ARE HOSTING OUR FIRST EVER FLASH CONTEST! What is a Flash Contest? It's like a regular contest, but you have less time to enter. Why a Flash Contest?
Well, Christmas is over. Making us all finally able to purchase items for ourselves without feeling guilty.
To ring in this new-found freedom, we're giving away a $50 Macy's gift card, perfect for finalizing your New Year's Eve outfit or adding some extra purchasing power to that gift return. Since this tends to all happen the week after Christmas, we thought it appropriate to host a Flash Contest to make sure you get your gift before the New Year.
And trust us, Macy's has really awesome products right now. Here are some of our favorite items that you can get for $50: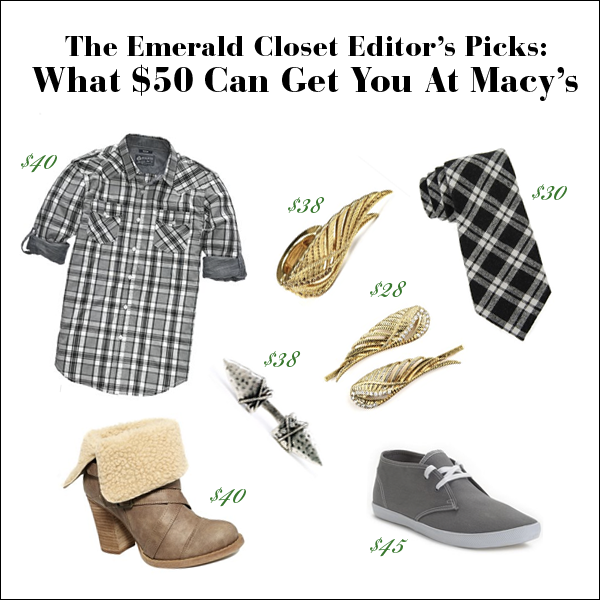 sherling booties, men's Keds, arrow ring, wing ring, wing hair clips, tartan tie, men's shirt
SO HOW DO YOU ENTER?
It's easy. Simply LIKE US ON FACEBOOK and COMMENT ON THIS POST telling us what you would purchase with this $50 gift card.
WANT AN EXTRA CHANCE TO WIN?
After you Like us on Facebook, copy the following phrase and put it as your FB status, making sure to tag us in the update!
I really want this $50 Macy's gift card @The Emerald Closet :: Seattle Fashion Blog & Street Style is giving away! http://bit.ly/sVSeIZ
REMEMBER: You have to like us to be able to add us to your status.
Hurry up and enter as this contest ENDS ON WEDNESDAY DEC. 28 AT 12:00 PM PST!
LASTLY, PLEASE CONSISTENTLY CHECK YOUR EMAIL ON WEDNESDAY DEC. 28TH, AS WE WILL BE EMAILING THE WINNER ASAP IN ORDER FOR MACY'S TO OVERNIGHT THE PRIZE! We unfortunately will have to choose another winner if the winner cannot accept the prize within a 5 hour period. IF YOU ARE CONCERNED YOU WON'T BE ABLE TO CHECK YOUR EMAIL, PLEASE PROVIDE US WITH YOUR PHONE NUMBER BY CONTACTING US AT INFO (at) EMERALDCLOSET (DOT) COM.
Best of luck and thank you for your support!
Click here for Official Contest Rules
Other Articles You Might Like