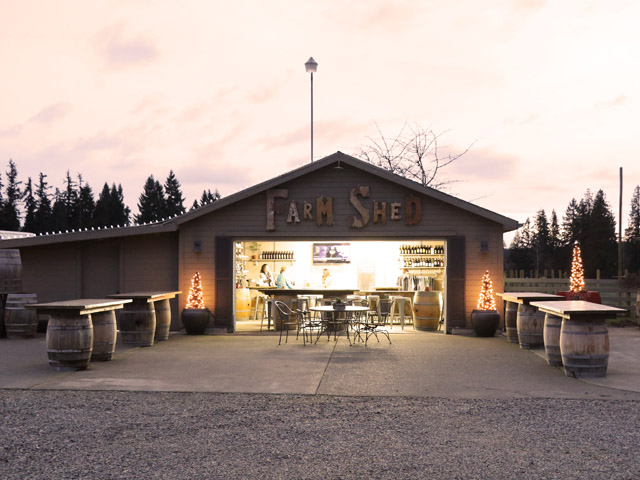 If you've learned one thing from my Instagram stories, Walla Walla wine guide, and my Lake Chelan wineries round up, you know I love wine. That's why I was so pumped to learn about Farm Shed Wines, a new wine retailer curating sustainable, small batch wines from the Pacific Northwest.
Since I love supporting local makers and artisans, we're going to work together to develop recipes and wine pairings highlighting stories from their winemakers. But before we dive into each winery's story, I wanted to share with you how Farm Shed Wines went from an idea to a full-fledged wine shop just outside of Tacoma, WA.
If You're Into Wine, Listen Up
Farm Shed Wines is a relatively new specialty wine retailer. Its shop just outside of Tacoma, WA has been open since April last year and offers wine flight tastings, cute drinking-related gifts for purchase, and a garage door that looks out onto a relaxing patio with umbrellas and chairs. Not from the area? You're in luck. You can purchase wine online and pay only about $4 per bottle to ship.
I sat down with Madeline to learn more about Farm Shed Wines, the wine makers she works with, and why she's excited about a future in brewing.

Interview with Madeline of Farm Shed Wines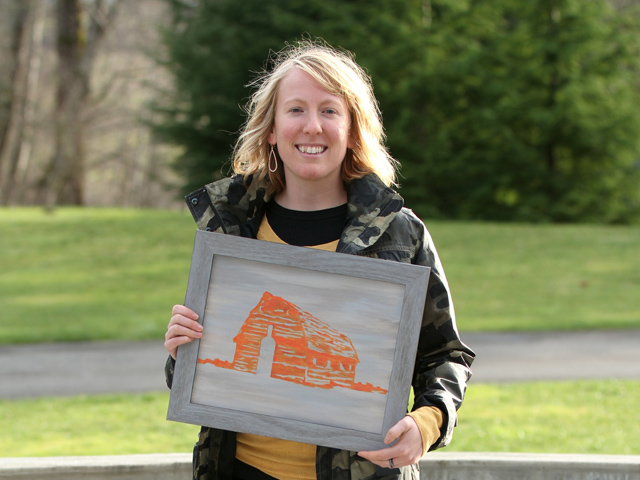 How did you get to be in the wine industry?
Madeline: I actually have a science background, so I ended up working in wine supplier labs to test things like the pH and balance of wines. I started learning about the supplies wineries use and got really interested in the wine making process. By chance I met a viticulturist while I was living in California who was looking for a lab person to work at his winery. I gave him my card and a few weeks later I ended up working there!

How did you transition to start Farm Shed Wines?
Madeline: I never thought I'd end up on the side of sales and distribution, but working at that winery instilled this passion in me for the stories behind wine making and just how obsessed with quality some viticulturists are, mostly the ones who are concerned with quality over quantity. I remember I was traveling with my parents in California and I said to them, "I really want to go into distribution so I can support the little guys."
My mom admitted that she was tired of her full-time cleaning business and wanted something different when she retired. And luckily, my dad has a dairy farm in Washington that would be the perfect spot for us to get started. Next thing I knew, we were applying for our specialty shop license and I was packing to move back home to Washington.

What's it like working with your parents?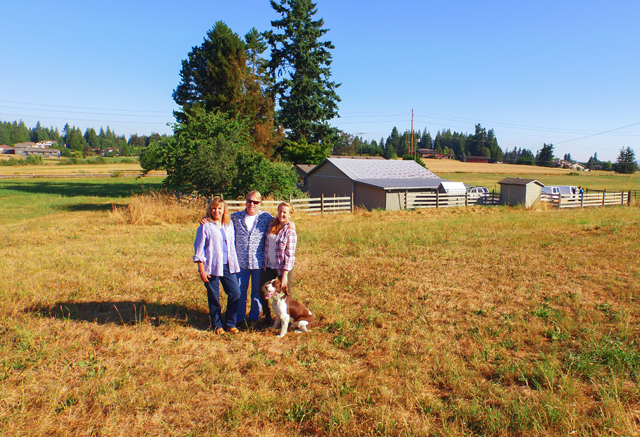 Madeline: My dad and mom are part owners; we all own a third of Farm Shed Wines. My mom brings the business smarts because she owned her own cleaning business for years and my dad brings invaluable supply chain and distribution knowledge from his dairy farming background. I wouldn't be where I am today without their support.
"Working with them definitely changed our relationship, but I would say for the better."

Did the concept for Farm Shed Wines change over time?
Madeline: Yes! Wine tasting was never part of the plan. I was focused mostly on setting up a distribution business, but apparently in Washington you're able to pour five, two-ounce glasses of wine with your distribution license.
I realized that the shed on my dad's dairy farm didn't need to just be a shipping warehouse, so we quickly changed gears and started trying to make it presentable. But it's funny because the lighting in the space is still that bright, fluorescent overhead lighting you'd find in a warehouse because that's what we started doing. We just never changed it and now it's a nice memory of where we started.
"You have this idea of how you want to start a business and it never comes out that way. That isn't always a bad thing, but you have to take it as it comes."

How do you choose the wines to feature?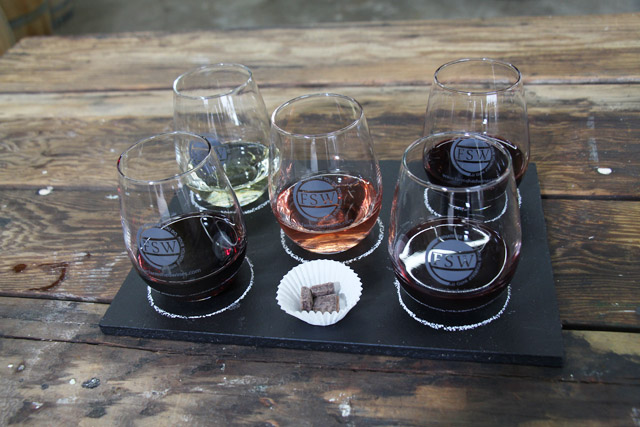 Madeline: We work with mostly Oregon and Washington wineries right now, but we'll start importing wines that follow our ethos down the road. My mom and I are actually traveling to the Jura and Provence regions of France in March to search for new small production wines to import.
We look for sustainable wineries making 2,000 cases per year or less. I spend a lot of time scouting wineries in the area and talking to the winemakers. Ultimately what I'm dedicated to is finding the small production wine maker who is passionate about his art. When you think of wine quality, you may think balance in acidity, smoothness, aromatics, or tannin structure. Yes, these factors all play a roll, but I can honestly tell you when I choose my wines, it's surprisingly not about science.
Rather, I choose wines that tell a story, wines that make me think about the growing season and that also share a piece of their winemaker's story. These wines tend to be more old world in nature, and what I like to call mature. I'm attracted to the "garagiste" winemaker who is still working on their best wine yet. Ideally I find winemakers I want to grow with.
I have two partners (my parents) who have very different tastes in wine than I do so when it comes to selection we sit down as a team and combine our opinions on a wine. This can be really fun and also maddening, I have really improved my ability to sell a wine in these meetings! But when a wine has a great story, it becomes a great wine and easy to sell. When I'm able to share these stories with my customers and clients, it brings me immense joy.

So, tell us the truth. Is more expensive wine better?
Madeline: I don't agree with the idea that more expensive wine is better wine. I believe their are so many undiscovered affordable wines out there to be had. My average price per bottle at Farm Shed is $25 per bottle. I want to appeal to all wine drinkers and I want my customers to be surprised at the price-to-quality ratio.
That being said, I understand that small winemakers have a reason for charging more for their wines. In many cases they are spending more money on rent, sometimes using harvest and fermentation equipment they don't own, and spending a ton of time making their wines. They usually don't have a viticulturist, an assistant winemaker, or an accountant; they wear all of the hats.

What advice do you have for casual wine lovers?
Madeline: I typically buy three bottles of a wine I really enjoy; one to drink soon, one to drink in a year or two, and one to age. Aging definitely intrigues me, and I built a collection of wines I'm excited to see change and develop over the years. I've even started library-ing wines at Farm Shed, hopefully for a Library Wine Cub down the road. Not all wines need to age, so I recommend playing around!

Do you have plans to start making your own wine?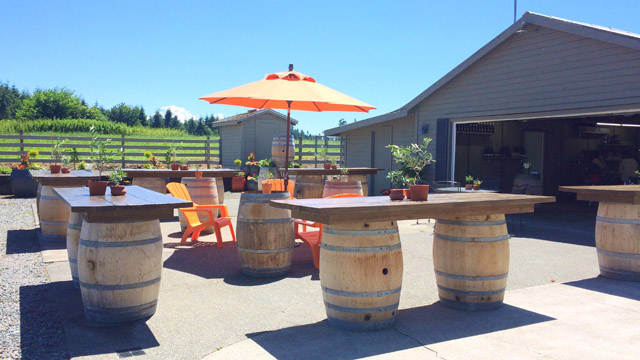 Madeline: I don't make my own wines right now, but I work with some wineries closely to design the wines we sell. For example, I have a great relationship with Halcyon Winery in northern California. He'll ask me what I want before he makes wine, saying things like, "What kind of wine do you want? Ok, rose, what price point?" It's a great partnership that makes me feel like I have some control of what we sell.
Wine making myself might be in my cards down the road, but I'm focused on brewing right now and am in the process of getting my brewery license.

A brewery! Nice. How did you get into brewing?
Madeline: Remember how I said wine tasting was never part of the plan? Brewing wasn't either. Once we started serving wine and people started liking it, I wanted to figure out how we could move beyond the pouring restrictions of our distribution license. I realized the license for owning a brewery was far more relaxed, so I started baking this idea of working with local brewers and using our space to serve beer. But then one day this guy came into our shop and said, "Why don't you just start brewing?" That's when it clicked.

What was that process like, learning how to brew?
Madeline: The guy who suggested I started brewing actually knew one of my dad's old high school friends who knew how to brew. He offered to teach me everything he knew and I fell in love with it immediately. Since dry farming techniques are an interest of mine, I was super pumped to grow my own hops. I actually just planted about 100 hop plants that will be ready for harvesting soon.

What do you like about brewing better than wine making?
Madeline: I'm a science person at heart and I love brewing because it's super geeky. It's more like cooking because you take these ingredients — water, hops, yeast, and grains — and you design a whole other product.
Wine making is more about farming and assisting one ingredient, grapes, through its natural fermentation process after you harvest it. It's not as creative and it's impossible to remake the same wine season after season because it's so dependent on the weather and grapes. That's part of what makes wine special, that each bottle is a unique time capsule that can never be duplicated. But it's also part of the frustration.
Brewers on the other hand are more like artist. They're able to control the canvas and create the same masterpiece over and over again.

What are some challenges you've faced as you built Farm Shed Wines?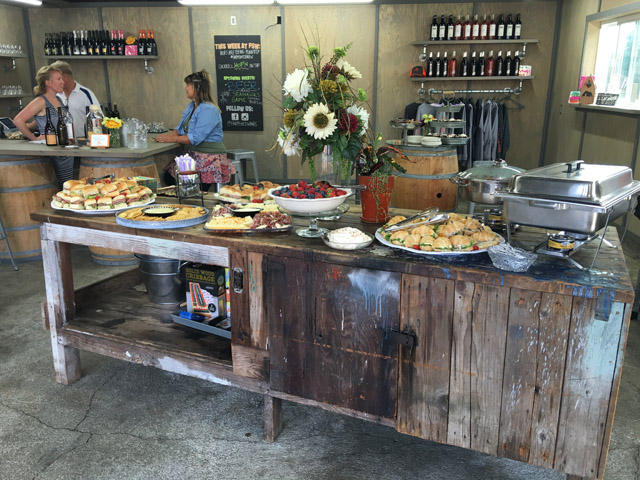 Madeline: "Whatever you're facing right now always seems like the worst thing." But I've had my fair share of challenges. Getting my licenses and sorting out the distribution side was a nightmare. Let's just say working with the state isn't the easiest. I was doing all the paperwork while I still lived in California, but I was flying back 1-2 times per month to apply for my licenses.
Also agricultural integrity is really important to me, so I don't want to over develop our land at the expense of our crops. My mom is a fourth generation bulb farmer and my dad has operated Anderson Dairy for over 35 years. To say farming holds a special place in my heart would be an understatement.
When Farm Shed Brew is complete it will run off an agritourism permit from Pierce county, which would allow us to preserve the agricultural zoning that we have. It would also prevent development of the 40 acres where we are located. While it's been challenging operating under this designation, once launched Farm Shed Brew will be one of the first breweries in the state to operate under this permitting.
Also, we're always trying to think of creative ways to bring in new business during our slower winter months. We've been focusing on hosting events, particularly during our slow season. For example, we do paint nights, host bands, and have a lot of other DIY classes. You can bring your own food here so people like to park, learn something, and stay a while with their friends and family.

What wines should all people be drinking?
Madeline: Some of my favorite wines in Washington include Brady Cellars out of Walla Walla and La Chanterelle out of Bellingham. Each of these winemakers put so much passion and thought into their wines that I find myself enjoying them more and more every time I open a bottle.
I think all people should try an Amorone-style wine, preferably an older one. My favorite varietal is Tannat. It's a rarer Rhone varietal that I had the opportunity to work with on the central coast of California (very little is grown in Washington State).
I picked up a new winery last summer called Springhouse Cellars out of Hood River, Oregon. I love everything about them. I love their attention to sustainability. All of their fruit is sourced within a few miles of the winery itself. I also really like their concept, they are taking their wines back to basics, not overdoing it and concentrating on single varietals in addition to blends.

What's next for Farm Shed Wines?
Madeline: Farm Shed Brews! I'm hoping our beer will be ready to serve by the summer. I'm planning to make all lager-style, keg beers, which any brewer will tell you is a terrible idea. They'll say it takes too long because you have to let it sit for three months, but coming from the wine industry that's nothing!

---
Want to learn more about Farm Shed Wines or join their wine club? You can find out more at Farm Shed Wines or follow them on Instagram and Facebook.
Disclaimer: This article is based on my own opinions. While I was invited to partner with Farm Shed Wines to develop recipes that pair well with wine they sell, I was not asked to write an article about them. This interview was entirely my idea, as I loved Madeline's story. Thank you for supporting the brands and content that help keep The Emerald Palate running, and be sure to check out future recipes that pair well with their wine!
Image Credits: All images were provided by Farm Shed Wines

Other Articles You Might Like