Lauren Moffatt is a designer you should know about. Her vintage chic aesthetic has earned her accolades from various leaders in the fashion industry, included Women's Wear Daily and Vogue. She started her own self-named collection with her partner, Rob Pepin, out of her sailboat while docked on the Hudson River outside of NYC in 2000. Now she runs a multi-million dollar company coveted by celebrities such as Cameron Diaz, Mandy Moore, Eva Mendes, Sophia Bush, and Ashley Olsen.
We first introduced you to Lauren Moffatt's fall 2010 collection for one of our Covet Friday series back in September. We caught up with her a few weeks ago for an interview. Read below to hear about her start in the fashion world and advice she has for aspiring designers.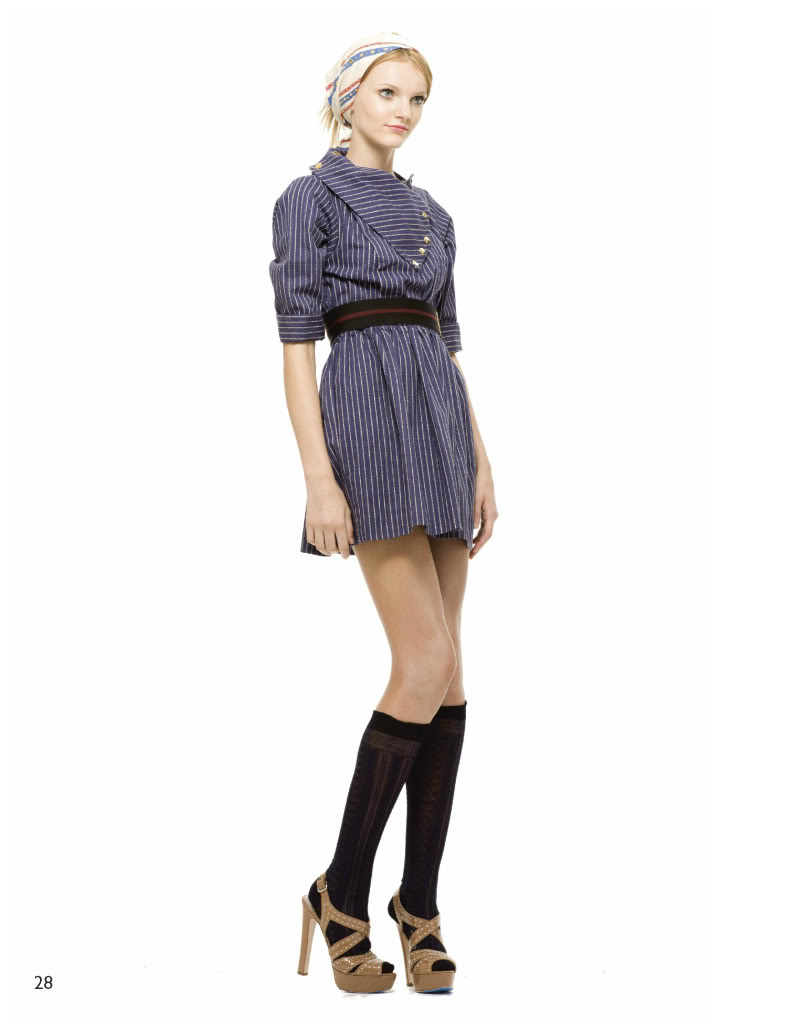 1. When did you first realize you wanted to get into fashion?
FOR AS LONG AS I CAN REMEMBER I'VE BEEN A THRIFT SHOP JUNKIE. I'D ALWAYS HAVE A BETTER CHANCE OF FINDING THINGS I LOVED THRIFTING THAN AT REGULAR STORES. I GUESS IT WAS THAT NOTION THAT MADE ME REALIZE THERE WAS A VOID IN THE MARKET.


2. Give us a time line of how you got to where you are today in your fashion career, highlighting any experiences or events that helped you get to where you are today as a designer.
SCHOOL FOR FINE ARTS HELPED ME DEVELOP A COLOR SENSE THAT I ATTRIBUTE TO MUCH OF OUR SUCCESS. WE'VE GOTTEN TO WHERE WE ARE TODAY BY WORKING CRAZY HARD.


3. What does fashion mean to you?
A PERSONALITY. ENHANCING WHO YOU ARE BY BEING INDIVIDUAL AND DRESSING TO SUIT YOURSELF. IT'S FAR MORE ABOUT STYLE THAN FASHION.


4. Who or what are some of your fashion inspirations? How have those inspirations changed through the years?
TOO MANY TO NAME. RATHER THAN DESIGNERS THEY ARE PEOPLE WHO CONSISTENTLY KNOW THE MOST PERFECT WAY TO STYLE THEMSELVES. LAUREN HUTTON'S ONE I ALWAYS COME BACK TO.


5. Describe your design aesthetic and how it has also changed throughout the years.
AGAIN, VERY CONSISTENT. I'M DRAWN TO INTERESTING COLOR COMBINATIONS DONE IN SIMPLE WAYS. NOTHING TOO OVERDONE, NOTHING TOO HARD ON THE EYE. I'VE ALWAYS BEEN ABOUT A SORT OF IMPERFECT SIMPLICITY.


6. How would you describe your own style? Where are your favorite places to shop/favorite labels or designers to wear?
THE SALVATION ARMY WILL ALWAYS BE MY FAVE. I DON'T EVEN LIKE HIGHER END THRIFT SHOPS. I WANT THE TOTAL UNEDITED VERSION. MY OWN STYLE I WOULD CALL MESSED UP LADYLIKE. NOTHING CAN BE TOO PERFECT. IF I'M WEARING A DRESS, I MUST WEAR MY FAVORITE FALLING APART VINTAGE ANKLE BOOTS TO NOT FEEL TOO PRECIOUS. IF I'M NOT A LITTLE MESSED UP I DON'T FEEL LIKE MYSELF.


7. What trends/styles are you really feeling right now? Which ones do you dislike?
I LOVE THE ANTI SEXY VIBE. MIDI LENGTH, LAURA INGALLS ON CRACK LOOK.


8. What is the best fashion advice you've ever received? What advice would you give others?
PROBABLY THE BEST ADVISE I EVER RECEIVED WAS NOT TO OVER ACCESSORIZE. I'D PASS ON THE SAME. IT'S EASY TO LOOK LIKE A TOTAL FASHION VICTIM.


9. Where do you see fashion in 20 years?
PROBABLY EXACTLY WHERE IT IS NOW, IT'S JUST A REVOLVING CYCLE.


10. If you weren't a fashion designer, what else would you want to be doing right now?
I'D BE A FURNITURE DESIGNER. IT'S IN MY BLOOD…


11. What advice would you give fashion designers looking to break into the industry. Any opportunities or experiences they should pursue?
GET INTERNSHIPS. IT'S A GREAT WAY TO GET YOUR FOOT IN THE DOOR AND SEE IF YOUR REALLY CUT OUT FOR IT. IT'S TOTALLY CLICHÉ TO SAY, BUT TRULY IT'S NOT GLAMOROUS…


12. What was the first thing you ever designed?
A CREAM SHIFT DRESS WITH ONE PINK ZIPPER POCKET ON THE HIP. I'D STILL WEAR IT TODAY IF I HAD ONE.


13. What has been the most useful criticism someone has ever given you as a designer?
PEOPLE ALL HAVE DIFFERENT READS ON EVERYTHING. IT'S ALL ABOUT PICKING AND CHOOSING WHAT TO LISTEN TO THAT WAS THE MOST USEFUL.


14. Where do you see the Lauren Moffatt brand in 10 years?
WE ARE WORKING ON EVOLVING INTO A TOTAL LIFESTYLE BRAND WITH HOME, ETC…


15. What is the most difficult aspect of running your own label, rather than designing for another label?
PROBABLY THE WEIGHT ON YOUR SHOULDERS AND YOURS ALONE.



For more information on Lauren and her collections, visit http://www.laurenmoffatt.net. And don't forget to check out her spring 2011 lookbook on her blog.

Other Articles You Might Like