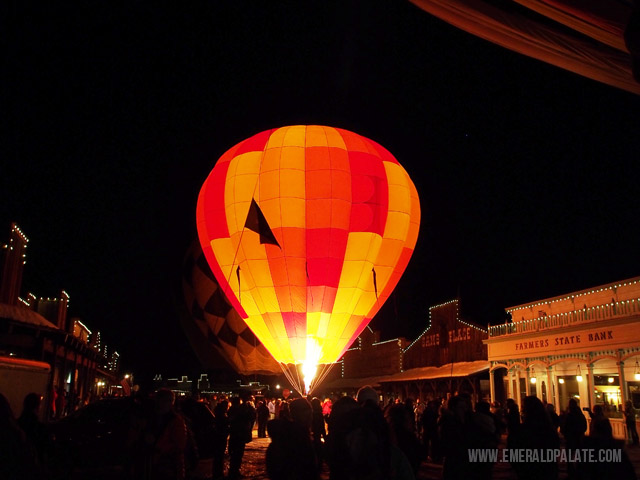 A few weekends ago my boyfriend and I went to Winthrop, WA to celebrate our anniversary. We planned our winter getaway around the Winthrop Balloon Festival because I'd bought him a hot air balloon ride for our anniversary last year (which we never took because I'm an idiot – more on this later).
Winthrop is in central Washington's Methow Valley, which is home to the largest network of cross-country ski trails in the country. Plus, it's only a 45-minute drive from Lake Chelan, a great wine region. These two facts, plus the fact that the Winthrop Balloon Festival is the coolest thing I've ever seen, make Wintrop the perfect location for a winter getaway in Washington state.
So I'd mentioned I bought my boyfriend, Dan, a hot air balloon ride for our anniversary last year. You might be asking why we didn't go, you know, last year. Well, let's just say I made a horrible impression for our first anniversary. I had this whole plan where I'd buy him this hot air balloon ride and invite him to come with me on a San Francisco trip I'd planned for myself before we were serious.
I had it all figured out. We'd go to Napa Valley and take a hot air balloon ride, followed by wine. I made the cutest card (if I do say so myself) with a 3-D hot air balloon on it. I gave him the card all excited about how awesome it was. This was going to be the gift of all gifts.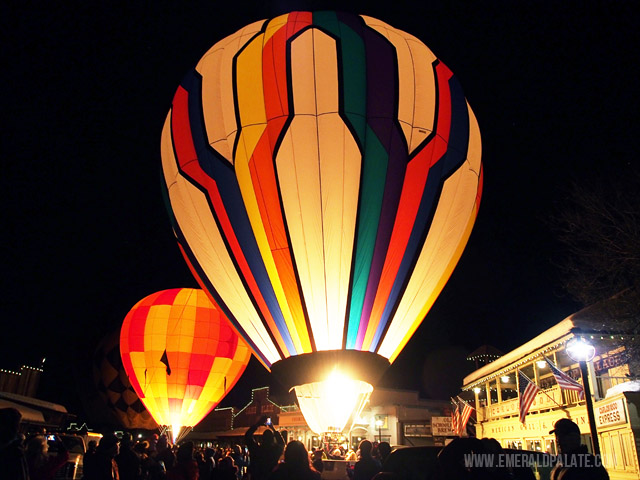 Well…it wasn't. You could imagine my surprise when he said with a forced smile, "Oh wow, thanks." My heart sank. When I asked him why he wasn't excited, he seemed embarrassed when he explained that he was planning to go home for Passover during my trip to San Francisco. I was totally blindsided by this. Dan is a champion at last minute trip planning and he'd never mentioned this before.
His embarrassment turned into my embarrassment. I felt so insensitive and mad at myself for getting an awesome gift but pushing it on him at an inconvenient time.
It probably didn't take you long to guess that we didn't end up going on that hot air balloon ride. Fast forward and that's how you find me planning to make it up to him by organizing a winter getaway to Winthrop, WA. We'd go during the town's annual Hot Air Balloon festival in March and make the most of central Washington's winter activities.
Planning your own winter getaway to Winthrop? Here's my recommendations for how to make the most of your trip.
Consider Visiting During the Winthrop Balloon Festival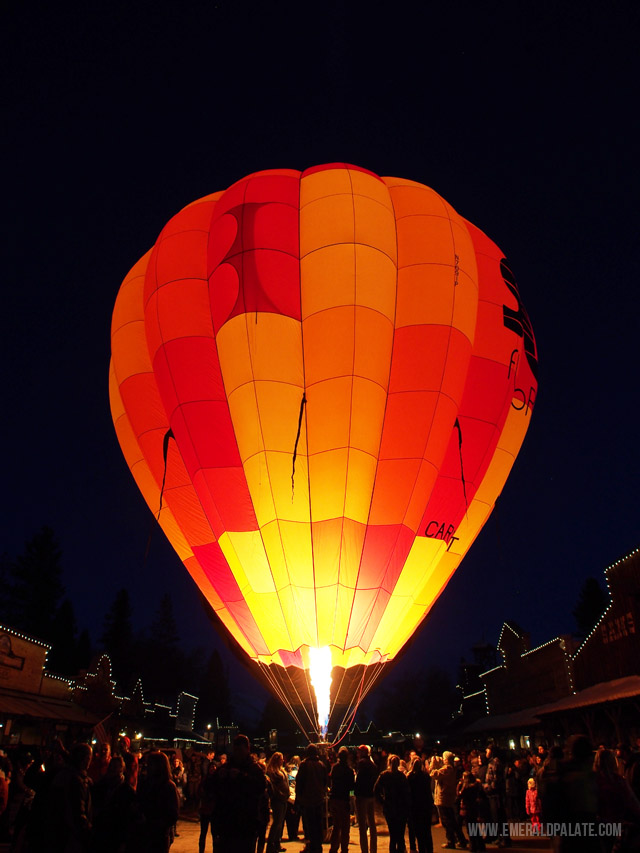 If you're like me and always dreamed of seeing a bunch of hot air balloons in the air at once, this is your chance. The Winthrop Balloon Festival happens the first weekend of March every year and offers guests the opportunity to take flights on Friday, Saturday, or Sunday morning. If you want to go up in the air, choose your day wisely. Meet times for taking a hot air balloon flight are 6:30 am!
There's also a Nighttime Balloon Glow in the evening. During the Balloon Glow, a section of the main street running through Winthrop is shut down so that 5 hot air balloons can be inflated. The fire used to keep hot air balloons afloat light the beautiful orbs up like fireflies in the sky.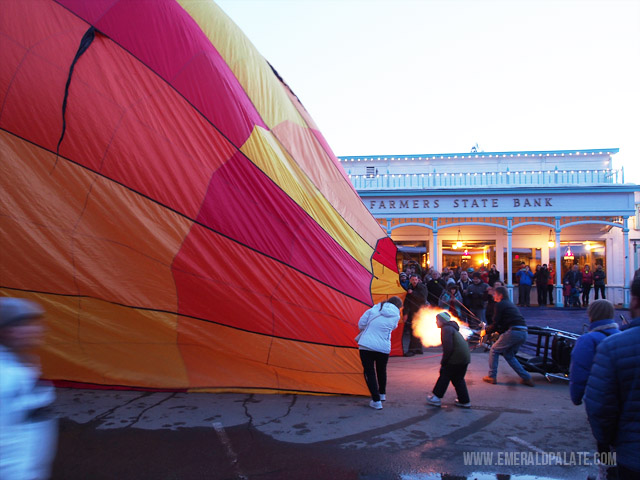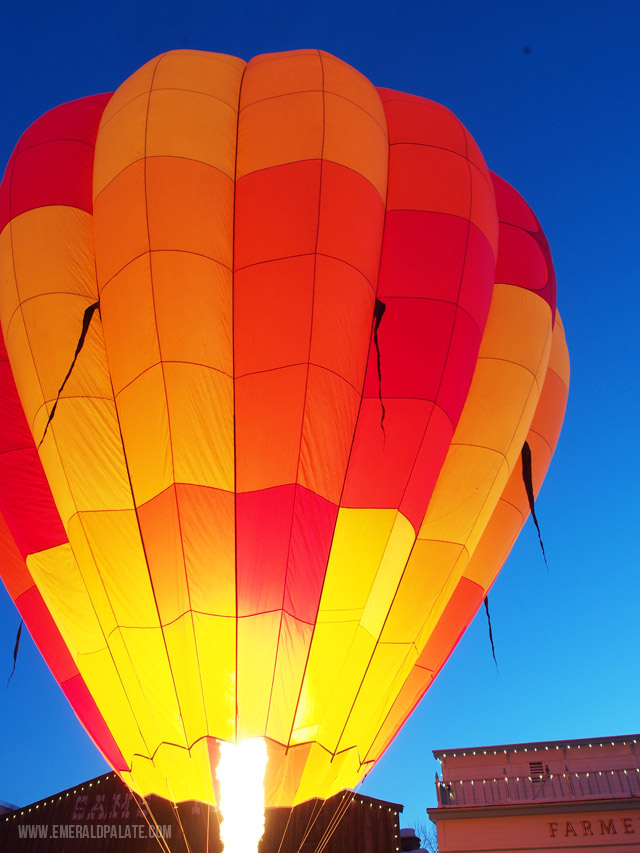 It was freezing when Dan and I went to this, but I stayed out there for over an hour snapping photos with no gloves on. I couldn't feel my fingers but I was in awe of how majestic hot air balloon are. I'd never actually seen one up close, so seeing how magnificent they were was a really humbling experience. I can say this is hands down the coolest thing I've ever seen so if you can make it to Winthrop, WA for a winter getaway, this is a must see!
We went to the Balloon Glow on Saturday evening. It made us so excited for our hot air balloon ride the following morning. It had been sunny and gorgeous that day, so we were confident our flight would be a go on Sunday.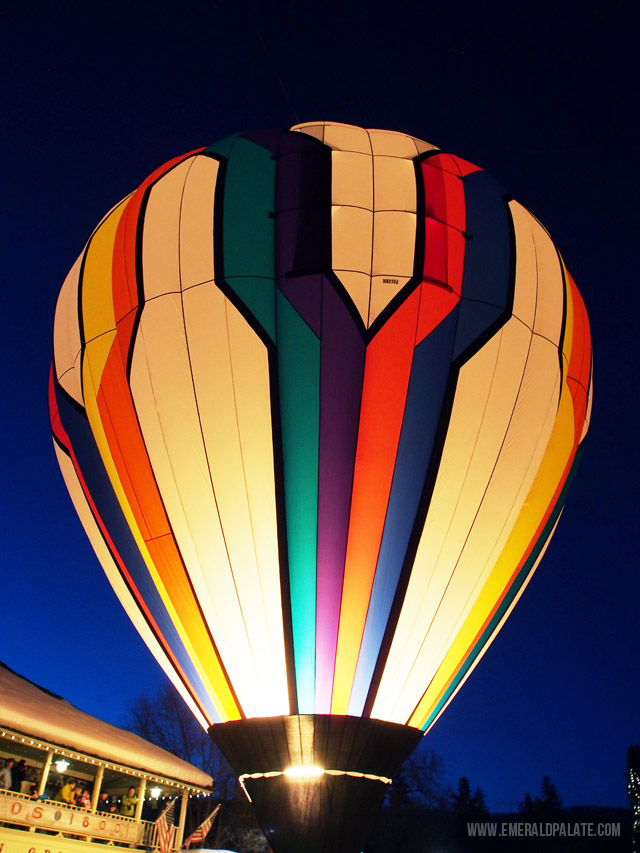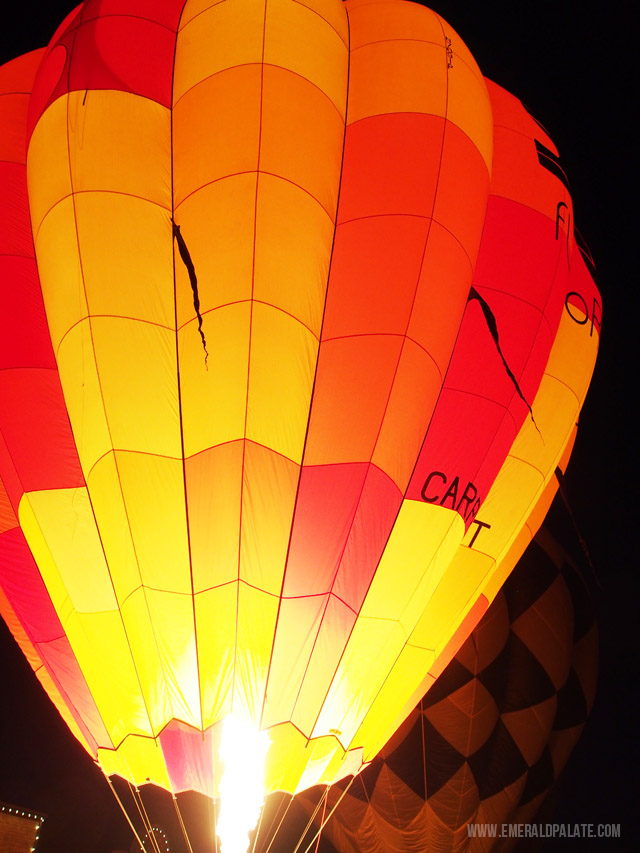 Well, I officially have the worst luck ever. Our hot air balloon ride was not a go. We woke up to a blizzard. Dan's car was almost completely covered and snow was pouring down. We got the dreaded call at 6 am, about 2 minutes before we were going to leave to head to the launch site: "No balloons are flying today."
To say I was devastated would be an understatement. Not only have we been foiled from going up in a hot air balloon once, but it happened again. AGAIN. How does this happen? We pouted for a good 20 minutes and took turns repeating, "I'm so disappointed," to each other.
However, between our moans, we also kept trying to find the silver lining. We both felt like the hot air balloon glow was one of the coolest things we ever saw so we felt so fortunate to have been able to see that. We also resolved that we'd try again next year. There's really no harm in planning a trip to Winthrop during the balloon festival. If you don't get to go, it's not too crowded and you can take advantage of all the other fun activities the area has to offer.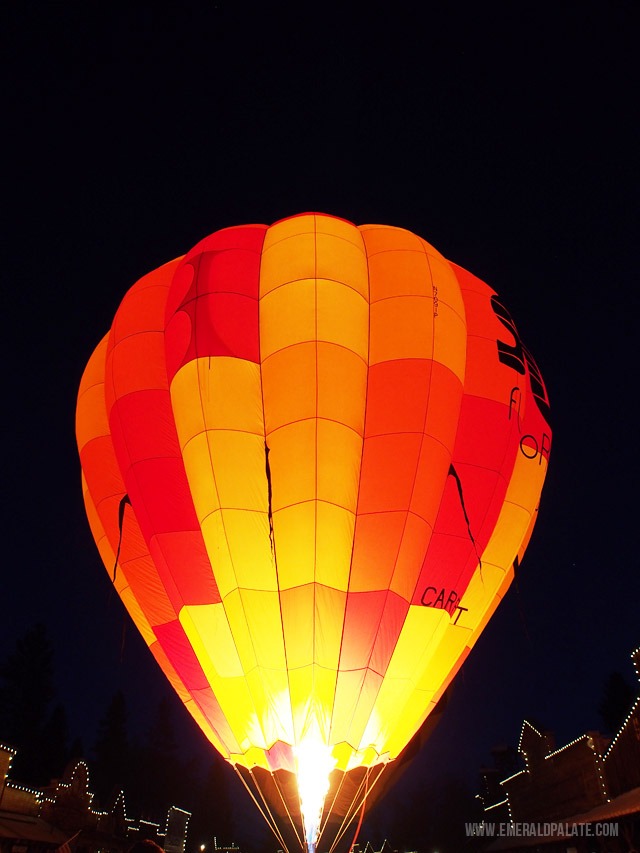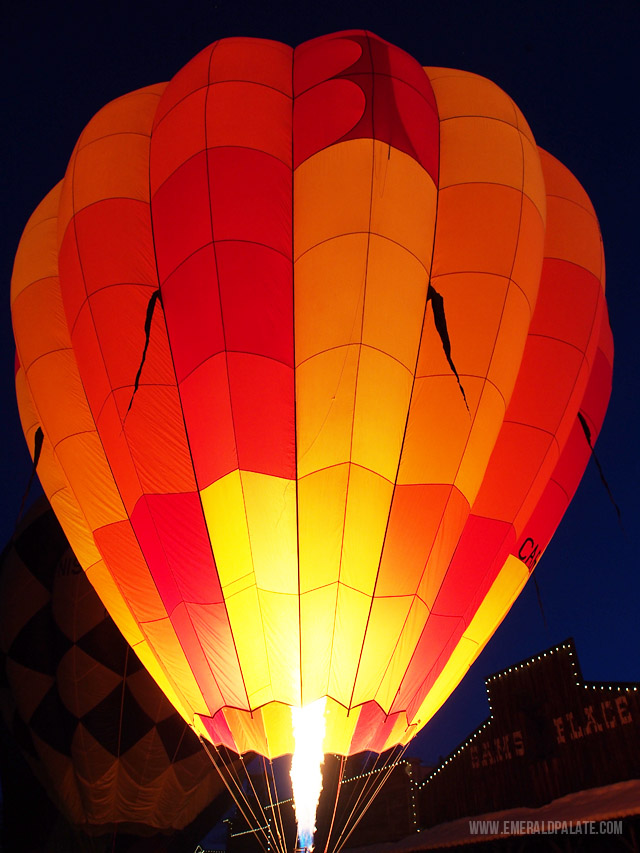 Stay In a Cozy Cabin
Winthrop, WA has a few hotels, but we found a cozy cabin through Airbnb and loved it. The one we rented was in Twisp, which was less than a 5-minute drive to downtown Winthrop. It was amazing having such a secluded respite only a 4-5 hour drive from Seattle, so I recommend taking advantage of the surroundings and stay in your own little cabin retreat!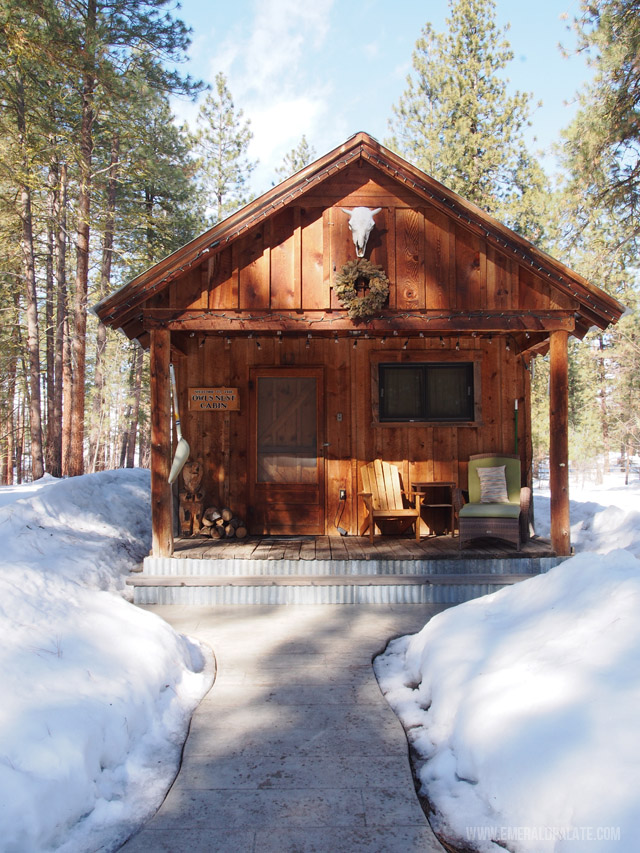 Do Some Cross-Country Skiing and/or Snowshoeing
As I mentioned, Winthrop is apparently home to the largest network of ski trails in the US. There's also a ton of snowshoeing trail options. Methow Trails outlines everything you need, from where to find tickets and rentals to maps of the trails with notes on their difficulty. You can get passes and rentals pretty much anywhere in downtown Winthrop and luckily they're all about the same price. We paid $24 per person for ski passes plus another $24 per person for rentals.
I'm a beginner cross country skier…this was only my second time! So we went on the beginner trail network right by downtown Winthrop. But there are trails to suit all levels.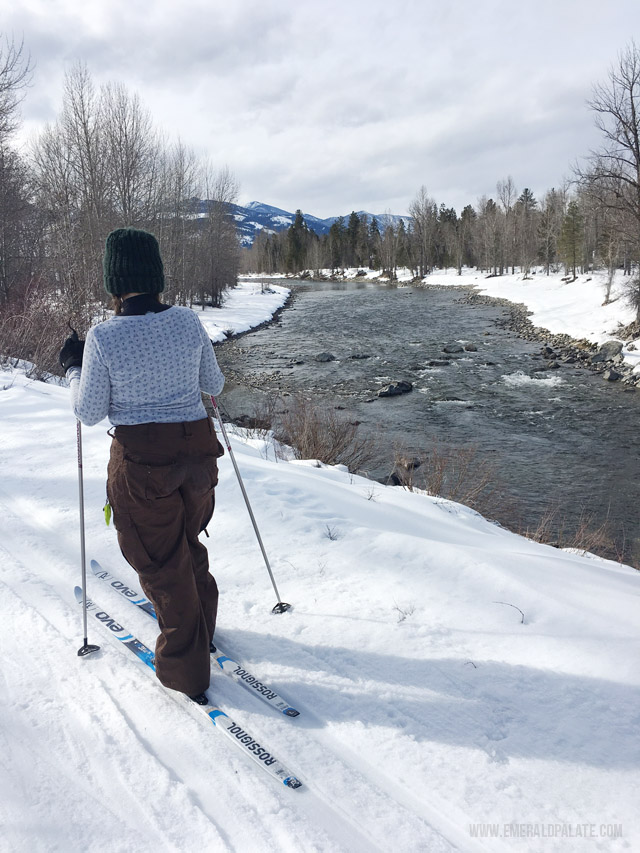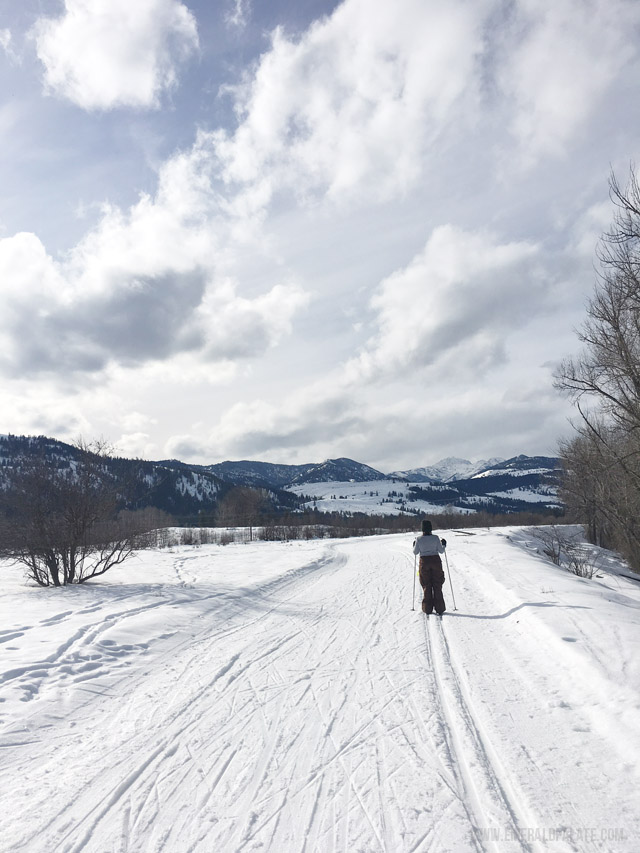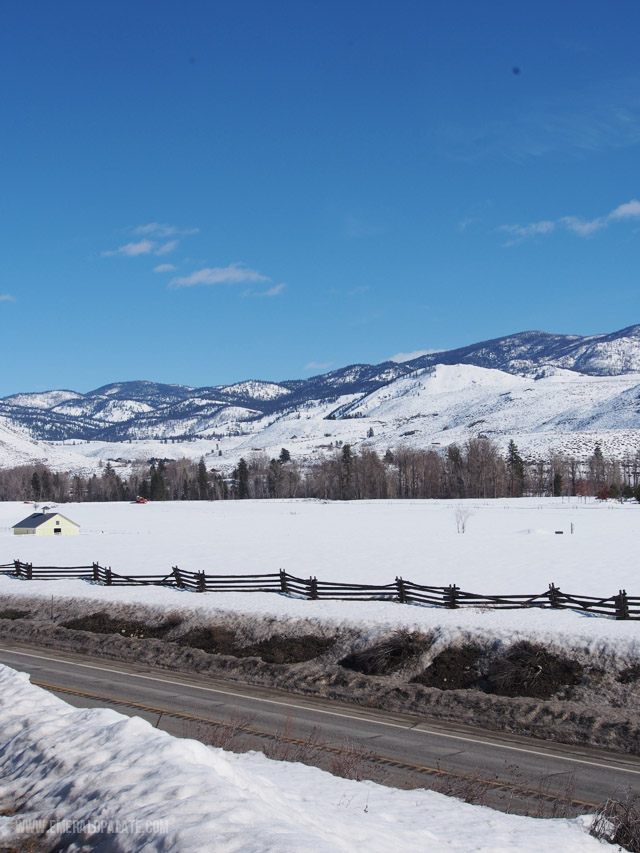 Eat at Arrowleaf Bistro
We wanted to have a romantic meal for our anniversary, so we made a reservation at Arrowleaf Bistro. We'd read this place was good (4.4 stars on Yelp!) and felt validated when our Airbnb host also recommended it.
We got a salad to start, wild nettle risotto, and a grilled pork chop with sweet potato and brussel sprout hash and rosemary applesauce. They also served really awesome poppy seed bread from Winthrop-based Rocking Horse Bakery (which you can pick up to take home when you explore downtown!).
The pork chop was the best dish. It was part of the restaurant's S.O.B. ("son of the butcher") special, which features a rotating meat-focused dish. It was super moist and had that straight-off-the-grill charcoal taste. Mixed with the sweetness of the sweet potato and applesauce, we couldn't get enough of it!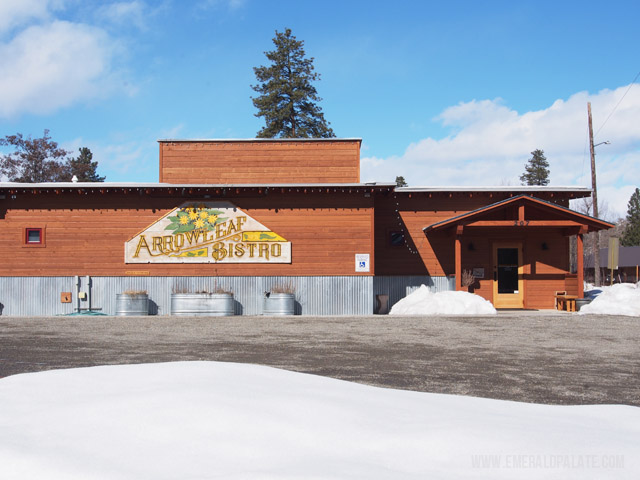 If you'll be in Winthrop, make sure this restaurant is on your list. If you need a more casual place to eat, consider eating at East 20 Pizza. I'll be honest, the service is quite brusque and the crust leaves a lot to be desired. Yet, they make up for it with really interesting topping combos. We got a special with poblano peppers, corn, sour cream, ground beef, feta, and onions. The toppings were SO yummy that we could forgive the crust. Prepare to treat it like a vessel for fun flavors and you won't be disappointed.

Get a Drink at Old Schoolhouse Brewery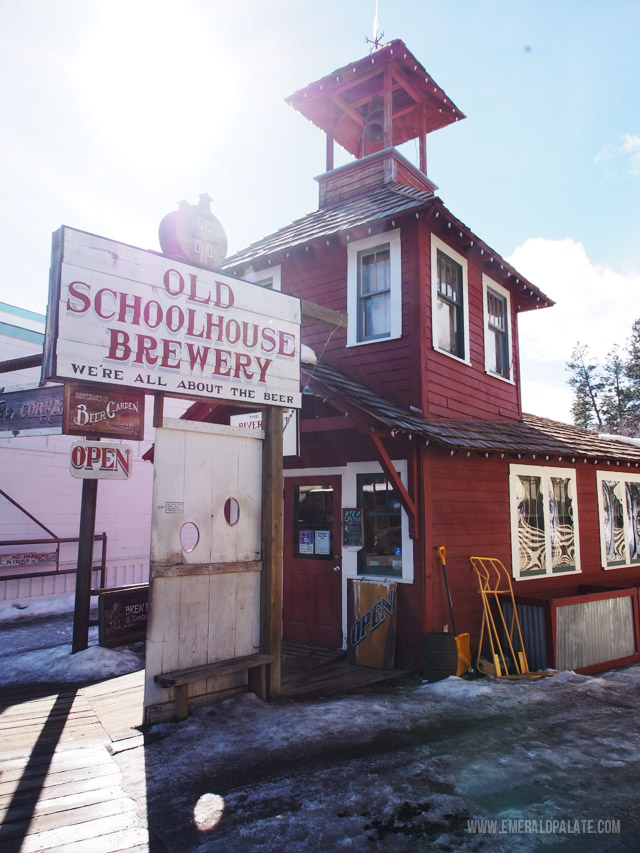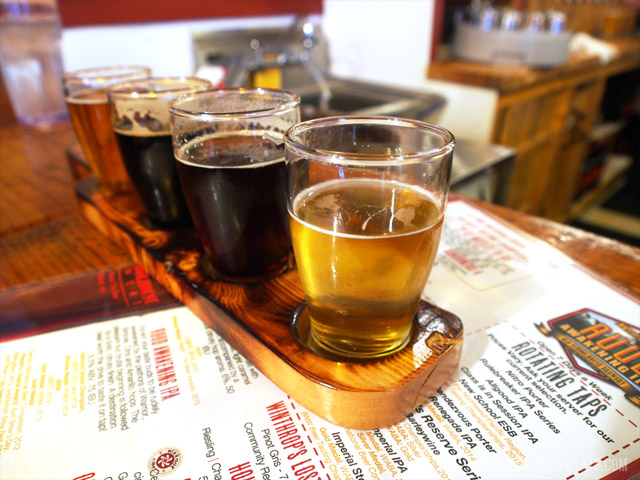 After all your eating and cross-country skiing, you'll likely be thirsty. Consider checking out Old Schoolhouse Brewery. It's right in downtown Winthrop and offers locally brewed beers that you can sample via a 4-beer flight.
I really enjoyed their Double D Blonde Ale and Uncle Big's Brown ale. I was surprised at how much I loved the blonde, especially because they describe it as "engineered for the domestic beer drinker"…a.k.a. Budweiser. As someone who hates Bud, I can tell you this is not like a domestic beer. It's much more complex than the beers Schoolhouse compares it to. Be sure to give it a try!
If beer isn't your thing, there's also Copper Glance across the street from Old Schoolhouse Brewery. We didn't get a chance to check it out, but our Airbnb host said it was the "hidden gem of Winthrop". And given it has 4.5 stars on Yelp, I think others agree!

Explore the Shops in Downtown Winthrop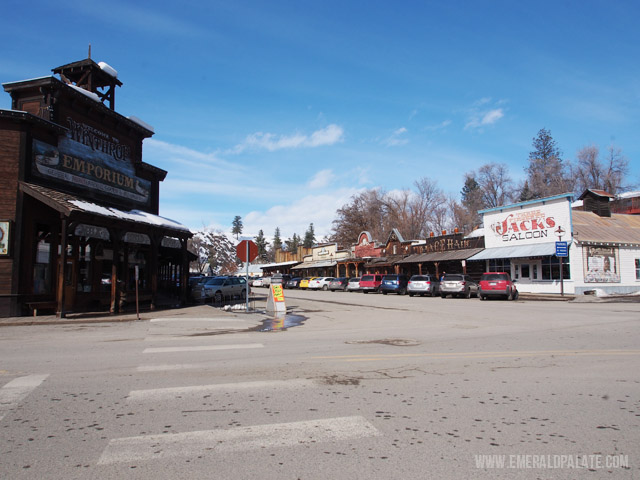 Downtown Winthrop, WA is actually bigger than I thought it'd be. It's not big by any means (you can walk the length of it in 5 minutes), but we drove in from Twisp and thought the restaurants and shops scattered on WA-20 were all there would be.
We spent about an hour exploring the shops in downtown Winthrop. Most of the businesses are restaurants or outdoor gear outfitters, but there were a few cute places we recommend you check out. Gathered is a boutique that curates handmade goods from all over the US, including quite a few from the PNW. Aspen Grove is another carefully-curated shop, but this one focuses more on home and kitchen goods.
Robin's Egg Bleu is also a winner. It's an antique shop a little before downtown Winthrop, next door to Arrowleaf Bistro. It features a great selection of home antiques, everything from furniture to decor.

Take a Side Trip to Lake Chelan for Wine
You guys know I love my wine. And I love it even more when I'm faced with disappointment like not being able to go on a hot air balloon. So we made the 45-minute drive to Lake Chelan on the way back from Winthrop to explore some of our favorite wineries. I wrote a guide to the best wineries in Lake Chelan a few months ago so we wanted to check out some of my favorites.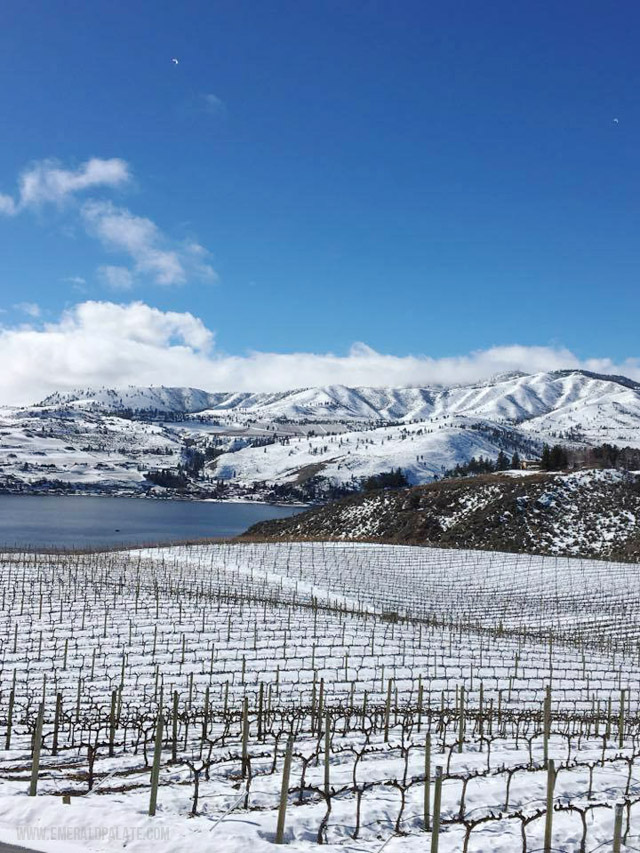 Hard Row to Hoe was the only one open of the few that I wanted to check out. Some wineries take a winter break, so make sure to check hours before arriving. Hard Row to Hoe makes only about 2,000 cases of amazing wine a year, and again I brought home a bottle of their temperanillo.
We also discovered some new places worth checking out, including another winery and a great brunch place. Read more about my recommendations for Lake Chelan in the guide!

Stop in Cashmere for Some Antique Shopping
On the way to and from Winthrop, you'll likely take route 2 and pass through a small town of Cashmere. Right on route 2 are two antique malls across the street from each other: The Antiques Mall at Cashmere and Apple Annie's Antique Gallery.
If you're a serious home decor vintage lover like me, plan to spend at least 2-3 hours exploring these gems. Apple Annie's is huge, with over 70,000 square feet of goods. I literally cackled when we walked in and kept saying, "Sorry babe, but we're exploring every aisle,". We made it, but let me tell you, it started feeling like a slog even for me! Make sure you eat before coming here because you'll need the energy!

We had such a great winter trip to Winthrop, despite not being able to take a hot air balloon ride. If you do the things recommended above, you're guaranteed to have an amazing time on your weekend getaway to Winthrop, WA. Have you been to Winthrop? What are your recommendations? Got questions? Put them below in the comments!

Before you go, why not pin this travel guide?



Disclaimer: This is not a sponsored post. All opinions are honest and were formed after discovering these activities on my own.
Other Articles You Might Like