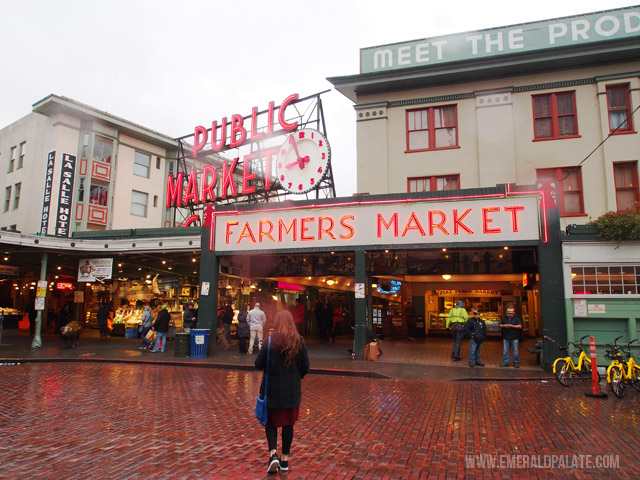 When I moved to Seattle 10 years ago, everyone would tell me to stay away from downtown Seattle. I remembered that when I started working downtown. I'd see the throngs of tourists and think maybe these people were right.
But the longer I worked in downtown Seattle, the more I came to realize just how many amazing hidden gems there are in the neighborhood. You just have to know where to look.
Whether you're doing a quick layover after a cruise, spending the night for a work trip, or looking to book a staycation, I've outlined everything worth doing in downtown Seattle and my tips for exploring the city's center like a local.
When I ask locals where they take visitors or read articles about downtown Seattle travel tips, I noticed that a lot of people highlight things to do in the Capitol Hill and Pioneer Square neighborhoods. Both of these are easily accessible from downtown Seattle, but neither of them technically are downtown Seattle.
I'm not going to recommend things in other neighborhoods (ok, some of my recs are technically in "Belltown", but it's all in the main downtown area). I don't want to assume you have the time or energy to travel between Seattle neighborhoods. And if you do have the energy, there are other neighborhoods I would recommend instead (more on this later).
Second, you might be a Seattle local looking for staycation ideas or traveling on business and wanting something close to your hotel.
So instead, I'm listing out how I would spend my ideal 24 hours in downtown Seattle. These are all places I've gone to countless times, and many of them are places I've had other locals tell me they didn't know existed. I'm also going to give you tips on where to stay and transportation so you can make the most of your trip.

Where to Stay in Downtown Seattle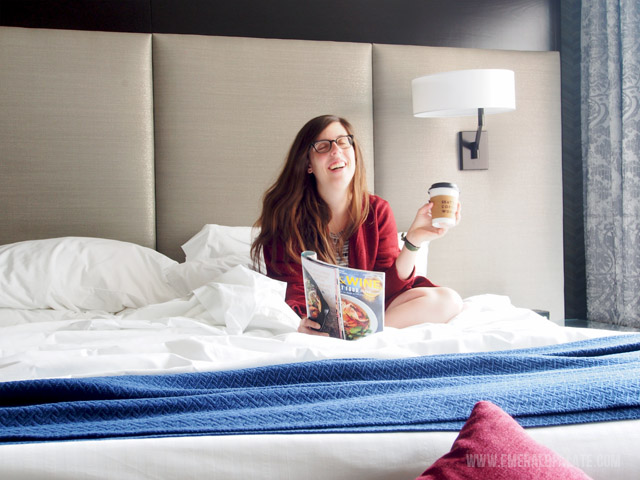 Whenever I travel, I like to stay in off-beat boutique hotels or Airbnbs so that I can get a real sense of the place. I want to experience ambiance unique to that city, not the same ambiance I can experience at any of a hotel's other locations.
One option in downtown Seattle is The Paramount Hotel. The location can't be beat. It's right on Pine Street, a road you can take to walk right into Pike Place Market. My favorite thing about the location is that it's a few blocks off the main commuter, tourist, and shopping areas that get a lot of foot traffic. It's also right on the edge of Capitol Hill, another funky neighborhood worth exploring if you have more time.
The Paramount Hotel invited me to stay the night and I can say a baller location isn't the only thing they have to offer. Each room has it's own personality, designed as if you're in a Brooklyn loft apartment, not a hotel. And the bed. The bed was so comfy! This is something I always look for in reviews because it's difficult to sleep in a new place, especially if you're sleeping on a crappy bed.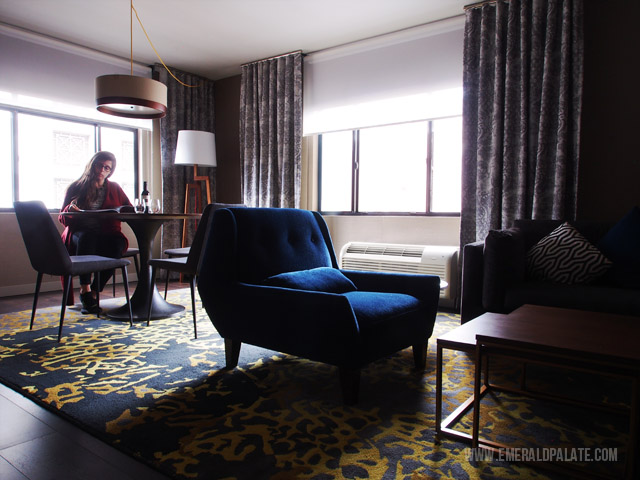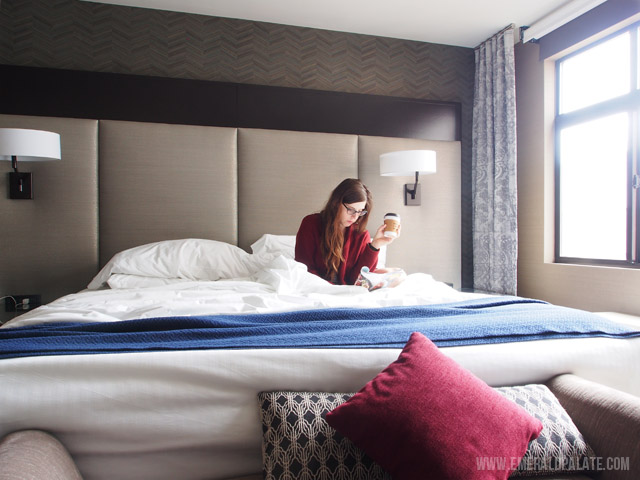 But what made The Paramount Hotel feel like home was the staff. As soon as I walked in, multiple people greeted my warmly. The desk attendant, the elevator attendant…everyone made me feel so welcome. This is one of the most cited reasons people love them on Trip Advisor, which is likely why they are ranked #3 out of all the hotels on there.
Using The Paramount Hotel as my home base, I spent 24 hours revisiting all my favorite places in Seattle to make this guide.

Traveling Around Downtown Seattle
Depending on your physical aptitude, downtown Seattle can be very walkable. From where The Paramount Hotel is on Pine Street, it's one mile in either direction to the Space Needle or Pioneer Square. And you can walk from the Paramount Hotel to Pike Place Market at the water front in less than 1/2 a mile.
I typically walk everywhere, but if it's raining or I'm in a rush, I'll bus. Most of the buses that run along 3rd Ave. make stops all the way from the Space Needle to Pioneer Square. Google will give you the details, but one thing you should know: the 3rd & Pike stop is a congregation point for the city's homeless. They're harmless, but you should know so you aren't surprised by the rowdiness. This used to be my bus stop and nothing ever happened to me, but the homelessness crisis was a big shock to me when I first moved here. If it makes you uncomfortable, just walk to 3rd & Pine or 3rd & Virginia stops a few blocks away to pickup the bus instead.
Besides the bus, you can Uber, Lyft, or pick up one of the bike rentals like Lime Bike parked all over the city. If you do bike, just be careful. Traffic can be brutal during rush hour and a lot of people drive here as if they're oblivious to the people around them.

Your Itinerary for Exploring Downtown Seattle Like a Local
5 pm: Kick off your trip with a drink
After checking into your hotel, it's time to get things started with a drink. Having worked downtown for the majority of my time in Seattle, it was essential to find a place for a drink after work that wasn't overwhelmed with tourists. I've been to a lot of cocktail, beer, and wine bars, but when I think about my top picks, two come to mind.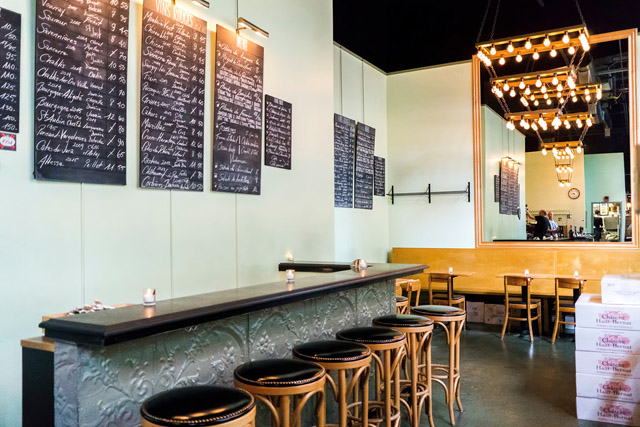 For wine: Go to Le Caviste, which is 2 blocks away from The Paramount Hotel. I almost don't want to tell anyone about this place because it's so magical. It's a small French wine bar created by David Butler, the sommelier of the cult favorite, but closed Le Gourmand.
I remember going to Le Gourmand and always saying to myself, "Who is this guy?" After each course, he'd kneel down at our table and take us on a journey as he relived his days galavanting around France and choosing wines from the little family-owned winery he stumbled across in the so-and-so valley…I was mesmerized at his knowledge. And also jealous as hell. But either way, he immediately proved he knew his French wines.
And that's exactly what you'll find at this place. Le Caviste literally means "the wine shop" in French. You can purchase wines to take home (which I haven't done yet, but a friend told me it's 50% off the retail price), but it's worth going to again and again to just sip on a glass or three.
All the wines by the glass are under $15, most are under $12. Unless you know a ton about French wine regions, you likely won't understand the wine list written on the chalkboard. That's ok. Just tell them what you're craving and they'll give you a wine that you'll most likely love.
If you're feeling peckish, the food here is really good and an amazing value. I'm convinced you can't get a better valued charcuterie plate in the city. We always get the Planche de Beaujalais, which has a variety of meats, spreadable goat cheese, and the most addictive butter. Like literally, I eat the butter! If we're feeling super hungry, we'll get the off-menu steak tartare (you know I have a thing for finding the best steak tartares in Seattle!) and the Poisson de Papillote, fish cooked with butter and potatoes in parchment paper.
For cocktails: Le Caviste and wine are always my top choice, but if I'm in the mood for a cocktail, I always go to Suite 410. It's a small bar making super clean and interesting cocktails.
They have a good happy hour Monday-Fridays from 4:10 pm (heh) to 7 pm, but I typically order the cocktails on the full menu because there's so many yum options to choose from. And the menu is organized by spirit base so you can really hone in on what you like. Or you can let the bartender know your preferences and he'll spin up something just for you.
If you're here and feeling peckish, get the croquettes if they're on the menu. They're oozy and flavorful!

7:30 pm: Eat alongside locals
Dinner is where you always need to be careful. Downtown Seattle has a lot of good restaurants. But it also has a lot of mediocre places catered more toward tourists than locals. But these places are worth seeking out.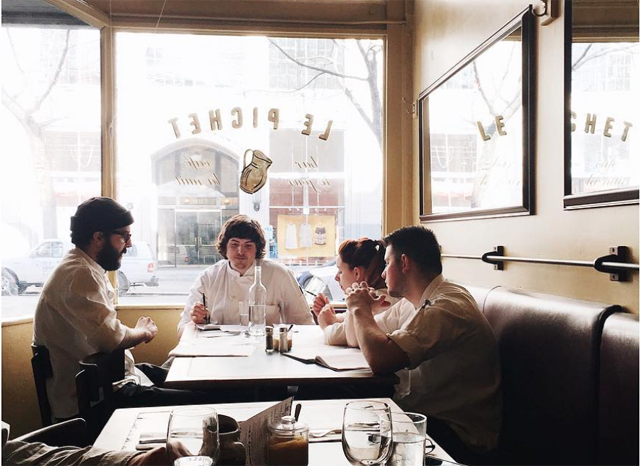 Affordable: When I'm looking for a cozy restaurant that's been open for as long as I've lived in Seattle, I go to Le Pichet. It's near Pike Place Market, but it's off the main drag so it caters to tourists and locals alike. It's another cozy French restaurant that executes classic dishes exceptionally well.
I always recommend immediately ordering the roast chicken for 2 when you sit down. It takes an hour because they're made to order, so this will give you time to get settled and order some appetizers before being served the most juicy and flavorful chicken I've ever had in my life. Their wine list is also pretty good if you came from Le Caviste and want to continue your evening of French indulgence.
Splurge: If you're looking for a place to throw down some cash and not regret it, Sushi Kashiba is that place. It's a high-end sushi restaurant owned by the Seattle legend, Shiro Kashiba. You must go here at some point in your life. And when you do, make sure to get a reservation well in advance.
What makes it so good? Well, Shiro studied under Jiro in Japan, the famous sushi master known around the world thanks to Netflix's distribution of the documentary, Jiro Loves Sushi. This training must have served Shiro well, because he makes incredibly simple and authentic dishes oozing with flavor. You'll find yourself thinking throughout the meal, "How did he make this little piece of egg so. damn. good?!" This is what makes Sushi Kashiba's omakase (chef tasting menu) worth the price tag.
Note, he used to be the head sushi chef at the restaurant Shiro, which is also downtown. He sold his name and no longer is affiliated with that place, so don't get confused if you're looking for Sushi Kashiba. Though if you end up at Shiro, you're having a pretty good evening, because it also doesn't suck. 🙂

9:30 pm: Don't forget dessert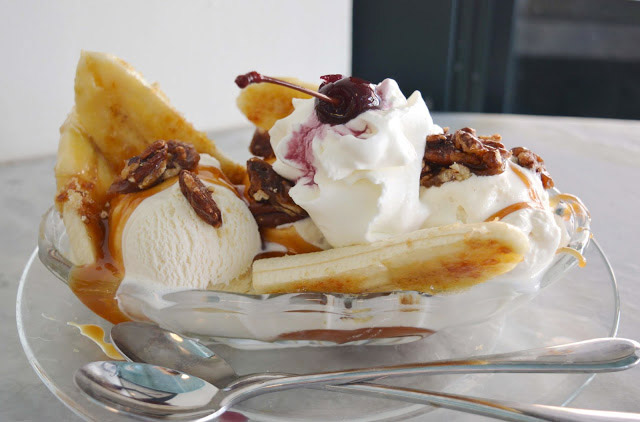 If your stomach can handle something sweet, I recommend skipping dessert at the above places and heading to Shug's Soda Fountain, also near Pike Place Market. It's an old-school-looking ice cream shop serving up classic floats, sundaes, shakes, and malts, featuring ice cream from local Lopez Island Creamery.
There's a lot to look at on the menu, but there's one standout I highly recommend: the Dixie Split. This banana split is what all other banana splits aspire to be. First, the bananas are bruleed, which makes it an immediate winner. But then it's topped with real cherries (not that bright red BS), caramel, candied pecans, and whipped cream. If you want a pro move, sub out the vanilla ice cream with the praline ice cream (I always do).
It's definitely enough to split, so don't go crazy if you're feeling full from your earlier eating adventure!

8 am, Day 2: Head to Pike Place Market early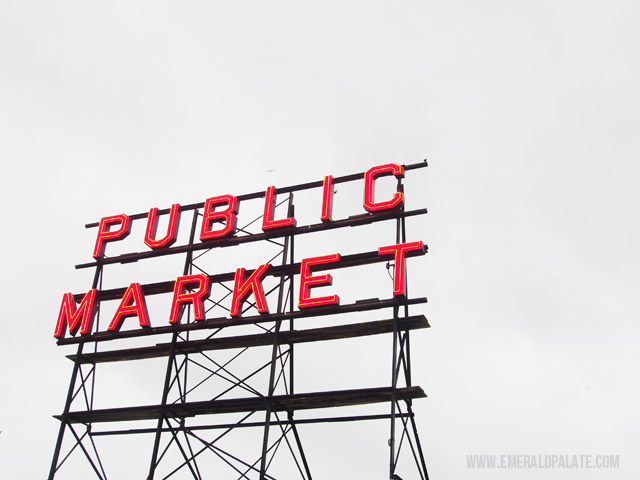 You might be thinking, "Wait, Pike Place Market? Isn't this a guide to experiencing downtown Seattle like a local?" Well, I'll tell you a secret. Most locals would still recommend that you go to Pike Place Market at least once. Maybe more, if they, like me, used to work downtown and know which places are worth going to.
I'm going to write a post dedicated to experiencing Pike Place Market like a local, but here are some tips that will make your trip way more enjoyable:
Go early. I recommend 8 am, particularly if it's the summer. Not all the stalls will be open at that time, but most are usually open by 10 am. I think it's a small price to pay to avoid throngs of tourists bumping into you.
Avoid buying fish. This fish guys are loud and jovial, so it may be hard to avoid stopping for a show. And if you strike up rapport with one of them, it may also be hard to walk away without buying some fish they just threw at each other. I encourage you to keep your money in your wallet and seek out a food store or fish monger if you want to buy fish. They'll be offering the same, if not better, quality fish at a fraction of the cost.
Avoid buying flowers. I also recommend avoiding the flowers, but for different reasons. You'll likely not find cheaper flowers elsewhere, unless you're at another farmer's market in the city. That should be a red flag. Flowers sold that cheap are typically not the best quality. And every time I've gone to Pike Place Market, I see flowers that are out of season. I've bought some before because they're big and beautiful bouquets, but every time I did they died within a few days. I say avoid the flowers and instead spend your money on souvenirs that will last forever.
Get legitimate Seattle coffee. Please. It breaks my heart to see people lined up outside the Starbucks in Pike Place Market. They were told Starbucks is representative of Seattle coffee because it started here. They were also told that it's the first Starbucks. Both of these aren't true (the original Starbucks moved from it's original location to here in the late 70s). Luckily there is awesome Seattle coffee right across the street from the market: Seattle Coffee Works. I interviewed the owners for my self-guided food tour and can tell you they're the real deal. I have a friend from New York who orders their beans monthly because he can't find coffee he likes better. They have a slow bar that takes you through coffee tastings made using more time-consuming methods. All-in-all, this is what real Seattle coffee is. Please go here instead!
It's not worth waiting in line at Beecher's Cheese. If no one is at Beecher's,
by all means please go in and enjoy some cheese. It's not that their cheese is bad! It's just that you can get it at any food store in Seattle, so waiting in line here is a waste of time.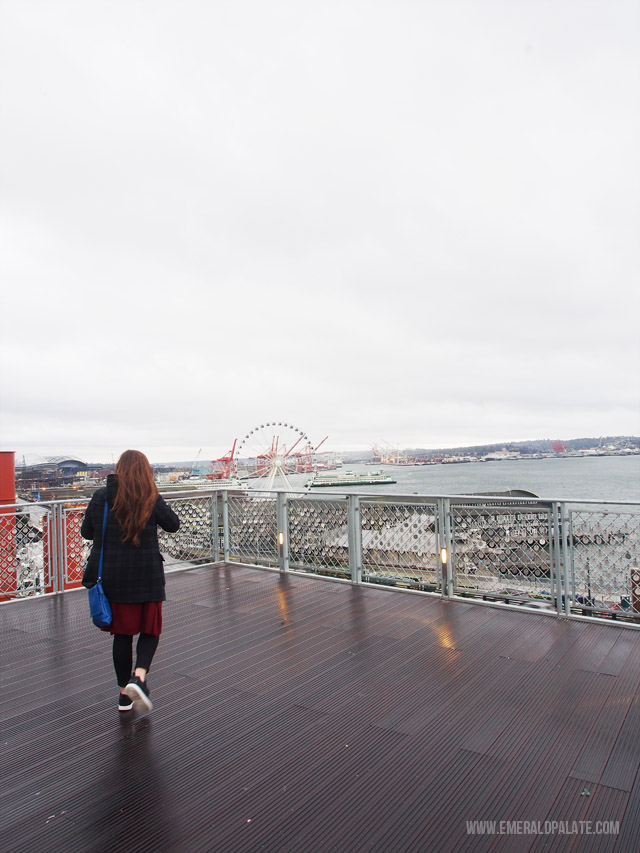 Another key component to exploring Pike Place Market like a local is knowing which shops are worth seeking out and eating at. I encourage you to walk around and check out all the stalls, but here are some places I recommend not missing.
10 am: Get brunch at a Seattle institution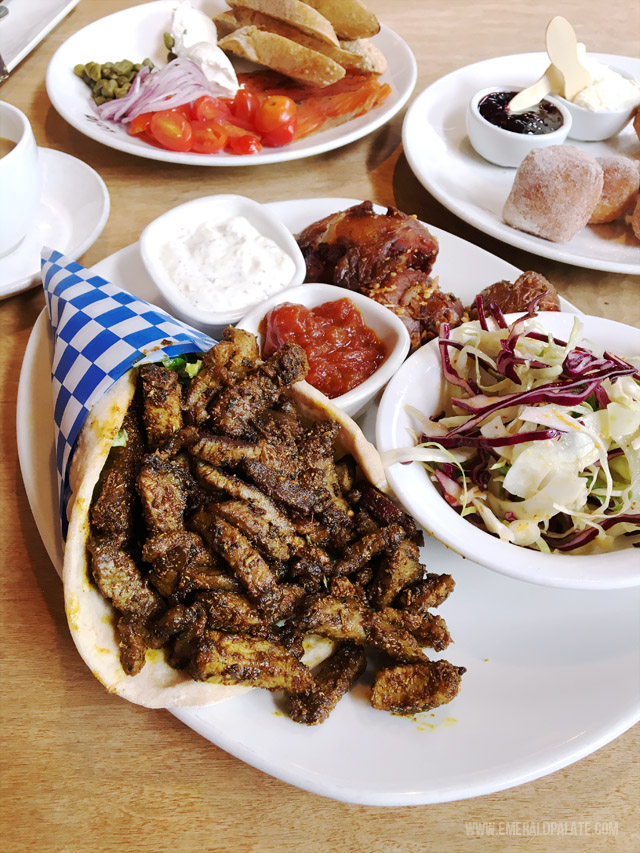 Hopefully you didn't eat too much at Pike Place Market, because there's some seriously good brunch places downtown. One of my absolute favorites is Lola. It's owned by a chef you might have heard of: Tom Douglas. It's a Mediterranean-inspired place that serves breakfast, lunch, and dinner. But I always go for the brunch.
That's because they have these addictive handmade doughnuts (it's a vacation, you're allowed to eat doughnuts twice in a day!). They serve them to you table side in a bag that they shake up before pouring out on a plate alongside marscapone and jam. They're pillowy and sugary, and good both on their own and with the accoutrements. They're the perfect appetizer to one of their other amazing dishes, like the house-cured smoked salmon plate or lamb shawarma.
If you can't get a reservation at Lola (which you should really try to do), some other great brunch places in Seattle are Local 360 or Tilikum Place Cafe. Local 360 sources most of its ingredients from within 360 miles of Seattle and their brunch is southern. Tilikum Place (which is basically across the street from The Space Needle) is more of a French cafe, with yummy dutch babies and limited tables. Definitely make a reservation at the latter.

11:30 am: Pick up a treat for the road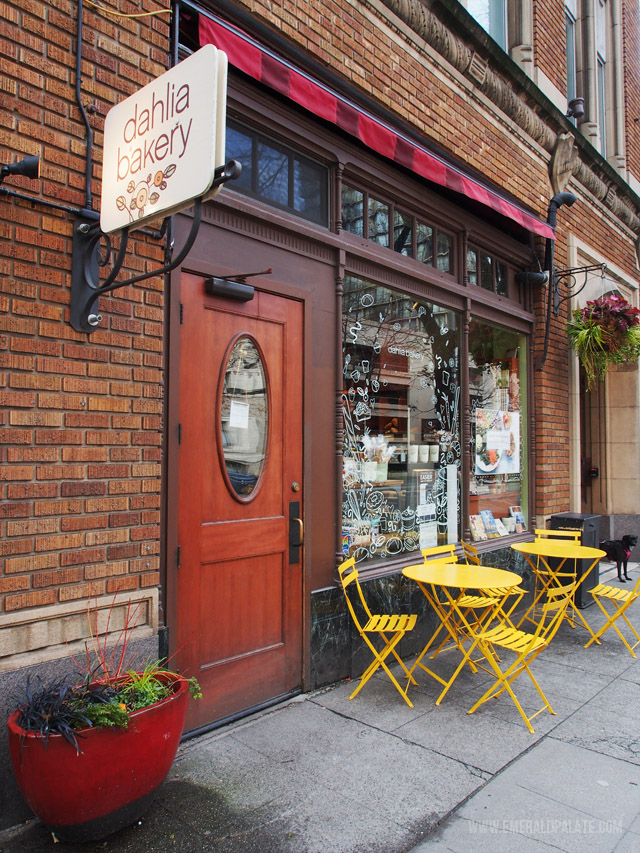 If you go to Lola, another foodie gem is right across the street: Dahlia Bakery. It also happens to be another Tom Douglas establishment. I used to come here weekly for lunch and can tell you they make a killer tomato soup and turkey BLT. But what you can absolutely not miss here is the peanut butter cookie. Hell, even if you don't go to Lola, you must promise me to come here and get a cookie or five for the road.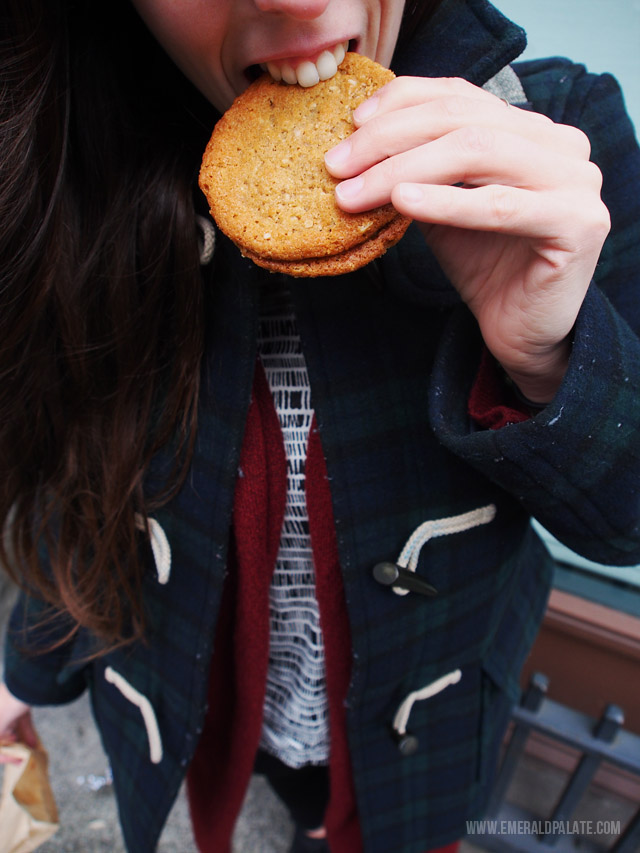 These cookies. I can't even describe. It's basically a peanut butter cookie sandwich. There's two thin cookies with peanut butter wedged in the middle. I'm not exactly sure how they infuse so much peanut butter flavor in here. A lot of times peanut butter cookies are thicker, crumblier, and subtler. But not these. They are border-line soft and don't crumble. I remember taking this photo and literally drooling as it was dangling in my mouth. I'm drooling right now, actually. Basically, don't miss this place.

11:45 am: Explore downtown Seattle by foot, making stops along the way
You've probably eaten your body weight by now, amiright? It's time to walk it off. Meander your way around downtown Seattle, stopping in local shops as you discover them.
I highly recommend avoiding the areas along Pike and Pine Street between 3rd and 7th Avenue. This is the high street shopping area of downtown Seattle. If there are stores there that you can't get home, by all means stop in, but I always recommend trying to find the places you can't get anywhere else.
If you're facing west toward the waterfront and Pike Place Market, heading left goes toward Pioneer Square. To your right goes deeper into downtown Seattle and the neighboring Belltown (which is basically downtown). There are some great shops toward the left, some of which I've listed below. But I typically walk to the right toward the Space Needle along 1st and 2nd Avenue because it leads to an awesome park and trail (more on that later). Whatever you choose, here are some stores to pop in along the way.
2 pm: Take in views of the Puget Sound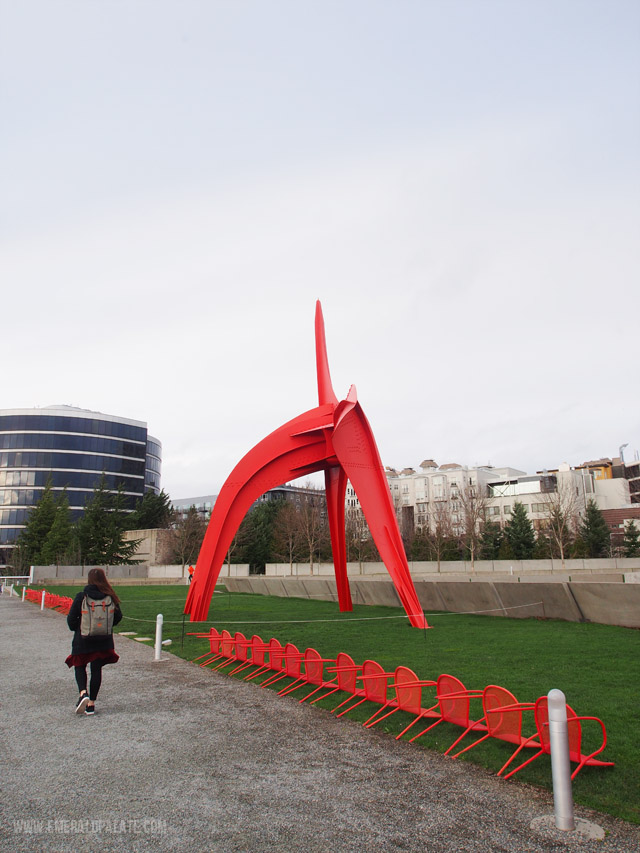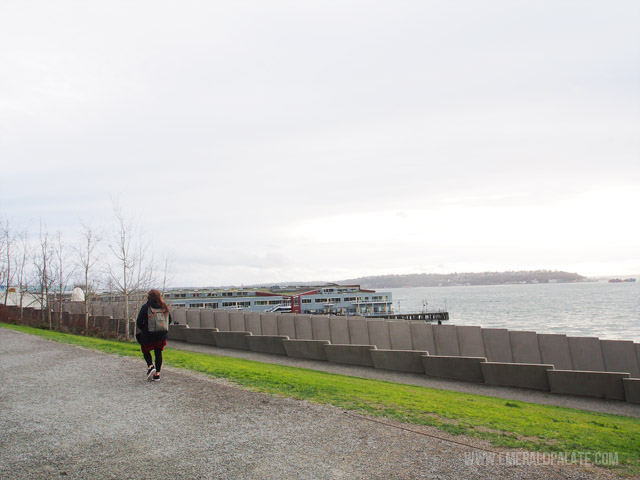 This is the park and trail I referenced above. Near the Space Needle is the SAM Sculpture Park and Elliott Bay Trail. This is a free park and trail that lets you enjoy beautiful views of the Puget Sound alongside funky sculptures. You can easily bus here from the heart of downtown, as it's about a mile away from Pike Place Market.

4 pm: Grab a cocktail with gun powder in it
You need a drink after all that walking, right? Head to Rob Roy, a cocktail bar often featured on the "best of the US" lists.
You might have noticed that I reference a drink with gun powder in it. This isn't a joke. There is in fact a drink with gun powder in it. Real gun powder. The type you put in a gun. It's super weird, but also safe. You should try it, as I featured it in my roundup of the best cocktails in Seattle. But even if you don't get this drink, there's a lot of other great ones to choose from.

5:30 pm: Grab a quick dinner before heading out
Okay, my itinerary takes you to 25 hours. But you gotta eat before you head out! One of my favorite places to grab a quick bite that doesn't make me feel like a slob is FOB Poke Bar. The poke craze has hit Seattle and I don't hate it. In fact, I'm in the process of writing a roundup of the best poke places in Seattle. This one is at the top of my list.
If you haven't been to a poke bar, a lot of them are like Chipotle: you go to the counter and choose what you want in the bowl. I particularly love that because I'm not a fan of the things usually found in traditional poke bowls (seaweed salads, fake crab meat). So I go ham on less traditional toppings that I think should be the new classic. For example, mango and corn. These are amazing on salmon poke. Especially when paired with a half and half sauce mix of the FOB poke sauce and wasabi aioli.
The best part? You can easily take this to go and eat it on the way to the airport if you need to.

What about all those Seattle tourist attractions?
If you Google "Seattle tourist attractions", a lot of things will come up, such as the Space Needle, Underground Tour, or Duck Tour. I typically don't recommend going to these types of things. I just don't think they give you a sense of what a city is really about. For example, a big draw of the Duck Tour is going out on Lake Union. If you want to do that, why not rent a kayak or canoe for less money and spend a few hours exploring the lake and snooping in on the house boats like a local (trust me, the house boat owners are used to it)?
However, there are some places that are more "touristy" that I might recommend. I say might, because it really depends what you're into. For example, I personally don't really like museums. It's something I've long resented about myself because I feel like I should love museums, but I generally don't. However, I know a lot of people love museums and there are some decent ones in downtown Seattle. Also, you might be traveling with kids and need something to do with them besides eating and shopping.
So here are some of the downtown Seattle tourist attractions to consider. These wouldn't be my top choices of things to do, but I also recognize some people want to do more than eating and shopping when they visit a city. 🙂
And ok, the Underground Tour isn't terrible if you really want to do it. 🙂

Have more time in Seattle?
Whenever anyone asks me where to visit in Seattle, I always recommend the Ballard neighborhood. It's off the beaten path enough that it's not overrun with tourists, but it's still in Seattle proper and easy to get to from downtown. Plus, all my favorite restaurants are there.
You can download my self-guided food tour of Seattle, Ballard here. It has 43 pages filled with my favorite restaurants, dishes to get, what to do between eats, and interviews with the people behind this charming Seattle neighborhood.
If you plan to tack it on to your trip, you can rent a bike and ride from downtown Seattle to Ballard along the Elliott Bay Trail I referenced. I used to walk home from work on this trail and it's such a great way to experience Seattle' diverse waterfront views!

Whew, and that's a wrap! An itinerary for how I'd spend 24 hours in downtown Seattle. Are there other recommendations you have for exploring Seattle like a local? If so, comment below!

Pin This Travel Guide for Later


Image Credits: Le Caviste, Le Pichet, Shug's Soda Fountain 1, Shug's Soda Fountain 2
Disclaimer: I was provided a one-night stay for free at The Paramount Hotel in exchange for this article. All opinions are my own and I'd never work with a brand that isn't one I'd try on my own! Thank you for supporting the businesses that support me and make this blog possible!
Other Articles You Might Like