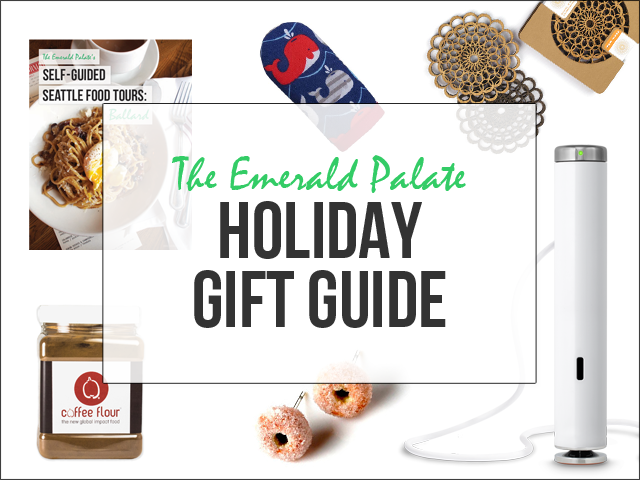 I've been scouring all the Seattle-area holiday craft fairs to get gifts for my family…and ok, myself too. The stands I always find myself gravitating toward are the ones with artisanal food goods.
Maybe it's the samples, but I think it's also the fact that the majority of my family is really into food. My dad literally asks for gift certificates to artisanal food stores every year. And nothing makes my mom happier than when I stick locally-made salted caramels in her stocking.
Food is a universal language we all understand, so it makes the best gift for anyone on your list. Male, female, old, or young, everyone appreciates getting a taste of something new, especially if it's not something they'd buy on their own. So here's my Pacific Northwest-sourced holiday gift guide featuring gift ideas for foodies.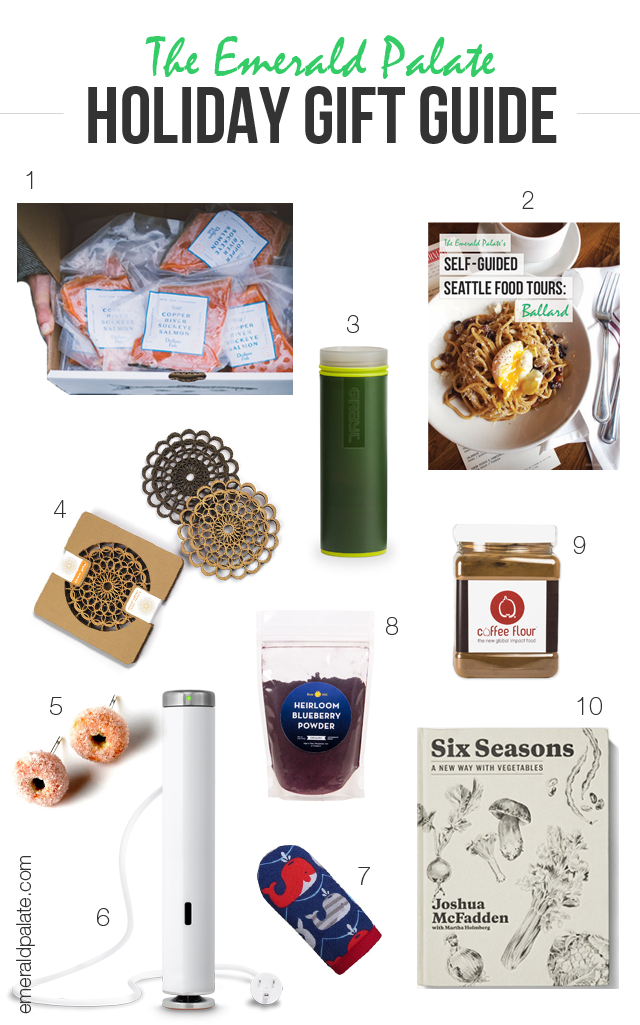 1. Salmon CSF gift box by Drifter's Salmon – $180
The concept is simple and delicious. Husband-and-wife fisher(wo)men duo, Michael and Nelly Hand, go fishing in Alaska on their boat every summer. They then hand deliver 5, 10, or 20-pounds of flash-frozen Copper River sockeye salmon packaged in 6 oz. portions. CSA lovers will get a kick out of supporting a community supported fishery (CSF) and think of you every time they enjoy some of their salmon.

2. Self-guided food tour – $7.95
I absolutely love experience gifts, so I couldn't do a gift guide without suggesting at least one. You can treat a loved one to a day of being a tourist in your own city with this self-guided food tour of Ballard. It will take you through a 3-hour itinerary for exploring my favorite restaurants, bars, and coffee shops in what I consider the best neighborhood in Seattle. This is an especially good gift for out-of-town loved ones…especially if you pair it with a gift certificate to come visit you!

3. Water-purifying water bottle by GRAYL – $59.50
The food forager, outdoor enthusiast, and travelers in your life will love this purifying water bottle that lets them turn water from anywhere into safe drinking water.

4. Laser cut trivet by Five Ply Designs – $48
I picked the coaster version of these up for my brother-in-law last year and he loved them. These 8″, heat proof and water resistant trivets are made from a composite wood core with American white oak wood on one side and recycled natural wool felt on the other. The wood is sealed with a LOW-VOC natural oil and the 75% recycled felt (75%wool, 25% carpet scraps) is raw and unfinished.

5. Doughnut earrings by Mancornas – $9.99
Joe Fiorillo of Mancornas is a full-time crafter with his wife and three dogs. He makes whimsical tie clips, cuff links, and earrings bound to make anyone smile. For example, these doughnut earrings are perfect for just about anyone (because we all like doughnuts, right?).

6. Joule sous vide by Chef Steps – $199
This smart phone-powered sous vide is made for the masses. It cooks food low and slow, so it has street cred with kitchen experts. But it's easy enough to use and slim-bodied so even novices can find a use (and place) for it.

7. Cast iron oven mitt by Collisionware – $7
These cute oven mitts always appear at the Urban Craft Uprising and I always stop to explore the fun, whimsical patterns. My boyfriend bought me buffalo check ones last year and I just bought myself this exact oven mitt to go over my cast iron skillets. They make a cute stocking stuff or hostess gift!

8. Blueberry powder by Bow Hill Farms – $18
I discovered this at the King Street Market this past weekend and was this close to getting it for myself. I've never seen it before, which automatically makes it an interesting gift in my book. It's powdered blueberries the creative cook in your life will love playing around with and adding to smoothies, baked goods, vinaigrettes, and more.

9. Coffee flour – $18
You might remember my interview with the founders of CoffeeFlour last year outlining how coffee flour is the new super food that's going to take the world by storm. It's now available in consumable sizes, so get this for the chef in your life so they can say they tried it before anyone else did.

10. Six Seasons cookbook by Josh McFadden – $35
I purchased this cookbook by the chef of Ava Gene's in Portland last year and absolutely love it (seriously, make the pickled cherry and snap pea salad). All cooks no matter how picky or experienced they are will love this one. And you can support two local gems with one purchase by buying your copy at The Book Larder, a community cookbook store that has fabulous events and cooking classes (I volunteer regularly, come say hi!). Pair this book with one of their cooking classes for an extra special gift.

Looking for more? Check out my Pinterest, Valentine's Day gift guide (lots of thoughtful ideas here), and past years' gift guides for more ideas!

Other Articles You Might Like