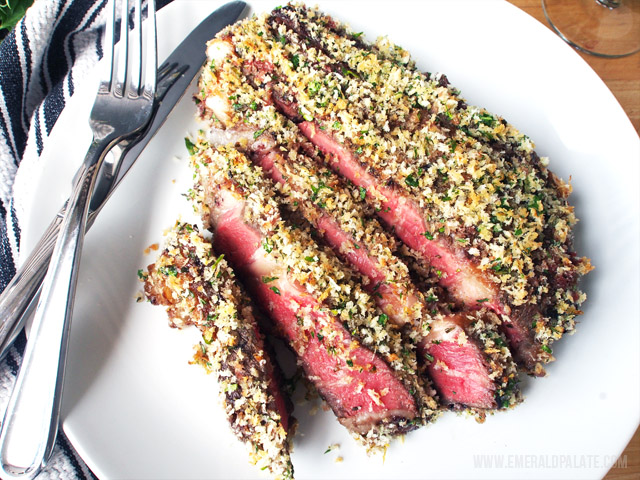 I'm always looking for an easy steak recipe. It's not for meal planning purposes or inspiration. Rather, I'm reading up on cooking methods and looking for themes in how to cook the perfect steak. I do this because…confession…I haven't always been the best at cooking steak indoors.
I used to avoid cooking steak because it always turned out more gray than caramelized brown. It's taken a lot of practice, but I'm finally comfortable making steak on the stove. What was once an "eat-it-when-others-make-it" situation is now an "eat-whenever-the-mood-strikes" situation. And the mood struck hard a few weeks ago when I was thinking about recipes I could potentially make for Easter dinner.
Knowing I still have a rosemary plant going strong from last summer (I know, WTF, right?!), I developed this recipe. It's super easy and flavorful, with herbaceous and sweet flavors filling up your home and palate. Read on for the recipe, tips on cooking steak, and wine pairing suggestions.
How to Make the Perfect Steak
The trick to making the perfect steak is 1) temperature and 2) buying the right cut. In regards to number 1, you need a cast iron skillet that is super hot before you even put the steak on. I usually let my cast iron heat up for about 5 minutes before putting in vegetable oil (which has a higher smoke point than extra virgin olive oil) and my steak.
You should hear violent sizzling as soon as the steak touches the pan. If you want to make sure the pan gets hot, I suggest heating it in the oven first and then cooking it on the stove. This helps save time too because if your steak is more than 1″ thick, you should be cooking it both in the oven and stove top. While reverse-sear is a thing, I usually sear first and finish in the oven. And you'll want to use this method for this recipe since you need to finish it in the oven with a crust.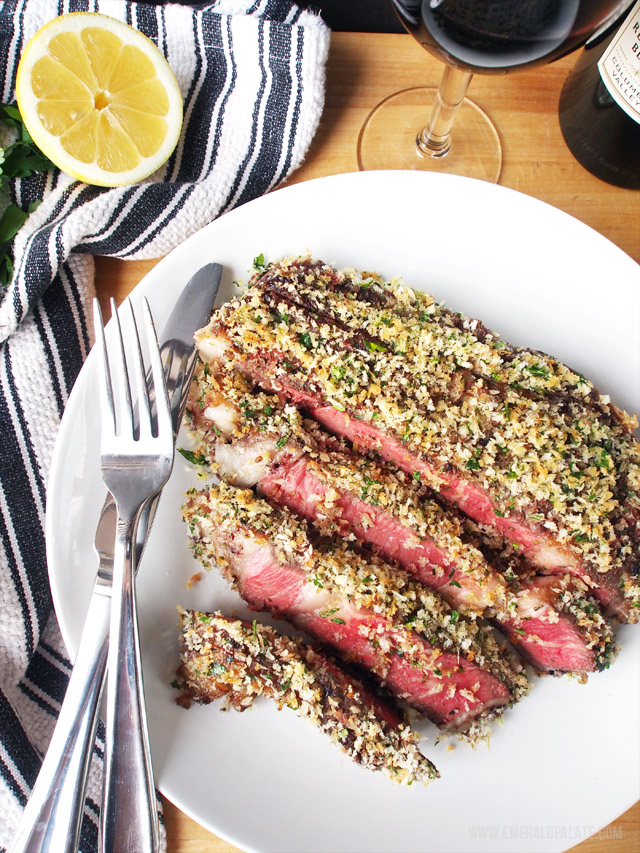 The second tip for making a great steak is choosing the right cut. You want to avoid cuts that are fibrous and take a while to break down (think stew meats or brisket). I also tend to prefer meats with higher fat content and the bone so that it has the most steak-y flavor possible. Rib-eye steaks are my first choice, followed by cuts like New York strip, prime rib, or T-bones.
While these two tricks are the most important in my opinion, there's a few other things to keep in mind when cooking a great steak. First, make sure you pat the steak dry before putting it in the skillet. I usually let it sit at room temperature for a while instead of taking it right out of the fridge, though I've heard mixed recommendations on whether or not this is actually needed. Oh well, habit be habit.
But the last thing is SALT. Seriously…add more salt than you think. This is what will really punch up the beefy flavor and take your steak from good to great. You should salt it right before you put it in the pan, as you don't want the steak sitting in salt and leeching water (since salt draws out water).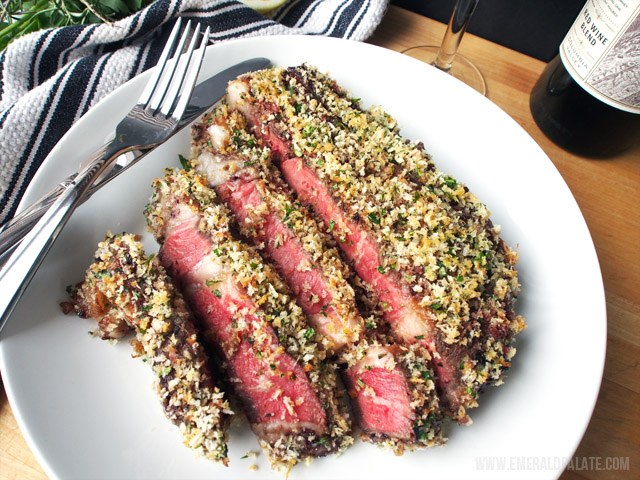 What does this easy steak recipe taste like?
Rib eye is one of the best cuts of meat our there. It's fatty, but not in that, "Ew, why is there all these fat caps I can't chew?" way. Rather, the fattiness flavors the meat so that when you bite into it you can't help but softly moan. It's the cut that epitomizes what steak is supposed to taste like.
This fattiness pairs so well with the sweetness of the jam. But all that fat definitely needs some acid. The zing from the lemon zest and herbaceous hit from the rosemary make this dish feel a bit lighter. The garlic gives it a more complex depth of flavor while the panko gives it this irresistible crunch.
This is hands down one of the best steaks I've ever cooked. Rib eye is super forgiving because of the fat content, so if you are inconsistent or new to cooking steak indoors, I highly recommend trying this easy steak recipe!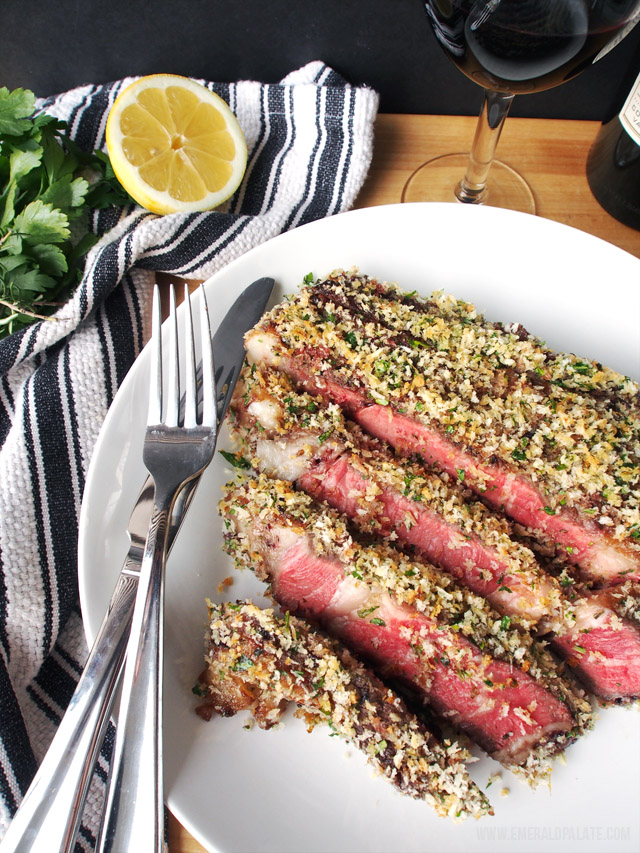 What type of wine does this pair best with?
Steak and red wine is a classic pairing, but not any red will do. You want a full-bodied and deep flavored red that will stand up to the fat content in steak. Lighter and acidic reds can get washed out or muddle that classic steak flavor.
I chose Mullan Cellar Road's 2013 red blend ($48), a 90-point red made with grapes from the Seven Hills area of Walla Walla, WA. This bold Bordeaux-style blend is predominantly cabernet sauvignon and merlot, with some cabernet franc and malbec rounding it out.
By itself this wine has a big, oaky flavor profile. It smells slightly jammy, but not too sweet. Once you taste it, you'll start tasting pepper notes. But as it lingers on your palate the taste of blackberry and vanilla will stay with you.
What tasted like vanilla to me was described as "potpourri" by the winery. But when I think of potpourri, I think more floral. There was possibly some hints of dried florals and fruit, but blackberry and vanilla was what really stuck out to me. And I found it gets more vanilla-y over the next couple of days, which made the flavor change but still excellent to drink.
When paired with this easy steak recipe, the wine becomes less vanilla-y and a bit more acidic. It makes the steak taste less sweet and brings forward that fatty steak flavor all us carnivores have been conditioned to crave.
And you know what's pretty cool? I developed this easy steak recipe before reading the winery's tasting notes on the website. They recommend pairing this wine with a rib-eye steak. BOOM. I win.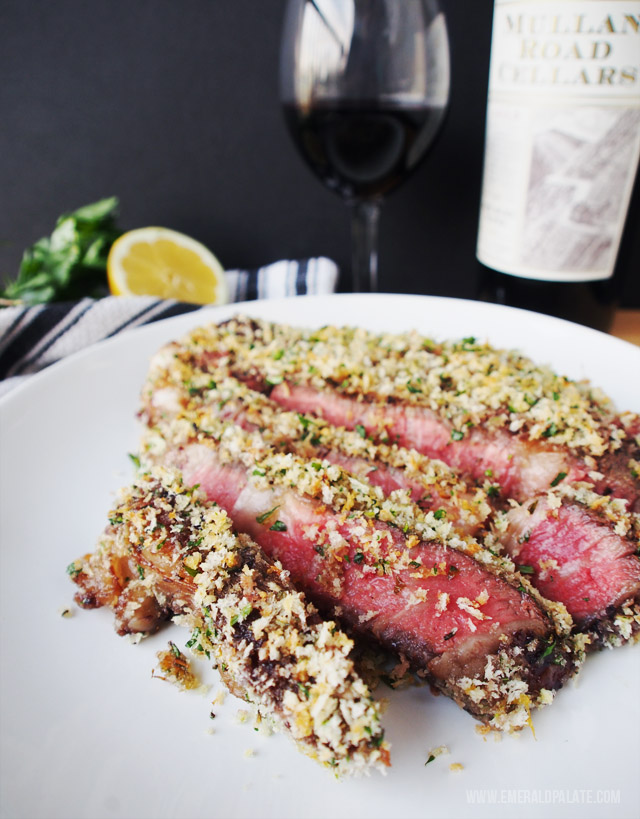 About Mullan Road Cellars
Mullan Road Cellars is located in Walla Walla, WA and is owned by Dennis Cakebread, a veteran of Napa Valley. You might of heard of his family's well-known winery, Cakebread Cellars. He wanted to stay within the family business, but make his own mark. He looked for an area that was known for quality wine and a community of vineyards that worked together to honor the viticultural land. He found that in Walla Walla in 2010.
He recruited Washington-raised winemaker, Aryn Morell. Aryn started out in chemical engineering, but a trip to Napa Valley convinced him he needed to apply his skills to winemaking. He makes all of Mullan Road Cellar's Bordeaux-style wines. The grapes come from one of three vineyards: Seven Hills Vineyard, Lawrence Vineyard, or Stillwater Creek Vineyard.

The Recipe
Serves 2 | Active 25 minutes (inc. ingredient prep) | 40 minutes total
Ingredients:
~1.25 lbs. ribeye steak, bone in (about 1.5″ thick)
1 Tbsp. vegetable oil
1.5 tsp salt
Some fresh ground pepper
1 C panko breadcrumbs
1 heaping Tbsp. of fresh rosemary sprigs, minced
1 clove garlic, minced
1/3 C tightly packed parsley leaves, finely chopped
1 tsp. lemon zest
3 Tbsp. extra virgin olive oil
3 Tbsp. grape jam (I used Sweet Caroline's rummy spiced concord grape)
1 tsp. dijon mustard
Directions:
Preheat the oven to 400°F.
Heat the vegetable oil in a large skillet over medium-high heat. While it heats up, season the steak generously with about 3/4 tsp. of salt and some grinds of black pepper.
When the skillet is very hot, place the meat in the skillet and cook until browned, about 2-3 minutes per side. Remove from heat and set on a cookie sheet or roasting pan (I covered mine with foil for easy clean up).
Meanwhile, combine the panko, rosemary, parsley, lemon zest, 1/2 tsp. salt, and a few grinds of pepper in a bowl. In a separate bowl combine the mustard and jam.
Rub the mustard-jam mixture all over the meat with a pastry brush. Press the breadcrumb mixture into the meat on both sides. Roast in oven until the temperature reads 130-135F for medium-rare to medium, about 8 minutes.
Remove from heat and let rest for about 10 minutes.
Slice meat against the grain and enjoy! It pairs well with asparagus and mashed potatoes.

Nutritional Information Per Serving:
Calories: 620 | Calories from fat: 396 | Fat: 45g | Saturated fat: 14.3g | Cholesterol: 100mg | Sodium: 1041mg | Carbs: 29g | Fiber: 2g | Sugars: 10g | Protein: 18g


Pin This Recipe For Later



Disclaimer: I am not a registered nutritionist and therefore these numbers are approximate. I researched the serving sizes and facts for each ingredient in this recipe (mostly using the manufacturer labels and this site), but slight variations in things like seasoning, garnishes, and substitutions can change the nutritional information. Use this information only as a general indication of your nutritional intake.

Also, Mullan Road Cellars provided me with a bottle of wine in exchange for a recipe pairing post if I enjoyed it. The recipe and opinions are my own. Thank you for supporting the brands that make The Emerald Palate possible!

Other Articles You Might Like