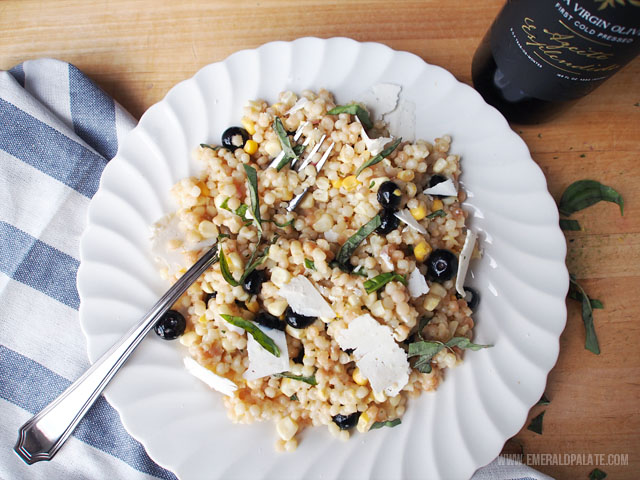 Blueberry season is among us! Every year I like to go blueberry picking at Mercer Slough in Bellevue, Washington. My family goes complete ham and comes home with pounds and pounds of blueberries. A lot of them end up in my morning smoothies, but I like to reserve some for no or minimally-cooked dishes during the dog days of summer.
Enter this Israeli couscous salad recipe. When mixed with corn and high-quality extra virgin olive oil, the blueberries add a glorious burst of juice and sweetness to an otherwise savory dish.
Read on for an easy salad recipe that's about to become your new summer staple.
All good salad dressings start with a good oil base. This one calls for extra virgin olive oil, and I partnered with local Seattle company, Esplendido Douro, to make sure I had the good stuff.
They sent me their new harvest olive oil, Azeite Esplendido ($25 for 500 mL). It's from a single estate in the historic Tras-os-Montes region of the Douro Valley in Portugal. And you know it's good because it won first place in the New York International Olive Oil Competition.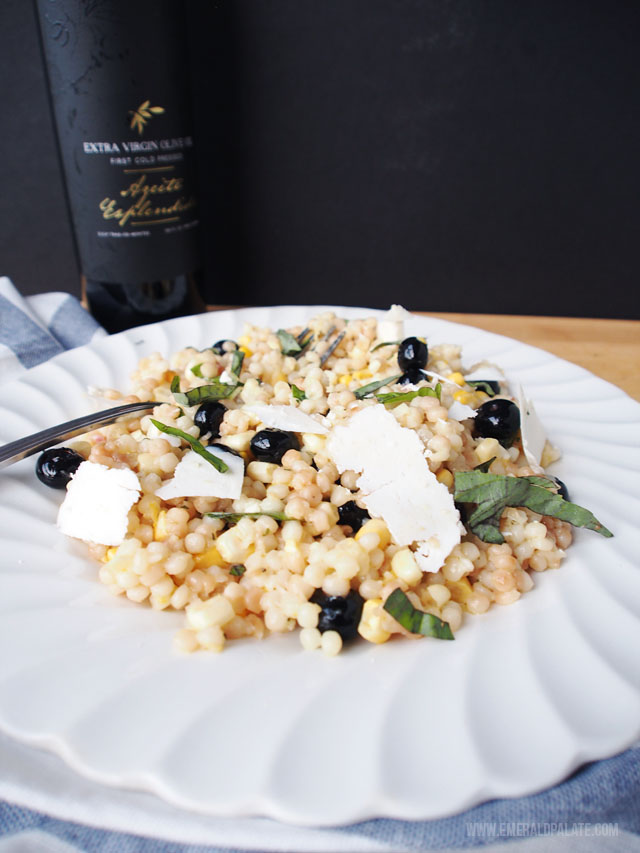 Founder Sheila Fitzgerald has a 10-year exclusive contract to import olive oil from Henrique
Cardoso, a producer located in the Tras-os-Montes region of Portugal. This area is one of Portugal's six Protected Designation of Origin zones, which requires certain standards when it comes to olive oil harvesting and processing.
Cardoso's olives are grown without pesticides, picked by hand, and cold-pressed within 12 hours. Every time olive oil hits the air, it changes chemistry, so olive oil needs to be bottled immediately to preserve its freshness.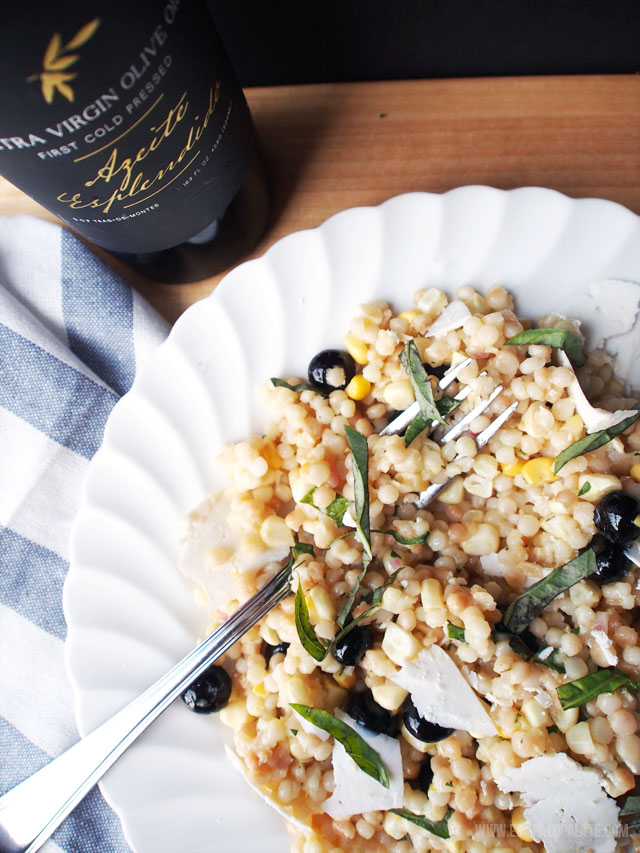 I absolutely love the story of how Esplendido Douro got its start. It took Fitzgerald four years to bring the olive oil to the States. She met her now business partner, Portugese native Jorge Caeiro, while hiking a coastal trail in northern Portugal. Along the trail, Fitzgerald and Caeiro were invited by a local olive producer, Cardoso, for lunch, where Fitzgerald first tasted his olive oil. She knew instantly she had to bring it Stateside.
It took a while to convince Cardoso to work with her, but Fitzgerald eventually prevailed. After an extended process gaining FDA approval, the first shipment of Azeite Esplendido arrived to Seattle in February 2016.

What does the olive oil taste like?
The Azeite Esplendido olive oil is a golden-green color and smells so fragrant. It has that deep, grassy and nutty aroma. And somehow, it smells thick.
Yet when you taste it, it's surprisingly mild. Have you ever tasted olive oil by itself and started coughing because of the strong peppery hit in the back of your throat? You don't really get that with this. Rather it has a slightly grassy and spicy taste with a slightly peppery finish.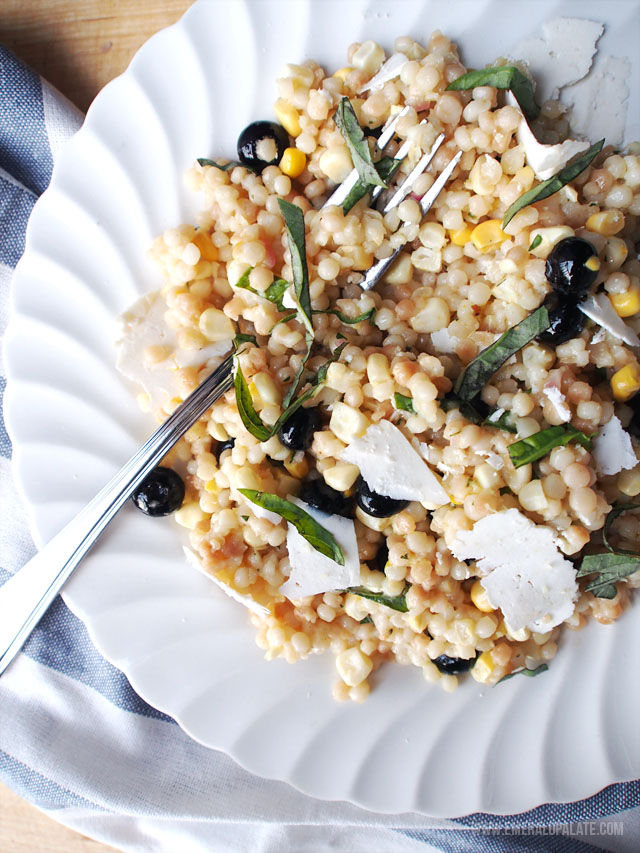 The Recipe
Serves 4 | Active 20 minutes | 45 minutes total
Ingredients:
1/2 C, plus 1 Tbsp of Esplendido Douro olive oil
2 C Israeli couscous
3 tsp salt
4 C water
2 ears of corn, kernels cut off cob (~2 heaping cups)
1 C blueberries
1.5 Tbsp lemon juice
1.5 Tbsp red wine vinegar
1 Tbsp mustard
1 small garlic clove, minced
1 Tbsp minced shallot
1 packed Tbsp tarragon leaves, minced
Black pepper to taste
2 tsp lemon zest
1/4 C basil leaves, chiffonade
Ricotta salata, shaved, for serving
Directions:
Heat 1 Tbsp of the extra virgin olive oil over medium heat in a saucepan. Add the Israeli couscous and toast while mixing every so often until fragrant, about 4-5 minutes.
Add water and 2 tsp of salt. Bring to a boil. Once boiling, bring to a simmer, cover, and cook until tender, about 10 minutes. Drain and set aside to cool.
Meanwhile, make the dressing. Add the lemon juice, red wine vinegar, mustard, garlic, shallot, 1 tsp salt, and a few grinds of black pepper to a bowl. Whisk. While whisking,
drizzle in the remaining 1/2 C of extra virgin olive oil to emulsify. Add the tarragon
and lemon zest and whisk a bit more.
Add the Israeli couscous, corn kernels, and blueberries to a large bowl. Add in the dressing and stir until incorporated. Add the basil and mix gently.
Add couscous salad to bowls and garnish with ricotta salata. Enjoy!

Nutritional Information Per Serving:
Calories: 622 | Calories from fat: 344.3 | Fat: 38.4g | Saturated fat: 6.4g | Cholesterol: 7.5mg | Sodium: 1,980mg | Carbs: 66g | Fiber: 3g | Sugars: 5.3g | Protein: 7g


Pin This Recipe for Later

Nutritional Facts Disclaimer: I am not a registered nutritionist and therefore these numbers are approximate. I researched the serving sizes and facts for each ingredient in this recipe (mostly using the manufacturer labels and this site), but slight variations in things like seasoning, garnishes, and substitutions can change the nutritional information. Use this information only as a general indication of your nutritional intake.
Partnership Disclaimer: Esplendido Douro provided me with olive oil. This recipe and opinions in this article are my own. Thank you for supporting the brands that make The Emerald Palate possible!
Other Articles You Might Like