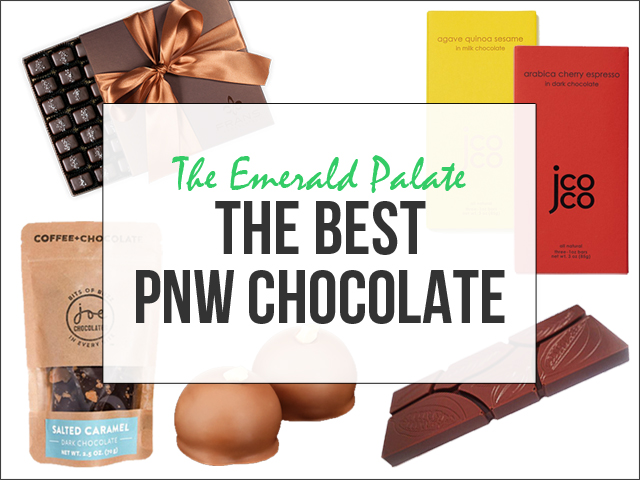 I've never been much of a chocolate person.
Growing up, chocolate gave me a sore throat if I ate even more than a few bites. So I always thought chocolate wasn't really for me. I became a person who chooses savory over sweets most times.
When I was older I learned why chocolate hurt my throat. It's because I grew up with the Hershey's and Nestle's of the world, where the main ingredient is sugar. When I learned about artisan chocolate and the "bean to bar" philosophy, I became aware of how chocolate is made and why you should consume (mostly dark) chocolate from respectable makers.
The Pacific Northwest fortunately has a lot of artisan chocolate makers, probably because we're an area of the nation that cares a lot about our health and sustainability. As a result, I've become a "chocolate person". And these artisan chocolate makers are the reason for that.
PNW Artisan Chocolate Makers
Last Updated Feb 2018. I'll be sure to add more as I come across them, so pin this for later!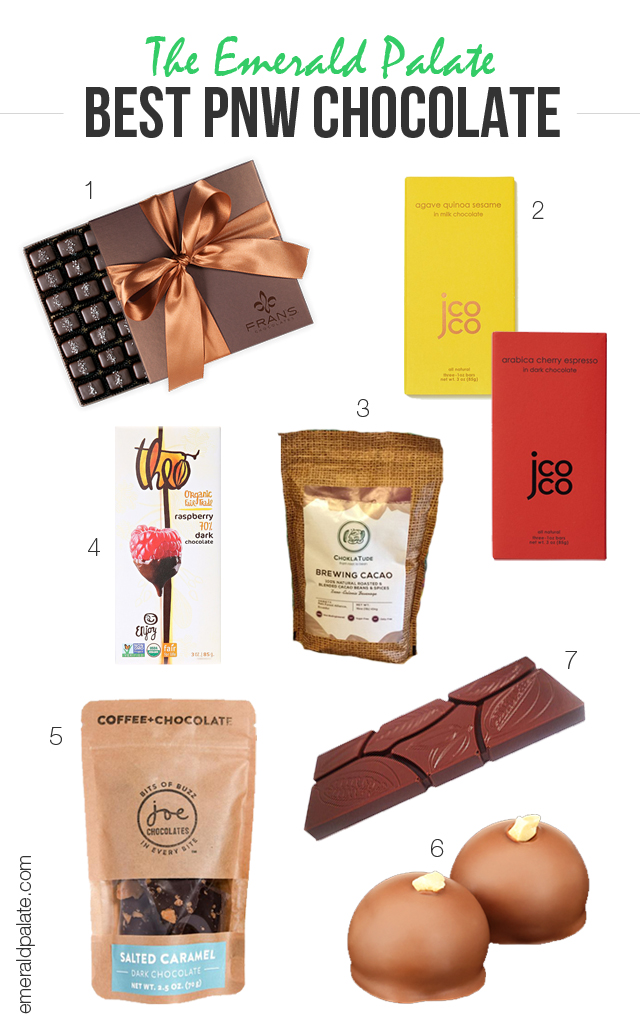 1. Fran's Chocolate
Location: Multiple ares in Seattle | website | Best for: gray salted caramels
Frans has made it to the big leagues, I'd say, but she's another phenomenal artisanal chocolatier. I absolutely love her gray salted caramels and make sure to pick up a two packs every holiday: one for me and one for my mom, who is also quite obsessed!

2. jcoco Chocolates
Location: Seattle, WA | website | Best for: agave quinoa sesame & arabica cherry espresso bars
You might remember two of my previous posts talking about jcoco Chocolates. One was when they hosted me at Seattle Fashion Week for a wine and chocolate tasting. The other is when they took me behind the scenes to try CoffeeFlour, the next super food that they were one of the first to use in their products.
jcoco doesn't make their own chocolate, but they make the most interesting flavor combinations. My favorites are the agave quinoa sesame and arabica cherry espresso bars, the latter of which includes CoffeeFlour. And their colorful packaging makes for such a pleasant surprise when given as a gift!

3. ChoklaTude
Location: Poulsbo, WA | website | Best for: drinking cacao
ChoklaTude is another chocolate company I discovered at The Northwest Flower & Garden Show. This husband-and-wife duo roast their own cacao beans and make the chocolate from scratch.
Some of their chocolate is used to make bars. The smoked and dark chocolate bars from Peru are quite good. But what makes ChoklaTude special is their drinking cacao.
I've had homemade cacao drinks before, but they're usually the consistency of hot chocolate. I was blown away by ChoklaTude's cacao drink. It's more the consistency of tea. I asked them how they got that consistency and they mentioned a French press. So basically the same way I make coffee everyday can be used to make a tea-like, mild chocolate drink. The best part? It's good for you because there's no added sugar. You make it just like coffee: grind the cacao beans, add water to the French press, plunge, and serve.
Just like coffee, brewing cacao leaves leftover grinds. But fortunately, ChoklaTude publishes recipes for how to reuse the grounds into yummy desserts like brownies.

4. Theo Chocolate
Location:Seattle, WA | website | Best for: raspberry dark chocolate
Theo's is one of the original sustainable, "bean to bar" chocolate companies in Seattle, if not the US. They invest just as much on quality ingredients as they do on education. You can take a fabulous tour at their factory in Fremont and learn all about how cacao is harvested…and the less-than-ideal working conditions and treatment of cacao farmers.
One of my favorite bars is the 70% dark chocolate raspberry bar. It takes like straight raspberries, not that cloyingly sweet, artificial raspberry flavor you might think. They get that tart, true raspberry taste from freeze dried raspberries right in the bar. It also gives it an ever-so-slight-but-delightful crackle crunch when you bite into it.

5. Joe's Chocolate
Location: Seattle, WA | website | Best for: high-caffeine chocolate
Joe's Chocolate has such a fun origin story. It was started by University of Washington students, Sam and Peter, as a way to help friends get through mid-term season. Then, when one of their friends used their coffee-infused chocolate as an energy source to walk the Pacific Crest Trail, they knew they were onto something.
The salted caramel flavor is my favorite. It's sweet and chocolate-y at first…you can almost forget you're eating dark chocolate. Then you get this crunch from the coffee beans and this long-lasting coffee taste afterward. I'm not sure how "salted" this is, but it's an irresistible texture and definitely packs a punch: one pack is equivalent to 2 cups of coffee!

6. Whimsy Chocolates
Location: Battle Ground, WA | website | Best for: peanut butter truffles
I discovered Whimsy Chocolates recently at the Northwest Flower & Garden Show. They're a small chocolate company just outside of Portland that makes small batch truffles and caramels. Whismy is technically a "chocolatier", which means they take chocolate someone else made to create artisan chocolate treats.
I tend to prefer dark chocolate, but Whimsy's milk chocolate peanut butter balls are irresistible. They're super creamy and have a strong peanut butter flavor. I hate when you eat peanut butter chocolates and they taste artificial. That's not the case with these. They taste likes real peanut butter, which surprisingly isn't common.

7. indi chocolate
Location: Seattle, WA | website | Best for: unadulterated dark chocolate bars
You might remember reading my interview with indi chocolate in my recent roast cauliflower recipe. They make their own chocolate and even put their cocoa butter in yummy-smelling body lotions.
My favorite is the Vietnam bar originating out of Lamb Dong. It's not too butter and has a creamy, tart finish not that much unlike a strawberry or cherry.

There are so many amazing artisan chocolate makers in the Pacific Northwest, but these are some of my favorites. What ones have I missed? I'm always looking for new ones to try and add to this list!

Disclaimer: I've worked with jcoco and indi chocolate in the past, but this post wasn't part of that partnership. I've just come to love them and would recommend them regardless if we worked together or not!
Other Articles You Might Like