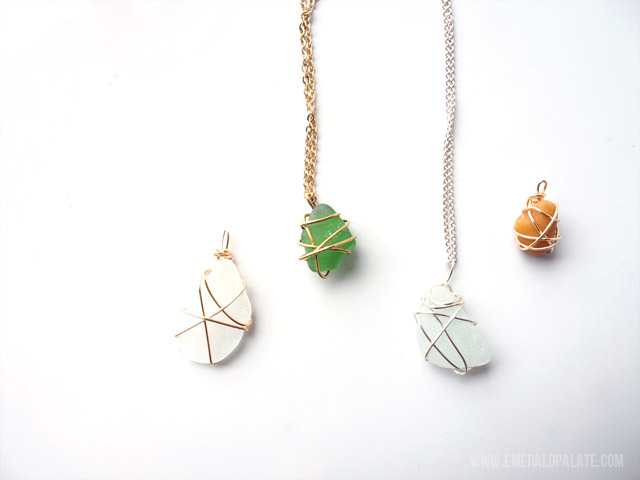 Any time I go to Discovery Park or Golden Gardens in Seattle, I scour the sand looking for interesting stones, shells, or sea glass. I never really had a plan for these. I just liked seeing what I could find on any give trip to one of these gorgeous Seattle beaches.
But last year I had the idea to turn these treasures into Christmas presents for the ladies in my family. They ended up being a huge hit, so with Mother's Day coming up I wanted to share this easy DIY necklace tutorial with you. All you need are sea glass or stones, malleable craft wire, scissors, and tweezers!
I'll be honest. I've always liked the idea of DIY more than the actual doing part. Don't get me wrong. I've refurbished some furniture, made ornaments, done pottery, painted my own things…I can get around the craft room. But I've never been super enthusiastic about doing everything myself, mostly because it feels like just one more to-do list item. But it might also be that my vision is oftentimes better than my execution.
So you could imagine my surprise when I was inspired out of the blue to turn my sea glass and stone collection into jewelry. It was likely because I was at a period of my life where I was making no money and I thought it'd be special to send a homemade gift to my loved ones on the east coast that included a piece of Seattle.
I really had no plan for how I'd transform these beauts that I collected.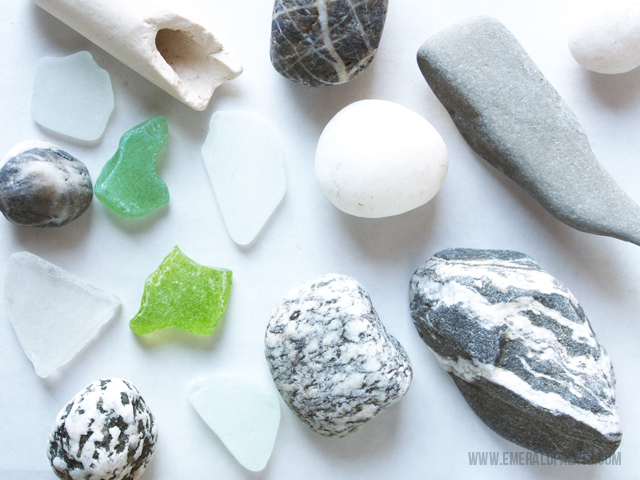 I figured I could go to JoAnn's and find some wire, wrap them up securely, and attach it to a chain. Luckily, I found what I needed and just started wrapping wired around stone. It actually turned out much better than I thought. Like seriously…this never happens. Remember, I'm the poster child of trying to find things on Pinterest and never being able to execute them like the picture. The only challenge I unknowingly ran into is that the malleability of the wire is super important.
I made the mistake of using too rigid of wire on my first few pieces. You should have seen me manically trying to wrap wire around sea glass without accidentally letting go and having the whole wire bounce back and uncoil all my hard work. There were many episodes where I'd be muttering to myself and then just scream, "Nooooooooo!" really loud. But luckily, I accidentally bought a more malleable wire in silver and realized how much easier it was.
So pro tip: pay attention to the gauge of the wire you choose!

How to Make This DIY Necklace
What you'll need
Sea glass, stones, or shells of your choice
Malleable wire
Scissors
Tweezers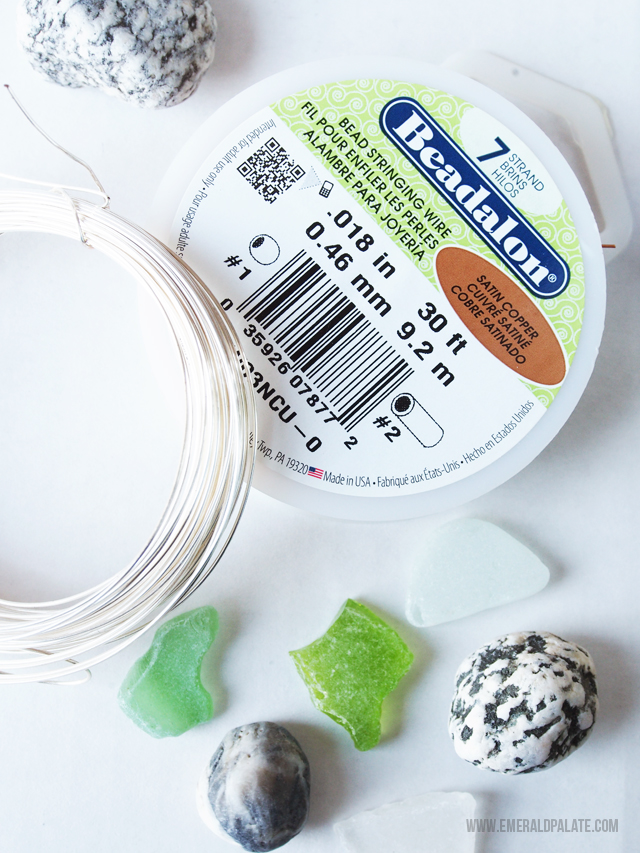 Steps
With the wire still in its spool, make a small loop at the end of the wire that's big enough to fit the end of a necklace chain. If needed use tweezers to tighten the loop so there's no way for the chain to fall through.




Align the loop on top of the sea glass. This is where the piece will attach to the chain, so make sure it is perpendicular to the surface of the sea glass so that it will lay flat when the chain is fitted through the hole. However, I made the mistake of not doing this a few times so if you don't think about it no worries. Most of the times the pieces will still lay flat and the chain will twist ever so slightly to accommodate it! Or, you can twist the loop in the right direction after the fact since the wire is malleable.
Holding the loop in place and the sea glass steady with one hand, start wrapping the wire around the sea glass. Do whatever feels right, it's your design! Just make sure to pull the wire tight and to zig zag across the piece so that there's no way for it to fall through the spaces between your wire.




When you feel the sea glass is secure in the wire with minimal or no movement, cut the wire off the spool. Trim it at a point where you can easily tuck the sharp end piece behind the criss-crossing wire. You want to make sure it won't dig into the wearer's neck when worn!
Use the tweezers to secure the wire end underneath or around the criss-crossing wire. You want to make sure it's in place so the wire won't recoil and come undone.




You're done! The sea glass should be snugly wrapped in wire and ready for a chain!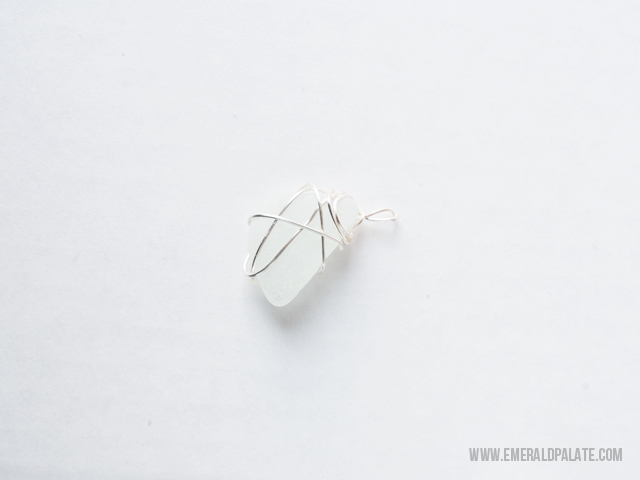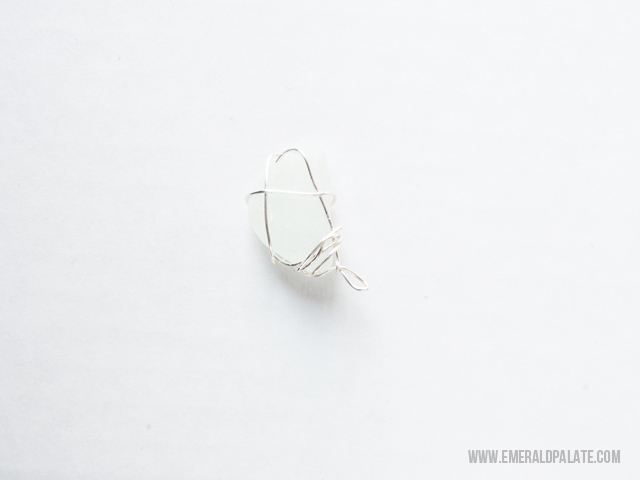 The Finished Necklace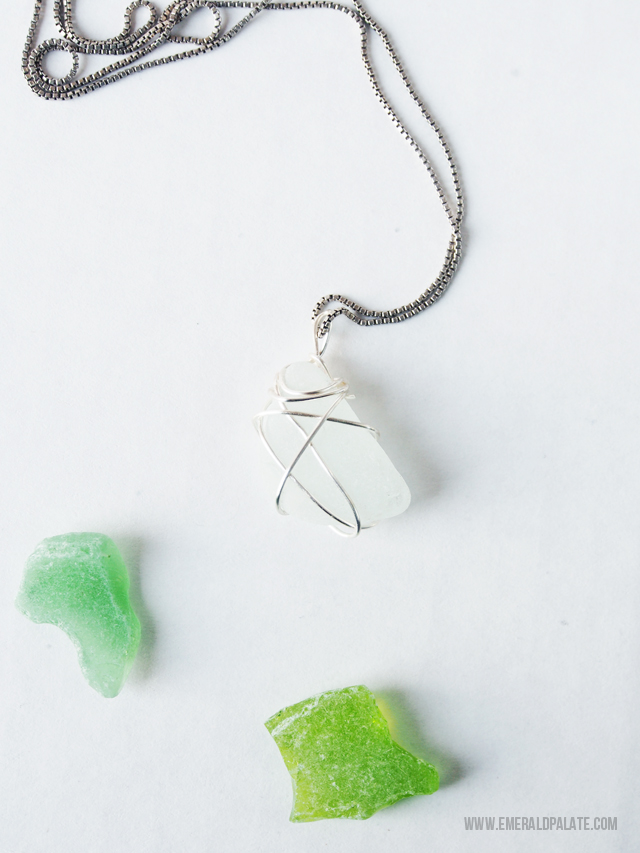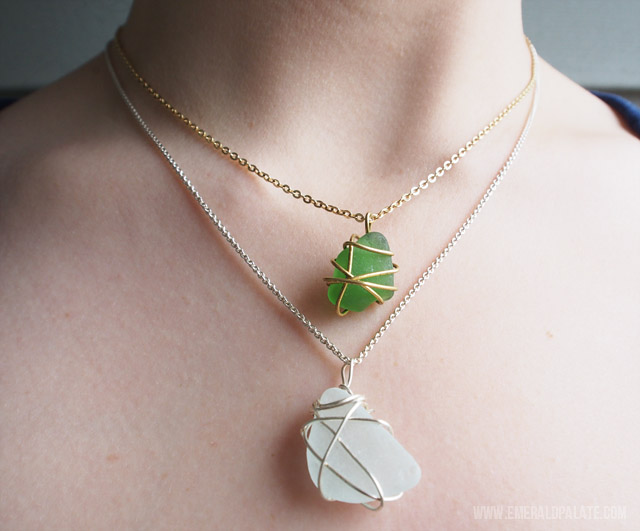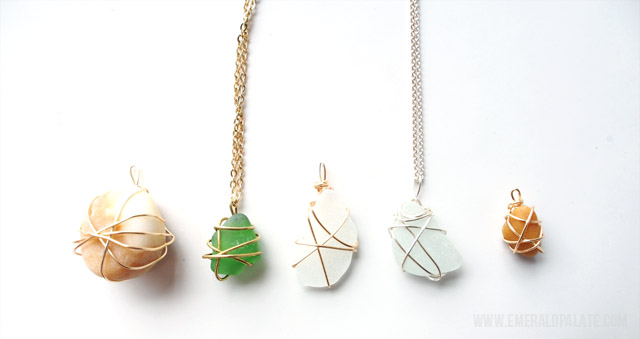 And there you have it! This easy DIY necklace would make a really special gift for any lady in your life (hint hint: Mother's Day, a birthday, or a bridesmaid gift!).

Don't feel like making this?
That's ok. That's usually how I feel. I'd be more than happy to sell any of the ones pictures except the green one…that's the one I gave to my mom. 🙂 Or, if there was a lot of interest, I could do a giveaway. More generally, I'm just curious if people find these pieces desirable to have. 🙂 Let me know in the comments!


Pin This for Later

Other Articles You Might Like