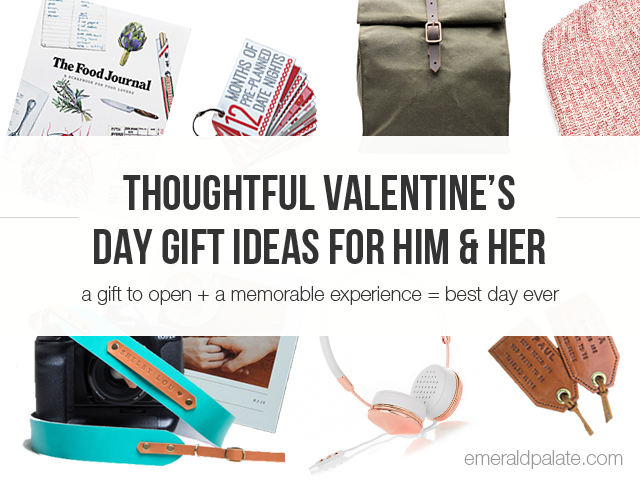 Step away from the jewelry, chocolate, & lingerie (but keep the flowers). Valentine's Day is about giving gifts that take extra thought and sometimes effort. I've curated some of the best and most thoughtful Valentine's Day gift ideas for both him and her, and then paired them with experiences or crafts to up the wow factor.
Let this be the year you give your loved one the best Valentine's Day gift ever.
The Key to a Great Gift
I've been told I'm a good gift giver. I think the reason is that I try really, really hard to not just get "things." Rather, I try to think of something that is either truly utilitarian (i.e. something they need but wouldn't necessarily get themselves) or really thoughtful.
"How do you think of thoughtful gifts?", you may ask. Well, the key is to think about something they love or that the two of you love to do together. If you're struggling to make a mental list, write one down! Your loved one's hobbies and interests should be the basis of your gift.
But hey, sometimes we struggle or you've run out of ideas because you've celebrated so many holidays together. Well, that's where getting inspiration from other come into play. Simply search Pinterest and Google for phrases like, "thoughtful Valentine's Day gifts," "romantic crafts," etc. and you should find a ton of ideas to apply to your relationship situation.

Onto the Thoughtful Valentine's Day Gift Ideas
Here are the products I found that would make great gifts for both men or women. Don't get so caught up on the aesthetic (for example, some men might not be into those headphones). Rather, use these products as a starting point for finding a style you significant other would like.
Some of these are thoughtful on their own. But one of my favorite gift tricks is to give the person something to open and pair it with a craft or an experience gift. I've listed below ideas for what to pair with most of the products on this gift guide. Happy gifting!

1. 12 months of pre-planned dates
This Valentine's Day craft is pretty awesome all on its own. Simply think of 12 awesome dates and put one on each card to represent one date a month. Here are some ideas to get you started:
Let's finally take that painting & wine class we've always talked about
Apple picking followed by a day of baking (and eating)
One of those free outdoor movies and a homemade picnic
And a bonus idea: If you're planning to propose this Valentine's Day, why not make the last card read, "Celebrate our wedding." She'll read it, look stunned, and when she looks up you'll have the ring in your hand. #ballerstatus
The beautiful version pictured above is from The Thinking Closet.

2. Food journal + a jar of local restaurants
If your loved one enjoys cooking or baking, get him or her one of these food journals for $16 (available in a baking version, too). She'll be able jot down ideas, recipes, and inspiration for years to come.
This gift would be thoughtful on its own, but you can up the ante by also decorating a jar and adding local restaurants the two of you have always wanted to try (or love). The idea is that you'll pick a restaurant out of the bowl and dine there that evening. This is perfect for couples that play the, "What are you in the mood for?"-"I don't know, you?" game.

3. Chic lunchbox + a month's worth of love notes
For the brown bagger in your life, upgrade them to a really awesome waxed-canvas lunchbox like this one that's $49. Then, fill it with a month's worth of love notes to be opened during the work day. A good route to go is adding something you love about him or her in each note.

4. Tickets to a local event
I absolutely love giving experience gifts. Think of something the two of you have always wanted to do, buy tickets, and insert them into a thoughtful (even handmade) card and you're good to go. Some of my favorite cards include this and this one.
Some ideas for events: sporting events, concerts, musicals, plays, foodie events or festivals, wine tasting, restaurant, or movie.

5. Matching luggage tags + an overnight trip
This gift is both for you and your partner (though you could just get one, obviously). Get a personalized leather luggage tag with a cute, travel-inspired quote and a trip somewhere. The one pictured is $22.50 and made in Canada, but you can also find great local options like Hide & Valor here in Seattle.

6. Travel toothbrush + an overnight trip
This gift is similar to the previous one, but it's especially awesome if you have a relationship filled with humor. Imagine your partner's face when he or she opens a damn toothbrush. Soak it in, and then let them know you two are going on a trip somewhere. They'll be relieved it's more than a toothbrush and you'll be happy to know this is literally the best, most affordable travel toothbrush around ($16). Some overnight trip ideas: a stay-cation at a swank hotel, camping trip, casino, wine country, or a destination you've always wanted to go.

7. Wine bottle + wine-of-the-month subscription
For the alcohol lover in your life, why not get them a bottle of his or her favorite libation followed up with a subscription that delivers more each month? There are so many options for wine-o's, beer enthusiasts, and cocktail lovers alike. I personally prefer to shop local, so I'd recommend Bar Ferdinand's wine club ($75/month for six bottles) here in Seattle or the Southeast Wine Collective of Portland's wine club (various options).
Other options for non-wine drinkers include the Craft Beer Club and Saloon Box.

8. (The best) unisex beanie + 52 outdoor adventures
I can confirm that this is the best beanie because I have it and I also got one for my sister that both she and Travis wears. This beanie would be great on it's own ($18, other colors available), but what would really make your lover's heart melt is a list of 52 outdoor activities that the two of you can enjoy every weekend. Some ideas include hiking, walks, kayaking, running, and beaching. If 52 is way too many, take a cue from number one and just do 12 (one for each month).

9. Couples books + stimulating conversations
My boyfriend and I love running through random questions as a way to bond and get to know each other better. Add some interesting conversations to your relationship with these book ideas. The Big Book of Questions ($9) is literally a list of questions, but Me, You, & Us ($15) is more a memory book you can fill out together.

10. Sriracha + a cooking class
Add a little spice to your life (get it?) and get your partner a to-go Sriracha key chain plus a cooking class the two of you can take together. If, like me, your partner hates spicy food, you can easily sub this idea with another kitchen gadget or foodie gift. Some ideas: apron, tea towels, cute measuring spoons, and a rolling pin.

11. Sexy headphones + a mix tape
Long-live the mix tape. Well, the CD. Or maybe even Spotify playlist. Whatever the medium, curate a playlist that tells your partner how you feel. Pair it with headphones like the ones pictured ($150) or a runner-friendly MP3 player.

12. Monogrammed camera strap + a photography class
If your significant other is into photography, he or she will love a cute, monogrammed camera strap like the one pictured ($44). This would be great on its own, but you could also help him improve his skills by getting him into a local photography class.

13. Instagram book + photos of the two of you
If a photography class is too much, you can also pair the above camera strap with a custom-made Instagram book from Artifact Uprising ($18). Just curate some of your favorite photos and memories, add them to Artifact Uprising's tool, and it will be ready to ship in three days.

14. (The best) unisex reed diffuser + a massage
I am absolutely obsessed with the amber fig reed diffuser from Cold Spring Apothecary in New York ($35, also available in a candle). It's truly unisex, with a musky and slightly sweet scent.
While again, this would be fabulous on its own, I highly encourage you to pair it with a massage or other type of pampering experience. It could be as simple as you giving your partner a massage that night, making a booklet good for 10 personal massages, or taking him or her to the spa or nail salon for the day. Everyone loves massages so when in doubt, this is a great route to go!

What's the best gift you ever received? Do you have other ideas? Let me know in the comments!

Other Articles You Might Like