We are so glad you all liked our 1 shirt, 3 looks madras shirt style guide last Friday. It got such a great response that we decided to create an ongoing 1 product, 3 looks series!
Kristian, an Emerald Closet readers, commented on our facebook wall and asked us to create a 1 product, 3 looks style guide for the ladies this week. She requested ideas for wearing booties, such as the Louboutins Cameron Diaz wears in the movie Bad Teacher.
Well, Kristian, this one is for you and all the other women out there baffled by the bootie and its effect on proportions. We did some recon and realized Diaz is wearing a few different versions of the Louboutin bootie in the movie, so we chose our favorite, the black caged bootie.
We though the caged bootie would be very appropriate, since the caged look can immediately make a look seem a bit harsh. Here we provide 3 looks to help you incorporate the caged bootie trend into your wardrobe.
PS – We understand not everyone can afford Louboutins, so we found an affordable alternative to the designer's black caged bootie, found here.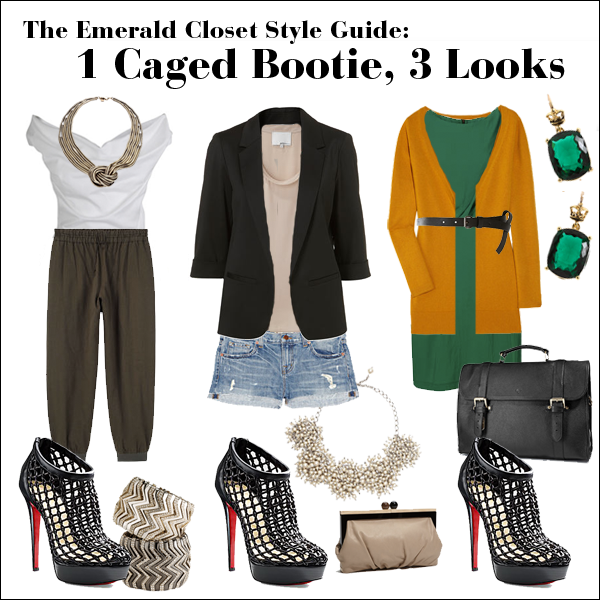 Louboutin Caged Bootie – $1595
From Left to Right:
Look 1: Cropped Pants – $310, Top – $450, Necklace – $395, Bracelets – $88
Look 2: Blazer – $130, Denim Shorts – $150, Shirt – $195, Necklace – $295, Clutch – $325
Look 3: Dress – $95, Cardigan – $450, Belt – $14, Earrings – $52, Briefcase – $1300
A NOTE ON PROPORTIONS: Kristian expressed concern with booties creating an unflattering proportion. Booties can definitely cut your leg in the wrong way, making you look stout. However, a rule of thumb is to find booties that hit just at the ankle. They are the most versatile, unlike a bootie that hits, say at the lower shin. Taller booties are less flexible because as soon as you wear bottoms that hit at the knee, it cuts your leg into 3 pieces and makes you look shorter.
Other Articles You Might Like